5 Things You Need to Know About the Paris Climate Talks
Nov. 14, 2015 12:02PM EST
Climate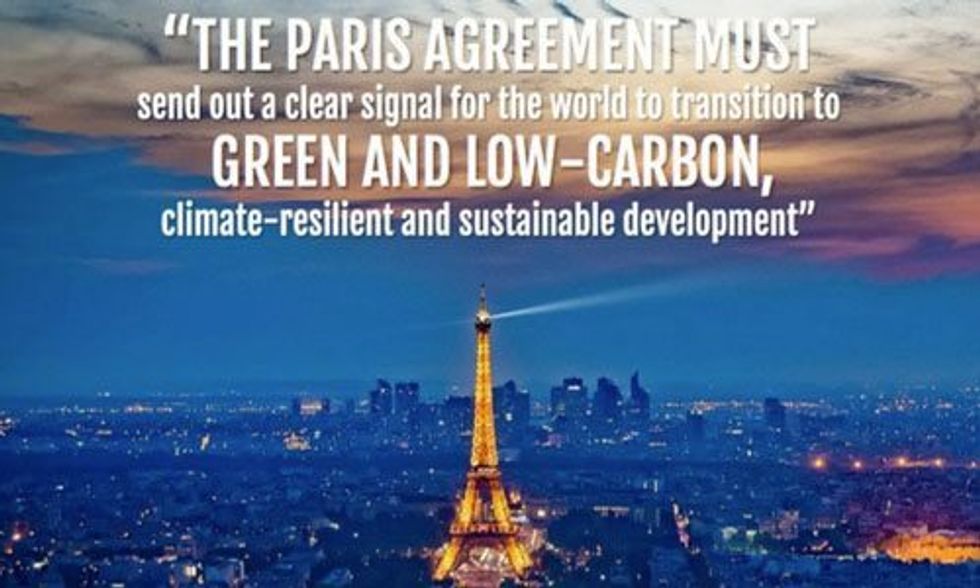 Between Nov. 30 and Dec. 11 politicians and global leaders from more than 190 countries will be involved in the United Nations 21st Conference of the Parties (COP21). They're meeting in Paris to try and agree on a global legally binding climate treaty.
[email protected]

and Xi Jinping reached a "historic" agreement on #ClimateChange. #COP21 #Paris https://t.co/UDz1uQWvK3 https://t.co/59KGdDupnz

— Green.TV (@Green.TV)1446682270.0
2. Why is it important?
The goal of the talks are to agree on a plan that will avoid the worst impacts of climate change, such as more severe droughts, floods and storms. In practice, that means getting us on track to keep global warming below 2C—this is the agreed threshold that we must not let the planet's warming exceed if we are to avoid catastrophic effects of climate change.
Some nations are already feeling the impacts of climate change even now, at the current level of just under 1C of warming on average. There are already people being officially called climate refugees, and conflicts exacerbated by climate change and extreme weather caused by climate change is on the increase. COP21 is also about supporting vulnerable countries and communities in adapting to the impacts of climate change that are happening right now.
Some nations, including an alliance of small islands, think the 2C threshold is too high and are advocating that we should stay within 1.5C of warming, which is the level of warming we may already be locked into.
"Women of Africa you have everything to lose, unite now, demand #ActionsForClimate " https://t.co/knpBtmemiJ #COP21 https://t.co/cSTZycwLpl

— Greenpeace (@Greenpeace)1447411544.0
3. So what do we hope to come out of the talks?
We hope an internationally legally binding treaty comes out of the climate talks. Not a declaration or other empty promises, but something that legally binds nations and holds them to their commitment.
In order to achieve this, UN diplomats asked for more preparation to be done before COP21 and a contribution from all states is required.
That's where Intended Nationally Determined Contributions—or INDCs—come in. These are the pledges that countries responsible for more than 80 percent of emissions have made towards emissions reductions in advance of the talks.
However, these aren't legal commitments—they are more like indications of intentions for the 155 countries that have submitted them. But one of the aims of COP21 is to try and get parties to agree to a level of legal "bindingness" at Paris.
While the INDCs submitted currently don't add up to us staying within 2C of warming (according to a UNFCCC analysis), they are a good start. That's because the INDCs signify what the biggest polluters—including the U.S., China, Europe and India—are willing to do to tackle global climate change. But the important thing is that there will need to be a mechanism that reviews INDCs and ratchets up climate ambition after Paris, which will need to be agreed to at the talks.
4. That's all great but surely it all depends on the political will of states, right?
Absolutely. But the political landscape is looking a lot more promising than it has at previous meetings.
One of the most significant things so far is the historic China-U.S. climate agreement announced last November, in which the world's two biggest carbon emitters and global superpowers indicated their commitment to moving away from fossil fuels.
Obama has made a global climate deal a priority for his legacy while the G7—Canada, France, Germany, UK, Italy, Japan and U.S.—have agreed to decarbonize over the course of the century, aiming for zero emissions by 2100.
Meanwhile, countries that were previously seen as barriers to a global agreement, including China and India are driving renewable energy in a big way (though India also wants to double coal production by 2020).
In the business sector, business leaders have pledged to support the Paris talks, while the Governor of the Bank of England Mark Carney gave investors an incentive to act when he warned that they will face huge climate change losses.
There also appears to be a buildup of pressure from civil society ahead of COP21 and it's expected that hundreds of thousands will attend mass climate marches in the days before COP21 starts.
Overall, things are looking promising but it's important to remember that each country will be looking for a deal that fits best with its own national issues and planning processes.
5. Great, so is there anything I can do?
Yes! It's important for our leaders to know that we want real and tangible action on climate now. That's why hundreds of thousands of people will be marching for the climate in cities around the world on Nov. 29. Find out how to join the march wherever you are.
YOU MIGHT ALSO LIKE
Paris Climate Deal Will Be 'Legally Binding,' France Corrects Kerry
How COP21 Will Unleash Massive Global Renewable Energy Growth
What is COP21? Find Out in This 2 Minute Video
EcoWatch Daily Newsletter
Related Articles from EcoWatch