This website uses cookies to ensure you get the best experience while browsing it. By clicking 'Got It' you're accepting these terms.
5 Things You Need to Know About Donald Trump's Pitiful Plan for the Planet
May. 26, 2016 12:37PM EST
Insights + Opinion
Donald Trump has spent a lot of time talking about his hands — and less time talking about his actual plans. Today, though, Trump will be unveiling his so-called energy policy for an audience of fossil fuel CEOs.
Here's what you actually need to know about Trump's environment and energy agenda in five minutes or less.
1. Not only has Donald Trump failed to propose a plan to address climate change — he won't even admit that it's happening.
"A total hoax."
"Bullshit."
"A con job."
You might think these are good words to describe Trump's campaign. No — they're his take on the climate crisis.
The facts are clear: Climate change poses an urgent threat that requires immediate action.
Temperatures are rising and continue to rise. Check this out: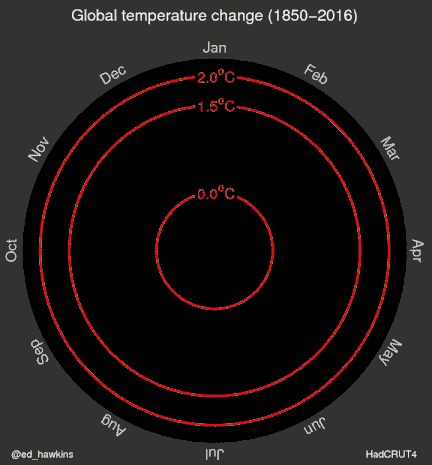 The latest report from the United Nations states unequivocally that human influence on the climate system is already affecting all continents — reducing grain yields, producing life-threatening water shortages and severe storms and costing human lives. The report says, "We have little time before the window of opportunity to stay within 2 C of warming closes."
And already climate change is taking a toll.
Trump's plan? Deny that it is happening.
2. Donald Trump wants to undermine U.S. leadership by "renegotiating" the historic Paris climate agreement.
Trump told Reuters: "At a minimum I will be renegotiating those agreements, at a minimum. And at a maximum I may do something else."
President Obama and other global leaders did something remarkable — they brought nearly the entire world together to agree to meet our climate challenge. Trump is proposing we negotiate away American global leadership. What he said is ridiculous and would do irreparable damage to our role in the world.
3. Donald Trump says he wants to bring back coal, the world's dirtiest fuel.
Coal is the world's dirtiest energy source, from mining to burning to disposing of coal waste. Currently, 233 U.S. coal plants have been retired or are set for retirement.
And the largest U.S. coal company just filed for bankruptcy. One of 50 coal-industry bankruptcies since 2012.
But Trump says: "We're gonna put the miners back to work. We're gonna put the miners back to work. We're gonna get those mines open."
Trump is wrong.
Bloomberg News explains:
"While two years of crashing prices for oil, natural gas and coal triggered dramatic downsizing in those industries, renewables have been thriving. Clean energy investment broke new records in 2015 and is now seeing twice as much global funding as fossil fuels."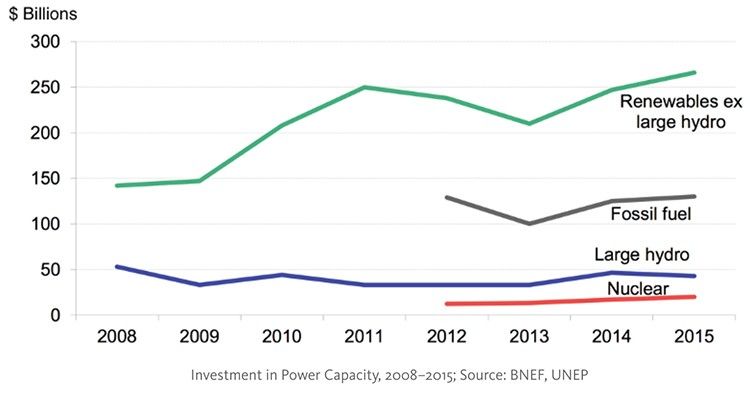 And fewer and fewer Americans are relying on coal for their energy needs.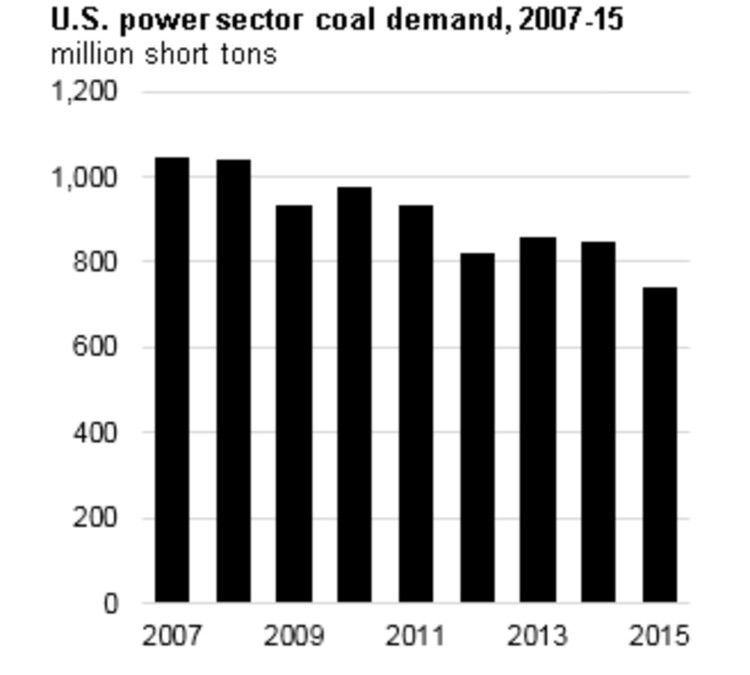 As cleaner, cheaper, more reliable renewable energy sources surge, coal's economics simply no longer work. Now is the time to support a just transition for coal workers by investing in helping them become part of the clean energy economy — not by returning to a dirty fuel of the past.
4. Donald Trump would eliminate the U.S. Environmental Protection Agency (EPA) — endangering our health and safety.
Donald Trump: No, I'm not cutting services, but I'm cutting spending. But I may cut Department of Education … Environmental Protection, what they do is a disgrace. Every week they come out with new regulations.
Chris Wallace: Who is going to protect the environment?
Donald Trump: We'll be fine with the environment. We can leave a little bit.
Watch here:
Though the Sierra Club is grateful that Trump would "leave a little bit" of the environment, his proposal to cut the EPA is boneheaded.
The EPA keeps our air safe to breathe and our water safe to drink—and puts forth important safeguards for the health of our communities.
5. Donald Trump's business ventures are already devastating the environment.
Trump cut down about 500 trees so that his Virginia golf course could have more than a "little glimpse" of the river. His New Jersey golf course has been cited for a "string of violations." One luxury development in Scotland left the local community without water for years.
Trump clearly cares more about the fate of his golf courses than the health of the millions of families affected by the climate crisis.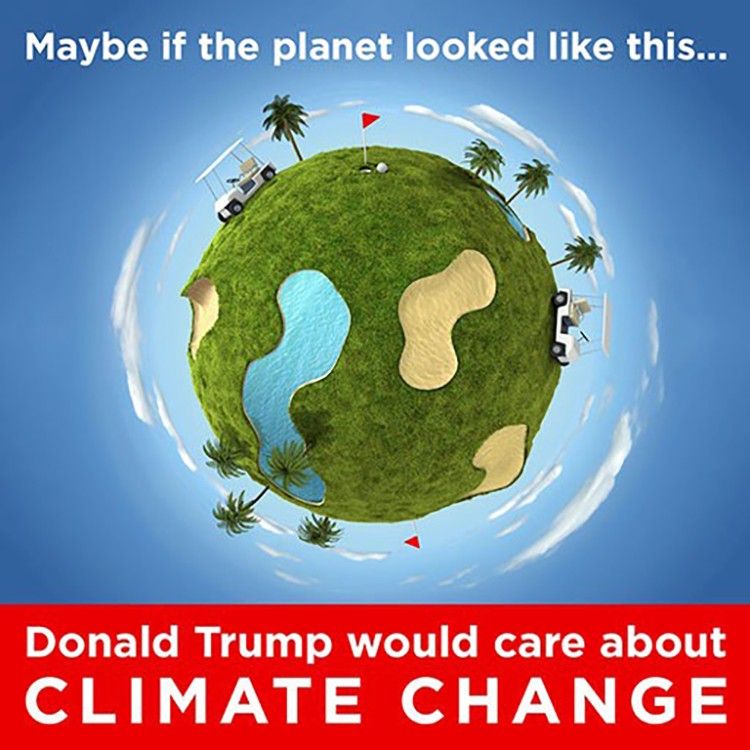 In fact, according to Politico, Trump is trying to build a seawall to protect one of his golf courses from "global warming and its effects" — even as he insists that climate change is a "hoax."
Trump's reckless and dangerous agenda on the environment is based more on reality TV than actual reality.
Trump is ignoring the climate crisis — and will do anything he can to dismantle government safeguards, even if clean air and water are put at risk. If elected, he would stop our progress in its tracks, take us backward and squander the economic opportunity that the transition to an economy powered by clean energy would bring.
2016 will be the most important presidential election yet — it will literally determine the future of our planet. So don't just sit there. Let's #StopTrump together.
YOU MIGHT ALSO LIKE
Protesters Blockade Planned Pipeline Site Near Nuclear Plant Outside NYC
Nation's First Major Public University Fully Divests From Fossil Fuels
Trump Building Wall in Ireland to Keep Climate Change Out
EcoWatch Daily Newsletter
United Nations Secretary-General Antonio Guterres speaks at a news conference at UN headquarters on Sept. 18. Drew Angerer / Getty Images
A vegan diet can improve your health, but experts say it's important to keep track of nutrients and protein. Getty Images
By Dan Gray
Research shows that 16 weeks of a vegan diet can boost the gut microbiome, helping with weight loss and overall health.
A healthy microbiome is a diverse microbiome. A plant-based diet is the best way to achieve this.
It isn't necessary to opt for a strictly vegan diet, but it's beneficial to limit meat intake.
New research shows that following a vegan diet for about 4 months can boost your gut microbiome. In turn, that can lead to improvements in body weight and blood sugar management.
Students gathered at the National Mall in Washington DC, Sept. 20. NRDC
By Jeff Turrentine
Nearly 20 years have passed since the journalist Malcolm Gladwell popularized the term tipping point, in his best-selling book of the same name. The phrase denotes the moment that a certain idea, behavior, or practice catches on exponentially and gains widespread currency throughout a culture. Having transcended its roots in sociological theory, the tipping point is now part of our everyday vernacular. We use it in scientific contexts to describe, for instance, the climatological point of no return that we'll hit if we allow average global temperatures to rise more than 2 degrees Celsius above preindustrial levels. But we also use it to describe everything from resistance movements to the disenchantment of hockey fans when their team is on a losing streak.
samael334 / iStock / Getty Images
Berries are small, soft, round fruit of various colors — mainly blue, red, or purple.
A glacier is seen in the Kenai Mountains on Sept. 6, near Primrose, Alaska. Scientists from the U.S. Geological Survey have been studying the glaciers in the area since 1966 and their studies show that the warming climate has resulted in sustained glacial mass loss as melting outpaced the accumulation of new snow and ice. Joe Raedle / Getty Images
By Mark Mancini
On Aug. 18, Iceland held a funeral for the first glacier lost to climate change. The deceased party was Okjökull, a historic body of ice that covered 14.6 square miles (38 square kilometers) in the Icelandic Highlands at the turn of the 20th century. But its glory days are long gone. In 2014, having dwindled to less than 1/15 its former size, Okjökull lost its status as an official glacier.
Members of Chicago Democratic Socialists of America table at the Logan Square Farmers Market on Aug. 18. Alex Schwartz
By Alex Schwartz
Among the many vendors at the Logan Square Farmers Market on Aug. 18 sat three young people peddling neither organic vegetables, gourmet cheese nor handmade crafts. Instead, they offered liberation from capitalism.
Hackney primary school students went to the Town Hall on May 24 in London after school to protest about the climate emergency. Jenny Matthews / In Pictures / Getty Images