This website uses cookies to ensure you get the best experience while browsing it. By clicking 'Got It' you're accepting these terms.
5 Things to Consider When Ordering Seafood
Dec. 13, 2013 05:00PM EST
Food
Ever think about where your seafood comes from? You might be surprised to learn that much of the seafood sold in the U.S. is imported—frequently from places where health, safety and environmental standards are weak or non-existent. And less than 2 percent of seafood imports to the U.S. are inspected for contamination.
Sadly, many popular wild fish populations have been managed poorly and are depleted, are caught using gear that can hurt their habitat and other wildlife, or could contain substances like mercury or PCBs that can cause serious health problems.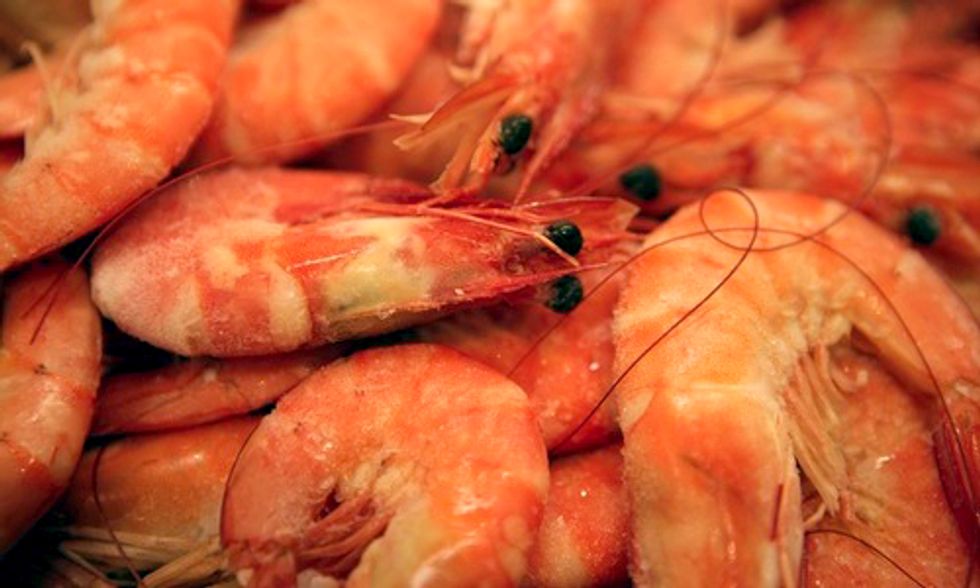 Shutterstock
Fortunately, there are still good domestic seafood options.
Food & Water Watch has analyzed more than 100 fish and shellfish to create the Smart Seafood Guide, the only guide that assesses the human health and environmental impacts of eating certain seafood, as well as the socio-economic impacts on coastal and fishing communities. The guide can help you make healthier and more eco-friendly choices.
Here's an excerpt from the guide of five things to consider the next time you are considering buying seafood at the grocery store or ordering it in a restaurant.
1. Local fish are few and far between. While diners at coastal restaurants often look forward to ordering seafood, much of the fish at restaurants and in stores is not local. Because of high demand, seafood on these menus often comes from other states or countries, so always remember to ask rather than assume that seafood is local and sustainable.
2. Atlantic salmon is farmed salmon. While Alaskan wild-caught salmon can be a healthy, sustainable option, farmed salmon is associated with environmental and social problems. One red-flag is salmon labeled Atlantic. As wild Atlantic salmon populations have been driven close to extinction, salmon from this ocean are almost surely farmed.
3. Seafood labeled organic is not what it seems: There are no legal organic standards for seafood in the U.S., so fish labeled organic are imported, usually from northern Europe. And seafood labeled organic is farmed, not wild-caught.
4. Beware of imported shrimp: Although the U.S. has many healthy shrimp fisheries that support coastal communities, about 90 percent of the shrimp consumed in the U.S. is imported. Much of it comes from farms that are associated with heavy chemical use, environmental destruction and negative impacts for local communities.
5. Bivalve shellfish are often good options: In some cases, bivalve shellfish, like mussels, oysters and clams, are the most likely seafood items at restaurants or markets to be sustainably sourced. These fish are filter feeders, which means that even when farmed they can help to improve local environments by cleaning up water. Just remember to ask about local contaminant warnings, and in the case of clams, whether they are hand-raked or dredged.
For more information and many more detailed recommendations on specific kinds of seafood to buy, see the Smart Seafood Guide.
Visit EcoWatch's FOOD page for more related news on this topic.

EcoWatch Daily Newsletter
Ocean pollution concept with plastic and garbage.
Anton Petrus
/ Moment / Getty Images
Nestlé cannot claim that its Ice Mountain bottled water brand is an essential public service, according to Michigan's second highest court, which delivered a legal blow to the food and beverage giant in a unanimous decision.
A number of supermarkets across the country have voluntarily issued a recall on sushi, salads and spring rolls distributed by Fuji Food Products due to a possible listeria contamination, as CBS News reported.
A U.S. Border Patrol agent gathers personal effects from immigrants before they are transferred to a McAllen processing center on July 02, 2019 in Los Ebanos, Texas. John Moore / Getty Images
Poverty and violence in Central America are major factors driving migration to the United States. But there's another force that's often overlooked: climate change.
Retired Lt. Cmdr. Oliver Leighton Barrett is with the Center for Climate and Security. He says that in Guatemala, Honduras and El Salvador, crime and poor economic conditions have long led to instability.
"And when you combine that with protracted drought," he says, "it's just a stressor that makes everything worse."
Barrett says that with crops failing, many people have fled their homes.
"These folks are leaving not because they're opportunists," he says, "but because they are in survival mode. You have people that are legitimate refugees."
So Barrett supports allocating foreign aid to programs that help people in drought-ridden areas adapt to climate change.
"There are nonprofits that are operating in those countries that have great ideas in terms of teaching farmers to use the land better, to harvest water better, to use different variety of crops that are more resilient to drought conditions," he says. "Those are the kinds of programs I think are needed."
So he says the best way to reduce the number of climate change migrants is to help people thrive in their home countries.
Reporting credit: Deborah Jian Lee / ChavoBart Digital Media.
Reposted with permission from Yale Climate Connections.
Chris Pratt arrives to the Los Angeles premiere of "Jurassic World: Fallen Kingdom" on June 12, 2018 in Los Angeles, California. Michael Tran / FilmMagic / Getty Images

Chris Pratt was called out on social media by Game of Thrones star Jason Momoa after Pratt posted an image "low key flexing" with a single-use plastic water bottle.