5 Sustainable Market Trends That Unleash a World of Opportunities
By Marianne Haahr
A week of risks has come to a close with the finalization of the World Economic Forum in Davos. The narrative it left us with is about a fearful future with jobs being taken over by robots sidelining humans on the labor market. However, fearing the future is not going to change it. Only action will change the course of the planet towards a safe and sustainable future, therefore we acutely need opportunities for action to complement this dramatic risk narrative. This is exactly what we offer by publishing the Global Opportunity Report for the second year ever.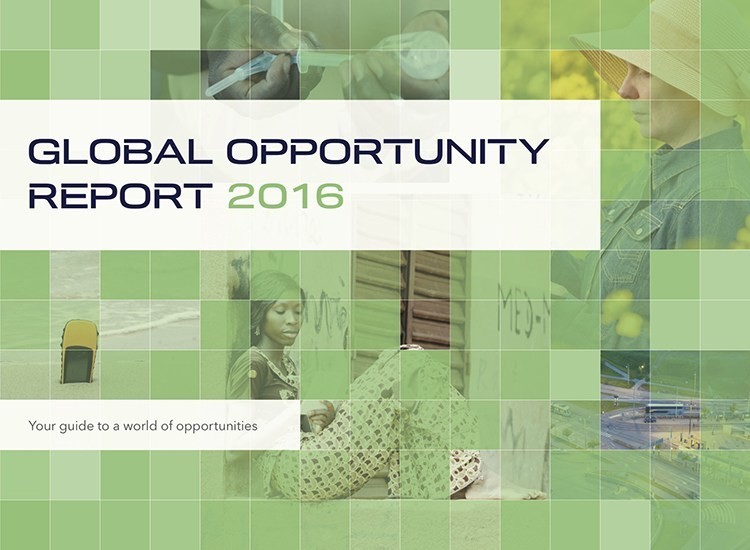 The report turns five global risks into opportunities for action with the aim to inspire a change in mindset from risk to opportunity. It is a report co-created with sustainability leaders from all over the world who participated in eight opportunity panels, who developed the first long-list of opportunities for systemic change. These were then further developed and refined by experts and after 15 opportunities made it through the selection process they were evaluated and ranked by 5,567 leaders from the public and private sector worldwide.
Five trends emerge from this year's Global Opportunity Report.
1. Resistance to Life-Saving Medicine is a Game Changer
Antibiotic resistance is on the rise. It is time to change the way we use and develop antibiotics if this miracle medicine is to last in the years to come. The Global Opportunity Report presents you with opportunities to do exactly that. These are opportunities to significantly reduce the overuse of antibiotics through innovation in health care and in agriculture, as well as an opportunity to bring novel antibiotics to market through a new collaborative business model. The opportunities are nascent, but they are promising and they can lead to paradigm shifts in diagnosis, treatment and meat production.
Agriculture is the greatest user of antibiotics in the world, but customers are pushing for antibiotic-free meat. Though still a niche in the food market, increasing consumer awareness—in some places supported by government—paving the way for a growing market in antibiotic-free food.
The growing consumer demand for antibiotic-free food, combined with political pressure for reducing the use of antibiotics, represents a unique challenge and opportunity for the entire meat value chain. Antibiotic-free chicken production is the lowest-hanging fruit in the antibiotic-free meat market. Short production cycles make disease control in chicken production less complicated than for other forms of livestock. For other meat products, fully eliminating the use of antibiotics is more complicated. However, pilot projects to test production methodologies and market potential are starting to appear. Taking antibiotics out of meat production is paving the way for a paradigm shift—it is a true game-changer.
Rising resistance will also push for a paradigm shift in health care to more precise diagnosis and treatment, which will allow for more targeted use of narrow spectrum antibiotics.
2. The Future is Blue
Marine ecosystems have supported human societies for millennia. Protecting this source of prosperity is vital for societies worldwide and opens up new opportunities to revolutionize medicine and to safeguard human settlements against risks such as increasing extreme weather and climate change—to name just a few. Oceans are the last undiscovered frontier and the opportunities in this year Global Opportunity Report are examples of how to use this new blue economy while protecting its biodiversity.
The circular economy of the ocean is an opportunity for ocean eco, designs in clothes, furniture and many other products made from ocean plastic, but it is also capturing nutrients before they reach the oceans. Not only is the future of clothes found in the blue economy but also potentially the future of medicine may just be found here and certainly the diets for the future. The Global Opportunity Report finds that especially Chinese leaders are interested in pursuing the opportunities of the blue economy and that they believe their country has the capacity to pursue these new avenues of development.
3. Youth is an Opportunity
There is no silver bullet for getting youth into work, but there are many opportunities. Davos made clear that we are facing a paradigm shift in what constitute a job and work in the future faced with the fourth industrial revolution. The Global Opportunity Report presents three opportunities for policymakers, business and youths to explore together to reduce youth unemployment. One opportunity shows that digital technology can be a tool to help create jobs for some youths in some places, although, it also robs jobs in other places. All of the opportunities call for a shift in mindset from education to lifelong learning, from job to work and from a physical to a remote workplace.
This year's Global Opportunity Report finds that in the eyes of business leaders (83 percent of the 5.567 respondents worldwide) the most pressing global risk is rising youth unemployment, but also that getting youth to work holds the greatest opportunities for business. Closing the skills gap and the digital labour market are the opportunities, which are the most favored by business leaders.
The digital labor market can to some degree make the world a bit more flat by connecting talent with jobs. Connecting talent with jobs can be one of the most profitable undertakings for the employer, the employee and society. Unfortunately, neither talent nor opportunities for employment are distributed evenly or even in a predictable manner. It can be difficult to find the right match between an open position and a job seeker. Here the digital labor market is an avenue for change.
4. Smart Food
Hunger and massive food waste and loss define today's global food system. But opportunities to change the way we produce, distribute and use food are already with us and most are well-tested options for change. Technology is a driver in all the opportunities to innovate diets, to make farming smart and to make food last longer. This year's top opportunity in the Global Opportunity Report is smart farming, which leaders from all over the world believes hold great benefits to society and they are even confident in our ability to pursue this option for change.
The opportunity for making farming smarter can increase yields and profits and reduce the use of precious water and fertilizer. Farming takes skills. You have to know when to plant, when to water, when to fertilize and when to harvest. You need to know how to protect your crop from pests and from spoiling after harvest and you need to know what the proper price is for your produce. Luckily, for farmers worldwide, a suite of technological advances can now assist them in growing more food and bringing more of it to market at a fair price.
The phone is the new agricultural tool. Fast-growing access to communication services, including for smallholders, offers a range of benefits to farmers. Better weather and climate data will help in planning which crops to plant and when to harvest. Moreover, with a phone in hand, even small-scale farmers can connect to new, previously unreachable customers, giving them greater power in the marketplace. This kind of knowledge was formerly the reserve of farmers on modernized agricultural production units, but can now be available to a much wider group.
This smart farming opportunity can benefit from the development of a variety of different types of technologies, such as analytics solutions, sensors, soft- and hardware systems and positioning technologies. If successful, it has the potential to increase agricultural production, improve small farmers' competitiveness and provide a growing urban population with fresher produce.
5. From Transport to Mobility
Norms are starting to shift from owning to sharing of assets in a resource-strained world. Vehicles are the symbol of the old ideal of ownership, but people are now increasingly demanding the most efficient and least-polluting mobility option. Sales of cars running on clean energy stored in batteries are starting to take off and opportunities to advance less-polluting transport are readily available. Below you will read about three opportunities, all of which are mature and exist in some form in the world today.
Getting from point A to B should be easy and efficient. It should give us time to prepare for work, to unwind after a day at the office or simply to enjoy the ride.
Most rides are not that way today. Rapid urbanization is hampering the free movement of people and goods. Congested roads are reducing mobility and when cars idle in traffic, air pollution rises. But a flexible system, integrating all transportation modes, can alleviate this pressure. Advances in sensor and communication technology, along with innovative business models, create the opportunity for a paradigm shift in transportation. We do not need to own a car, bike or even a frequent traveller pass. We can purchase mobility as a flexible service adjusted to our preferences, the weather and our agenda for the day. If the weather is nice in the morning, you might want to ride a bike to the office, but when you go home, you need to pick up the groceries, so you choose a car. It may sound futuristic, but the technology and the business models are sprouting.
The public sector is most in favor of the opportunities to reduce emissions from transport in this year's Global Opportunity Report.
Marianne Haahr is project director of the Global Opportunity Project at Monday Morning Global Institute. The Global Opportunity Report is developed in collaboration between MMGI, UNGC and DNV GL.
YOU MIGHT ALSO LIKE
Josh Fox: 'We Are Not drowning, We Are Fighting'
Opposition Grows to Fracking and Fracking Infrastructure Projects
NYC's Biggest Pension Fund Lost $135 Million From Oil and Gas Holdings
Jul. 21, 2017 01:50PM EST
Will Rose / Greenpeace
Eleven peaceful activists from the Greenpeace ship Arctic Sunrise have taken to the water in inflatable boats with handheld banners to oppose the Statoil Songa Enabler oil rig, 275 km North off the Norwegian coast, in the Arctic Barents sea.
The banners say: "People Vs. Arctic Oil" and are directed at Statoil and the Norwegian government, which has opened a new, aggressive search for oil in the waters of the Barents Sea.
Keep reading...
Show less
Jul. 21, 2017 10:34AM EST
Dominion Pipeline Monitoring Coalition
The Federal Energy Regulatory Commission (FERC) paved the way Friday for the 600-mile, 42-inch fracked gas Atlantic Coast Pipeline to proceed when it issued the final environmental impact statement (FEIS). A joint project of utility giants Duke Energy and Dominion Energy, the Atlantic Coast Pipeline would move fracked gas from West Virginia into Virginia and North Carolina.
In April, the Sierra Club submitted more than 500 pages of legal and technical comments on FERC's draft EIS, which were joined by more than 18,000 individual comments detailing opposition to the project. The pipeline has been met with widespread opposition, with more than 1,000 people participating in public hearings across the three affected states. The Sierra Club recently requested that FERC issue a new environmental review document analyzing information that came in after or late in, the public comment process.
Keep reading...
Show less
Jul. 21, 2017 08:25AM EST
Greenpeace / PolluterWatch
By Jessica Corbett
"It's time Rex Tillerson step down or be removed," said Gigi Kellett of Corporate Accountability International, following an announcement on Thursday that ExxonMobil will pay $2 million for violating U.S. sanctions against Russian officials while the now-secretary of state was the company's CEO.
"ExxonMobil demonstrated reckless disregard for U.S. sanction requirements," according to enforcement filing released by the Treasury Department's Office of Foreign Assets Control (OFAC), which issued the penalty. Though the fine is reportedly the maximum penalty allowed, it's pittance to one of the world's most profitable and powerful corporations, which last year reported a profit of $7.8 billion.
Keep reading...
Show less
Jul. 21, 2017 11:15AM EST
New analysis from Amory B. Lovins debunks the notion that highly unprofitable, economically distressed nuclear plants should be further subsi­dized to meet financial, security, reliability and climate goals. The analysis, which will appear shortly in The Electricity Journal, shows that closing costly-to-run nuclear plants and reinvesting their saved operating costs in energy efficiency provides cheaper elec­tricity, increases grid reliability and security, reduces more carbon, and preserves (not distorts) market integrity—all without subsidies.

Keep reading...
Show less
Jul. 21, 2017 08:44AM EST
Oil Change International / Twitter
By Christian Detisch and Seth Gladstone
In the wake of Senate Republicans' ever-deepening debacle over their flailing attempts to strip health insurance from 22 million people, Majority Leader Mitch McConnell is desperate to do something—anything—to show that he can get legislation passed. To this end, he's bypassing the standard committee review process to push a complex 850+ page energy bill straight to the full Senate floor. Perhaps not surprisingly, this legislation, the Energy and Natural Resources Act of 2017, would be a disaster for public health and our climate.
Keep reading...
Show less
Jul. 21, 2017 08:11AM EST
Rooftop solar panels on a beach house in southern Florida. TAI VIINIKKA / CC BY-NC-ND 2.0
A new law passed this week in South Miami will require all new homes built in the city to install solar panels. The measure, which was inspired by a proposal from a teenage climate activist, will go into effect in September.
The text of the ordinance details the climate impacts facing South Miami.
Keep reading...
Show less
Jul. 21, 2017 10:27AM EST
www.youtube.com
Keep reading...
Show less
Jul. 21, 2017 08:49AM EST
iStock
By Katherine Paul and Ronnie Cummins
A recent series of articles by a Washington Post reporter could have some consumers questioning the value of the U.S. Department of Agriculture's (USDA) organic seal. But are a few bad eggs representative of an entire industry?
Consumers are all for cracking down on the fraudulent few who, with the help of Big Food, big retail chains and questionable certifiers give organics a bad name. But they also want stronger standards, and better enforcement—not a plan to weaken standards to accommodate "Factory Farm Organic."
Keep reading...
Show less


Get EcoWatch in your inbox