This website uses cookies to ensure you get the best experience while browsing it. By clicking 'Got It' you're accepting these terms.
5 Solar Innovations That Are Revolutionizing the World
May. 20, 2015 10:02AM EST
Business
Solar power is lighting up the world, and not just on rooftops. Forward-thinking minds are discovering ways to harness the sun's energy in many exciting ways, from the ground beneath our feet to the shirt off our back. The following innovations are shining beacons in a renewable energy future.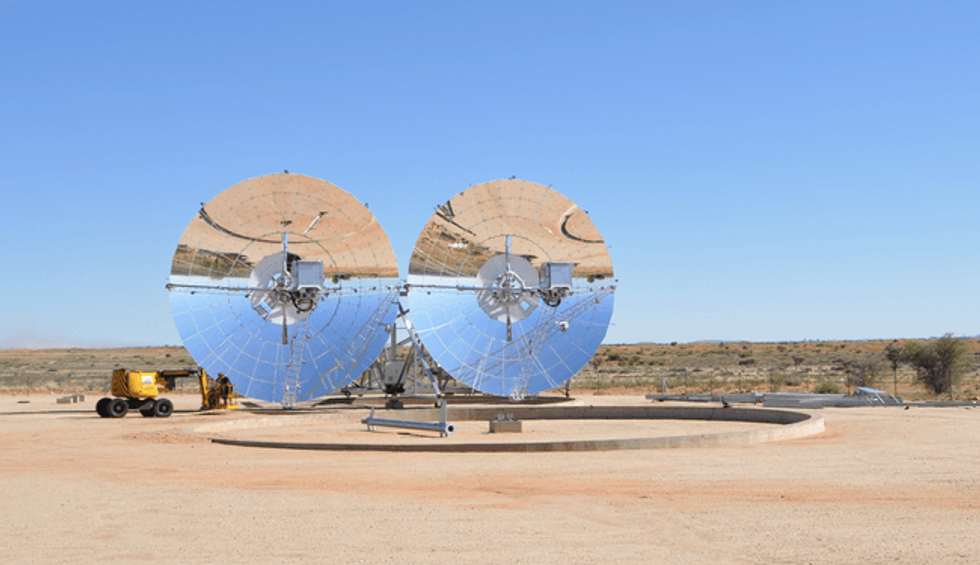 1. Strides in solar efficiency
Most solar generators can convert up to 23 percent of sunlight into electricity. However, Swedish company Ripasso Energy claims they can covert 34 percent of the sun's energy into power with their contraption (see photo above), making it the world's most efficient solar electricity system. According to The Guardian, independent tests found that a single Ripasso dish can generate 75 to 85 zero-emission megawatt hours of electricity a year, or enough to power 24 typical homes in the UK. To compare, to create the same amount of electricity by burning coal would release roughly 81 metric tonnes of CO2 into the atmosphere, the newspaper reported.
2. Battery technology and shared solar untether us from Big Power
Elon Musk really is Tony Stark. The billionaire entrepreneur recently unveiled a revolutionary suite of Tesla batteries that he says could "fundamentally change the way the world uses energy" and get us off dirty fossil fuels. Musk's sister company SolarCity is now offering Tesla batteries at a price point that's more than 60 percent less than previous solar power storage products, paving the way for more people to peel themselves off the grid.
For people who don't have the funds or the right roof for photovoltaic panels, peer-to-peer solar startup Yeloha is offering a genius solution: solar sharing. The company allows customers to "go solar" without owning a single panel by essentially feeding off their neighbors who do (and at a price that's less than what they'd normally pay to their utility).
3. Portable solar brings light to developing world 
For places recovering from disaster or communities lacking access to electricity, solar systems provide an alternative or a complement to traditional power sources such as fossil fuel generators (diesel or gasoline is not only expensive, it emits noxious fumes and can cause fires). For example, after the first of two devastating earthquakes struck Nepal, solar company Gham Power deployed solar power systems to help power lights and mobile charging stations for relief workers and the displaced. And in Haiti, the nonprofit organization Field Ready is trying to use a solar powered 3D-printer to make a whole range of simple, life-saving medical supplies at a fraction of the cost.
4. Solar desalination: solution to drought?
Scientists are solving the planet's fresh water worries with a little help from the sun. Recently, a team from the Massachusetts Institute of Technology and Jain Irrigation Systems have come up with a method of turning brackish water into drinking water with a solar-powered machine that can pull salt out of water. It then further disinfects the water with ultraviolet rays. With parts of the planet running perilously low on fresh water, realization of this technology can't come soon enough.
5. Solar transportation
In the air and on the road, solar technology is going the distance. Currently, the Solar Impulse 2, the first solar airplane able to sustain flight at night with a pilot on board, is making its historic round-the-world trip powered only by the sun.
Over in the Netherlands, SolaRoad, the world's first "solar road," has defied expectations and has generated about 3,000 kWh of power, enough to provide a single-person household with electricity for a year. Considering it's only a 230-feet bike path, the potential for this technology could be big, kind of like photovoltaic technology itself.
YOU MIGHT ALSO LIKE
7 Facts That Prove the Renewable Energy Revolution Has Arrived
How Solar Can Help Power Nepal's Relief and Recovery Efforts
7 Green Innovations That Are Changing the Way We Do Business
EcoWatch Daily Newsletter
A Starbucks barista prepares a drink at a Starbucks Coffee Shop location in New York. Ramin Talaie / Corbis via Getty Images
By Cathy Cassata
Are you getting your fill of Starbucks' new Almondmilk Honey Flat White, Oatmilk Honey Latte, and Coconutmilk Latte, but wondering just how healthy they are?
By Sharon Kelly
Back in April last year, the Trump administration's Environmental Protection Agency decided it was "not necessary" to update the rules for toxic waste from oil and gas wells. Torrents of wastewater flow daily from the nation's 1.5 million active oil and gas wells and the agency's own research has warned it may pose risks to the country's drinking water supplies.
Swedish climate activist Greta Thunberg takes part in a "Friday for Future" youth demonstration in a street of Davos on Jan. 24, 2020 on the sideline of the World Economic Forum annual meeting. FABRICE COFFRINI / AFP via Getty Images
Treasury Secretary Steven Mnuchin pretended not to know who Greta Thunberg is, and then he told her to get a degree in economics before giving world leaders advice, as The Guardian reported.
The Visible Infrared Imaging Radiometer Suite on the Suomi NPP satellite acquired this image of forest fire smoke hovering over North America on Aug. 15, 2018. NASA Earth Observatory
New York City isn't known for having the cleanest air, but researchers traced recent air pollution spikes there to two surprising sources — fires hundreds of miles away in Canada and the southeastern U.S.
If temperatures continue to rise, the world is at risk from global
sea-level rise
, which will flood many coastal cities as seen above in Bangladesh. NurPhoto / Contributor / Getty Images
The mounting climate emergency may spur the next global financial crisis and the world's central banks are woefully ill equipped to handle the consequences, according to a new book-length report by the Bank for International Settlements (BIS), as S&P Global reported. Located in Basel, Switzerland, the BIS is an umbrella organization for the world's central banks.