This website uses cookies to ensure you get the best experience while browsing it. By clicking 'Got It' you're accepting these terms.
5 Reasons You Should Eat Probiotic-Rich Fermented Foods
Jul. 07, 2015 10:07AM EST
Food
The best way to prevent anxiety—and the stress-induced bellyache that comes along with it—may be to balance your gut bacteria. Eating probiotic-rich fermented foods is associated with less social anxiety, according to a new study published in Psychiatry Research.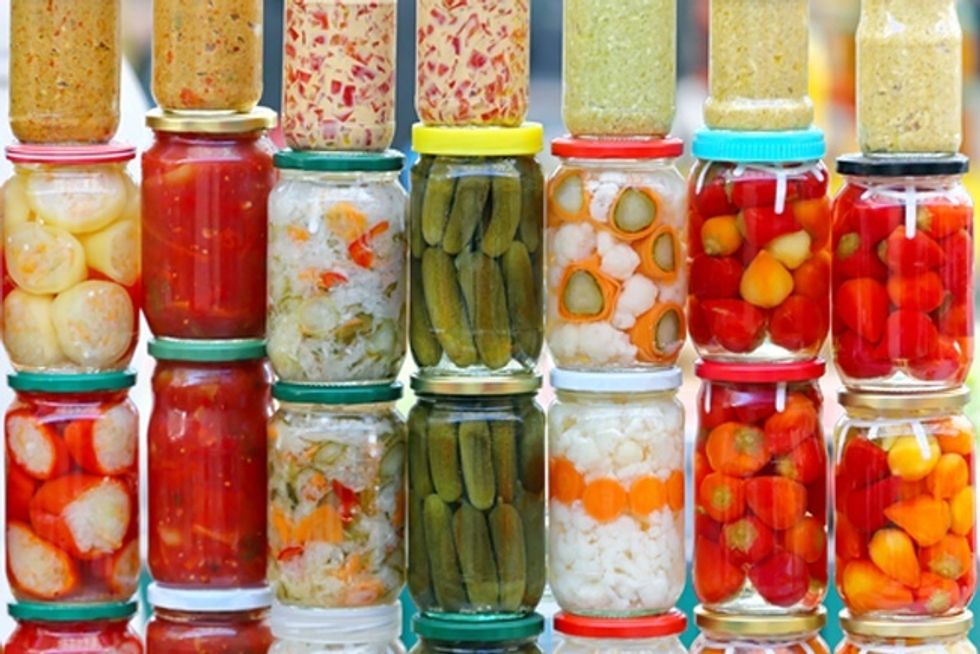 Photo credit: Shutterstock
Plus, this held true even for individuals who may be genetically predisposed for anxiety. The researchers explained that phobias seem to be hereditary, suggesting a genetic component. They measured this with the personality trait of neuroticism (a personality trait characterized by instability, aggression and anxiety). In the study, individuals who rated high for neuroticism had fewer social anxiety symptoms if they ate more fermented foods.
One way your gut talks to your brain is through the hypothalmic-pituitary-adrenal axis (HPA). "As far as gut-brain communication is concerned, your HPA axis is an interstate freeway," says Gerard Mullin, MD, author of The Gut Balance Revolution.
Dr. Mullin explains the major players in this complex system:
• The hypothalamus is part of your brain.
• The pituitary gland controls several hormones.
• Your adrenal system governs your body's stress response.
How does your gut get involved? Dr. Mullin points out that initial research with rats has found that a healthy microbiota early in life is critical for their HPA development. "If this turns out to be true of humans as well, we'll know that your microbiota have a far wider influence over your health than we originally thought," he says.
And we do know that an imbalanced HPA axis can lead to an exaggerated stress response and altered neurotransmitters and brain hormones. "This may be one of the reasons why mood disorders such as depression and anxiety and even autism have been tied to [microbial imbalance] and why administering probiotics helps improve these conditions," he says.
In addition to eating probiotic foods—like kefir, sauerkraut, fermented miso and kimchi—Dr. Mullin recommends eating non-digestible carbs (aka fiber) to support good gut bacteria. His picks are bananas, onions, Jerusalem artichokes, asparagus and leeks.
"This class of fiber is so important because your gut bugs love to eat these fiber-rich and fermentable carbs, and when they get them, they send out 'happy' messages encouraging your body to produce these chemicals in the right amounts," he says.
While this study doesn't prove a causational link between fermented foods and social anxiety, it does add to the research supporting that a healthy brain starts in the gut because of the gut-brain axis.
YOU MIGHT ALSO LIKE
Should I Be Concerned About Arsenic in My Rice?
Does Greek Yogurt Live Up to All its Hype?
7 Things You Should Know About the Health Benefits of Aloe Water
EcoWatch Daily Newsletter
A new report spotlights a U.N. estimate that at least 275 million people rely on healthy coral reefs. A sea turtle near the Heron Island in the Great Barrier Reef is seen above. THE OCEAN AGENCY / XL CATLIN SEAVIEW SURVEY
In a new report about how the world's coral reefs face "the combined threats of climate change, pollution, and overfishing" — endangering the future of marine biodiversity — a London-based nonprofit calls for greater global efforts to end the climate crisis and ensure the survival of these vital underwater ecosystems.
Half of the extracted resources used were sand, clay, gravel and cement, seen above, for building, along with the other minerals that produce fertilizer. Cavan Images / Cavan / Getty Images
The world is using up more and more resources and global recycling is falling. That's the grim takeaway from a new report by the Circle Economy think tank, which found that the world used up more than 110 billion tons, or 100.6 billion metric tons, of natural resources, as Agence France-Presse (AFP) reported.
By Gero Rueter
Heating with coal, oil and natural gas accounts for around a quarter of global greenhouse gas emissions. But that's something we can change, says Wolfgang Feist, founder of the Passive House Institute in the western German city of Darmstadt.

By George Citroner
Recent research finds that official government figures may be underestimating drug deaths by half.
Researchers estimate that 142,000 people died due to drug use in 2016.
Drug use decreases life expectancy after age 15 by 1.4 years for men and by just under 1 year for women, on average.
Government records may be severely underreporting how many Americans die from drug use, according to a new study by researchers from the University of Pennsylvania and Georgetown University.
Water coolers in front of shut-off water fountains at Center School in Stow, MA on Sept. 4, 2019 after elevated levels of PFAS were found in the water. David L. Ryan / The Boston Globe via Getty Images
In a new nationwide assessment of drinking water systems, the Environmental Working Group found that toxic fluorinated chemicals known as PFAS are far more prevalent than previously thought.