This website uses cookies to ensure you get the best experience while browsing it. By clicking 'Got It' you're accepting these terms.
5 Reasons You Should Eat Probiotic-Rich Fermented Foods
Jul. 07, 2015 11:07AM EST
Food
The best way to prevent anxiety—and the stress-induced bellyache that comes along with it—may be to balance your gut bacteria. Eating probiotic-rich fermented foods is associated with less social anxiety, according to a new study published in Psychiatry Research.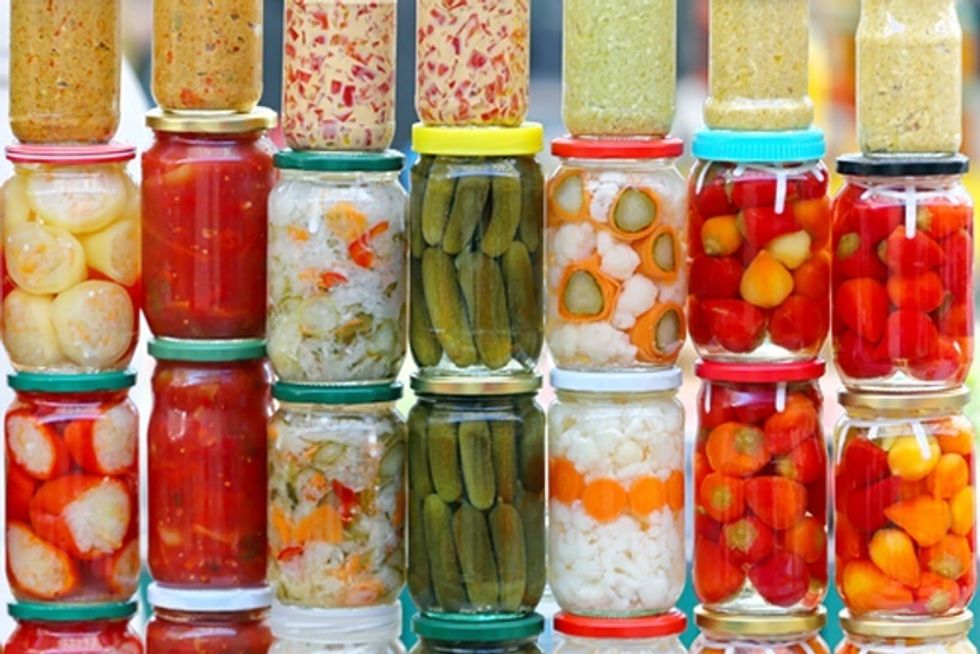 Photo credit: Shutterstock
Plus, this held true even for individuals who may be genetically predisposed for anxiety. The researchers explained that phobias seem to be hereditary, suggesting a genetic component. They measured this with the personality trait of neuroticism (a personality trait characterized by instability, aggression and anxiety). In the study, individuals who rated high for neuroticism had fewer social anxiety symptoms if they ate more fermented foods.
One way your gut talks to your brain is through the hypothalmic-pituitary-adrenal axis (HPA). "As far as gut-brain communication is concerned, your HPA axis is an interstate freeway," says Gerard Mullin, MD, author of The Gut Balance Revolution.
Dr. Mullin explains the major players in this complex system:
• The hypothalamus is part of your brain.
• The pituitary gland controls several hormones.
• Your adrenal system governs your body's stress response.
How does your gut get involved? Dr. Mullin points out that initial research with rats has found that a healthy microbiota early in life is critical for their HPA development. "If this turns out to be true of humans as well, we'll know that your microbiota have a far wider influence over your health than we originally thought," he says.
And we do know that an imbalanced HPA axis can lead to an exaggerated stress response and altered neurotransmitters and brain hormones. "This may be one of the reasons why mood disorders such as depression and anxiety and even autism have been tied to [microbial imbalance] and why administering probiotics helps improve these conditions," he says.
In addition to eating probiotic foods—like kefir, sauerkraut, fermented miso and kimchi—Dr. Mullin recommends eating non-digestible carbs (aka fiber) to support good gut bacteria. His picks are bananas, onions, Jerusalem artichokes, asparagus and leeks.
"This class of fiber is so important because your gut bugs love to eat these fiber-rich and fermentable carbs, and when they get them, they send out 'happy' messages encouraging your body to produce these chemicals in the right amounts," he says.
While this study doesn't prove a causational link between fermented foods and social anxiety, it does add to the research supporting that a healthy brain starts in the gut because of the gut-brain axis.
YOU MIGHT ALSO LIKE
Should I Be Concerned About Arsenic in My Rice?
Does Greek Yogurt Live Up to All its Hype?
7 Things You Should Know About the Health Benefits of Aloe Water
EcoWatch Daily Newsletter
Heavy industry on the lower Mississippi helps to create dead zones.
AJ Wallace on Unsplash.
Cutting out coal-burning and other sources of nitrogen oxides (NOx) from heavy industry, electricity production and traffic will reduce the size of the world's dead zones along coasts where all fish life is vanishing because of a lack of oxygen.
Despite the ongoing coronavirus pandemic, which has restricted the ability to gather in peaceful assembly, a Canadian company has moved forward with construction of the controversial Keystone XL pipeline, according to the AP.
A gas flare from the Shell Chemical LP petroleum refinery illuminates the sky on August 21, 2019 in Norco, Louisiana. Drew Angerer / Getty Images.
Methane levels in the atmosphere experienced a dramatic rise in 2019, preliminary data released Sunday shows.
A retired West Virginia miner suffering from black lung visits a doctor for tests. Andrew Lichtenstein / Corbis via Getty Images
In some states like West Virginia, coal mines have been classified as essential services and are staying open during the COVID-19 pandemic, even though the close quarters miners work in and the known risks to respiratory health put miners in harm's way during the spread of the coronavirus.