This website uses cookies to ensure you get the best experience while browsing it. By clicking 'Got It' you're accepting these terms.
5 Reasons Why You Should Be Eating More Mushrooms
May. 27, 2014 11:12AM EST
Food
Mushrooms often appear on lists of most-hated vegetables. Working in the restaurant industry, I got lots of requests to omit them from salads, pizzas and calzones. I guess there's something about the texture or taste (or both) that turns people off. I wouldn't know, because I'm a big fan of the friendly fungi. They add a deliciously-earthy flavor to a plethora of dishes, from vegetable stir fry to grilled steak.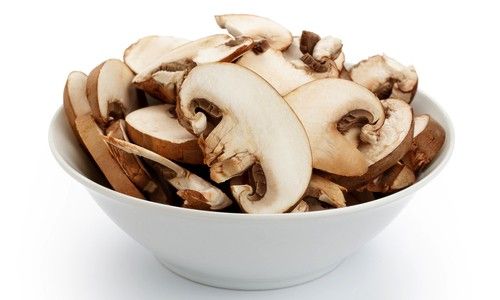 Photo courtesy of Shutterstock
Their flavor is just one reason to love the humble mushroom. For one thing, they're incredibly easy to grow at home. They can also be used to make lots of inedible things, like packaging and even houses. But for now, let's focus on what they can do for your health:
1. Weight Loss
Results of a study conducted by the University of Buffalo indicate that consumption of mushrooms could be useful in regulating glucose levels, a benefit that might make it easier to lose weight and exercise longer by controlling blood sugar, especially for women. The study used a Portabella powder, but we're fairly certain eating them whole works just as well.
2. Nutrient Absorption
Vitamin D is vital for many aspects of human health, and supplements just don't cut it. Mushrooms just happen to be one of the few vegetables considered to be a good source of edible Vitamin D. "This essential vitamin can facilitate the absorption and metabolism of calcium and phosphorous," explains Organic Facts.
3. Stronger Bones
In addition to Vitamin D (which is good for bones) mushrooms also contain calcium (the very nutrient that Vitamin D helps you to absorb). This serendipitous occurrence just increases the benefits for your bones. Eating adequate amounts of calcium has been shown to reduce joint pain, lack of mobility and even osteoporosis risk.
4. Diabetes Management
Between the obesity epidemic and the proliferation of food deserts, it's no wonder that diabetes rates have skyrocketed. Mushrooms are considered a good tool for dietary management of this condition, as they contain natural insulin and enzymes which help the body break down sugar and starch in other foods.
5. Immune Health
As we've mentioned many times before, food–not pills–is your best chance for a strong immune system and overall health. Long before we had the word "superfood," humans were reaping the immune benefits of eating mushrooms. As one of the highest antioxidant foods in the world, it's no surprised that mushrooms have been found to stimulate and regulate the body's immune system. Research also indicates that mushrooms can help reduce risk of breast and prostate cancer, two of the most common kinds.
--------
YOU MIGHT ALSO LIKE
Mushrooms Used for Bioremediation to Clean Pesticides From Oregon's Waterways
Researcher Develops Innovative Way to Use Fungi for Bioremediation of Oil-Contaminated Soils
5 Probiotic Foods You Should Be Eating  
--------
EcoWatch Daily Newsletter
By Anne-Sophie Brändlin
October 16 marks World Food Day this year, a day celebrated every year by the United Nations' Food and Agriculture Organization (FAO).
World Food Day is a call to make healthy and sustainable diets affordable and accessible for everyone, while nurturing the planet at the same time.
Graphical representation of vertical pectoral herding by whale in Southeast Alaska. Prey are denoted in yellow. Whale deploys an upward-spiral bubble-net to corral prey and establish the first barrier; pectorals then protract to form a 'V' shape around the open mouth (depicted by blue arrows), creating a second physical barrier.
Kyle Kosma / Royal Society Open Science /
CC BY 4.0
When you have a whale-sized appetite, you need to figure out some pretty sophisticated feeding strategies. They mysteries of how a humpback whale traps so much prey have eluded scientists, until now.
California Yosemite River Scene.
Mobilus In Mobili / Flickr /
CC BY-SA 2.0
An advisory panel appointed by Trump's first Secretary of the Interior, Ryan Zinke, has recommended privatizing National Parks campgrounds, allowing food trucks in and setting up WiFi at campgrounds while also reducing benefits to seniors, according to the panel's memo.
Strips of native prairie grasses planted on Larry and Margaret Stone's Iowa farm protect soil, water and wildlife.
Iowa State University / Omar de Kok-Mercado, CC BY-ND
In Haiti, Action Against Hunger screens children for malnutrition. Christophe Da Silva / Action Against Hunger, Haiti
By Dr. Charles Owubah
As a child growing up on a farm in Ghana, I have personally known hunger. The most challenging time was between planting and harvesting – "the hunger season." There were many occasions when we did not know where the next meal would come from.
Today, on World Food Day, I think of the 820 million people around the world who are undernourished.
A Lyme disease warning on Montauk, Long Island, New York.
Neil R / Flickr
Biomedical engineers have developed a new, rapid test capable of detecting Lyme disease in just 15 minutes.
Brown bear fishing for salmon in creek at Pavlof Harbor in Tongass National Forest, Alaska. Wolfgang Kaehler / LightRocket / Getty Images
The Trump administration has moved one step closer to opening Earth's largest intact temperate rainforest to logging.
The Democratic primary candidates take the stage during Tuesday's debate. SAUL LOEB / AFP via Getty Images
On Tuesday night, the Democratic presidential candidates gathered for what The Guardian said was the largest primary debate in U.S. history, and they weren't asked a single question about the climate crisis.