This website uses cookies to ensure you get the best experience while browsing it. By clicking 'Got It' you're accepting these terms.
5 Reasons Why You Should Be Eating More Mushrooms
May. 27, 2014 11:12AM EST
Mushrooms often appear on lists of most-hated vegetables. Working in the restaurant industry, I got lots of requests to omit them from salads, pizzas and calzones. I guess there's something about the texture or taste (or both) that turns people off. I wouldn't know, because I'm a big fan of the friendly fungi. They add a deliciously-earthy flavor to a plethora of dishes, from vegetable stir fry to grilled steak.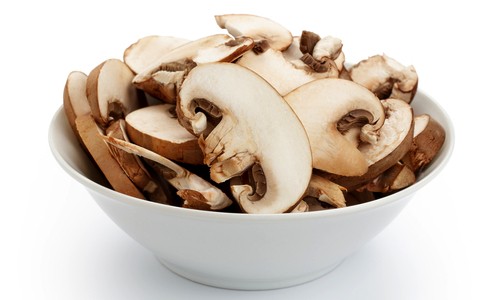 Photo courtesy of Shutterstock
Their flavor is just one reason to love the humble mushroom. For one thing, they're incredibly easy to grow at home. They can also be used to make lots of inedible things, like packaging and even houses. But for now, let's focus on what they can do for your health:
1. Weight Loss
Results of a study conducted by the University of Buffalo indicate that consumption of mushrooms could be useful in regulating glucose levels, a benefit that might make it easier to lose weight and exercise longer by controlling blood sugar, especially for women. The study used a Portabella powder, but we're fairly certain eating them whole works just as well.
2. Nutrient Absorption
Vitamin D is vital for many aspects of human health, and supplements just don't cut it. Mushrooms just happen to be one of the few vegetables considered to be a good source of edible Vitamin D. "This essential vitamin can facilitate the absorption and metabolism of calcium and phosphorous," explains Organic Facts.
3. Stronger Bones
In addition to Vitamin D (which is good for bones) mushrooms also contain calcium (the very nutrient that Vitamin D helps you to absorb). This serendipitous occurrence just increases the benefits for your bones. Eating adequate amounts of calcium has been shown to reduce joint pain, lack of mobility and even osteoporosis risk.
4. Diabetes Management
Between the obesity epidemic and the proliferation of food deserts, it's no wonder that diabetes rates have skyrocketed. Mushrooms are considered a good tool for dietary management of this condition, as they contain natural insulin and enzymes which help the body break down sugar and starch in other foods.
5. Immune Health
As we've mentioned many times before, food–not pills–is your best chance for a strong immune system and overall health. Long before we had the word "superfood," humans were reaping the immune benefits of eating mushrooms. As one of the highest antioxidant foods in the world, it's no surprised that mushrooms have been found to stimulate and regulate the body's immune system. Research also indicates that mushrooms can help reduce risk of breast and prostate cancer, two of the most common kinds.
--------
YOU MIGHT ALSO LIKE
Mushrooms Used for Bioremediation to Clean Pesticides From Oregon's Waterways
Researcher Develops Innovative Way to Use Fungi for Bioremediation of Oil-Contaminated Soils
5 Probiotic Foods You Should Be Eating  
--------
Three scissor-tailed flycatcher fledglings in a mesquite tree in Texas. Texas Eagle / CC BY-NC 2.0
By Gary Paul Nabhan
President Trump has declared a national emergency to fund a wall along our nation's southern border. The border wall issue has bitterly divided people across the U.S., becoming a vivid symbol of political deadlock.
PeopleImages / E+ / Getty Images
By Daniel Ross
Hurricane Florence, which battered the U.S. East Coast last September, left a trail of ruin and destruction estimated to cost between $17 billion and $22 billion. Some of the damage was all too visible—smashed homes and livelihoods. But other damage was less so, like the long-term environmental impacts in North Carolina from hog waste that spilled out over large open-air lagoons saturated in the rains.
Hog waste can contain potentially dangerous pathogens, pharmaceuticals and chemicals. According to the state's Department of Environmental Quality, as of early October nearly 100 such lagoons were damaged, breached or were very close to being so, the effluent from which can seep into waterways and drinking water supplies.
This picture taken on May 21, 2018 shows discarded climbing equipment and rubbish scattered around Camp 4 of Mount Everest. Decades of commercial mountaineering have turned Mount Everest into the world's highest rubbish dump as an increasing number of big-spending climbers pay little attention to the ugly footprint they leave behind. DOMA SHERPA / AFP / Getty Images
China has closed its Everest base camp to tourists because of a buildup of trash on the world's tallest mountain.
Researchers tested the eggs of Arctic northern fulmers like these in Nunavut, Canada.
Fiona Paton / Flickr
By Madison Dapcevich
Plastics have been recorded in every corner of the world, from the remote icy waters of Antarctica to the bellies of deep-sea fishes. Now, preliminary findings presented at this year's American Association for the Advancement of Science (AAAS) annual meeting in Washington, DC suggest that bird eggs from the high Arctic—one of the most remote wildernesses on the planet—show evidence of contamination from chemicals used in plastics.