This website uses cookies to ensure you get the best experience while browsing it. By clicking 'Got It' you're accepting these terms.
5 Reasons Why Bernie Sanders Would Be the Best Choice for the Future of the Planet
Apr. 14, 2016 11:35AM EST
Climate
1. Sanders linked climate change to national security in a national discussion on terrorism.
In the first Democratic debate following the Paris attacks, CBS moderator John Dickerson of "Face the Nation" questioned Bernie Sanders about his plans to rid the planet of ISIL.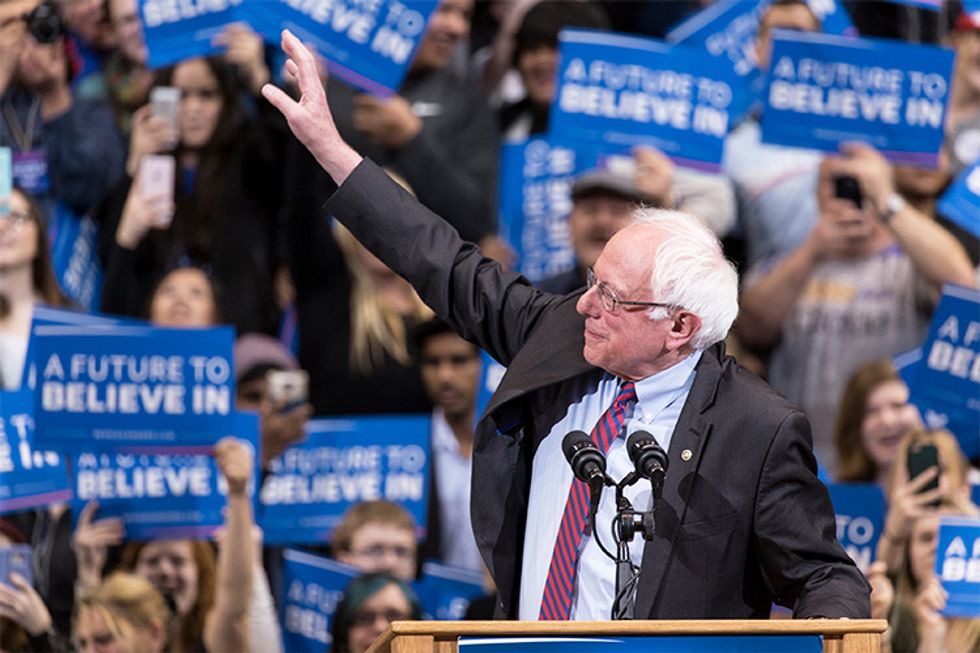 "In the previous debate you said the greatest threat to national security was climate change," Dickerson began. "Do you still believe that?"
"Absolutely," Sanders said. "In fact, climate change is directly related to the growth of terrorism. And if we do not get our act together and listen to what the scientists say, you're going to see countries all over the world—this is what the CIA says—they're going to be struggling over limited amounts of water, limited amounts of land to grow their crops and you're going to see all kinds of international conflict."
While his remarks may have baffled some people, Sanders is right to relate climate change to the growth of terrorism and create a national dialogue about this overlooked relationship.
2. Sanders is the only anti-fracking candidate.
This week, the Sanders campaign released an ad exclusively to reiterate Bernie's stance on fracking. Actress and activist Susan Sarandon, an ardent supporter, narrates the spot.
"Do Washington politicians side with polluters over families?" Sarandon asked. "They sure do, because Big Oil pumps millions into their campaigns. Bernie Sanders is the only candidate for president who opposes fracking everywhere. Why? Because fracking pumps dangerous cancer-causing chemicals into the ground and threatens our drinking water."
New York banned fracking last June and votes in the primary April 19. However, fracking affects nearly half the nation's states.
3. Sanders sponsored the Rebuild America Act of 2015.
The Rebuild America Act of 2015 aims to improve watersheds, wastewater treatment, drinking water systems and create dams and levees to prevent flooding. It also seeks to set aside $3 billion a year to improve national parks, monuments, heritage areas and landmarks.
"The simple truth is that our infrastructure is collapsing and the American people know it," said Sanders. "For much of our history, the U.S. proudly led the world in building innovative infrastructure. Today, the U.S spends less than 2 percent of GDP on infrastructure, less than at any point in the last 20 years."
4. Sanders has a legacy of environmental protection, dating back to his years as mayor of Burlington, Vermont.
As the mayor of Burlington, Sanders scuttled plans to develop luxury 18-story condominiums and a 150-room hotel and "worked to create the public-use Waterfront Park on the shores of Vermont's largest city," according to his website.
"We took the fight to the courts, to the legislature and to the people. And we won," Sanders said.
Environmentalists, including Bea Bookchin and Sandy Baird, sided with Sanders' strong opposition in December 1985—and ultimately won "the best deal the city could expect to redevelop its then-derelict waterfront," wrote Seven Days' Molly Walsh.
The "walkable mixed-use park includes a sailing center and marina, science center, bike path and public beach"—and is arguably the reason the area looks the way it does today.
5. Sanders received a near-perfect rating on environmentalism from the League of Conservation Voters.
On his national environmental scorecard, Sanders received a perfect score for 2015 and a lifetime score of 95 percent. He was just endorsed by Oregon senator Jeff Merkley, who also received a perfect score for 2015 and a lifetime score of 99 percent.
"After considering the biggest challenges facing our nation and the future I want for my children and our country, I have decided to become the first member of the Senate to support my colleague Bernie Sanders for president," Merkley told the New York Times today.
"From her time advocating for children as a young lawyer to her work as first lady of Arkansas and the United States and as a senator and secretary of state, Hillary Clinton has a remarkable record. She would be a strong and capable president," Merkley declared. "But Bernie Sanders is boldly and fiercely addressing the biggest challenges facing our country."
YOU MIGHT ALSO LIKE
Bernie Sanders Calls for Nationwide Ban on Fracking
Climate Rally for Bernie Sanders Draws 1,000 Anti-Fracking Activists in Upstate New York
400 Arrested on Capitol Steps Protesting Big Money in Politics
How Much Money Has Hillary Clinton's Campaign Taken From the Fossil Fuel Industry?
EcoWatch Daily Newsletter
Aerial view of Ruropolis, Para state, northen Brazil, on Sept. 6, 2019. Tthe world's biggest rainforest is under threat from wildfires and rampant deforestation. JOHANNES MYBURGH / AFP via Getty Images
By Kate Martyr
Deforestation in Brazil's Amazon rainforest last month jumped to the highest level since records began in 2015, according to government data.
A total of 563 square kilometers (217.38 square miles) of the world's largest rainforest was destroyed in November, 103% more than in the same month last year, according to Brazil's space research agency.
From January to November this year an area almost the size of the Caribbean island of Puerto Rico was destroyed — an 83% overall increase in destruction when compared with the same period last year.
The figures were released on Friday by the National Institute for Space Research (INPE), and collected through the DETER database, which uses satellite images to monitor forest fires, forest destruction and other developments affecting the rainforest.
What's Behind the Rise?
Overall, deforestation in 2019 has jumped 30% compared to last year — 9,762 square kilometers (approximately 3769 square miles) have been destroyed, despite deforestation usually slowing during November and December.
Environmental groups, researchers and activists blamed the policies of Brazil's president Jair Bolsonaro for the increase.
They say that Bolosonaro's calls for the Amazon to be developed and his weakening support for Ibama, the government's environmental agency, have led to loggers and ranchers feeling safer and braver in destroying the expansive rainforest.
His government hit back at these claims, pointing out that previous governments also cut budgets to environment agencies such as Ibama.
The report comes as Brazil came to loggerheads with the Association of Small Island States (AOSIS) over climate goals during the UN climate conference in Madrid.
AOSIS blasted Brazil, among other nations, for "a lack of ambition that also undermines ours."
Last month, a group of Brazilian lawyers called for Bolsonaro to be investigated by the International Criminal Court over his environmental policies.
Reposted with permission from DW.
The Carolina parakeet went extinct in 1918. James St. John /
CC BY 2.0
The Carolina parakeet, the only parrot species native to the U.S., went extinct in 1918 when the last bird died at the Cincinnati Zoo. Now, a little more than 100 years later, researchers have determined that humans were entirely to blame.
Pexels
Vitamin C is a very important nutrient that's abundant in many fruits and vegetables.
BLM drill seeders work to restore native grasses after wildfire on the Bowden Hills Wilderness Study Area in southeast Oregon, Dec. 14, 2018. Marcus Johnson / BLM / CC BY 2.0
By Tara Lohan
In 2017 the Thomas fire raged through 281,893 acres in Ventura and Santa Barbara counties, California, leaving in its wake a blackened expanse of land, burned vegetation, and more than 1,000 destroyed buildings.