This website uses cookies to ensure you get the best experience while browsing it. By clicking 'Got It' you're accepting these terms.
Energy drinks have been touted as a virtual fountain of miracles. Ads imply they give you not only energy but stamina, strength, alertness, good health and the ability to perform amazing athletic and intellectual feats. But a new report this week from the UN's World Health Organization is merely the latest piece of evidence suggesting you might as well stick with that cup of coffee that can actually be good for you.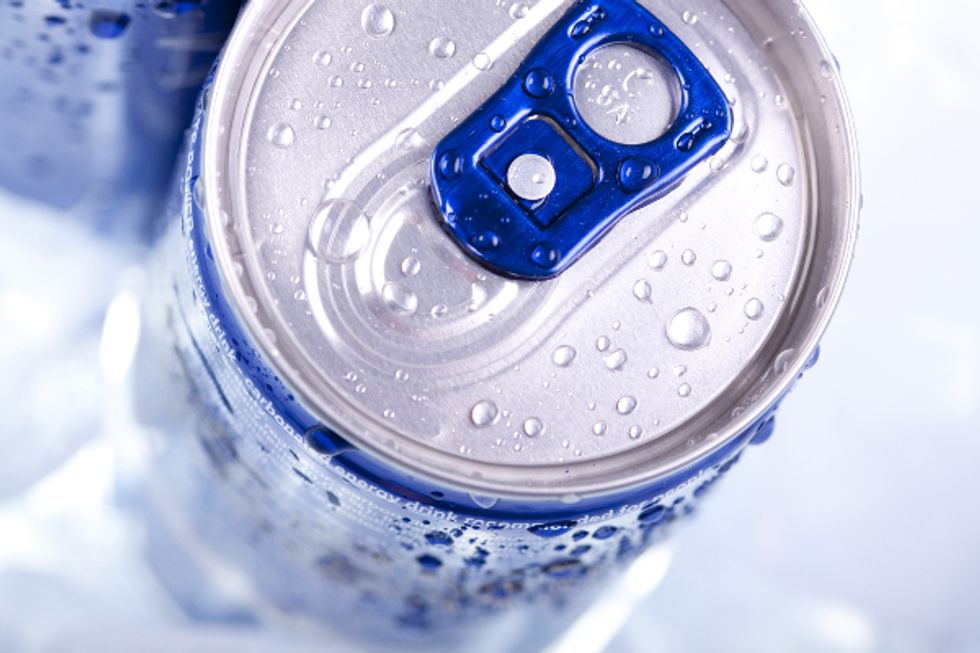 Photo credit: Shutterstock
What's the problem? There are several things you might want to pay attention to before you reach for another can or bottle of your favorite energy drink.
1. While everyone is aware of coffee's caffeine content and pretty savvy about how much they can handle, people are less likely to be aware of and regulate their caffeine content from energy drinks. After all, they are so sparkling and refreshing and often come in fruity flavors. But they can cause nausea, heart palpitations and high blood pressure if consumed in large quantities and maybe possibly have even been linked to a death or two—do you really want to take the risk?
2. Many of them are packed with sugar or even (shudder) high fructose corn syrup. You already know that increasing your sugar intake dramatically isn't a good thing. Tooth decay, weight gain, inflammation, diabetes, metabolic issues and many other negative health effects effects follow elevated sugar consumption. Sugar is one ingredient you probably get more than enough of—it's in everything!—and you don't need a drink that ups your daily intake.
3. Mixing energy drinks and alcohol is especially dangerous. An Australian study that came out this summer found that the combination made you want to drink more. While the study said it didn't know why, it was clear that that drinking the two together increased craving for alcohol above drinking alcohol alone. Other studies have suggested that energy drinks mask signs of intoxication that might tell you to slow down your drinking. Many states have banned alcoholic drinks containing caffeine for that reason.
2. If you have kids or teens around, don't think energy drinks are a safer substitute for the huge amounts of soda. Kids and teens who are already easily overstimulated and overstressed don't need a jolt of caffeine and sugar. This is one group that doesn't need a drink to give it energy.
5. You're spending a lot of money for little benefit. Eat a balanced diet, drink lots of water, get enough sleep and exercise regularly. All those things will cost you less and make you feel more energetic and alert. There's just no miracle in a bottle or can and no substitute for a health lifestyle.
An occasional energy drink isn't going to do you any harm. But with marketing trying to push them as part of our daily routine, it's smart to know what you're drinking and swig it in moderation.
YOU MIGHT ALSO LIKE
Powerful Antioxidant You Can Eat, Drink or Apply to Your Skin
How Much Water Should You Drink Per Day?
EcoWatch Daily Newsletter
A Starbucks barista prepares a drink at a Starbucks Coffee Shop location in New York. Ramin Talaie / Corbis via Getty Images
By Cathy Cassata
Are you getting your fill of Starbucks' new Almondmilk Honey Flat White, Oatmilk Honey Latte, and Coconutmilk Latte, but wondering just how healthy they are?
By Sharon Kelly
Back in April last year, the Trump administration's Environmental Protection Agency decided it was "not necessary" to update the rules for toxic waste from oil and gas wells. Torrents of wastewater flow daily from the nation's 1.5 million active oil and gas wells and the agency's own research has warned it may pose risks to the country's drinking water supplies.
Swedish climate activist Greta Thunberg takes part in a "Friday for Future" youth demonstration in a street of Davos on Jan. 24, 2020 on the sideline of the World Economic Forum annual meeting. FABRICE COFFRINI / AFP via Getty Images
Treasury Secretary Steven Mnuchin pretended not to know who Greta Thunberg is, and then he told her to get a degree in economics before giving world leaders advice, as The Guardian reported.
The Visible Infrared Imaging Radiometer Suite on the Suomi NPP satellite acquired this image of forest fire smoke hovering over North America on Aug. 15, 2018. NASA Earth Observatory
New York City isn't known for having the cleanest air, but researchers traced recent air pollution spikes there to two surprising sources — fires hundreds of miles away in Canada and the southeastern U.S.
If temperatures continue to rise, the world is at risk from global
sea-level rise
, which will flood many coastal cities as seen above in Bangladesh. NurPhoto / Contributor / Getty Images
The mounting climate emergency may spur the next global financial crisis and the world's central banks are woefully ill equipped to handle the consequences, according to a new book-length report by the Bank for International Settlements (BIS), as S&P Global reported. Located in Basel, Switzerland, the BIS is an umbrella organization for the world's central banks.