This website uses cookies to ensure you get the best experience while browsing it. By clicking 'Got It' you're accepting these terms.
5 Reasons to Love Eating Eggs
Oct. 03, 2014 08:03AM EST
Food
What is there to love about eggs? What's not to love about them!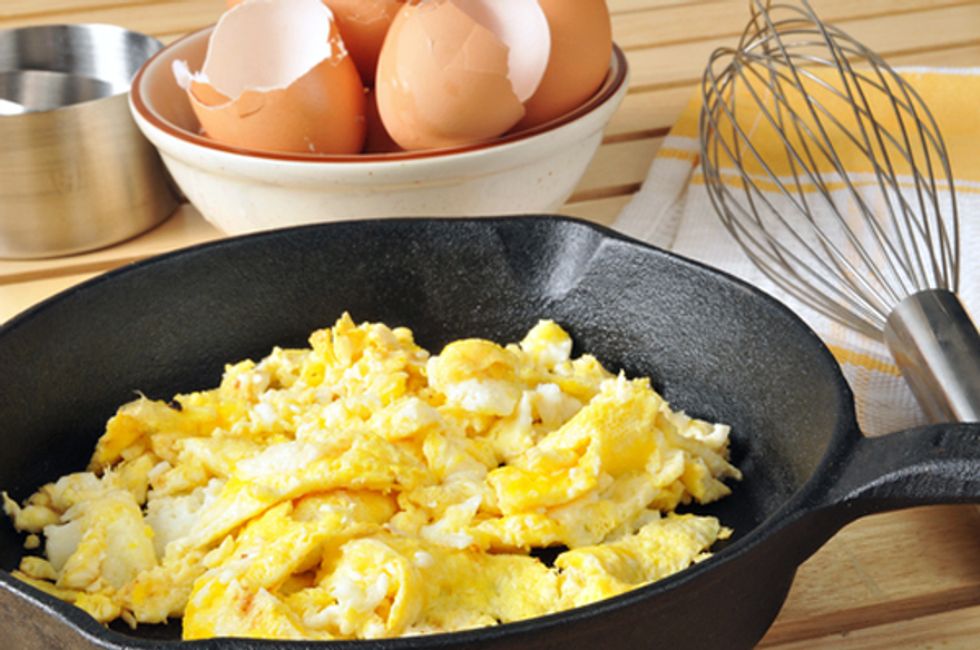 Eggs can be used in so many different ways, incorporated into any course and any meal. Photo credit: Shutterstock
1. Eggs are super-nutritious. They contain lots of easily absorbed protein as well as iron, phosphorus, riboflavin and zinc. They've got vitamins including A, B6, B12, E, K and D, which isn't found in a lot of foods. Eggs are a great source of choline: one whole eggs can provide almost 30 percent of your daily requirement. It helps keep the nervous system running smoothly and has been found to reduce women's risk of breast cancer. Egg yolks are also high in lutein and zeaxanthin, which help prevent macular degeneration.
2. Don't believe that stuff about how egg yolks are cholesterol poison. Eggs do contain a lot of cholesterol but eating eggs in moderation—no more than one or two a day so don't go crazy—won't have an impact on your cholesterol level. For most healthy people, it doesn't impact the risk of heart disease or strike. And it raises what's come to be known as "the good cholesterol."
3. While the color of the egg makes no difference nutritionally, what the chickens are fed does. Organic eggs come from chickens whose feed contains no GMOs, pesticides or animal byproducts. If the carton says "omega-3 enhanced, that's good. It means the chicken feed was fortified with flaxseed or canola oil.
4. Eggs can be used in so many different ways, incorporated into any course and any meal. Almost everyone grew up having eggs for breakfast, whether scrambled, fried or toasted in an omelet. They can be used in salads, soups, stir frys, casseroles, sandwiches and cocktails. And of course they are essential for a whole range of desserts including custards, cream puffs, cookies, brownies and cakes. They're a staple in the food of almost every culture.
5. Eating eggs on their own—not, unfortunately, in a brownie and a cream puff—can even help you lose weight! Eggs can make you feel fuller and eat less for up to a day and a half. Protein-heavy foods like eggs have been found to reduce the urge to nibble.
YOU MIGHT ALSO LIKE
7 Foods Experts Once Said Were Bad for Us That Turned Out to Be Healthy
New Study Shows Glaring Differences Between GMO and Non-GMO Food
EcoWatch Daily Newsletter
Pexels
By Tim Lydon
Climate-related disasters are on the rise, and carbon emissions are soaring. Parents today face the unprecedented challenge of raising children somehow prepared for a planetary emergency that may last their lifetimes. Few guidebooks are on the shelves for this one, yet, but experts do have advice. And in a bit of happy news, it includes strategies already widely recognized as good for kids.
Pexels
Be it Nina Simone and James Brown for civil rights, Joni Mitchell and Marvin Gaye for the environment, or Jackson Browne and Buffalo Springfield for nuclear disarmament, musicians have long helped push social movements into the limelight.
Yulia Lisitsa / iStock / Getty Images Plus
Collagen is the most abundant protein in your body.
It is the major component of connective tissues that make up several body parts, including tendons, ligaments, skin, and muscles.
Greenpeace activists unfurl banners after building a wood and card 'oil pipeline' outside the Canadian High Commission, Canada House, to protest against the Trudeau government's plans to build an oil pipeline in British Colombia on April 18, 2018 in London. Chris J Ratcliffe / Getty Images
By Jessica Corbett
In an open letter to Canadian Prime Minister Justin Trudeau and Deputy Prime Minister Chrystia Freeland, 42 Nobel laureates implored the federal government to "act with the moral clarity required" to tackle the global climate crisis and stop Teck Resources' proposed Frontier tar sands mine.
Mapping Urban Heat through Portland State University /
video
Concrete and asphalt absorb the sun's energy. So when a heat wave strikes, city neighborhoods with few trees and lots of black pavement can get hotter than other areas — a lot hotter.