This website uses cookies to ensure you get the best experience while browsing it. By clicking 'Got It' you're accepting these terms.


The best of EcoWatch, right in your inbox. Sign up for our email newsletter!
5 Reasons Solar is Beating Fossil Fuels
Sep. 06, 2013 07:00AM EST
Business
Jacob Sandry
The solar industry is growing drastically every year, while fossil fuels continue to be phased out. This is why it's frustrating to hear people say that renewable energy is not ready to compete with fossil fuels as a means to power our country. Here are five reasons why solar is already winning.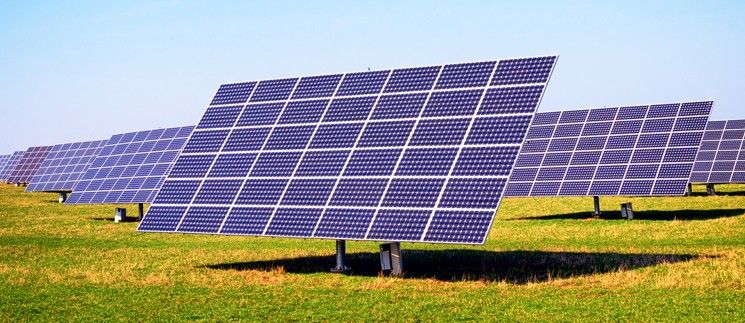 Photo courtesy of Shutterstock
1. Jobs
There are more people in the U.S. employed in the solar energy marketplace than mining coal. The banal argument that transitioning to a clean energy economy will cost us jobs is simply false. Solar is growing more than 10 times faster than the American economy.
Solar already employs more than coal, and that gap is widening. In 2012, solar added 14,000 new jobs, up 36 percent from 2010 and the industry will add another 20,000 jobs this year. The fossil fuels industry cut 4,000 jobs last year. So when it comes to employing Americans, solar is winning.
2. Price
Solar panels have a seen a consistent drop in prices over the last three decades, and in the last few years that drop has been meteoric. In the last 35 years prices have gone from $75/watt to around $.75/watt. Since 2008, the cost of coal has risen 13 percent. In some parts of the market, solar has already reached parity with coal.
I'm sure you've heard the argument that solar is economically effective only by relying on government subsidies. Currently this may be true, but if solar prices reach Citigroup's prediction of  $.25/watt by 2020, subsidies may not be needed. And then there's the glaring fact that oil, gas and coal receive subsidies that dwarf those of renewables ($409 billion vs. $60 billion globally).
And that's ignoring the extra costs that burning fossil fuels impose on the rest of society, that aren't paid by fossil fuel companies (called externalities by economists). The Harvard Medical School estimates that burning coal in the U.S. costs $500 billion in environmental and health damage (and then there's, you know, the whole climate change thing). If those costs were taxed onto coal plants, the price of coal would more than double.
3. Capacity
With the cost of solar dropping rapidly, installations are escalating at an exciting rate.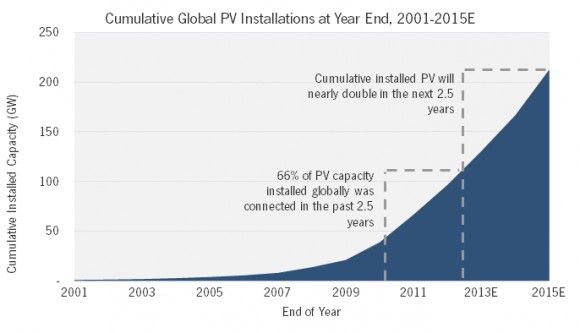 Earlier this year, the U.S. became the fourth country to have 10 gigawatts of solar energy capacity, with installations increasing at a rate of 50 percent annually for the last five years, that rate is expected to increase to 80 percent this year.
Two-thirds of global solar capacity has been installed over the last two years. In contrast, 175 coal fired power plants in the U.S. are expected to be shut down over the next five years (more than 10 percent of total capacity). This reflects the rising costs of coal and the implementation of stricter environmental regulations.
4. Investment
While fossil fuels have been an omnipresent part of investment portfolios for decades, their reign may be coming to an end.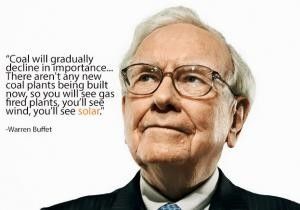 Recently a number of reports have shed light on an impending carbon bubble. Fossil fuel companies are valued in the market based on their reserves of unburned fuel still in the ground. If international regulations are put in place to prevent atmospheric carbon dioxide levels from rising above 450 ppm (the estimated cap to avoid irreversible climate change), much of the listed reserves couldn't be used.
This means that many fossil fuel companies are overvalued as they potentially have huge unburnable reserves of fuel. British bank HSBC estimates that once stricter climate regulations are put in place, the value of fossil fuel companies may fall drastically. Already, coal companies have dropped in value 75 percent over the last five years. 
Firms like Mercer and WHEB are advising investors to move their investments out of coal and oil and into renewables. Major investors are already making this move. Warren Buffett has invested in one of the largest solar farms in the world and has predicted the end of coal as an American power source.
5. Environmental Impact
Environmental impact should be pretty clear, but here are some interesting impacts of coal extraction and burning that you may not be aware of:
acid mine drainage and coal sludge pollutes rivers and streams
air pollution causes acid rain, smog, respiratory illnesses, cancers and toxins in the environment
coal dust from mining causes respiratory illness
coal fires in abandoned mines put tons of mercury into the atmosphere every year and account for three percent of global carbon dioxide emissions
coal combustion waste is the second largest contributor to landfills after solid waste
mountaintop removal coal mining causes flooding, destruction of entire ecosystems and communities, and the release of greenhouse gases
emissions of 381,740,601 lbs of toxic carbon dioxide, methane, sulfur dioxide, mercury, radioactive materials and particulate matter annually
enormous contributor to global climate change
Jacob Sandry is a fellow at Mosaic, a company connecting investors to high quality solar project.
Visit EcoWatch's RENEWABLES page for more related news on this topic.
——–

EcoWatch Daily Newsletter
Denali national park. Domen Jakus / Flickr / CC BY-NC 2.0
By Stephanie Gagnon
Happy National Parks Week! This year, between April 20 and 28, escape to the beautiful national parks — either in person or in your imagination — and celebrate the amazing wildlife that calls these spaces home.
fstop123 / iStock / Getty Images Plus
At EcoWatch, our team knows that changing personal habits and taking actions that contribute to a better planet is an ongoing journey. Earth Day, happening on April 22, is a great reminder for all of us to learn more about the environmental costs of our behaviors like food waste or fast fashion.
To offer readers some inspiration this Earth Day, our team rounded up their top picks for films to watch. So, sit back and take in one of these documentary films this Earth Day. Maybe it will spark a small change you can make in your own life.
Sesame, three months old, at Seal Rescue Irleand.
Screenshot / Seal Rescue Ireland Instagram
On Friday, Seal Rescue Ireland released Sesame the seal into the ocean after five months of rehabilitation at the Seal Rescue Ireland facility. Watch the release on EcoWatch's Facebook.

Beer packs of Guinness will now come in a cardboard box. Diageo

By Jordan Davidson
Guinness is joining the fight against single use plastic. The brewer has seen enough hapless turtles and marine life suffering from the scourge of plastic.
Maskot / Getty Images
People of all ages are spending more of their day looking at their phones, computers and television screens, but parents now have another reason for limiting how much screen time their children get — it could lead to behavioral problems.
Rapper and comedian Lil Dicky released a 7-minute climate change awareness song and video today, ahead of Earth Day on Monday, with proceeds going to the Leonardo DiCaprio Foundation.
Pexels
By Eoin Higgins
The New York City Council passed the world's "largest single carbon reduction effort that any city, anywhere, has ever put forward" on Thursday afternoon, marking a major milestone in the fight against the climate crisis.