5 Reasons Solar is Beating Fossil Fuels
Jacob Sandry
The solar industry is growing drastically every year, while fossil fuels continue to be phased out. This is why it's frustrating to hear people say that renewable energy is not ready to compete with fossil fuels as a means to power our country. Here are five reasons why solar is already winning.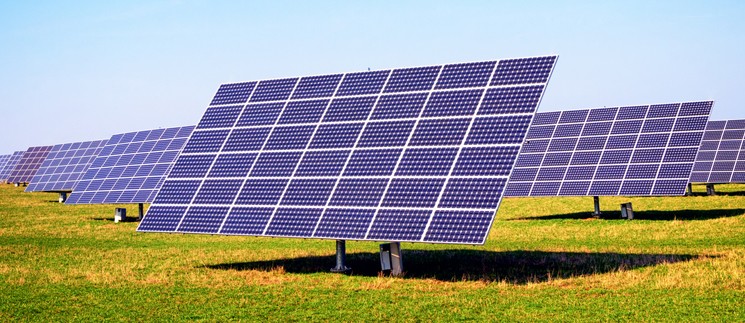 Photo courtesy of Shutterstock
1. Jobs
There are more people in the U.S. employed in the solar energy marketplace than mining coal. The banal argument that transitioning to a clean energy economy will cost us jobs is simply false. Solar is growing more than 10 times faster than the American economy.
Solar already employs more than coal, and that gap is widening. In 2012, solar added 14,000 new jobs, up 36 percent from 2010 and the industry will add another 20,000 jobs this year. The fossil fuels industry cut 4,000 jobs last year. So when it comes to employing Americans, solar is winning.
2. Price
Solar panels have a seen a consistent drop in prices over the last three decades, and in the last few years that drop has been meteoric. In the last 35 years prices have gone from $75/watt to around $.75/watt. Since 2008, the cost of coal has risen 13 percent. In some parts of the market, solar has already reached parity with coal.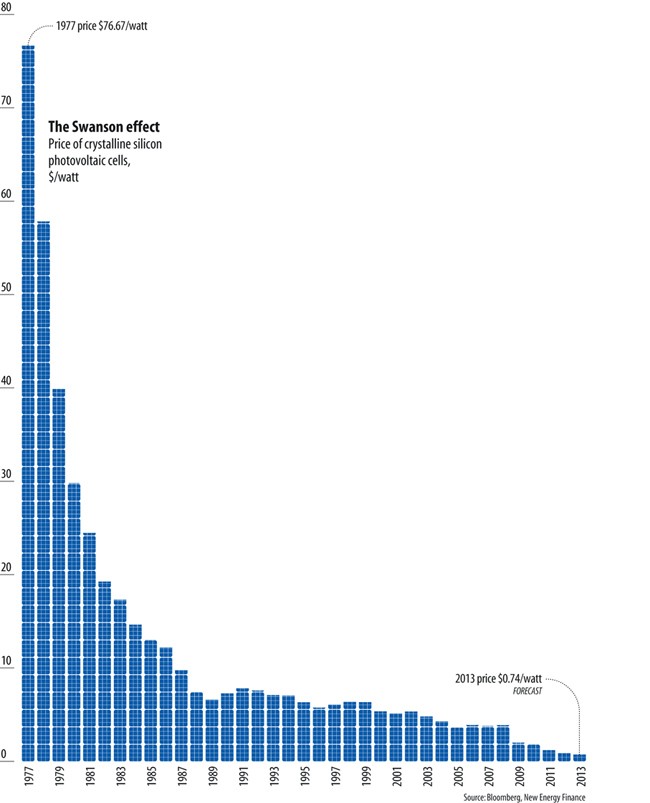 I'm sure you've heard the argument that solar is economically effective only by relying on government subsidies. Currently this may be true, but if solar prices reach Citigroup's prediction of  $.25/watt by 2020, subsidies may not be needed. And then there's the glaring fact that oil, gas and coal receive subsidies that dwarf those of renewables ($409 billion vs. $60 billion globally).
And that's ignoring the extra costs that burning fossil fuels impose on the rest of society, that aren't paid by fossil fuel companies (called externalities by economists). The Harvard Medical School estimates that burning coal in the U.S. costs $500 billion in environmental and health damage (and then there's, you know, the whole climate change thing). If those costs were taxed onto coal plants, the price of coal would more than double.
3. Capacity
With the cost of solar dropping rapidly, installations are escalating at an exciting rate.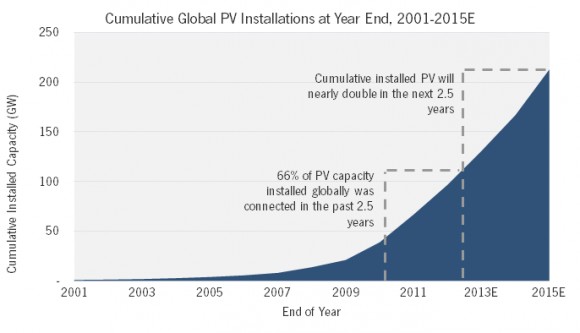 Earlier this year, the U.S. became the fourth country to have 10 gigawatts of solar energy capacity, with installations increasing at a rate of 50 percent annually for the last five years, that rate is expected to increase to 80 percent this year.
Two-thirds of global solar capacity has been installed over the last two years. In contrast, 175 coal fired power plants in the U.S. are expected to be shut down over the next five years (more than 10 percent of total capacity). This reflects the rising costs of coal and the implementation of stricter environmental regulations.
4. Investment
While fossil fuels have been an omnipresent part of investment portfolios for decades, their reign may be coming to an end.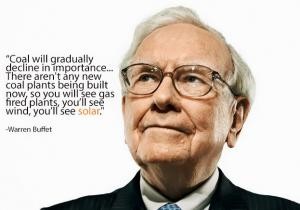 Recently a number of reports have shed light on an impending carbon bubble. Fossil fuel companies are valued in the market based on their reserves of unburned fuel still in the ground. If international regulations are put in place to prevent atmospheric carbon dioxide levels from rising above 450 ppm (the estimated cap to avoid irreversible climate change), much of the listed reserves couldn't be used.
This means that many fossil fuel companies are overvalued as they potentially have huge unburnable reserves of fuel. British bank HSBC estimates that once stricter climate regulations are put in place, the value of fossil fuel companies may fall drastically. Already, coal companies have dropped in value 75 percent over the last five years. 
Firms like Mercer and WHEB are advising investors to move their investments out of coal and oil and into renewables. Major investors are already making this move. Warren Buffett has invested in one of the largest solar farms in the world and has predicted the end of coal as an American power source.
5. Environmental Impact
Environmental impact should be pretty clear, but here are some interesting impacts of coal extraction and burning that you may not be aware of:
acid mine drainage and coal sludge pollutes rivers and streams
air pollution causes acid rain, smog, respiratory illnesses, cancers and toxins in the environment
coal dust from mining causes respiratory illness
coal fires in abandoned mines put tons of mercury into the atmosphere every year and account for three percent of global carbon dioxide emissions
coal combustion waste is the second largest contributor to landfills after solid waste
mountaintop removal coal mining causes flooding, destruction of entire ecosystems and communities, and the release of greenhouse gases
emissions of 381,740,601 lbs of toxic carbon dioxide, methane, sulfur dioxide, mercury, radioactive materials and particulate matter annually
enormous contributor to global climate change
Jacob Sandry is a fellow at Mosaic, a company connecting investors to high quality solar project.
Visit EcoWatch's RENEWABLES page for more related news on this topic.
——–

www.facebook.com
Keep reading...
Show less
Keep reading...
Show less
www.elysee.fr
By Andy Rowell
There is a growing feeling within European capitals that a quiet, but deeply positive, revolution is happening under Emmanuel Macron in France.
Macron's opinion poll rating is high, especially boosted in how the young French president has reacted to Donald Trump on the international stage.
Keep reading...
Show less
Hawaii Renewable Energy Alliance
The latest issue of the U.S. Energy Information's "Electric Power Monthly" (with data through April 30) reveals that—for the first time since the beginning of the nuclear era—renewable energy sources (i.e., biomass, geothermal, hydropower, solar—inc. small-scale PV, wind) are now providing a greater share of the nation's electrical generation than nuclear power.
Keep reading...
Show less
www.youtube.com
Check out this great 360° virtual reality video by NowThis on the world's largest indoor vertical farm, AeroFarms. Located in Newark, New Jersey, AeroFarms grows more than 2 million pounds of greens a year without sunlight, soil or pesticides.
As reported by EcoWatch in July 2105, the $30 million, 70,000-square-foot AeroFarms headquarters dwarfs Japan's (already impressive) 25,000-square-foot vertical indoor farm, which had been the world's largest until now.
www.youtube.com
According to Bloomberg, "SeaWorld Entertainment Inc. received a subpoena earlier this month from regulators investigating disclosures and public statements by executives, including comments about the Blackfish documentary that caused a public backlash against the confinement of orcas.
Keep reading...
Show less
Wikipedia
By Franziska Spritzler, RD, CDE
Boosting your metabolic rate can help you lose body fat. However, most "fat-burning" supplements on the market are either unsafe, ineffective or both.
Fortunately, several natural foods and beverages have been shown to increase your metabolism and promote fat loss.
Keep reading...
Show less
Jun. 25, 2017 04:50PM EST
Monsanto, the maker of the glyphosate-based herbicide Roundup, filed a motion June 16 in U.S. District Court, Northern District of California to reconsider the chemical's addition to California's Proposition 65 list of agents known to cause cancer.
The agrochemical giant made this move based on a June 14 Reuters investigation of Dr. Aaron Blair, a lead researcher on the World Health Organization's International Agency for Research on Cancer (IARC) committee, that classified glyphosate as a "2A probable human carcinogen" in March 2015.
Keep reading...
Show less
Jun. 25, 2017 04:40PM EST
By Avery Friedman
Algae is often considered a nuisance, but for Sweden, the rapidly growing sea plant is now an asset.
As the Scandinavian country works to cut all of its greenhouse gas emissions by 2045, it's using algae to sop up the carbon emissions from cement.
Keep reading...
Show less