This website uses cookies to ensure you get the best experience while browsing it. By clicking 'Got It' you're accepting these terms.
Research has shown that cooking with Teflon-type cookware could expose you to toxic chemicals that might cause cancer.
What can you cook with instead? Here's a list of your best options, all of which are available in kitchen stores as well as big box and department stores or online.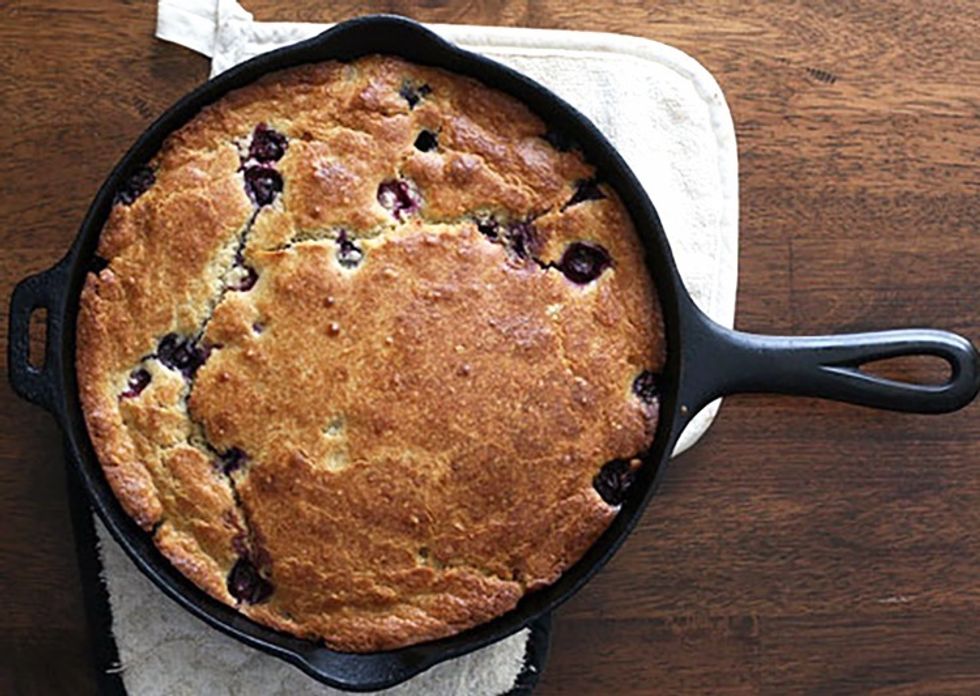 1. Cast Iron: For decades I've been using cast iron for five reasons: it's indestructible, it's inexpensive, it's easy to clean, it's versatile and it works. Once cast iron is properly seasoned, you can cook absolutely anything in it, though you wouldn't really need to use it for dishes that require boiling water. But it's great for sauteeing, frying, braising, stewing and cooking something as simple as scrambled eggs. Plus, it works as well on the stovetop as it does in the oven. In fact, if you're cooking a dish that needs to be browned on the top, you can easily move your cast iron skillet or casserole from the range to the oven broiler without missing a beat.
Clean it with a simple scrub brush or Brillo-type pad and hot soapy water, then either dry it with a towel or just put it back on the range for a minute and let the heat evaporate whatever water remains. One downside is that cast iron is heavy. But I personally like the exercise I get using it and find that other than a 10-qt Dutch oven, it's never too much to handle.
2. Stainless Steel: Stainless steel is excellent for boiling potatoes, rice and pasta or for browning and sautéing foods. Stainless steel can tolerate high heats, reports TwoKitchenJunkies.com in The Ultimate Guide to Healthy Cookware, unlike nonstick pans, which are unsafe when exposed to high heats. And as long as the stainless cookware (or any cookware, for that matter) doesn't have plastic handles, it can go from the range to the oven. The downside of stainless is that food can quickly burn if the heat gets too high or the pan gets too dry. Then, the pan can be difficult to scrub clean. The denser or heavier the pan is, the better it will be at conducting heat and the easier it will be to clean.
3. Aluminum: Aluminum cooks a lot like stainless steel, but is a bit lighter. Cooking at high heat won't emit toxic fumes, like Teflon-type pots and pans. But there is some concern that aluminum can leach into food and potentially have human health problems. I have aluminum 9×13 baking pans that I used to also bake lasagna in. However, I noticed that the lasagna would sometimes pick up an aluminum taste, because the acidic tomato sauce in the lasagna reacted with the aluminum in a corrosive way.
TheKitchn.com recommends using non-reactive cookware like stainless steel whenever your dish contains acidic or alkaline ingredients. Aluminum is good for boiling water, sauteeing vegetables and searing meat—though don't deglaze the pan with an acid-based liquid. That said, you can buy anodized aluminum, which creates a leach-resistant, non-stick surface. The price will be similar to stainless steel.
4. Stoneware & Ceramics: Stoneware and ceramics can make good casserole dishes. However, beware of those glazed inside with materials that could contain lead or other toxic chemicals. Contra Costa (CA) Health Services warns against using traditional glazed terra cotta (clay) dishware from Mexico and other Latin American countries, as it is likely contaminated with lead. Similarly, the Department of the Environment in Australia warns against using highly decorated traditional dishes from some Asian countries and antique pots and pans that are heavily decorated.
5. Glass: Glass is terrific for cookware, though it's primarily available as a pot, rather than a skillet and as baking pans, pie pans and casserole dishes. It's non reactive, affordable and can go from the oven to the table, as long as you set it on a potholder or non-metal trivet until it cools down. One downside is that if you put hot glass on a cool metal surface, like the top of a stove range or a metal trivet, it could shatter into a thousand pieces. So use glass—but use it carefully and pay attention to extreme temperature shifts.
If you currently use non-stick cookware and want to get rid of it, don't donate it to someone else. Either send it back to the manufacturer or just throw it away. If you must continue cooking with it, use it on very low heat and only for boiling water or other tasks that have little chance of burning. Do not use metal utensils, like spatulas or stirring spoons, as those could scratch the nonstick coating off and into the food you're cooking.
YOU MIGHT ALSO LIKE
Are Toxic Fragrances Making You Sick?
This Is What a Soda Commercial Would Look Like If They Were Telling the Truth
Cancer Prevention Needs Attention Too: What if We Weren't Exposed to 80,000 Toxic Chemicals Every Day?
EcoWatch Daily Newsletter
The CDC has emphasized that washing hands with soap and water is one of the most effective ways to prevent the spread of COVID-19. Guido Mieth / Moment / Getty Images
The Centers for Disease Control has emphasized that washing hands with soap and water is one of the most effective measures we can take in preventing the spread of COVID-19. However, millions of Americans in some of the most vulnerable communities face the prospect of having their water shut off during the lockdowns, according to The Guardian.
A California newt (Taricha torosa) from Napa County, California, USA. Connor Long /
CC BY-SA 3.0
Aerial photos of the Sierra Nevada — the long mountain range stretching down the spine of California — showed rust-colored swathes following the state's record-breaking five-year drought that ended in 2016. The 100 million dead trees were one of the most visible examples of the ecological toll the drought had wrought.
Now, a few years later, we're starting to learn about how smaller, less noticeable species were affected.
Disinfectants and cleaners claiming to sanitize against the novel coronavirus have started to flood the market.
Natthawat / Moment / Getty Images
Disinfectants and cleaners claiming to sanitize against the novel coronavirus have started to flood the market, raising concerns for the U.S. Environmental Protection Agency (EPA), which threatened legal recourse against retailers selling unregistered products, according to The New York Times.
A customer packs groceries in reusable bags at a NYC supermarket on March 1, 2020. Eduardo Munoz Alvarez/Getty Images
The global coronavirus pandemic has thrown our daily routine into disarray. Billions are housebound, social contact is off-limits and an invisible virus makes up look at the outside world with suspicion. No surprise, then, that sustainability and the climate movement aren't exactly a priority for many these days.
Ingredients are displayed for the Old School Pinto Beans from the Decolonize Your Diet cookbook by Luz Calvo and Catriona Rueda Esquibel. Melissa Renwick / Toronto Star via Getty Images
By Molly Matthews Multedo
Livestock farming contributes to global warming, so eating less meat can be better for the climate.