5 Non-Stick Pans That Won't Give You Cancer
Research has shown that cooking with Teflon-type cookware could expose you to toxic chemicals that might cause cancer.
What can you cook with instead? Here's a list of your best options, all of which are available in kitchen stores as well as big box and department stores or online.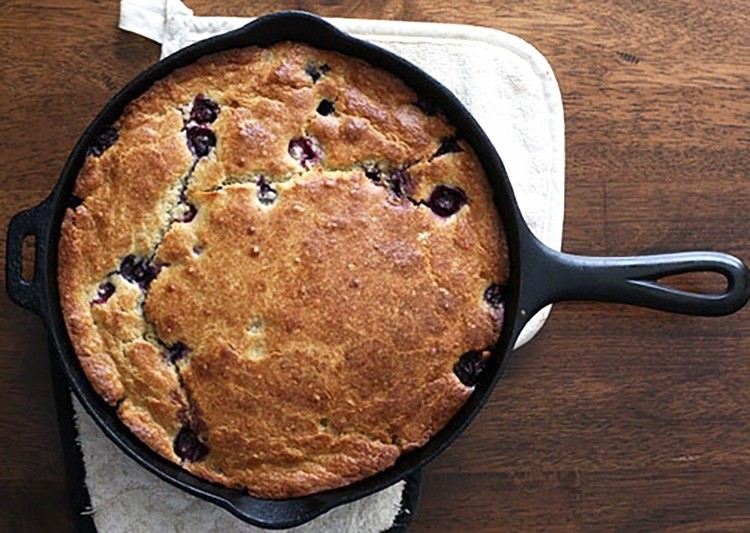 1. Cast Iron: For decades I've been using cast iron for five reasons: it's indestructible, it's inexpensive, it's easy to clean, it's versatile and it works. Once cast iron is properly seasoned, you can cook absolutely anything in it, though you wouldn't really need to use it for dishes that require boiling water. But it's great for sauteeing, frying, braising, stewing and cooking something as simple as scrambled eggs. Plus, it works as well on the stovetop as it does in the oven. In fact, if you're cooking a dish that needs to be browned on the top, you can easily move your cast iron skillet or casserole from the range to the oven broiler without missing a beat.
Clean it with a simple scrub brush or Brillo-type pad and hot soapy water, then either dry it with a towel or just put it back on the range for a minute and let the heat evaporate whatever water remains. One downside is that cast iron is heavy. But I personally like the exercise I get using it and find that other than a 10-qt Dutch oven, it's never too much to handle.
2. Stainless Steel: Stainless steel is excellent for boiling potatoes, rice and pasta or for browning and sautéing foods. Stainless steel can tolerate high heats, reports TwoKitchenJunkies.com in The Ultimate Guide to Healthy Cookware, unlike nonstick pans, which are unsafe when exposed to high heats. And as long as the stainless cookware (or any cookware, for that matter) doesn't have plastic handles, it can go from the range to the oven. The downside of stainless is that food can quickly burn if the heat gets too high or the pan gets too dry. Then, the pan can be difficult to scrub clean. The denser or heavier the pan is, the better it will be at conducting heat and the easier it will be to clean.
3. Aluminum: Aluminum cooks a lot like stainless steel, but is a bit lighter. Cooking at high heat won't emit toxic fumes, like Teflon-type pots and pans. But there is some concern that aluminum can leach into food and potentially have human health problems. I have aluminum 9×13 baking pans that I used to also bake lasagna in. However, I noticed that the lasagna would sometimes pick up an aluminum taste, because the acidic tomato sauce in the lasagna reacted with the aluminum in a corrosive way.
TheKitchn.com recommends using non-reactive cookware like stainless steel whenever your dish contains acidic or alkaline ingredients. Aluminum is good for boiling water, sauteeing vegetables and searing meat—though don't deglaze the pan with an acid-based liquid. That said, you can buy anodized aluminum, which creates a leach-resistant, non-stick surface. The price will be similar to stainless steel.
4. Stoneware & Ceramics: Stoneware and ceramics can make good casserole dishes. However, beware of those glazed inside with materials that could contain lead or other toxic chemicals. Contra Costa (CA) Health Services warns against using traditional glazed terra cotta (clay) dishware from Mexico and other Latin American countries, as it is likely contaminated with lead. Similarly, the Department of the Environment in Australia warns against using highly decorated traditional dishes from some Asian countries and antique pots and pans that are heavily decorated.
5. Glass: Glass is terrific for cookware, though it's primarily available as a pot, rather than a skillet and as baking pans, pie pans and casserole dishes. It's non reactive, affordable and can go from the oven to the table, as long as you set it on a potholder or non-metal trivet until it cools down. One downside is that if you put hot glass on a cool metal surface, like the top of a stove range or a metal trivet, it could shatter into a thousand pieces. So use glass—but use it carefully and pay attention to extreme temperature shifts.
If you currently use non-stick cookware and want to get rid of it, don't donate it to someone else. Either send it back to the manufacturer or just throw it away. If you must continue cooking with it, use it on very low heat and only for boiling water or other tasks that have little chance of burning. Do not use metal utensils, like spatulas or stirring spoons, as those could scratch the nonstick coating off and into the food you're cooking.
YOU MIGHT ALSO LIKE
Are Toxic Fragrances Making You Sick?
This Is What a Soda Commercial Would Look Like If They Were Telling the Truth
Cancer Prevention Needs Attention Too: What if We Weren't Exposed to 80,000 Toxic Chemicals Every Day?
Bill Maher is sick of billionaires' obsession with Mars, more like "Mars-a-Lago," he said.
In a new animation produced by ATTN:, the popular talk show host of Real Time, discusses the perils of our planet, including how "climate change is killing us."
Keep reading...
Show less
Dr. Benjamin D. Santer, research scientist
A group of prominent climate scientists have written a study explicitly refuting statements made by the U.S. Environmental Protection Agency Administrator Scott Pruitt on climate data. During his Senate confirmation hearing, Pruitt claimed in a written response that satellite data shows a "leveling off" of warming over the past two decades.
Keep reading...
Show less
By David Pomerantz
The Nevada Assembly passed a bill Wednesday that would dramatically increase the growth of renewable energy in the state, but Sheldon Adelson, the casino magnate and major donor to Donald Trump, is attempting to prevent the bill from becoming law.
Keep reading...
Show less
Matt Crossick
By Yosola Olorunshola
Whether it's through fashion or protest, Vivienne Westwood is not a woman afraid of making a statement.
On May 23, she rocked up to the residence of the Archbishop of Canterbury in London with a special guest—the Grim Reaper—to issue a strong statement on the Church of England's position on fracking.
Keep reading...
Show less
Military veterans from across Virginia released a letter Thursday opposing two proposed fracked-gas pipelines: Dominion Energy's Atlantic Coast Pipeline and EQT's Mountain Valley Pipeline. These pipelines would cross through pristine areas of Virginia, taking private property by use of eminent domain, removing mountain ridgetops and threatening valuable drinking water resources. The veterans view this as contrary to their service to protect and defend the freedom and security of American citizens.

Keep reading...
Show less
By Paul Brown
The food industry and big agricultural concerns are driving climate change and at the same time threatening to undermine efforts to feed the world's growing population, according to GRAIN, an organization that supports small farmers.
Particularly singled out for criticism are the large chemical fertilizer producers that have gained access to the United Nations talks on climate change. GRAIN accuses them of behaving like the fossil fuel companies did in the 1990s, pushing false information in the hope of delaying real action on climate change.
Keep reading...
Show less
May. 24, 2017 06:55PM EST
By Sydney Robinson
President Trump has no doubt been given a long list of extravagant, elaborate gifts in his lifetime, but the gift given to him today by Pope Francis may not make it on his most favorite list.
Keep reading...
Show less
May. 24, 2017 07:17PM EST
By John Rogers
Maybe it's because I first started working on clean energy while serving in the Peace Corps he founded, or maybe it's my years of working on these issues from his home state. But I can't help thinking about the 100th anniversary of John F. Kennedy's birth, and connecting his stirring rhetoric to the energy challenges of our times.
Here's what our 35th president might have said about the challenges of energy transition and the opportunities in clean energy:
"Change is the law of life. And those who look only to the past or present are certain to miss the future."
Keep reading...
Show less


Get EcoWatch in your inbox