5 Most Important Things to Know About China's 5-Year Plan
By Geoffrey Henderson, Ranping Song and Paul Joffe
China has officially unveiled its thirteenth Five-Year Plan, which will guide the country's economic and social development from 2016 through 2020. This latest edition builds on progress made over the last five years and makes clear that environmental stewardship is an increasingly integral component of China's development.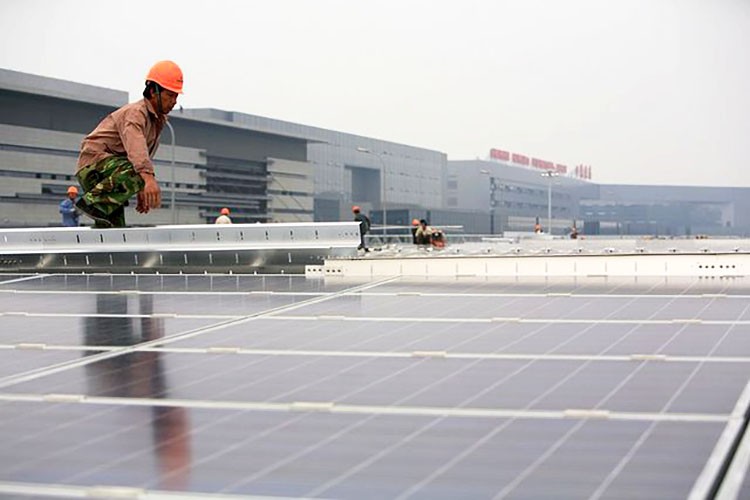 The plan lays out targets and measures to address several sustainability challenges—including climate change, air pollution, water, urbanization, transportation and more. The new plan's high-level targets and policies will continue to strengthen China's efforts to shift to a more sustainable model of growth and deliver on its climate commitments.
Here's a look at the highlights and importance of the plan for China's action on energy and climate change:
1. What are the highlights of the plan for energy and climate?
China plans to develop its economy by more than 6.5 percent per year over the next five years. Under the plan, this growth will increasingly come from services—which will rise from 50.5 to 56 percent of the economy by 2020—and more innovative and efficient manufacturing. These sectors typically have lower air pollutant and greenhouse gas emissions than China's traditional growth engines, like heavy industry and infrastructure construction.
The plan sets out a new round of targets for the carbon and energy intensity of China's economy. With China's new target for an 18 percent reduction in carbon-intensity from 2015 levels, we estimate that China will actually reduce its carbon intensity 48 percent from 2005 levels by 2020, exceeding its original target of a 40-45 percent reduction by that year. It will also be a first step toward achieving its Paris agreement pledge to reduce carbon intensity 60 to 65 percent by 2030. The plan also includes a goal to reduce energy intensity by 15 percent, suggests that China's most-developed eastern regions will be the first to peak their carbon emissions and builds on efforts to increase China's forest stock.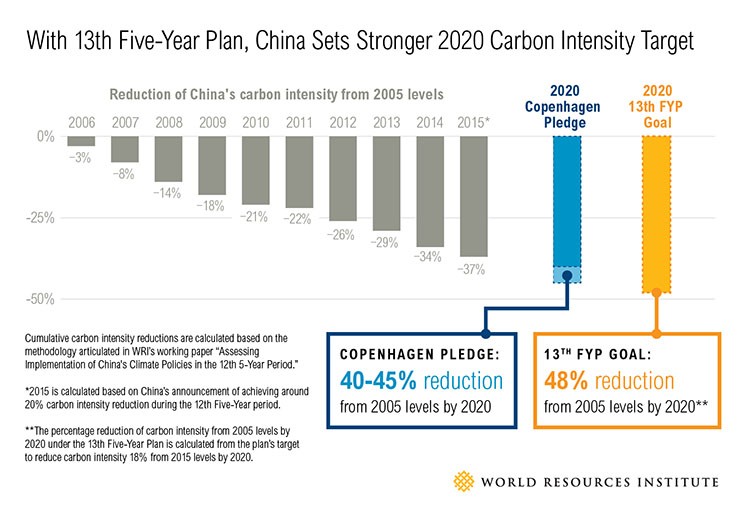 For the first time, the plan includes quantified guidance on energy consumption control, stating that China should limit its energy use to 5 billion tons of standard coal equivalent. As energy is the largest source of carbon emissions, limiting energy consumption is an important component of China's implementation of its Paris commitments. This guidance seems to be an effort to ensure an upper limit on energy consumption, as there are signs that China's energy use could be lower than 5 billion tons in 2020. Growth in China's energy use has slowed in recent years and China has the potential to achieve its economic goals with less energy through energy efficiency initiatives.
2. Why are these targets important?
The new targets in the plan underscore the fact that the country is no longer merely concerned with the pace of growth, but with the quality of growth. China's efforts on sustainable development and climate action are driven by strong national interests, such as concern about the impacts of climate change, hazardous air pollution and energy security. There's also evidence that China's leaders recognize the economic benefits of clean energy and that new drivers will be required for the economy to continue its rapid economic growth.
To achieve these targets, the plan calls for controlling emissions from energy-intensive industries like power and steel, building a unified national carbon emissions trading market, implementing emissions reporting and verification for key industries and establishing a green finance system, among other measures. The plan also states that China will be actively involved in the global effort to address climate change, including advancing its own contribution and will deepen its bilateral dialogue with other countries. These efforts will provide momentum toward stronger climate action both in China and internationally.
3. What are other signs of China's progress on climate to date?
China has already made substantial progress under the 12th Five-Year Plan, surpassing its targets for energy intensity (down 18.2 percent) and carbon intensity (down 20 percent), according to official figures. Services' share of China's economy has risen in recent years, eclipsing manufacturing's share in 2013. Consumption of coal leveled off in 2014 and output in heavy industries like steel and cement has begun to decline. Further, China is investing in clean energy and installing wind and solar power at world-record levels, making the country the global leader in solar power capacity last year.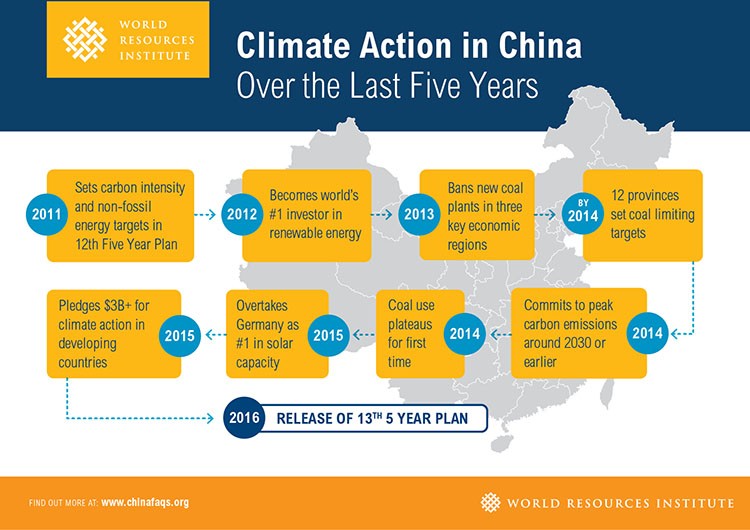 4. Does the plan contain all the details?
The Five-Year Plan released this week can be thought of as China's overarching plan, which provides the broad contours of its policies for the next five years. But don't expect all the details of China's low-carbon transition to be apparent in this broad plan. Follow-on plans to be released in the coming months and years will provide more detailed targets and policies for specific provinces and sectors, such as energy.
5. What challenges remain?
Along with the above-mentioned carbon-intensity pledge, China's Paris commitments include a target to peak carbon emissions in 2030 and to make best efforts to peak earlier. While making progress, the country's effort to decouple emissions from economic growth at its present stage of development faces continuing uncertainties. For instance, China's work to further strengthen measures to improve efficiency and reduce demand in buildings and transportation (including through efforts on high-speed rail laid out in the plan) will be important to offset potential emissions growth from China's trends toward increased urbanization and vehicle ownership.
Studies make clear that the commitments made by countries do not go far enough to limit warming to below 2 C and avoid some of the worst impacts of climate change. In Paris, countries agreed to come back to the table by 2020 to review their targets. If significant progress were made on addressing remaining challenges during the next five years, then China could be in a position to revise its pledge.
At the same time, the debate over the precise timing of China's emissions peak may be less important than its continuing efforts to build a foundation for deep emissions reductions over the long term. China is continuing to develop and implement measures that can help achieve this goal, such as limits on coal and energy use, energy efficiency improvements, renewable energy deployment and grid integration, carbon pricing and steps to shift toward a cleaner model of development. The energy and other sectoral plans following the national Five-Year Plan will provide further opportunities to make progress on these efforts.
YOU MIGHT ALSO LIKE
China Contributes 10% of Human Influence on Climate Change
Worldwide Shift to Renewable Energy Played 'Critical Role' in Stalling Carbon Emissions
Ice Shelf Twice the Size of Manhattan Is About to Break Off From Antarctica
This Scare Tactic Used to Block Environmental Rules Is Getting Old
Bill Maher is sick of billionaires' obsession with Mars, more like "Mars-a-Lago," he said.
In a new animation produced by ATTN:, the popular talk show host of Real Time, discusses the perils of our planet, including how "climate change is killing us."
Keep reading...
Show less
Dr. Benjamin D. Santer, research scientist
A group of prominent climate scientists have written a study explicitly refuting statements made by the U.S. Environmental Protection Agency Administrator Scott Pruitt on climate data. During his Senate confirmation hearing, Pruitt claimed in a written response that satellite data shows a "leveling off" of warming over the past two decades.
Keep reading...
Show less
By David Pomerantz
The Nevada Assembly passed a bill Wednesday that would dramatically increase the growth of renewable energy in the state, but Sheldon Adelson, the casino magnate and major donor to Donald Trump, is attempting to prevent the bill from becoming law.
Keep reading...
Show less
Matt Crossick
By Yosola Olorunshola
Whether it's through fashion or protest, Vivienne Westwood is not a woman afraid of making a statement.
On May 23, she rocked up to the residence of the Archbishop of Canterbury in London with a special guest—the Grim Reaper—to issue a strong statement on the Church of England's position on fracking.
Keep reading...
Show less
Military veterans from across Virginia released a letter Thursday opposing two proposed fracked-gas pipelines: Dominion Energy's Atlantic Coast Pipeline and EQT's Mountain Valley Pipeline. These pipelines would cross through pristine areas of Virginia, taking private property by use of eminent domain, removing mountain ridgetops and threatening valuable drinking water resources. The veterans view this as contrary to their service to protect and defend the freedom and security of American citizens.

Keep reading...
Show less
By Paul Brown
The food industry and big agricultural concerns are driving climate change and at the same time threatening to undermine efforts to feed the world's growing population, according to GRAIN, an organization that supports small farmers.
Particularly singled out for criticism are the large chemical fertilizer producers that have gained access to the United Nations talks on climate change. GRAIN accuses them of behaving like the fossil fuel companies did in the 1990s, pushing false information in the hope of delaying real action on climate change.
Keep reading...
Show less
May. 24, 2017 06:55PM EST
By Sydney Robinson
President Trump has no doubt been given a long list of extravagant, elaborate gifts in his lifetime, but the gift given to him today by Pope Francis may not make it on his most favorite list.
Keep reading...
Show less
May. 24, 2017 07:17PM EST
By John Rogers
Maybe it's because I first started working on clean energy while serving in the Peace Corps he founded, or maybe it's my years of working on these issues from his home state. But I can't help thinking about the 100th anniversary of John F. Kennedy's birth, and connecting his stirring rhetoric to the energy challenges of our times.
Here's what our 35th president might have said about the challenges of energy transition and the opportunities in clean energy:
"Change is the law of life. And those who look only to the past or present are certain to miss the future."
Keep reading...
Show less


Get EcoWatch in your inbox