This website uses cookies to ensure you get the best experience while browsing it. By clicking 'Got It' you're accepting these terms.
5 Million Nigerians Oppose Monsanto's Plans to Introduce GMO Cotton and Corn
Mar. 29, 2016 08:06AM EST
Millions of Nigerians are urging the Nigerian government to reject Monsanto's attempts to introduce genetically modified (GMO) cotton and maize into the country's food and farming systems.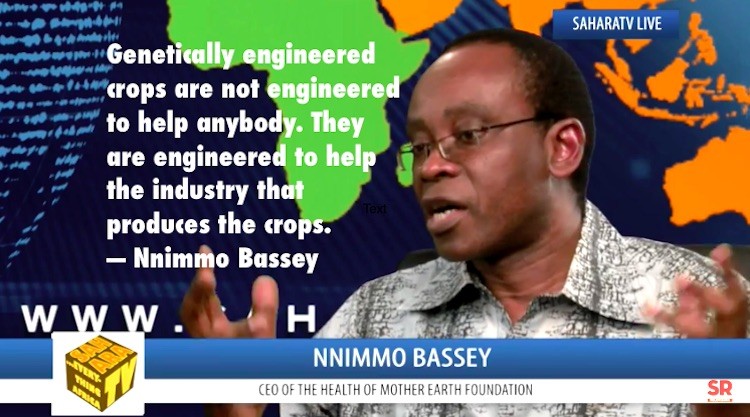 One-hundred organizations representing more than 5 million Nigerians, including farmers, faith-based organisations, civil society groups, students and local community groups, have submitted a joint objection to the country's National Biosafety Management Agency (NABMA) expressing serious concerns about human health and environmental risks of genetically altered crops.
The groups' petition follows Monsanto Agricultural Nigeria Limited's own application to NAMBA that seeks to release GMO cotton (Bt cotton, event MON 15985) into the city of Zaria as well as surrounding towns. Another application seeks confined field trials of two GMO corn varieties (NK603 and stacked event MON 89034 x NK603) in multiple locations in Nigeria.
In a press release, the groups said they are particularly alarmed about the commercial release of Bt cotton into Nigeria, which is being phased out in Burkina Faso due to the "inferior lint quality" of the GMO cultivars.
"We are totally shocked that it should come so soon after peer-reviewed studies have showed that the technology has failed dismally in Burkina Faso," Nnimmo Bassey, the director of the Health of Mother Earth Foundation, one of the leading opposition groups, said in a statement. "It has brought nothing but economic misery to the cotton sector there and is being phased out in that country where compensation is being sought from Monsanto."
He asked in the statement: "Since our Biosafety Act has only recently entered into force, what biosafety legislation was used to authorize and regulate the field trials in the past in accordance with international law and best biosafety practice?"
Former Nigerian president Goodluck Jonathan signed the National Biosafety Management Bill into law last year, basically opening the doors to GMOs cultivation in the country.
The groups noted Monsanto's crops are genetically enhanced to tolerate the use of the herbicide glyphosate which was declared as a possible carcinogen by the World Health Organization's International Agency for Research on Cancer (IARC) last March.
"Should commercialization of Monsanto's GM maize be allowed pursuant to field trials, this will result in increased use of glyphosate in Nigeria, a chemical that is linked to causing cancer in humans," Mariann Orovwuje, Friends of the Earth International's food sovereignty co-coordinator, said in a statement.
"Recent studies have linked glyphosate to health effects such as degeneration of the liver and kidney, and non-Hodgkin lymphoma. That NABMA is even considering this application is indeed unfortunate and deeply regrettable, knowing full well about the uncontrolled exposure that our rural farmers and communities living close to farms will be exposed to."
Besides the potential contamination of local maize varieties, the groups argued that the health risks of introducing GMO maize into Nigeria could be "enormous" considering that maize is a staple food in their diet.
Coupled with a lack of resources to adequately control and monitor the human and environmental risks of GMO crops and glyphosate, the groups argued that Nigeria doesn't have a platform to test for glyphosate or other pesticide residues in food and food products, nor do they have an agency that can monitor the herbicide's impact on the environment, including water resources.
On the flip side, GMO-advocates tout that biotechnology is not only safe for human consumption and the environment, it's also a solution to malnutrition and global food security, as these crops have been genetically tinkered with to provide certain nutritional benefits and/or spliced-and-diced to resist certain pathogens and other roadblocks.
For instance, Monsanto's Water Efficient Maize for Africa, a five-year development project led by the Kenyan-based African Agricultural Technology Foundation, aims to develop a variety of drought-tolerant maize seeds. The project receives funding from the Gates Foundation, United States Agency for International Development and Howard G. Buffett Foundation.
In an interview with Wall Street Journal's Rebecca Blumenstein, Bill Gates explained his views about GMOs:
"What are called GMOs are done by changing the genes of the plant, and it's done in a way where there's a very thorough safety procedure, and it's pretty incredible because it reduces the amount of pesticide you need, raises productivity (and) can help with malnutrition by getting vitamin fortification
"And so I think, for Africa, this is going to make a huge difference, particularly as they face climate change … The U.S., China, Brazil, are using these things and if you want farmers in Africa to improve nutrition and be competitive on the world market, you know, as long as the right safety things are done, that's really beneficial. It's kind of a second round of the green revolution. And so the Africans I think will choose to let their people have enough to eat."
But in the video below, Bassey objects to the argument that GMOs are necessary to ensure food security and nutrition in Africa and that the continent can feed itself without the aid of multinational biotech companies.
"Genetically engineered crops are not engineered to help anybody," he says about six minutes into the video. "They are engineered to help the industry that produces the crops."
Watch here:
YOU MIGHT ALSO LIKE
Is Bill Gates Right About GMOs?
Cereal Giant General Mills to Start Labeling GMOs Nationwide as Vermont Law Looms
Huge Victory: Senate Rejects the DARK Act
Big Food Found Guilty in Multimillion Dollar Cover Up in GMO Labeling Fight
Prince William and British naturalist David Attenborough attend converse during the World Economic Forum annual meeting, on January 22 in Davos, Switzerland. Fabrice Cofferini /AFP / Getty Images
Britain's Prince William interviewed famed broadcaster David Attenborough on Tuesday at the World Economic Forum's annual meeting in Switzerland.
During the sit-down, the 92-year-old naturalist advised the world leaders and business elite gathered in Davos this week that we must respect and protect the natural world, adding that the future of its survival—as well as humanity's survival—is in our hands.
Electric vehicle sales took off in 2018, with a record two million units sold around the world, according to a new Deloitte analysis.
What's more, the accounting firm predicts that another 21 million electric cars will be on the road globally over the next decade due to growing market demand for clean transportation, government subsidies, as well as bans on fossil fuel cars.
Teenager Alex Weber and friends collected nearly 40,000 golf balls hit into the ocean from a handful of California golf courses.
Alex Weber /
CC BY-ND
Southwest Greenland had the most consistent ice loss from 2003 to 2012. Eqalugaarsuit, Ostgronland, Greenland on Aug. 1, 2018.
Rob Oo / CC BY 2.0
Greenland is melting about four times faster than it was in 2003, a new study published Monday in the Proceedings of the National Academy of Sciences found, a discovery with frightening implications for the pace and extent of future sea level rise.
"We're going to see faster and faster sea level rise for the foreseeable future," study lead author and Ohio State University geodynamics professor Dr. Michael Bevis said in a press release. "Once you hit that tipping point, the only question is: How severe does it get?"
Finally, some good news about the otherwise terrible partial government shutdown. A federal judge ruled that the Trump administration cannot issue permits to conduct seismic testing during the government impasse.
The Justice Department sought to delay—or stay—a motion filed by a range of coastal cities, businesses and conservation organizations that are suing the Trump administration over offshore oil drilling, Reuters reported. The department argued that it did not have the resources it needed to work on the case due to the shutdown.
Most people have heard of the Amazon, South America's famed rainforest and hub of biological diversity. Less well known, though no less critical, is the Pantanal, the world's largest tropical wetland.
Like the Amazon, the Pantanal is ecologically important and imperiled. Located primarily in Brazil, it also stretches into neighboring Bolivia and Paraguay. Covering an area larger than England at more than 70,000 square miles, the massive wetland provides irreplaceable ecosystem services that include the regulation of floodwaters, nutrient renewal, river flow for navigability, groundwater recharge and carbon sequestration. The wetland also supports the economies of the four South American states it covers.
Demonstrators participate in a protest march over agricultural policy on Jan. 19 in Berlin, Germany. Carsten Koall / Getty Images Europe
By Andrea Germanos
Organizers said 35,000 people marched through the streets of the German capital on Saturday to say they're "fed up" with industrial agriculture and call for a transformation to a system that instead supports the welfare of the environment, animals and rural farmers.

The fire that erupted after a pipeline explosion in Mexico Friday. FRANCISCO VILLEDA / AFP / Getty Images
By Patrick Rogers
If you have ever considered making the switch to an environmentally friendly electric vehicle, don't drag your feet. Though EV prices are falling, and states are unveiling more and more public charging stations and plug-in-ready parking spots, the federal government is doing everything it can to slam the brakes on our progress away from gas-burning internal combustion engines. President Trump, likely pressured by his allies in the fossil fuel industry, has threatened to end the federal tax credits that have already helped put hundreds of thousands of EVs on the road—a move bound to harm not only our environment but our economy, too. After all, the manufacturing and sale of EVs, hybrids, and plug-in hybrids supported 197,000 jobs in 2017, according to the most recent U.S. Energy and Employment Report.