This website uses cookies to ensure you get the best experience while browsing it. By clicking 'Got It' you're accepting these terms.
America's love affair with coffee is deeply entrenched (and totally understandable), but more and more people are switching over to tea. Tea has been used as medicine for thousands of years and its health benefits have been lauded by health experts.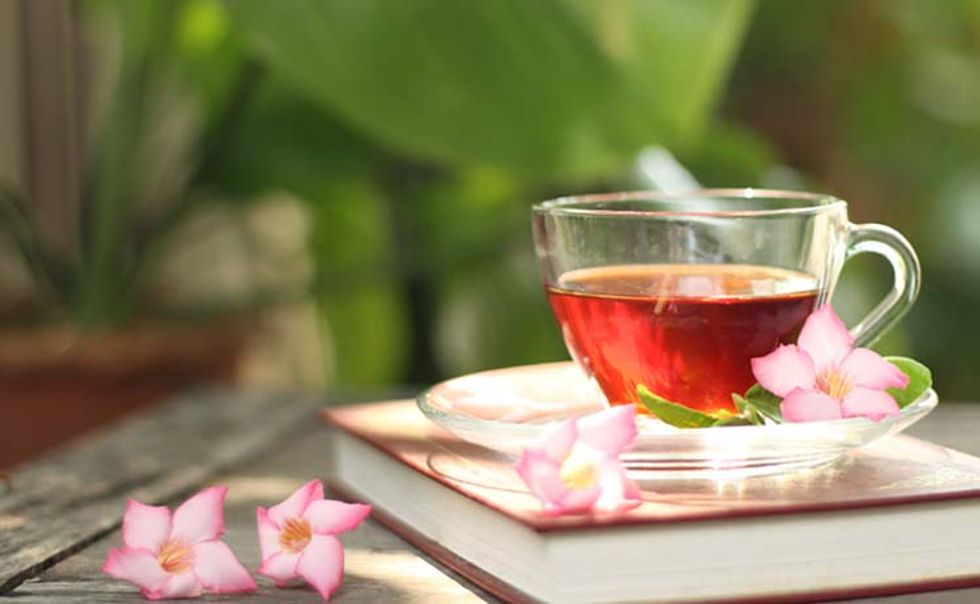 Tea is delicious, comforting, warm and healthy, but it's also full of variety. There are many different options and types of tea you can brew at home; you aren't limited to Earl Grey and green. Try one of these healthy cuppas if you're starting to embark on a journey through the world of tea.
1. Oolong
Oolong tea is caffeinated and packed with energy-giving nutrients. It's a great option for mornings and also for drinking before a workout. Oolong is thermogenic, which means that it's been proven to boost fat-burning.
According to Inspyr, oolong is also known to reduce levels of triglycerides, a type of fat found in the blood that's been linked to heart disease and other illnesses.
2. Green
No list of healthy teas would be complete without a nod to green tea. There's a reason that green tea is so popular among yogis and health-conscious people: It's packed with antioxidants, is thought to boost collagen production and may even help prevent cancer and heart disease due to its high levels of catechins (a type of antioxidant).
3. White
White tea is delicate and delicious and it's also incredibly healthy. Just like green tea, white tea contains catechins and other antioxidants that may neutralize free radicals and protect against cancer and heart disease.
In an interview with Fox News Health, tea aficionado Zhena Muzyka explained that she considers white tea to be her "beauty tonic." She explains that its age-fighting properties made it a beauty treatment in ancient Asia.
4. Ginger-citrus
Ginger is a known antimicrobial, which means that it can help fight bacteria. Inspyre notes that the combination of ginger, which contains zingiber and citrus fruits like lemons, which contain pectin and limonene, make for a strong immune-booster. Ginger has been used to fight illness since ancient times and citrus fruits help detoxify the body.
5. Chamomile
Chamomile tea is not made from an actual tea plant, but instead from the flowers of the chamomile plant. This is what allows chamomile tea to remain caffeine-free. Chamomile tea is thought to promote restful sleep, which is beneficial for optimal health. It also contains a variety of antioxidants that are thought to protect against cancer and diabetes.
YOU MIGHT ALSO LIKE
Are Basil Seeds the New Superfood?
5 Ways Fruit and Veggies Can Replace Medications
12 Fruits and Veggies You Should Always Buy Organic
8 Weight Loss Tips You Should Ignore
EcoWatch Daily Newsletter
The Opera House is seen with smoke haze which enveloped Sydney Harbor on Dec. 10 in Sydney, Australia. Smoke haze hangs over the city as the New South Wales fire danger risk is raised from 'very high' to 'severe'. James D. Morgan / Getty Images
The brushfires raging through New South Wales have shrouded Australia's largest city in a blanket of smoke that pushed the air quality index 12 times worse than the hazardous threshold, according to the Australia Broadcast Corporation (ABC).
People walk across the bridge near Little Raven Court in downtown Denver. Younger Americans increasingly prefer to live in walkable neighborhoods. Helen H. Richardson / The Denver Post via Getty Images
By David B. Goldstein
Energy efficiency is the cornerstone of any country's plan to fight the climate crisis. It is the cheapest option available, and one that as often as not comes along with other benefits, such as job creation, comfort and compatibility with other key solutions such as renewable energy. This has been recognized by the International Energy Agency (IEA) for at least a decade.
Activists from Extinction Rebellion New York City engaged in nonviolent direct action to confront climate change outside City Hall on April 17, 2019. Erik McGregor / Pacific Press / LightRocket via Getty Images
By Andrea Germanos

Over 500 groups on Monday rolled out an an action plan for the next president's first days of office to address the climate emergency and set the nation on a transformative path towards zero emissions and a just transition in their first days in office.

The Ladakh region of India, pictured above, is a part of the Himalayan mountain region of the upper Indus Valley which is the most vulnerable water tower, according to researchers. Suttipong Sutiratanachai / Moment / Getty Images
Jet stream triggered heat waves could threaten food production in several important breadbaskets, including central North America.
Carl Wycoff /
CC BY 2.0
Researchers have pinpointed a previously underexamined threat to global food production, and they warn it will only get worse as the climate crisis intensifies.