This website uses cookies to ensure you get the best experience while browsing it. By clicking 'Got It' you're accepting these terms.
What if you could see through the eyes of a glow-in-the-dark shark? Thanks to a few scientists at City of New York University's Baruch College, you can now get closer to that experience.
Marine Biologist David Gruber and a colleague just created a "shark-eye" camera that mimics how fluorescent sharks see each other. Species like the chain catshark and the swell shark can see only blue-green light, so the camera's filters show how the extra green light they emit may make them easier to see.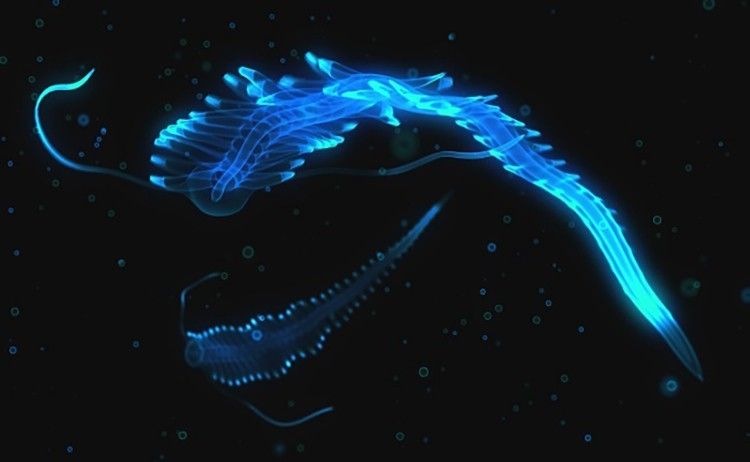 In honor of this invention, here are a handful of the hundreds of incredible glow-in-the dark animals out there:
 1. Swell Shark
The world of the Pacific Ocean's swell shark looks very different from ours. While humans see in three colors—red, green and blue—descending into the deep ocean cuts out all but blue darkness, explains Gruber to National Geographic. Swell sharks are among the few bioluminescent sharks that turn themselves green to be seen.
The recent study reveals how little we know about shark vision. Does glowing in the dark help the sharks socialize with one another or find mates? Or does it just attract predators? Not even Gruber can say.
Although the shark-eye camera doesn't answer those questions, the device accomplishes another purpose: making folks care about protecting the ocean. Underwater critters often seem so alien, so slimy and so mysterious that it's hard to relate to them, Gruber tells the Atlantic. Seeing like them "could draw us closer to these species."
2. Vampire Squid
Contrary to its name, the vampire squid is actually an ancient form of deep-sea cephalopod. The creature lives more than 600 feet below the ocean's surface and squirts a glow-in-the dark mucous, instead of ink, when threatened.
Care2 may have ranked the vampire squid as a "creepy creature that is actually quite cute," but its beauty is in jeopardy. As Monterrey Bay Aquarium Research Institute's Bruce Robison told the Huffington Post, "They are threatened by ocean warming, decreasing oxygen, pollution, overfishing, industrialization and dozens of other changes taking place in the deep."
3. Hawksbill Sea Turtle
Last year, scientists diving around the Solomon Islands came across an endangered Hawksbill sea turtle glowing neon green and red. As National Geographic notes, the turtle was the first reptile ever found with the "ability to reflect the blue light hitting a surface and re-emit it as a different color."
Incidentally, the biologist Gruber was on the team that came across the biofluorescent turtle while searching for crocodiles. He describes the creature as resembling a large spaceship gliding into view. He followed the turtle for just a moment and watched it dive deeper into the ocean's darkness.
The source of the glow—perhaps the algae growing on its shell or its diet—remains a mystery as well.
4. Glowing Cockroach
Most cockroaches seem to scatter when the light touches them. Not these guys, apparently.
While luminescence is rare in land animals, more than a dozen beetles glow, including this lit-up cockroach. Luchihormetica luckae was collected more than 70 years ago near Ecuador volcano Tungurahua. In 2013, scientists listed the roach among their top newly discovered species, though there is a chance the insect is already extinct.
What's remarkable about this particular glowing cockroach, says the Guardian, is that its lamps seem to be conveniently located in the same place as those found on luminescent click beetles—a toxic species to predators.
5. Glowworm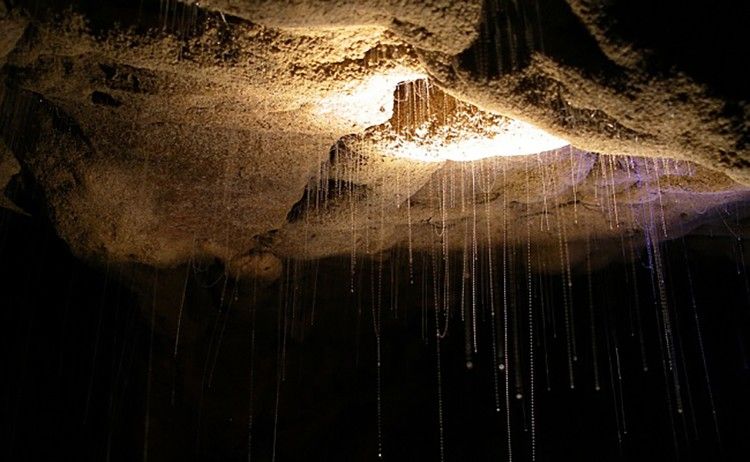 The glowworm's other commonly used name—fungus gnat—betrays the beauty that these insects create in New Zealand caves. Because adult glowworms don't have digestive systems—and, thus, can't eat—they only live for a few days. Meanwhile, larvae emit a light and use silk "fishing lines" to capture insects to feed upon.
Incredible, indeed.
YOU MIGHT ALSO LIKE
'Human Swan' Joins 4,500-Mile Migration to Help Save the Species
Is the Whale Shark Tourism Industry Conservation or Exploitation?
Shocking Migratory Changes Bring Electric Rays to Canada's Pacific
Antartica's Penguins Need Your Help, Become a Citizen Scientist Today
EcoWatch Daily Newsletter
Smog over Los Angeles. Westend61 / Getty Images
After four decades of improving air quality, the U.S. has started to take a step backwards, as the number of polluted days has ticked upwards over the last two years, the Associated Press reported.
Photobos / iStock / Getty Images
Governors in Vermont and Maine signed bills on Monday that will ban plastic bags in their states next year, The Hill reported.
The Maine ban will go into effect next Earth Day, April 22, 2020. The Vermont ban, which extends beyond plastic bags and is the most comprehensive plastics ban so far, will go into effect in July 2020. The wait time is designed to give businesses time to adjust to the ban.
picture-alliance / AP Images / D. Goldman
By Daniel Moattar
Eastern Kentucky's hills are interrupted by jarring flats of bare rock: the aftermath of mountaintop removal mining, which uses explosives to destroy and harvest coal-rich peaks.
By Molly Taft
Lisa Marshall isn't your typical activist. For one thing, she's not into crowds. "I don't really like rallies," Marshall, a mom of three from upstate New York, said. "They're a little stressful — not my favorite thing."

An oil drilling site in a residential area of Los Angeles, California on July 16, 2014.
Faces of Fracking / Flickr
By Jake Johnson
A comprehensive analysis of nearly 1,500 scientific studies, government reports, and media stories on the consequences of fracking released Wednesday found that the evidence overwhelmingly shows the drilling method poses a profound threat to public health and the climate.

sonsam / iStock / Getty Images
By Grace Francese
A new Environmental Working Group (EWG) study published in Environmental Research found that nitrate, one of the most common contaminants of drinking water, may cause up to 12,594 cases of cancer per year, but that's not its only danger: It can pose unique health risks to children.
Melt water from Everest's Khumbu glacier. Ed Giles / Getty Images
EPA Administrator Andrew Wheeler signs his replacement for the Clean Power Plan. Win McNamee / Getty Images