This website uses cookies to ensure you get the best experience while browsing it. By clicking 'Got It' you're accepting these terms.
What if you could see through the eyes of a glow-in-the-dark shark? Thanks to a few scientists at City of New York University's Baruch College, you can now get closer to that experience.
Marine Biologist David Gruber and a colleague just created a "shark-eye" camera that mimics how fluorescent sharks see each other. Species like the chain catshark and the swell shark can see only blue-green light, so the camera's filters show how the extra green light they emit may make them easier to see.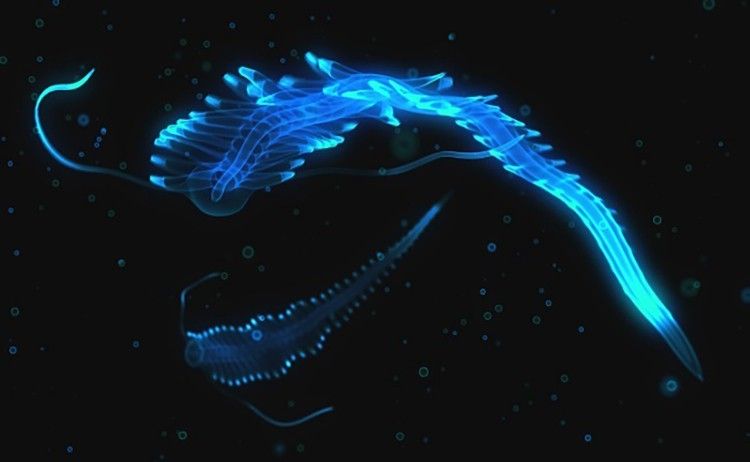 In honor of this invention, here are a handful of the hundreds of incredible glow-in-the dark animals out there:
 1. Swell Shark
The world of the Pacific Ocean's swell shark looks very different from ours. While humans see in three colors—red, green and blue—descending into the deep ocean cuts out all but blue darkness, explains Gruber to National Geographic. Swell sharks are among the few bioluminescent sharks that turn themselves green to be seen.
The recent study reveals how little we know about shark vision. Does glowing in the dark help the sharks socialize with one another or find mates? Or does it just attract predators? Not even Gruber can say.
Although the shark-eye camera doesn't answer those questions, the device accomplishes another purpose: making folks care about protecting the ocean. Underwater critters often seem so alien, so slimy and so mysterious that it's hard to relate to them, Gruber tells the Atlantic. Seeing like them "could draw us closer to these species."
2. Vampire Squid
Contrary to its name, the vampire squid is actually an ancient form of deep-sea cephalopod. The creature lives more than 600 feet below the ocean's surface and squirts a glow-in-the dark mucous, instead of ink, when threatened.
Care2 may have ranked the vampire squid as a "creepy creature that is actually quite cute," but its beauty is in jeopardy. As Monterrey Bay Aquarium Research Institute's Bruce Robison told the Huffington Post, "They are threatened by ocean warming, decreasing oxygen, pollution, overfishing, industrialization and dozens of other changes taking place in the deep."
3. Hawksbill Sea Turtle
Last year, scientists diving around the Solomon Islands came across an endangered Hawksbill sea turtle glowing neon green and red. As National Geographic notes, the turtle was the first reptile ever found with the "ability to reflect the blue light hitting a surface and re-emit it as a different color."
Incidentally, the biologist Gruber was on the team that came across the biofluorescent turtle while searching for crocodiles. He describes the creature as resembling a large spaceship gliding into view. He followed the turtle for just a moment and watched it dive deeper into the ocean's darkness.
The source of the glow—perhaps the algae growing on its shell or its diet—remains a mystery as well.
4. Glowing Cockroach
Most cockroaches seem to scatter when the light touches them. Not these guys, apparently.
While luminescence is rare in land animals, more than a dozen beetles glow, including this lit-up cockroach. Luchihormetica luckae was collected more than 70 years ago near Ecuador volcano Tungurahua. In 2013, scientists listed the roach among their top newly discovered species, though there is a chance the insect is already extinct.
What's remarkable about this particular glowing cockroach, says the Guardian, is that its lamps seem to be conveniently located in the same place as those found on luminescent click beetles—a toxic species to predators.
5. Glowworm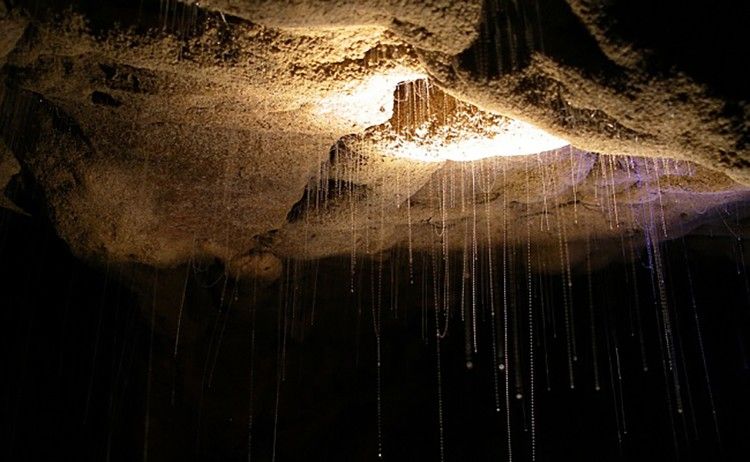 The glowworm's other commonly used name—fungus gnat—betrays the beauty that these insects create in New Zealand caves. Because adult glowworms don't have digestive systems—and, thus, can't eat—they only live for a few days. Meanwhile, larvae emit a light and use silk "fishing lines" to capture insects to feed upon.
Incredible, indeed.
YOU MIGHT ALSO LIKE
'Human Swan' Joins 4,500-Mile Migration to Help Save the Species
Is the Whale Shark Tourism Industry Conservation or Exploitation?
Shocking Migratory Changes Bring Electric Rays to Canada's Pacific
Antartica's Penguins Need Your Help, Become a Citizen Scientist Today
EcoWatch Daily Newsletter
A vegan diet can improve your health, but experts say it's important to keep track of nutrients and protein. Getty Images
By Dan Gray
Research shows that 16 weeks of a vegan diet can boost the gut microbiome, helping with weight loss and overall health.
A healthy microbiome is a diverse microbiome. A plant-based diet is the best way to achieve this.
It isn't necessary to opt for a strictly vegan diet, but it's beneficial to limit meat intake.
New research shows that following a vegan diet for about 4 months can boost your gut microbiome. In turn, that can lead to improvements in body weight and blood sugar management.
Students gathered at the National Mall in Washington DC, Sept. 20. NRDC
By Jeff Turrentine
Nearly 20 years have passed since the journalist Malcolm Gladwell popularized the term tipping point, in his best-selling book of the same name. The phrase denotes the moment that a certain idea, behavior, or practice catches on exponentially and gains widespread currency throughout a culture. Having transcended its roots in sociological theory, the tipping point is now part of our everyday vernacular. We use it in scientific contexts to describe, for instance, the climatological point of no return that we'll hit if we allow average global temperatures to rise more than 2 degrees Celsius above preindustrial levels. But we also use it to describe everything from resistance movements to the disenchantment of hockey fans when their team is on a losing streak.
samael334 / iStock / Getty Images
Berries are small, soft, round fruit of various colors — mainly blue, red, or purple.
A glacier is seen in the Kenai Mountains on Sept. 6, near Primrose, Alaska. Scientists from the U.S. Geological Survey have been studying the glaciers in the area since 1966 and their studies show that the warming climate has resulted in sustained glacial mass loss as melting outpaced the accumulation of new snow and ice. Joe Raedle / Getty Images
By Mark Mancini
On Aug. 18, Iceland held a funeral for the first glacier lost to climate change. The deceased party was Okjökull, a historic body of ice that covered 14.6 square miles (38 square kilometers) in the Icelandic Highlands at the turn of the 20th century. But its glory days are long gone. In 2014, having dwindled to less than 1/15 its former size, Okjökull lost its status as an official glacier.
Members of Chicago Democratic Socialists of America table at the Logan Square Farmers Market on Aug. 18. Alex Schwartz
By Alex Schwartz
Among the many vendors at the Logan Square Farmers Market on Aug. 18 sat three young people peddling neither organic vegetables, gourmet cheese nor handmade crafts. Instead, they offered liberation from capitalism.
Hackney primary school students went to the Town Hall on May 24 in London after school to protest about the climate emergency. Jenny Matthews / In Pictures / Getty Images
Bird watching in the U.S. may be a lot harder than it once was, since bird populations are dropping off in droves, according to a new study.