From mercury in tuna and wood pulp in parmesan cheese to ground beef treated with ammonia to retard E. coli ("pink slime"), the press does a good job exposing the dangerous and deceptive practices of Big Food. The problem is, the public forgets about the food risk or contamination, assuming that reform is in the works and that is just fine with Big Food. Often nothing changes.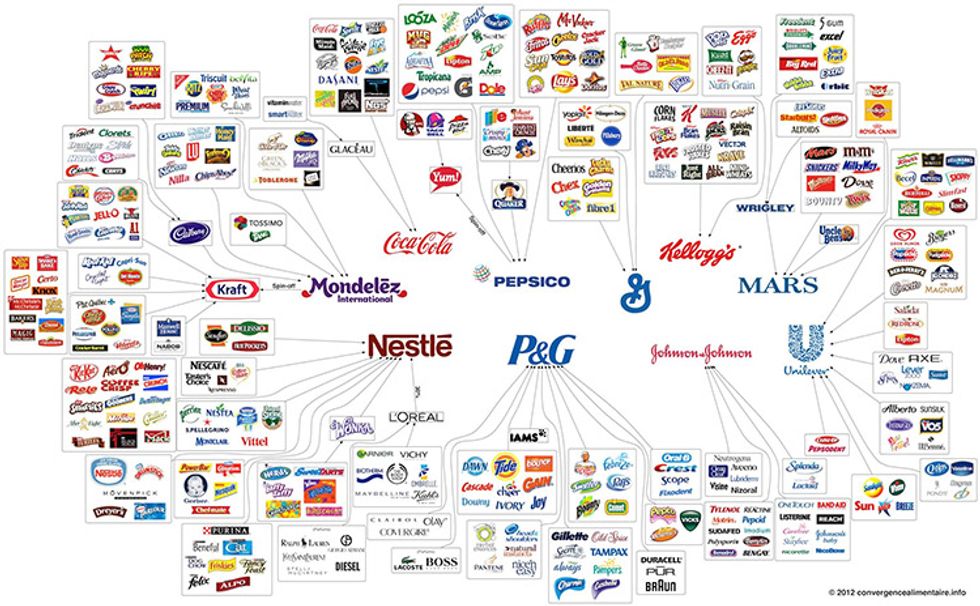 For example, many thought the problem of mercury in tuna had been solved since it has been so widely reported. But Time recently wrote "the latest analysis shows that eating fish the way the government recommends is exposing people, especially pregnant women, to unsafe levels of mercury." And two years after the nation's stomach was turned by pink slime, its manufacturer Beef Products, Inc. had reopened plants and even filed a defamation lawsuit against ABC and Diane Sawyer. Who are you calling pink slime?
Here are some hidden-in-plain-sight facts Big Food doesn't want you to know.
1. Meat Preservatives Cause Cancer
Did you ever wonder why bacon, hot dogs, ham, cold cuts, Slim Jims and most processed and cured meats taste salty, look pink and stay on the shelves indefinitely? Because food processors use the preservatives nitrite and nitrate which produce the pink color, delay bacterial growth and rancid taste and smell and impart a cured or smoked meat flavor.
Researchers have known since the 1970s that the preservatives become "nitrosamines" in the body—compounds that cause cancer. Following a 2008 American Institute for Cancer Research/World Cancer Research Fund report that found just one hot dog a day increases the risk of colorectal cancer by 21 percent, there were calls to ban such processed meat, especially in schools. Last year, the World Health Organization reignited the controversy and declared processed meats Group 1 carcinogens, the highest risk category that exists. WHO researchers, who analyzed 800 studies, defined processed meat as "anything transformed to improve its flavor or preserve it, including sausages, beef jerky and anything smoked," reported the Boston Globe. Researchers identified links from processed meats to colon, prostate and pancreatic cancers.
Scientific articles also link nitrosamines to lung cancer, kidney cancer, stroke, coronary heart disease and diabetes mellitus. The American Cancer Society tells people not to eat them. Still, the industry-influenced USDA remains agnostic about the dangers of nitrosamines in its new Dietary Guidelines rolled out this year. "We are pretty disappointed the report doesn't recommend limiting red and processed meat because of the link to cancer," said Katie McMahon of the American Cancer Society Cancer Action Network.
2. Shrimp are a Safety Disaster Waiting to Happen
Most people do not realize the majority of shrimp sold in the U.S. are neither domestic nor wild-caught. They are imported from countries like Thailand, India and Indonesia where they are "farmed" in crowded, filthy pools with antibiotics, disinfectants and parasiticides that are banned in the U.S. The shrimp themselves have their eyes removed before being raised in pools so dense and dirty that many die.
The FDA is responsible for ensuring the safety of such imported shrimp for human consumption, yet more than 96 percent of shipments are not opened or even checked when they arrive on the dock in the U.S. Instead, exporters' identities are stored in the FDA Automated Commercial System (ACS) system and only if a country or company has had prior problems will it receive receive inspections. Even then, the so-called inspection may only be a look at documents or a visual inspection, not lab tests for dangerous substances. FDA inspectors admit that blocked exporters can "transship" their products from another country to fool inspectors. Is anyone surprised that banned drugs and mislabeled products including pet shrimp find their way to U.S. dinner tables?
Like so many food products that are bad for consumers, intensively farmed shrimp also harm the environment, workers and animals. A recent, award-winning Associated Press series exposes slave labor used in the commercial seafood industry in Indonesia and Thailand—and the actual incarceration of captive workers in Myanmar in cages. U.S. officials and human rights activists call on Americans to "stop buying fish and shrimp tied to supply chains in Thailand." Intensive shrimp farming also harms sensitive mangrove areas.
3. Antibiotic Use in Livestock is Getting Worse
By now, most conscientious eaters know that Big Food uses tons of antibiotics to make animals gain weight with less feed thus driving antibiotic resistant bacteria and infections. Antibiotics are also used to prevent illness in the extremely crowded and unsanitary conditions of "factory farms." What people may not realize is that Big Food has repeatedly defeated government attempts to regulate and prohibit antibiotic use and that Big Pharma and Big Food, not the government, actually call the shots. In 2008, the egg, chicken, turkey, milk, pork and cattle industries stormed Capitol Hill over the proposal to prohibit the use of Cefzil and Keflex (important human drugs called cephalosporins), claiming they could not "farm" without the drugs. They won.
In 2014, the FDA tried regulation again, proposing a voluntary plan in which drug makers would agree to remove the use of "growth promotion and feed efficiency" on antibiotic labels and the drugs would only be used to prevent disease. Did the government really think Big Pharma and Big Meat would undercut their own profits and meat producers would comply?
Soon after the announcement, Michael Hansen, senior staff scientist at Consumers Union, told me it was likely Big Pharma would simply replace "growth production" with "disease prevention" on the labels and continue the routine antibiotic use. Cattle producers could continue to feed grain instead of grass to animals even though it produces more liver abscesses, then treating them with the antibiotic Tylosin to "prevent disease," he told me.
So far, according to the FDA's 2014 Summary Report on Antimicrobials Sold or Distributed for Use in Food-Producing Animals, domestic sales and distribution of livestock cephalosporins increased by 57 percent between 2009 through 2014, antibiotics like clindamycin by 150 percent and antibiotics like gentamicin by 36 percent. Thanks for nothing, FDA.
4. Mad Cow Disease is Still with Us
There is probably no disease Big Food fears as much as "mad cow," a fatal, incurable highly contagious disease transmitted by particles called prions that are not killed by heat, ammonia, bleach, hydrogen peroxide, alcohol, phenol, lye, formaldehyde or even radiation. They are said to remain infectious in the soil for years.
Within 24 hours of discovery of the USDA's first mad cow in 2003, Mexico, Russia, Brazil, South Africa, Hong Kong, Japan, Singapore, Taiwan, Malaysia, South Korea and 90 other countries banned U.S. beef—wiping out 98 percent of the $3 billion overseas beef market.
Subsequent mad cow scares have caused the biggest beef recall in U.S. history, terrified medical patients (when news of a patient with a related human brain disorder, CJD, in a hospital surfaced) and destroyed futures markets in minutes. Driving the panic are questions about how cows get the disease, whether the feed is safe and where herd mates and offspring are. But in recent years, Big Food has mitigated the problem by terming new mad cow cases "atypical"—meaning they "just happen." Since the pathogenesis is spontaneous, the feed sources and herd mates no longer have to be traced and the story will soon drop from the news and consumers' concerns.
Yet the disease is far from gone. Last year, a likely new case of mad cow turned up in Ireland and both Norway and Canada reported "atypical" cases. This month a suspected mad cow was found in France. Last year, two people died from the mad cow-related version of CJD in Italy and Tampa had two cases of CJD whose origins were not determined.
5. Bird Flu and Porcine Epidemic Diarrhea Virus are Worse than Reported
Do you remember the porcine epidemic diarrhea virus (PEDv) outbreak in 2013 or the bird flu epidemic of 2015? Chances are no, because Big Food managed to prevent the public from seeing dumpsters full of the dead livestock lest people ask what is happening on factory farms, why are so many animals sick, what drugs are they taking and why should we eat products from such sick animals. News reports instead focused on farmers' financial losses, price increases in the products and farmers' needs to "restock."
At least one tenth of U.S. pigs died in 2013 and 2014 from PEDv, though Big Food assures food consumers the disease is unlikely to jump species and infect people. Almost 50 million flu-stricken chickens and turkeys died in 2015, "piled up in dumpsters, attracting flies and emitting a stench. Only recently has the disposal crisis abated, with the help of "round-the-clock incinerators and crews in hazmat suits," reported Fortune. While egg layers were dosed with carbon monoxide, floor-reared turkeys and broiler chickens were herded into an enclosed area and administered a propylene glycol foam that suffocates them.
Neither of the outbreaks are gone. In January, the bird flu was back at an Indiana turkey farm where all the birds were slaughtered and their carcasses destroyed. Pork producers say PEDv will likely never be gone in the U.S. and other diseases also loom.
YOU MIGHT ALSO LIKE
10 Inspiring Films on Food + Farming: Who Do You Think Should Win the People's Choice Award?
Monsanto CEO Says 'Roundup Is Not A Carcinogen' But 94 Scientists From Around the World Disagree
6 Millennials Fight for the Title of 'America's Best Yardfarmer'
Buyer Beware: You Might Be Eating Food From Cans Lined With Toxic BPA
The saguaro cactus extracts carbon from the atmosphere. Thomas Roche / Getty Images
By Paul Brown
It may come as a surprise to realize that a plant struggling for survival in a harsh environment is also doing its bit to save the planet from the threats of the rapidly changing climate. But that's what Mexico's cactuses are managing to do.
Research published in the journal The Science of Nature shows that desert soils supporting a high density of cactus contain large quantities of stored bio-minerals (minerals produced by living organisms), formed by the action of the plants in extracting carbon dioxide from the atmosphere.
Not only that. Cactuses can also be harvested, processed and turned into a form of leather used to make fashion accessories like purses and wallets.
These two attributes have been turned into a successful business by a Mexican/American company, CACTO. It claims to be the first "carbon negative fashion company in the Americas" − in other words, its activities remove more carbon from the atmosphere than it creates in making and marketing its products.
No Animals Involved
This is a bold claim in an industry struggling with its poor environmental record. According to McKinsey and Co. the worldwide fashion industry emits about the same amount of greenhouse gases as France, Germany and the United Kingdom combined. But CACTO gives Mexico's cactuses special treatment.
CACTO's products are vegan and so allow a growing class of consumers to buy leather objects that are made without any animal products.
The research into the ability of cactus to extract carbon from the atmosphere and store it was carried out on one cactus species, the saguaro (Carnegiea gigantea), which can grow to 40 feet.
It is native to the Sonoran desert in Arizona and the Mexican state of Sonora, and shares with all other cactus varieties the same abilities for dealing with carbon. This has proved a bonus for CACTO because cactuses are the most numerous plants in Mexico.
CACTO's plantations are organic, fed by rainwater, free of herbicides and pesticides, and renewable, and after the ears, or leaves; of the cactus are harvested, the plant grows a replacement in six to eight months. This regeneration allows repeat harvesting. The leaves are then sun-dried to avoid using any electricity. The company's products (available only in green or black) are on sale in more than 100 countries.
CACTO was founded by Jesus Chavez, a climate campaigner, and was designed to have sustainability as a guiding principle at the core of its operation. The entire production cycle is closely monitored by its staff, from the sourcing of materials to production, packaging, distribution and shipping.
Through a partnership with a Swiss non-profit organisation, On a Mission, CACTO says its staff have measured and offset 150% of its CO2 emissions through sustainable reforestation worldwide.
The measurement and offsetting process will take place every six months for the next 10 years. Through several emergent partnerships, the company says it aims to offset at least 1000% of the emissions it generates by the end of 2021.
Engaging Entrepreneurs
Jesus Chavez said: "If we want to succeed in reaching net zero carbon emissions well before 2050 and avoid the worst consequences of climate change, we must all work in concert in whatever capacity we are able to.
"Industries across the board need to benefit from existing technology and offsetting programs to become carbon-negative, and to invest in new research and innovation to reach that goal faster. The decisions we make this decade will determine the fate of humanity for centuries to come. It is up to us now."
He said customers around the world wanted alternatives to materials that increased pollution and to unethical manufacturing processes.
CACTO hopes to inspire a new generation of entrepreneurs to make clear what has been evident to specialists for decades, that decoupling emissions from economic growth is not only feasible, but is the smartest, fastest and most responsible way to grow. Mexico's cactuses bear a heavy responsibility on their ears − or leaves − or branches.
Reposted with permission from Climate News Network.
EcoWatch Daily Newsletter
Lower Granite Dam is obstructing salmon along the Snake River in Washington. Greg Vaughn / VW PICS / Universal Images Group / Getty Images
Climate change, activities that contribute to it, and dams pose grave threats to America's rivers, according to American Rivers.
The annual report ranks the county's 10 rivers most endangered by human activity that also have a critical decision point coming in the next year that could change the river's fate.
Four dams are choking the Snake River — earning it the top spot in the report — obstructing salmon and posing an existential threat to Native American tribes in the region who depend on the fish for food, culture and their identities.
Advocates are calling on President Biden to remove the federal dams and revitalize the river and its ecosystem.
Toxic coal ash pollutes the Lower Missouri, which also is experiencing an increase in climate-driven flooding, putting it second on the list, while Iowa's Raccoon River, at number nine, faces threats from industrial agriculture.
Between them are rivers befouled by sewage, polluted or threatened by mining, and otherwise dammed or mismanaged.
"Rivers are among the most degraded ecosystems on the planet, and threats to rivers are threats to human health, safety and survival," American Rivers head Tom Kiernan said.
"If we want a future of clean water and healthy rivers everywhere, for everyone, we must prioritize environmental justice."
For a deeper dive:
The Guardian, USA Today, Mother Jones, Reuters, E&E
For more climate change and clean energy news, you can follow Climate Nexus on Twitter and Facebook, sign up for daily Hot News, and visit their news site, Nexus Media News.

Radiation-contaminated water tanks and damaged reactors at the Fukushima Daiichi nuclear power plant on Feb. 25, 2016 in Okuma, Japan. Christopher Furlong / Getty Images
Japan will release radioactive wastewater from the failed Fukushima nuclear plant into the Pacific Ocean, the government announced on Tuesday.
The water will be treated before release, and the International Atomic Energy Agency said the country's plans were in keeping with international practice, The New York Times reported. But the plan is opposed by the local fishing community, environmental groups and neighboring countries. Within hours of the announcement, protesters had gathered outside government offices in Tokyo and Fukushima, according to NPR.
"The Japanese government has once again failed the people of Fukushima," Greenpeace Japan Climate and Energy Campaigner Kazue Suzuki said in a statement. "The government has taken the wholly unjustified decision to deliberately contaminate the Pacific Ocean with radioactive wastes."
The dilemma of how to dispose of the water is one ten years in the making. In March 2011, an earthquake and tsunami in northeastern Japan killed more than 19,000 people and caused three of six reactors at the Fukushima Daiichi nuclear power plant to melt down, The New York Times explained. This resulted in the biggest nuclear disaster since Chernobyl, and the cleanup efforts persist more than a decade later.
To keep the damaged reactors from melting down, cool water is flushed through them and then filtered to remove all radioactive material except for tritium. Up until now, the wastewater has been stored on site, but the government says the facility will run out of storage room next year. Water builds up at 170 tons per day, and there are now around 1.25 million tons stored in more than 1,000 tanks.
The government now plans to begin releasing the water into the ocean in two years time, according to a decision approved by cabinet ministers Tuesday. The process is expected to take decades.
"On the premise of strict compliance with regulatory standards that have been established, we select oceanic release," the government said in a statement reported by NPR.
Opposition to the move partly involves a lack of trust around what is actually in the water, as NPR reported. Both the government and Tokyo Electric Power Co., which operates the plant, say that the water only contains tritium, which cannot be separated from hydrogen and is only dangerous to humans in large amounts.
"But it turned out that the water contains more radioactive materials. But they didn't disclose that information before," Friends of the Earth Japan campaigner Ayumi Fukakusa told NPR. "That kind of attitude is not honest to people. They are making distrust by themselves."
In February, for example, a rockfish shipment was stopped when a sample caught near Fukushima tested positive for unsafe levels of cesium.
This incident also illustrates why local fishing communities oppose the release. Fish catches are already only 17.5 percent of what they were before the disaster, and the community worries the release of the water will make it impossible for them to sell what they do catch. They also feel the government went against its promises by deciding to release the water.
"They told us that they wouldn't release the water into the sea without the support of fishermen," fishery cooperative leader Kanji Tachiya told national broadcaster NHK, as CBS News reported. "We can't back this move to break that promise and release the water into the sea unilaterally."
Japan's neighbors also questioned the move. China called it "extremely irresponsible," and South Korea asked for a meeting with the Japanese ambassador in Seoul in response.
The U.S. State Department, however, said that it trusted Japan's judgement.
"In this unique and challenging situation, Japan has weighed the options and effects, has been transparent about its decision, and appears to have adopted an approach in accordance with globally accepted nuclear safety standards," the department said in a statement reported by The New York Times.
But environmentalists argue that the government could have found a way to continue storing waste.
"Rather than using the best available technology to minimize radiation hazards by storing and processing the water over the long term, they have opted for the cheapest option, dumping the water into the Pacific Ocean," Greenpeace's Suzuki said.
From Your Site Articles
Related Articles Around the Web
Antarctica's Thwaites Glacier, aka the doomsday glacier, is seen here in 2014. NASA /
Wikimedia Commons
/ CC0
Scientists have maneuvered an underwater robot beneath Antarctica's "doomsday glacier" for the first time, and the resulting data is not reassuring.
Antarctica's Thwaites Glacier is referred to as the doomsday glacier because every year it contributes four percent to global sea level rise and acts as a stopper for the West Antarctic Ice Sheet. If the glacier were to collapse and take the sheet with it, that would raise global sea levels by around 10 feet. Now, a study published in Science Advances on April 9 warns that there is more warm water circling below the glacier than previously believed, making that collapse more likely.
"Our observations show warm water impinging from all sides on pinning points critical to ice-shelf stability, a scenario that may lead to unpinning and retreat," the study authors wrote. Pinning points are areas where the ice connects with the bedrock that provides stability, Earther explained.

The new paper is based on a 2019 expedition where an autonomous submarine named Ran explored the area beneath the glacier in order to measure the strength, salinity, oxygen content and temperature of the ocean currents that move beneath it, the International Thwaites Glacier Collaboration explained in a press release.
"These were the first measurements ever performed beneath the ice front of Thwaites glacier," Anna Wåhlin, lead author and University of Gothenburg oceanography professor, explained in the press release. "Global sea level is affected by how much ice there is on land, and the biggest uncertainty in the forecasts is the future evolution of the West Antarctic Ice Sheet."
This isn't the first instance revealing the presence of warm water beneath the glacier. In January 2020, researchers drilled a bore hole through the glacier and recorded temperature readings of more than two degrees Celsius above freezing, EcoWatch reported at the time.

However, Ran's measurements were taken earlier and allow scientists to understand the warmer water's movement in more detail. Scientists now know that water as warm as 1.05 degrees Celsius is circulating around the glacier's vulnerable pinning points.
"The worry is that this water is coming into direct contact with the underside of the ice shelf at the point where the ice tongue and shallow seafloor meet," Alastair Graham, study co-author and University of Southern Florida associate professor of geological oceanography, told Earther. "This is the last stronghold for Thwaites and once it unpins from the sea bed at its very front, there is nothing else for the ice shelf to hold onto. That warm water is also likely mixing in and around the grounding line, deep into the cavity, and that means the glacier is also being attacked at its feet where it is resting on solid rock."
While this sounds grim, the fact that researchers were able to obtain the data is crucial for understanding and predicting the impacts of the climate crisis.
"The good news is that we are now, for the first time, collecting data that will enable us to model the dynamics of Thwaite's glacier. This data will help us better calculate ice melting in the future. With the help of new technology, we can improve the models and reduce the great uncertainty that now prevails around global sea level variations," Wåhlin said in the press release.
From Your Site Articles
Related Articles Around the Web
Journalists film a protest by the environmental organization BUND at the Datteln coal-fired power plant in North Rhine-Westphalia, Germany on April 23, 2020. Bernd Thissen / picture alliance via Getty Images
By Jessica Corbett
Lead partners of a global consortium of news outlets that aims to improve reporting on the climate emergency released a statement on Monday urging journalists everywhere to treat their coverage of the rapidly heating planet with the same same level of urgency and intensity as they have the COVID-19 pandemic.