5 Huge Climate Success Stories 10 Years After the Release of Al Gore's 'An Inconvenient Truth'
Here's something to smile about. Check out five of our favorite climate successes in the past decade.
Ten years ago, An Inconvenient Truth brought the issue of climate change out into the open and into mainstream culture like never before. People began asking tough questions about our climate and wanted to know what they could do to make our planet a safer, healthier place for us all. And 10 years later, we can see the results. Last week, we shared in this blog post what's changed for our climate, for better or for worse, over the past decade. But with so many climate successes to choose from, we felt they deserved their own story. So today on the 10th anniversary of An Inconvenient Truth, here are five of our favorite moments of progress the world has made in solving climate change.
1. China—the World's Largest Carbon Emitter—Stepped Up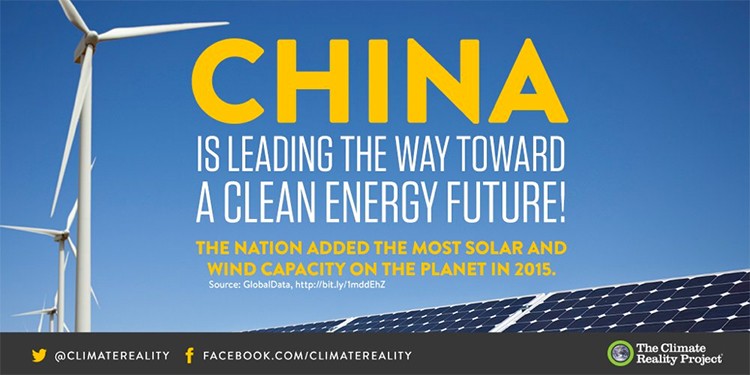 You know how U.S. fossil fuel interests used to stall pro-climate policies saying, "Well what about China? It doesn't matter what we do if they don't do anything."
Today, they're scrambling for a new line. You see, China is ahead of the game when it comes to deploying renewable energy and working to solve climate change. Last summer, China made one of the strongest national commitments to climate action leading up to the UN's COP 21 climate conference, pledging to expand total energy consumption from non-fossil fuel sources to around 20 percent by 2030. It will require China to deploy roughly 800–1,000 gigawatts of non-fossil fuel power by 2030 or about the total current electricity generation capacity in the U.S. This commitment solidified the progress China has made in recent years in combatting its dangerous air pollution problem.
As the world's largest carbon emitter since 2006, China making a commitment to reducing greenhouse gas emissions and using more and more clean energy is a major breakthrough. And if China can get serious about cutting emissions and embracing renewables, other nations are going to have to follow suit.
2. The Growth of Renewable Energy and Clean-Energy Jobs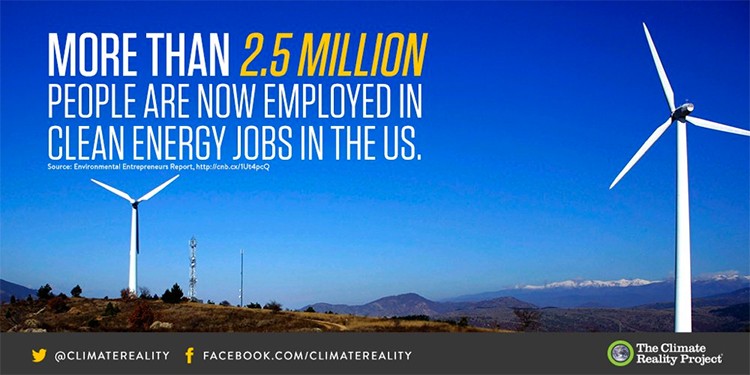 Renewable energy has surged in the past decade, with the cost of clean energies like solar and wind falling each year. And as the price continues to fall, demand continues to increase, which means the industry needs to expand to meet it. The result? Thousands of new jobs added each year.
Let's look at the solar industry. There are already more than 705,000 jobs in solar energy in the U.S., employing Americans in all 50 states. The industry added more than 35,000 jobs in 2015 alone and is showing no sign of slowing any time soon with solar companies projected to add more than 30,000 new workers in 2016.
The wind industry isn't far behind. The U.S. Energy Department predicts there will be more than 600,000 wind-related jobs by 2050, according to its Wind Vision Report, with high growth expected in fields like manufacturing, transportation and offshore wind. By the end of 2014, the U.S. had more than 73,000 jobs in wind energy and the state of Texas alone employed more than 17,000 people in wind-related jobs in 2014.
3. Pope Francis United People From All Faiths to Protect Our Planet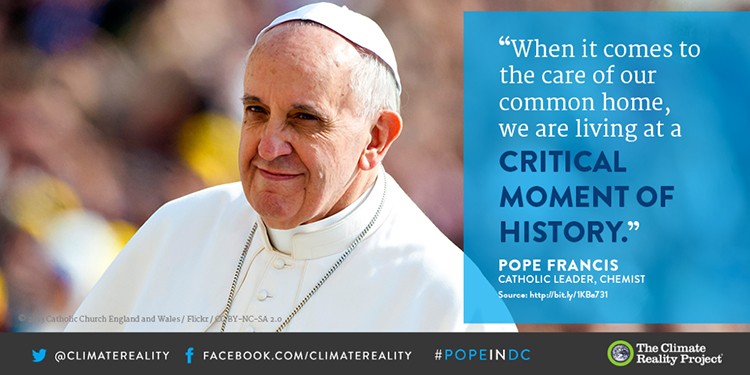 In 2015, Pope Francis made headlines when he released his landmark encyclical, Laudato Si': On Care for Our Common Home. In the letter—written not just for Catholics, but for people of all faiths—he stressed some of the most important issues facing the world today, including climate change, the environment, poverty and the world economy.
The pope followed up Laudato Si' with a historic visit to the U.S. where he met with top government officials. Here, he echoed themes of his encyclical in public statements and private conversations and made the case for growing our economies through clean energy and new technologies. Above all else, Pope Francis urged the world to come together to take immediate action to protect our planet and allow people from all walks of life to flourish.
4. World Leaders Came Together to Reach the Paris Agreement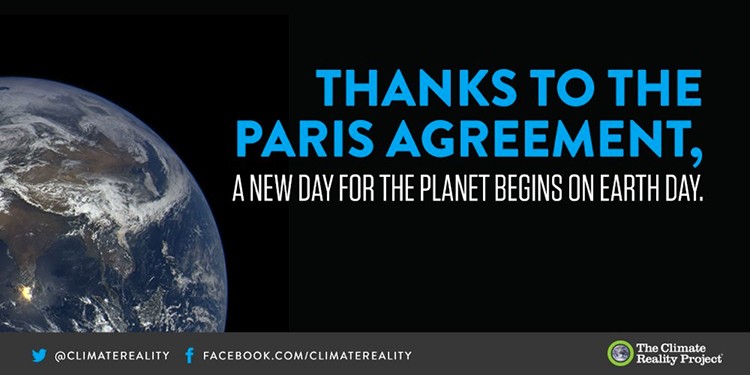 In the years following An Inconvenient Truth, world leaders attempted to reach a consensus about how to solve climate change throughout various global summits, but never truly succeeded. That is, until last December, when world leaders came together at the UN's COP 21 climate conference in Paris. The world watched as leaders from 195 countries negotiated for two weeks and finally reached a global agreement—known as the Paris agreement—to reduce greenhouse gas emissions, the primary factor driving climate change.
World leaders formally signed the Paris agreement this Earth Day, marking a turning point in the movement for climate solutions by setting a long-term goal of keeping global warming below 2 degrees Celsius. This is the most ambitious target ever formalized at this level—and a really big deal.
5. A Global Movement for Solving Climate Change Began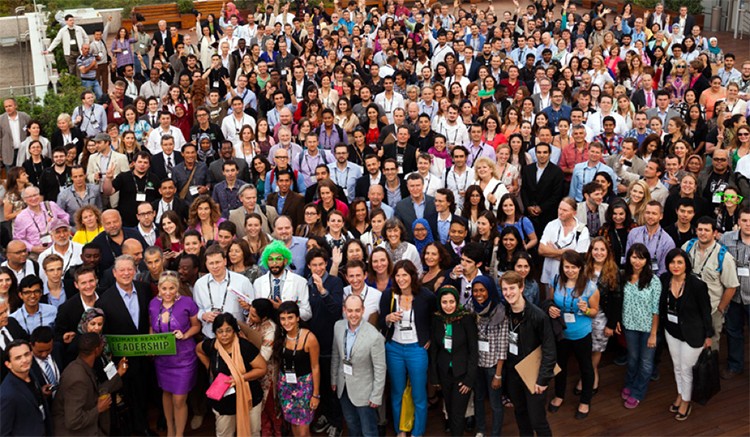 An Inconvenient Truth sparked a new kind of movement—one where people all over the world wanted to know how they could get involved in helping solve climate change. People realized their everyday actions had an impact on our planet and that they could be part of the solution instead of contributing to the problem.
Part of this movement involved a new group of activists called the Climate Reality Leadership Corps. These activists—called Climate Reality Leaders—are people from every level of society working to educate and inspire others in their communities about the climate crisis. Shortly after the film's release, former U.S. Vice President Al Gore trained the very first group of Climate Reality Leaders in Carthage, Tennessee in 2006. Since then, the Climate Reality Leadership Corps has trained thousands of citizens in 135 countries around the world.
If you want to learn more about becoming a Climate Reality Leader, sign up for information here.
Let's Recommit to Climate Action
Yes, we've seen a lot of great progress like the examples above over the past 10 years. But there's still more to do to ensure we stay on the path to ending climate change and building a safe, healthy future for our planet. First and foremost, we need to ensure our leaders fulfill their commitments in the Paris agreement to cut greenhouse gases. Pledge now to recommit to climate action and help us make certain world leaders live up to the promises they made in Paris.
YOU MIGHT ALSO LIKE
Burning All Fossil Fuels Would Lead to a 17 C Rise in Arctic Temperatures
Bill Nye: Climate Deniers Are Wrong
Fossil Fuel Industry-Funded Attorneys General Try to Block Exxon Climate Fraud Probe
Dow CEO Andrew Liveris and President Donald Trump in February.
U.S. Environmental Protection Agency (EPA) administrator Scott Pruitt met with Dow Chemical CEO Andrew Liveris before deciding to reverse an earlier EPA decision to ban the company's toxic and widely used pesticide, chlorpyrifos.
According to records obtained by the Associated Press, the EPA boss met with Liveris for about 30 minutes at a Houston hotel on March 9. Later that month, Pruitt announced that he would no longer pursue a ban on chlorpyrifos from being used on food, ignoring his agency's own review that even small amounts of the pesticide could impact fetus and infant brain development.
Keep reading...
Show less
www.facebook.com
Native communities and environmental justice advocates in Louisiana opened a new resistance camp Saturday to oppose the proposed Bayou Bridge Pipeline project. Called L'eau Est La Vie, or Water is Life, the camp will consist of floating indigenous art structures on rafts and constant prayer ceremonies during its first two weeks.
Keep reading...
Show less
Continuing its march toward elimination of key Clean Water Act protections, the U.S. Environmental Protection Agency (EPA) on Tuesday issued a formal notice of withdrawal of the Obama administration's rule defining which waters can be protected against pollution and destruction under federal law.
Keep reading...
Show less
The U.S. Environmental Protection Agency (EPA) is not doing enough to prevent weed resistance to the herbicide glyphosate (Roundup) says a new report from the EPA's Inspector General's Office, which draws in part on a report from the agbiotech company, Pioneer: Weed Management in the Era of Glyphosate Resistance.
Keep reading...
Show less
SUMR
When it comes to the latest wind turbine technologies, size matters. A group of six institutions and universities is designing an offshore wind turbine that will stand 500 meters in height. That's taller than the Eiffel Tower and the Empire State Building.
The research team, led by researchers at the University of Virginia, believes that its wind turbine concept will produce 50 megawatts of peak power, or about 10 times more powerful than conventional wind turbines.
Keep reading...
Show less
www.facebook.com
Natural gas is often considered the cleanest fossil fuel, but could it actually be dirtier than coal?
Watch as New York Times reporter Mark Bittman, in the above Year's of Living Dangerously video, investigates how much methane is leaking at fracking wells. Find out how the natural gas industry's claims compare to what scientists are reporting.
See what happens when Gaby Petron, an atmospheric scientist with NOAA, converts her van into a mobile methane detector and sets out across northeastern Colorado for two years, taking thousands of readings to uncover the truth.
www.youtube.com
Adrian Grenier was named UN Goodwill Ambassador earlier this month. The Hollywood actor, best known for his iconic role of A-list movie star Vincent Chase in the HBO smash hit and film Entourage, will advocate for drastically reducing single-use plastic and protection of marine species, and encourage his followers to make conscious consumer choices to reduce their environmental footprint, according to the UN Environment announcement.
"Together we must usher in a new era of compassion and carefulness through forward thinking environmental programs to drive measurable change," Grenier said. "I am personally committed to creating ways in which the global community can come together to help solve our most critical climate crises through routine, collective action.
"The more we connect to nature in our daily lives, the more dedicated we will become to our individual commitments. Together, I believe we can go further, faster in our race to achieve the UN Sustainable Development Goals by 2030."
Watch the video above to learn more.
The last week has seen a flood of stories on clean energy's prospects—stories that make your head spin with their conflicting tales of renewable energy's prospects of ending our dangerous addiction to fossil fuel power from coal and gas.
Keep reading...
Show less


Get EcoWatch in your inbox