This website uses cookies to ensure you get the best experience while browsing it. By clicking 'Got It' you're accepting these terms.
5 Helpful Tips to Becoming a Successful Locavore
Dec. 30, 2015 11:50AM EST
Food
The locavore diet, or eating 100 percent locally, has been a massive learning curve for me. I've really struggled on some days.
Some days, I've found it so easy I laugh in the face of my dinner options. On other days, I've sat down to some serious ideological debate in my head as to why exactly we're doing this.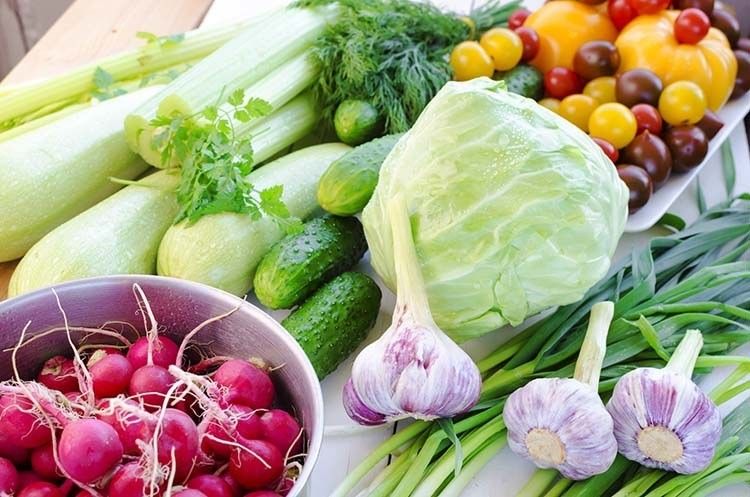 Photo credit: Shutterstock
There are lots of things I've learned, and with just one month left of the 100 miles in 100 days challenge, I wanted to share some of the best parts of eating 100 percent locally. One thing that runs through all of these ideas like a golden thread is the connection I have with where my food comes from.
1. The Joy of Fermenting 
Fermentation is some kind of magic. The Art of Fermentation by Sandor Ellix Katz is an incredible book and the boys over at Handsome Boy Pickles spent an evening to show us just how easy preserving and pickling is—and how delicious it can be when you get it perfectly right (their jalapeño pickled eggs were out of this world).
Fermenting foods such as cabbage to create sauerkraut, or beetroot to create a form of beetkraut, is so simple anyone can do it. What you get is a delicious and nutritional food. Fermentation can be found in loads of cultures across the world, with a huge variety of recipes from kimchi to kombucha showing there is something out there for everyone. This is a perfect way to keep vegetables for winter and I'm sure those five cucumbers I've been hoarding under the potatoes will taste delicious with some nasturtium seeds and a couple of pints of cider vinegar.
2. The Vices: Chocolate and Coffee 
Diets are dangerous. I have never proclaimed to have much self-control and this diet has shown my true colors. After a serious commitment in the first few weeks, once I was out of my home and into the festival world, lots of things went out of the window—chocolate and coffee, however, were some of the last. Only in my extreme moments of weakness (birthday parties, hangovers and premenstrual moments) have I succumbed to these two.
I truly believe that everything is okay in moderation and these two foodstuffs have been around the houses to get to where they are today. Some chocolate companies are founded on their sustainable and fair credentials such as Green & Blacks and Booja Booja. And some coffee companies are doing all they can to support indigenous communities across the world by using certification processes such as Ethical Trade, Fair Trade, organic certification and Rainforest Alliance. If I'm going to lapse back into these two, I'll try and make sure I do it in the fairest way possible.
3. Getting Fruity 
Now, I have a sweet tooth. A really sweet tooth. I love exotic fruit. I love bananas and oranges in particular and I thought I might cry when these were taken away from me. But, as it turns out, I don't really miss them. I've mostly missed apples and now that they're in season I'm feeling very content. Overall, I've really enjoyed eating seasonally when it comes to fruit. First cherries and rhubarb, then plums, strawberries and blackberries. Now the raspberries are out and soon I'll be able to harvest some rosehips and elderberry. Who needs a pineapple when you've got a hedgerow?
4. Herbal Teas
Tea is something that I thought I would be struggling with quite significantly and at the beginning it felt very surreal not to have a cup of tea when I woke up. It turns out that I can live without tea. Shock and horror. In fact, I don't really miss it anymore. Some herbal teas I miss (like, pretty much everything Pukka ever made), but I have taken to using fresh lemon balm, mint or rosemary. Rosemary is kind of like a roast dinner in a cup—it's delicious. And it feels amazing to refresh your digestive system in the morning with a cup of hot water and fresh herbs. My body loves me for this change.
5. Feeling Fresh 
The best thing about this project, which has hands down changed the way I think about food, is the joy of fresh food. Now, hardly any of the vegetables I eat have been plastic wrapped. Most of them come straight from my veg box from Sims Hill Shared Harvest and salad bag scheme from Edible Futures. My meat is fresh from the small local farms Source supplies from—they know each of their suppliers incredibly well. Fish is more or less the same from Source. I buy eggs from Wiltshire, England, or from Elm Tree Farm at St. Nicks' market on Wednesdays, complemented by delicious Netherend Severn Vale butter and River Cottage yogurt from the Better Food Company. The only things that I eat that come in packages are Hodmedods peas, Pimhill oats, flour for bread from Sharpham Park and honey from my good friends and beekeepers Ollie and Eve down in Dorset, England.
All in all, it's pretty good. The convenience of food is highlighted to me here—there is not much snacking happening apart from fruits or cheese. Booze is pretty much off the table, although now I do allow myself the occasional drink as long as it's a local brew from a local company like Wiper and True. And eating out has relaxed somewhat as well. I'm not going to kick myself if my meal is seasoned with paprika or covered in olive oil. In fact, I'll probably embrace it.
YOU MIGHT ALSO LIKE
Greenhouses: The Solution for Year-Round Local Food?
USDA Whistleblower Accuses Agency of Censorship of Pesticide Research
10 Foods That Could Disappear Because of Climate Change
EcoWatch Daily Newsletter
Brown bear fishing for salmon in creek at Pavlof Harbor in Tongass National Forest, Alaska. Wolfgang Kaehler / LightRocket / Getty Images
The Trump administration has moved one step closer to opening Earth's largest intact temperate rainforest to logging.
The Democratic primary candidates take the stage during Tuesday's debate. SAUL LOEB / AFP via Getty Images
On Tuesday night, the Democratic presidential candidates gathered for what The Guardian said was the largest primary debate in U.S. history, and they weren't asked a single question about the climate crisis.
A. Battenburg / Technical University of Munich
By Sarah Kennedy
Algae in a pond may look flimsy. But scientists are using algae to develop industrial-strength material that's as hard as steel but only a fraction of the weight.
Variety of fermented food korean traditional kimchi cabbage and radish salad. white and red sauerkraut in ceramic plates over grey spotted background. Natasha Breen / REDA&CO / Universal Images Group / Getty Image
Even if you've never taken probiotics, you've probably heard of them.
These supplements provide numerous benefits because they contain live microorganisms, such as bacteria or yeast, which support the healthy bacteria in your gut (1, 2, 3, 4).
Pexels
Singapore will become the first country in the world to place a ban on advertisements for carbonated drinks and juices with high sugar contents, its health ministry announced last week. The law is intended to curb sugar consumption since the country has some of the world's highest diabetes rates per capita, as Reuters reported.
A typical adult takes around 20,000 breaths per day. If you live in a megacity like Beijing, with many of those lungfuls you're likely to inhale a noxious mixture of chemicals and pollutants.
Fred Stone holds his brown swiss cow Lida Rose at his Arundel dairy farm on March 18 after a press conference where he spoke about PFAS chemical contamination in his fields. Gregory Rec / Portland Portland Press Herald via Getty Images
By Susan Cosier
First there was Fred Stone, the third-generation dairy farmer in Maine who discovered that the milk from his cows contained harmful chemicals. Then came Art Schaap, a second-generation dairy farmer in New Mexico, who had to dump 15,000 gallons of contaminated milk a day.
Protesters attend the 32nd annual Fur-Free Friday demonstration on Nov. 23, 2018 in Beverly Hills, California. Ella DeGea / Getty Images
California Governor Gavin Newsom signed into law a bill that that bans the sale and manufacture of fur products in the state. The fur ban, which he signed into law on Saturday, prohibits Californians from selling or making clothing, shoes or handbags with fur starting in 2023, according to the AP.