5 Extreme Weather Events Devastating the Planet​
Oct. 05, 2015 10:12AM EST
Climate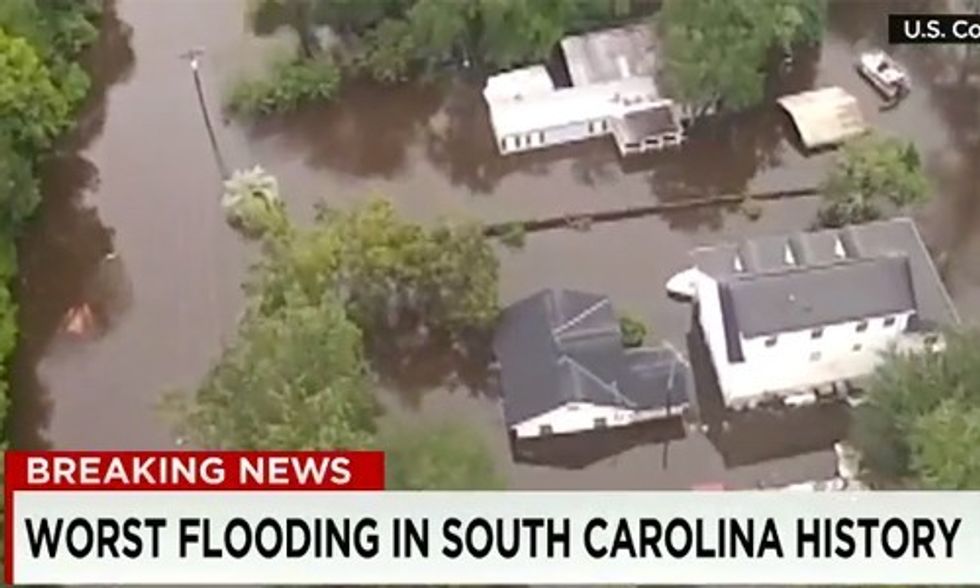 This weekend was insane for extreme weather worldwide. As the planet has warmed, severe weather events are happening in every corner of the globe, alerting us to the need for strong, immediate action on climate change.
"No particular climate event can be identified as the consequence of a rise in global average temperatures driven by the release of carbon dioxide and other greenhouse gases from the burning of fossil fuels," according to climate scientists Erich Fischer and Reno Knutti at ETH Zurich—the Swiss Federal Institute of Technology. "But some events that were once improbable have now become statistically more probable because of global warming,"
Here are five extreme weather events that are rocking the planet:
1. "Biblical" Flooding in South Carolina
"We haven't seen this level of rain in the low country in a thousand years," Gov. Nikki Haley told reporters Sunday afternoon. "That's how big this is."
A "1,000-year rainfall" means that the amount of rainfall in South Carolina has a 1-in-1,000 chance of happening in any given year, CNN meteorologist Taylor Ward explains.
"I'll put it this way: For us, this is a biblical event," said Brian Hinton, the deputy chief of the Charleston County Volunteer Rescue Squad. "This is a historical-type deal."
At least eight are confirmed dead, and hundreds had to be rescued. "An agonizingly powerful blend of a low-pressure system and some of the moisture from Hurricane Joaquin as it spun over the Atlantic Ocean toward Bermuda, was expected to last into the week, raising fears that conditions could worsen," reports The New York Times. 
"The Charleston region appears to be among the worst-hit so far, though heavy rain is falling across much of the Southeast, from the northern Atlanta suburbs to North Carolina," says Slate. "More than a foot of rain has already fallen in Charleston since the downpour began on Thursday, and much more is on the way. By 8 a.m. Saturday, Charleston had already broken its daily rainfall record of 3.28 inches, set in 1994. By Saturday afternoon, it had doubled the previous record."
2.  "Apocalyptic" Scenes in the South of France
The southeastern U.S. wasn't the only place dealing with flooding. "Four people were still missing on Monday after flash floods on the French Riviera killed at least 17 people over the weekend, prompting the government to declare a natural disaster in the southeastern tourist region," reports Reuters.
Violent storms and torrential rain struck the area in what were described as "apocalyptic" scenes, says AFP. An estimated 5,000 homes were still without power this morning after as many as 70,000 suffered power outages on Sunday evening.
Up to seven inches of rain fell in just three hours overnight, "transforming the glitzy streets of Cannes, Nice and Antibes into debris-strewn rivers," AFP reports. "In Cannes —home of the glitzy film festival—the torrent carried some cars out to sea, city hall said."
The storm is being referred to as a "medicane," a portmanteau of the words Mediterranean and hurricane. Due to the dry nature of the Mediterranean, these tropical-like cyclones are rare meteorological phenomena.
3. China Typhoon Kills Six, Spawns "Several Strong Tornadoes"
"A typhoon bringing heavy rain churned inland through southern China on Monday, a day after making landfall, killing at least six people, injuring hundreds, knocking out power and overturning cars," reports Reuters. "The storm made landfall in the southern province of Guangdong on Sunday, triggering widespread blackouts, state media said. Winds knocked out power grids along the coast, leaving large areas without electricity, water or telecommunications."
Four people have died and another 16 are missing, reports BBC. Though, AP has put the death toll at nine. Nearly 200,000 people were evacuated before the storm made landfall. The storm spawned "several strong tornadoes" and authorities warned flooding and mudslides were possible in the southwestern province of Yunnan.
4. Australia Deals With Record Heat
Australia is dealing with "summer like heat" and it's still spring Down Under. Records were broken across Australia as temperatures topped off at 100 degrees Fahrenheit in some parts of the country.
"Victoria and South Australia both set records for the hottest ever starts to October while in Sydney the temperature reached 37 degrees [99 degrees Fahrenheit] in the city and 38 degrees [100 degrees Fahrenheit] in the western suburbs, the highest temperature recorded in New South Wales on Monday," reports The Guardian.
Several states set records, according to The Guardian:
In South Australia, Adelaide recorded a temperature of 35.6 degrees, matching its record for the hottest day in the first week of October which was set in 1938.
In Victoria, Melbourne recorded a temperature of 32.8 degrees after Saturday broke records for the hottest start to October at 31.3 degrees.
In Canberra it was the earliest date in October the city has been hotter than 30 degrees. It recorded 31.7 degrees.
Every state recorded bushfires in an early start to the fire season. Some states have already declared total fire bans as Victoria saw more than 70 fires burn over the weekend.
5. More Than 100 Dead and at Least 150 Still Missing in Guatemalan Landslide
Rescue teams have found more than 130 bodies, while 150 to as many as 300 people are still missing and feared dead in El Cambray, a town 10 miles outside of Guatemala City.
"Heavy rains sent earth and rock cascading over homes and trapping residents inside on Thursday night," reports Reuters. "No survivors have been found this weekend despite the efforts of around 1,800 rescue workers sifting through the rubble."
"The town is nestled in a deep valley, leaving little space between the hillside and the homes below to buffer the force of the earth and trees that fell down on them," explains CNN. "The rescuers and villagers formed long bucket lines of up to 100 people to pass away dirt and debris. Some carried out the bodies of neighbors and loved ones, including children."
YOU MIGHT ALSO LIKE
Robert Redford: Pope Francis Is Right, Climate Change Is a Moral Imperative
Watch Hillary Clinton on Saturday Night Live Talk Keystone XL and Donald Trump
5 Reasons High Fructose Corn Syrup Will Kill You
Ben Carson Says He Doesn't Believe in Climate Change or Evolution
EcoWatch Daily Newsletter
Related Articles from EcoWatch