5 Examples of Bioluminescence in Nature
Dec. 05, 2013 03:12PM EST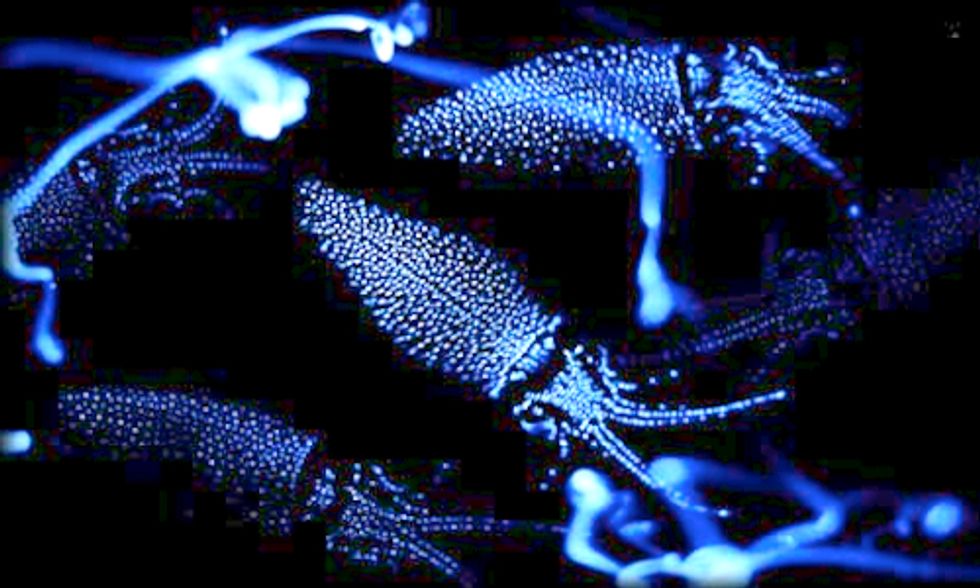 Unlike humans, who can flip a switch anytime the sun fails to provide enough light, plants and animals must provide their own solution to the darkness.
"Bioluminescence is a primarily marine phenomenon. It is the predominant source of light in the largest fraction of the habitable volume of the earth, the deep ocean," explains the Bioluminescence Web Page which is developed and supported by Steven Haddock of the Monterey Bay Aquarium Research Institute. "On land it is most commonly seen as glowing fungus on wood (called foxfire), or in the few families of luminous insects."
Bioluminescent organisms are sensitive to environmental changes, especially the pollution that seems guaranteed in the wake of human development. Various human impacts on the natural environment are most likely the reason why a popular glowing lagoon off Puerto Rico's northeast coast recently went dark.
Since we seem to be killing off all the rare and beautiful parts of the Earth as fast as possible, we thought it'd be nice to spotlight some other bioluminescent gems from around the world before they're gone. Enjoy these five examples of bioluminescence in nature and remember that this is what we're killing every time we level a forest to build a parking lot or dump pesticides into the sea.
1. Gippsland Lakes, Australia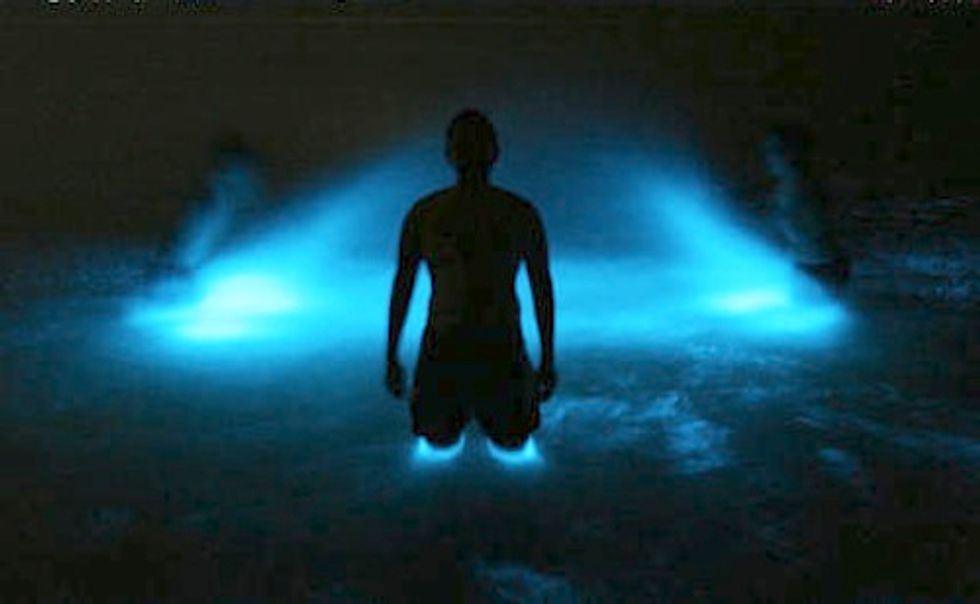 Thanks to extensive bush fires and heavy rains, a huge amount of ash and nitrogen-rich soil was washed into the Gippsland Lakes around 2008. This resulted in a wide-scale algae bloom of Noctiluca Scintillans, a type of algae that looks red during the day, but glows bright blue at night.
2. Manasquan Beach, New Jersey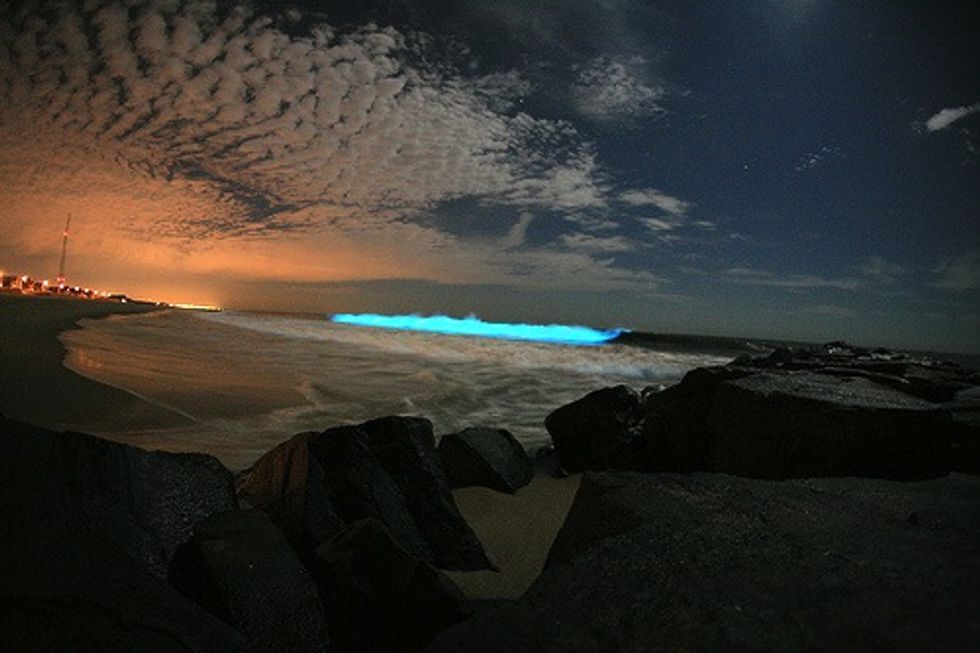 "When jostled, each organism will give off a flash of blue light created by a chemical reaction within the cell," wrote Peter Franks, a biologist at the Scripps Institution of Oceanography, on the blog Deep-Sea News. "When billions and billions of cells are jostled—say, by a breaking wave—you get a seriously spectacular flash of light." Visitors to Manasquan Beach off the Jersey Shore are treated to this beauty during the warmer summer months.
3. Vaadhoo Island Beach, Maldives
The most common type of marine bioluminescence is generated by phytoplankton known as dinoflagellates. In the Maldives, they hide among the sand and often wash up on shore. All it takes is a wave, an oar or a hand to agitate them enough to enjoy the other-worldly glow.
4. Firefly Shrimp, Toyama Bay, Japan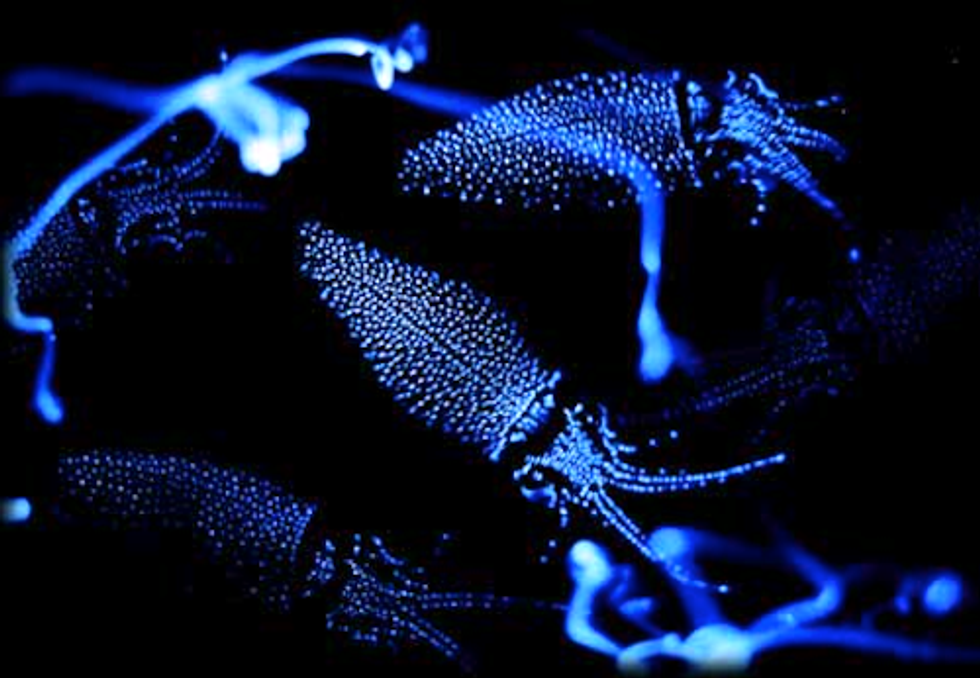 Toyama Bay is one of the richest fishing areas in Japan, replenished by melting snow from the 3,000-meter-high Tateyama Mountain Range. The bay is also home to copious numbers of Watasenia scintillans, or the Firefly Squid. At only three inches long, this tiny squid is equipped with special light-producing organs called photophores that emit a deep blue light. They normally live more than one thousand feet underwater, but waves in the Toyama Bay often push the squid to the surface from March to June.
5. Synchronous Fireflies, Big South Fork, Tennessee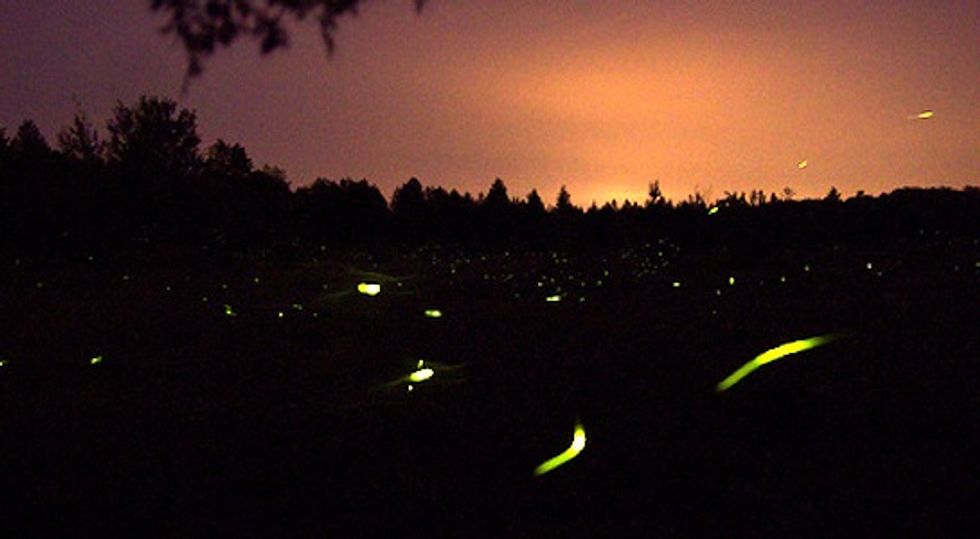 Many of us have chased fireflies as kids, but these glowing bugs take their art to an entirely new level in the hills of Tennessee and Kentucky. Each year, usually from June 7-14, fireflies gather among the trees and on imposing sandstone bluffs. "At first a few fireflies light individually and independently of each other. After a few moments, more of the little characters join in and they get organized; in no time, they're lighting in unison," explains Jay South who runs a blog dedicated to the phenomenon.
Visit EcoWatch's BIODIVERSITY page for more related news on this topic.

EcoWatch Daily Newsletter