This website uses cookies to ensure you get the best experience while browsing it. By clicking 'Got It' you're accepting these terms.
By Lauren Bowen
Ahhhh, coffee … Java, go juice, liquid energy or rocket fuel. Whatever you choose to call it, coffee is America's go-to drink of choice. In fact, Americans drink an average of 3.1 cups of coffee each day. That's $40 billion spent by the U.S. alone on coffee each year.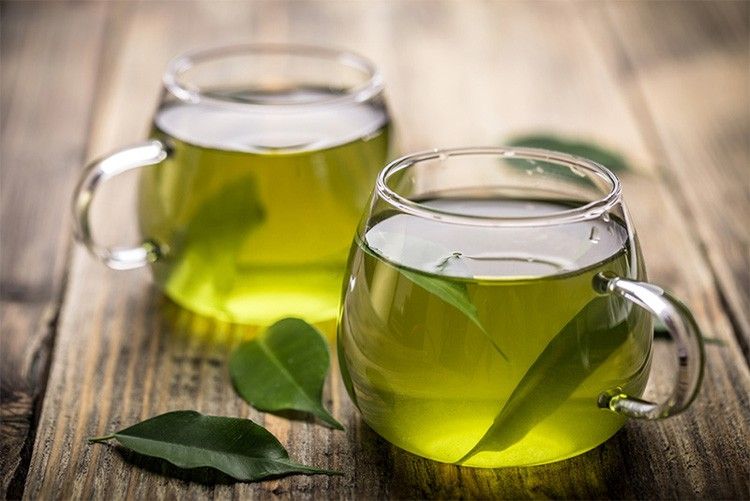 The Good News
The good news? Some recent scientific studies suggest that consumption of caffeinated coffee in moderation may help to reduce some risks of diseases such as onset type 2 diabetes, heart disease, liver cancer, Parkinson's and event gallstones.
The Not-So-Good News
However, not every aspect of regular coffee consumption is positive. Coffee has a tendency to carry with it a laundry list of unwanted extras (heavy creams, processed sugar, flavored syrups of all sorts) and is highly addictive, often forcing regular coffee drinkers into a habit that is difficult to break. No one likes those caffeine withdrawals …
Coffee also has a tendency to do a number on our mood. The "don't talk to me until I've had my coffee" trope isn't an overstatement.
The Crossroads
Maybe you're thinking, "Coffee is my fuel. Without it I'm a zombie!" or "I'm always more productive when I have a little coffee kick" or possibly, "It just tastes good. There's nothing like a mocha frappuccino on a hot day."
Those are all fair statements. Many of us lead incredibly busy lives; we're always on our toes, working hard and running on coffee to make things happen at home and at work.
But what if there was another way?
The Alternatives
Part of holistic health is understanding that life requires balance: that we keep ourselves free from restraints that hold us back or habits that keep us tied down when we don't want to be.
If you feel like you're ready to try some other options, check out the healthier coffee alternatives below.
1. Green Tea: Green tea is one of those drinks that is super-packed with nutrients, antioxidants and digestive benefits. It's just the right sort of drink to give you a boost without the unwanted coffee jitters.
2. Yerba Mate: For those who can't get their wheels turning without a cup of caffeine, yerba mate is a great choice. Made from the naturally caffeinated leaves from the South American holly tree, it's known for its "pump up" abilities. Bonus: Tastes great hot or cold.
3. Pomegranate Juice: Not kidding; this juice is full of energy boosters and antioxidants. Tastes great on its own or mixed with others.
4. Shizandra Tea: If you've never tried shizandra, you're in for a treat. Considered an easy swap for your daily java fix, shizandra is a berry tea that comes from East Asia. It also has some incredible health benefits: shizandra balances blood sugar, takes care of your liver and may even increase your memory.
5. Wheatgrass Juice: There's a reason wheatgrass makes its way into smoothies of all sorts. It's packed with a laundry list of vitamins, minerals and nutrients that aid digestion and boosts energy.
Well, there you have it. You're all set. No go on your non-coffee-addicted way.
YOU MIGHT ALSO LIKE
15 Calcium-Rich Foods, Many Which Are Non-Dairy
11 Reasons Why You Should Eat Pumpkin Seeds
14 Delicious Avocado Toast Recipes Perfect for a Healthy Diet
EcoWatch Daily Newsletter
Tuna auctions are a tourist spectacle in Tokyo. Outside the city's most famous fish market, long queues of visitors hoping for a glimpse of the action begin to form at 5 a.m. The attraction is so popular that last October the Tsukiji fish market, in operation since 1935, moved out from the city center to the district of Toyosu to cope with the crowds.

gmnicholas / E+ / Getty Images
Kristan Porter grew up in a fishing family in the fishing community of Cutler, Maine, where he says all roads lead to one career path: fishing. (Porter's father was the family's lone exception. He suffered from terrible seasickness, and so became a carpenter.) The 49-year-old, who has been working on boats since he was a kid and fishing on his own since 1991, says that the recent warming of Maine's cool coastal waters has yielded unprecedented lobster landings.
Aerial view of lava flows from the eruption of volcano Kilauea on Hawaii, May 2018. Frizi / iStock / Getty Images
Hawaii's Kilauea volcano could be gearing up for an eruption after a pond of water was discovered inside its summit crater for the first time in recorded history, according to the AP.
The Eqip Sermia Glacier is seen behind a moraine left exposed by the glacier's retreat during unseasonably warm weather on Aug. 1 at Eqip Sermia, Greenland. Sean Gallup / Getty Images
hadynyah / E+ / Getty Images
By Johnny Wood
The Ganges is a lifeline for the people of India, spiritually and economically. On its journey from the Himalayas to the Bay of Bengal, it supports fishermen, farmers and an abundance of wildlife.
The river and its tributaries touch the lives of roughly 500 million people. But having flowed for millennia, today it is reaching its capacity for human and industrial waste, while simultaneously being drained for agriculture and municipal use.
Here are some of the challenges the river faces.
By Jake Johnson
As a growing number of states move to pass laws that would criminalize pipeline protests and hit demonstrators with years in prison, an audio recording obtained by The Intercept showed a representative of a powerful oil and gas lobbying group bragging about the industry's success in crafting anti-protest legislation behind closed doors.
Reposted with permission from our media associate Common Dreams.

DESIREE MARTIN / AFP / Getty Images
Wildfires raging on Gran Canaria, the second most populous of Spain's Canary Islands, have forced around 9,000 people to evacuate.