This website uses cookies to ensure you get the best experience while browsing it. By clicking 'Got It' you're accepting these terms.
By Lauren Bowen
Ahhhh, coffee … Java, go juice, liquid energy or rocket fuel. Whatever you choose to call it, coffee is America's go-to drink of choice. In fact, Americans drink an average of 3.1 cups of coffee each day. That's $40 billion spent by the U.S. alone on coffee each year.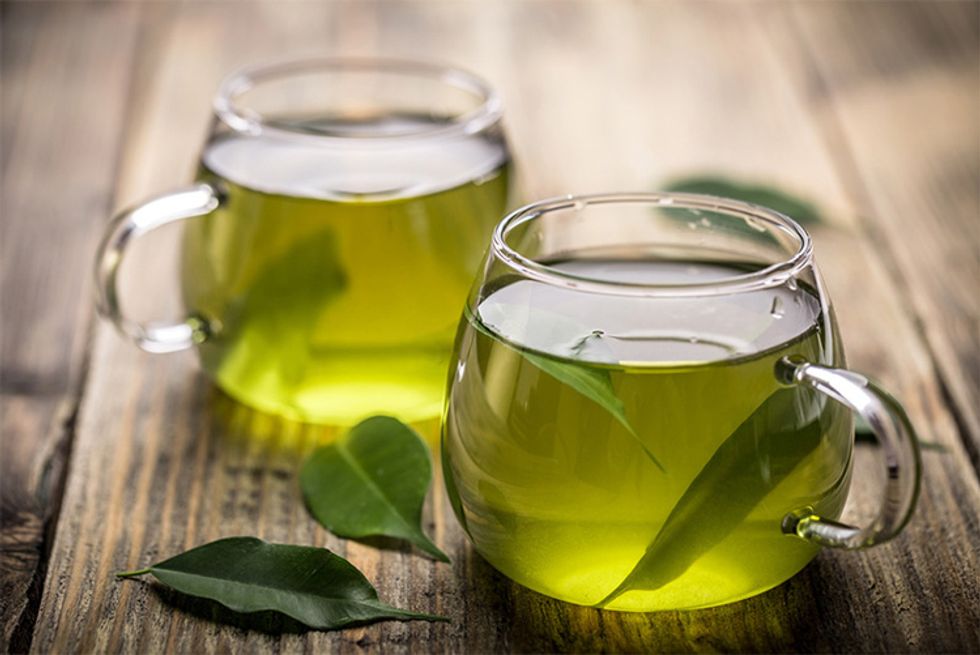 The Good News
The good news? Some recent scientific studies suggest that consumption of caffeinated coffee in moderation may help to reduce some risks of diseases such as onset type 2 diabetes, heart disease, liver cancer, Parkinson's and event gallstones.
The Not-So-Good News
However, not every aspect of regular coffee consumption is positive. Coffee has a tendency to carry with it a laundry list of unwanted extras (heavy creams, processed sugar, flavored syrups of all sorts) and is highly addictive, often forcing regular coffee drinkers into a habit that is difficult to break. No one likes those caffeine withdrawals …
Coffee also has a tendency to do a number on our mood. The "don't talk to me until I've had my coffee" trope isn't an overstatement.
The Crossroads
Maybe you're thinking, "Coffee is my fuel. Without it I'm a zombie!" or "I'm always more productive when I have a little coffee kick" or possibly, "It just tastes good. There's nothing like a mocha frappuccino on a hot day."
Those are all fair statements. Many of us lead incredibly busy lives; we're always on our toes, working hard and running on coffee to make things happen at home and at work.
But what if there was another way?
The Alternatives
Part of holistic health is understanding that life requires balance: that we keep ourselves free from restraints that hold us back or habits that keep us tied down when we don't want to be.
If you feel like you're ready to try some other options, check out the healthier coffee alternatives below.
1. Green Tea: Green tea is one of those drinks that is super-packed with nutrients, antioxidants and digestive benefits. It's just the right sort of drink to give you a boost without the unwanted coffee jitters.
2. Yerba Mate: For those who can't get their wheels turning without a cup of caffeine, yerba mate is a great choice. Made from the naturally caffeinated leaves from the South American holly tree, it's known for its "pump up" abilities. Bonus: Tastes great hot or cold.
3. Pomegranate Juice: Not kidding; this juice is full of energy boosters and antioxidants. Tastes great on its own or mixed with others.
4. Shizandra Tea: If you've never tried shizandra, you're in for a treat. Considered an easy swap for your daily java fix, shizandra is a berry tea that comes from East Asia. It also has some incredible health benefits: shizandra balances blood sugar, takes care of your liver and may even increase your memory.
5. Wheatgrass Juice: There's a reason wheatgrass makes its way into smoothies of all sorts. It's packed with a laundry list of vitamins, minerals and nutrients that aid digestion and boosts energy.
Well, there you have it. You're all set. No go on your non-coffee-addicted way.
YOU MIGHT ALSO LIKE
15 Calcium-Rich Foods, Many Which Are Non-Dairy
11 Reasons Why You Should Eat Pumpkin Seeds
14 Delicious Avocado Toast Recipes Perfect for a Healthy Diet
EcoWatch Daily Newsletter
A Starbucks barista prepares a drink at a Starbucks Coffee Shop location in New York. Ramin Talaie / Corbis via Getty Images
By Cathy Cassata
Are you getting your fill of Starbucks' new Almondmilk Honey Flat White, Oatmilk Honey Latte, and Coconutmilk Latte, but wondering just how healthy they are?
By Sharon Kelly
Back in April last year, the Trump administration's Environmental Protection Agency decided it was "not necessary" to update the rules for toxic waste from oil and gas wells. Torrents of wastewater flow daily from the nation's 1.5 million active oil and gas wells and the agency's own research has warned it may pose risks to the country's drinking water supplies.
Swedish climate activist Greta Thunberg takes part in a "Friday for Future" youth demonstration in a street of Davos on Jan. 24, 2020 on the sideline of the World Economic Forum annual meeting. FABRICE COFFRINI / AFP via Getty Images
Treasury Secretary Steven Mnuchin pretended not to know who Greta Thunberg is, and then he told her to get a degree in economics before giving world leaders advice, as The Guardian reported.
The Visible Infrared Imaging Radiometer Suite on the Suomi NPP satellite acquired this image of forest fire smoke hovering over North America on Aug. 15, 2018. NASA Earth Observatory
New York City isn't known for having the cleanest air, but researchers traced recent air pollution spikes there to two surprising sources — fires hundreds of miles away in Canada and the southeastern U.S.
If temperatures continue to rise, the world is at risk from global
sea-level rise
, which will flood many coastal cities as seen above in Bangladesh. NurPhoto / Contributor / Getty Images
The mounting climate emergency may spur the next global financial crisis and the world's central banks are woefully ill equipped to handle the consequences, according to a new book-length report by the Bank for International Settlements (BIS), as S&P Global reported. Located in Basel, Switzerland, the BIS is an umbrella organization for the world's central banks.