This website uses cookies to ensure you get the best experience while browsing it. By clicking 'Got It' you're accepting these terms.
By Lauren Bowen
Ahhhh, coffee … Java, go juice, liquid energy or rocket fuel. Whatever you choose to call it, coffee is America's go-to drink of choice. In fact, Americans drink an average of 3.1 cups of coffee each day. That's $40 billion spent by the U.S. alone on coffee each year.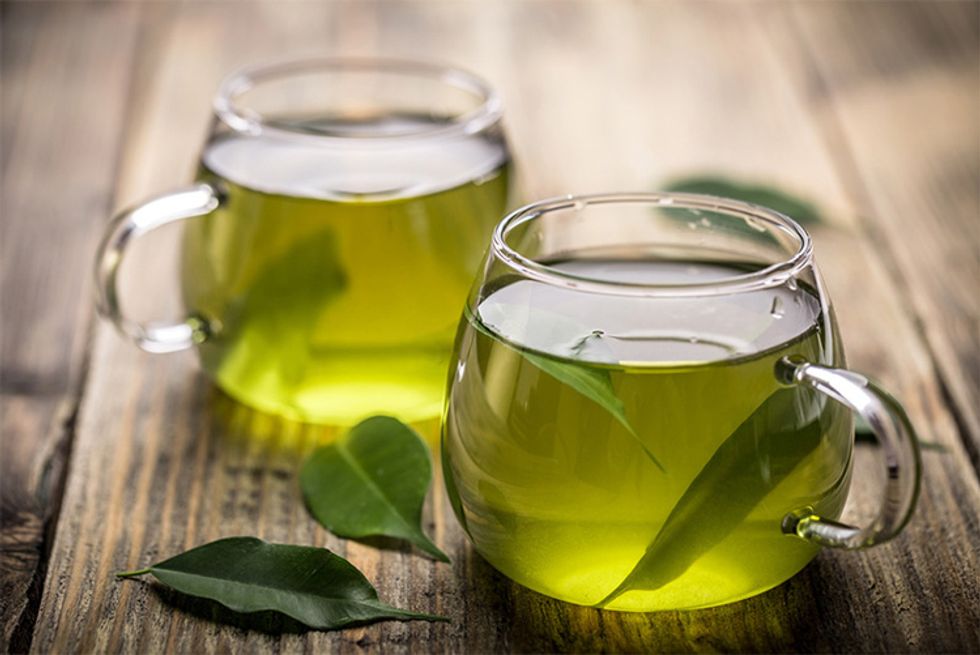 The Good News
The good news? Some recent scientific studies suggest that consumption of caffeinated coffee in moderation may help to reduce some risks of diseases such as onset type 2 diabetes, heart disease, liver cancer, Parkinson's and event gallstones.
The Not-So-Good News
However, not every aspect of regular coffee consumption is positive. Coffee has a tendency to carry with it a laundry list of unwanted extras (heavy creams, processed sugar, flavored syrups of all sorts) and is highly addictive, often forcing regular coffee drinkers into a habit that is difficult to break. No one likes those caffeine withdrawals …
Coffee also has a tendency to do a number on our mood. The "don't talk to me until I've had my coffee" trope isn't an overstatement.
The Crossroads
Maybe you're thinking, "Coffee is my fuel. Without it I'm a zombie!" or "I'm always more productive when I have a little coffee kick" or possibly, "It just tastes good. There's nothing like a mocha frappuccino on a hot day."
Those are all fair statements. Many of us lead incredibly busy lives; we're always on our toes, working hard and running on coffee to make things happen at home and at work.
But what if there was another way?
The Alternatives
Part of holistic health is understanding that life requires balance: that we keep ourselves free from restraints that hold us back or habits that keep us tied down when we don't want to be.
If you feel like you're ready to try some other options, check out the healthier coffee alternatives below.
1. Green Tea: Green tea is one of those drinks that is super-packed with nutrients, antioxidants and digestive benefits. It's just the right sort of drink to give you a boost without the unwanted coffee jitters.
2. Yerba Mate: For those who can't get their wheels turning without a cup of caffeine, yerba mate is a great choice. Made from the naturally caffeinated leaves from the South American holly tree, it's known for its "pump up" abilities. Bonus: Tastes great hot or cold.
3. Pomegranate Juice: Not kidding; this juice is full of energy boosters and antioxidants. Tastes great on its own or mixed with others.
4. Shizandra Tea: If you've never tried shizandra, you're in for a treat. Considered an easy swap for your daily java fix, shizandra is a berry tea that comes from East Asia. It also has some incredible health benefits: shizandra balances blood sugar, takes care of your liver and may even increase your memory.
5. Wheatgrass Juice: There's a reason wheatgrass makes its way into smoothies of all sorts. It's packed with a laundry list of vitamins, minerals and nutrients that aid digestion and boosts energy.
Well, there you have it. You're all set. No go on your non-coffee-addicted way.
YOU MIGHT ALSO LIKE
15 Calcium-Rich Foods, Many Which Are Non-Dairy
11 Reasons Why You Should Eat Pumpkin Seeds
14 Delicious Avocado Toast Recipes Perfect for a Healthy Diet
EcoWatch Daily Newsletter
A new report spotlights a U.N. estimate that at least 275 million people rely on healthy coral reefs. A sea turtle near the Heron Island in the Great Barrier Reef is seen above. THE OCEAN AGENCY / XL CATLIN SEAVIEW SURVEY
In a new report about how the world's coral reefs face "the combined threats of climate change, pollution, and overfishing" — endangering the future of marine biodiversity — a London-based nonprofit calls for greater global efforts to end the climate crisis and ensure the survival of these vital underwater ecosystems.
Half of the extracted resources used were sand, clay, gravel and cement, seen above, for building, along with the other minerals that produce fertilizer. Cavan Images / Cavan / Getty Images
The world is using up more and more resources and global recycling is falling. That's the grim takeaway from a new report by the Circle Economy think tank, which found that the world used up more than 110 billion tons, or 100.6 billion metric tons, of natural resources, as Agence France-Presse (AFP) reported.
By Gero Rueter
Heating with coal, oil and natural gas accounts for around a quarter of global greenhouse gas emissions. But that's something we can change, says Wolfgang Feist, founder of the Passive House Institute in the western German city of Darmstadt.

By George Citroner
Recent research finds that official government figures may be underestimating drug deaths by half.
Researchers estimate that 142,000 people died due to drug use in 2016.
Drug use decreases life expectancy after age 15 by 1.4 years for men and by just under 1 year for women, on average.
Government records may be severely underreporting how many Americans die from drug use, according to a new study by researchers from the University of Pennsylvania and Georgetown University.
Water coolers in front of shut-off water fountains at Center School in Stow, MA on Sept. 4, 2019 after elevated levels of PFAS were found in the water. David L. Ryan / The Boston Globe via Getty Images
In a new nationwide assessment of drinking water systems, the Environmental Working Group found that toxic fluorinated chemicals known as PFAS are far more prevalent than previously thought.