This website uses cookies to ensure you get the best experience while browsing it. By clicking 'Got It' you're accepting these terms.
5 Deforestation Hotspots Flying Under the Radar
Mar. 21, 2014 03:47PM EST
In appreciation for all the benefits forests provide for us, the United Nations has announced today, March 21, be recognized as the International Day of Forests. It is a day to celebrate, among other things, the progress we have made improving forest management.
But before getting carried away with the spirit of celebration, consider this: We are still losing forests and trees much faster than they can regrow. In fact, we are losing 50 soccer fields worth of trees every minute!
Many people are working to reverse tree cover loss in the world's largest remaining forests: the Amazon Basin, Congo Basin, tropical forests of Indonesia and the vast boreal forests of Russia and Canada. These are worthy goals, considering that just two countries—Brazil and Indonesia—still account for about half of all tropical forest loss.
But several hugely important deforestation hotspots are still flying under the radar. These forest areas don't get the headlines or resources of the major tropical regions, but are seeing alarming trends or have lost much of their tree cover already. Below, we use the latest data from Global Forest Watch, an online forest monitoring and alert system, to dive deeper into some under-reported forest hotspots.
1. Paraguay: The Gran Chaco Is Being Cleared for Soy and Beef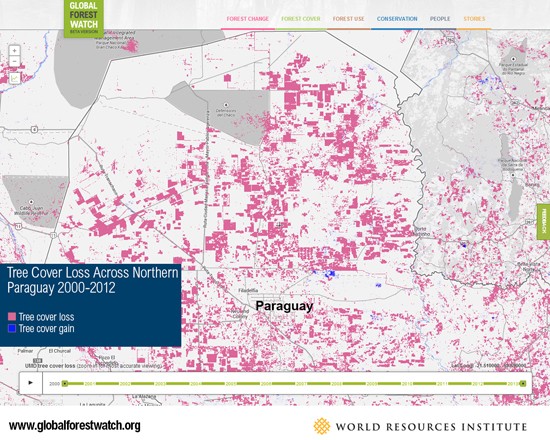 The Gran Cacho, a semi-arid region of dry forests spread across Paraguay, Bolivia, Argentina, and Brazil, is being rapidly deforested, as large rectangular plots of forest are burned or cleared for soy fields and cattle ranches. Guyra, a Paraguayan environmental group, has estimated that 10 percent of the Chaco forests have been cleared in the last five years alone. According to University of Maryland data, Paraguay has lost almost 4 million hectares of tree cover since 2000 and ranks among the top countries in the world for percentage of tree cover lost. If left unchecked, deforestation could wipe out habitat for jaguars, maned wolves, and rare peccaries, as well as threaten a way of life for the Chaco's embattled indigenous people.
2. Canada: Boreal Forests Are Cleared for Tar Sands Development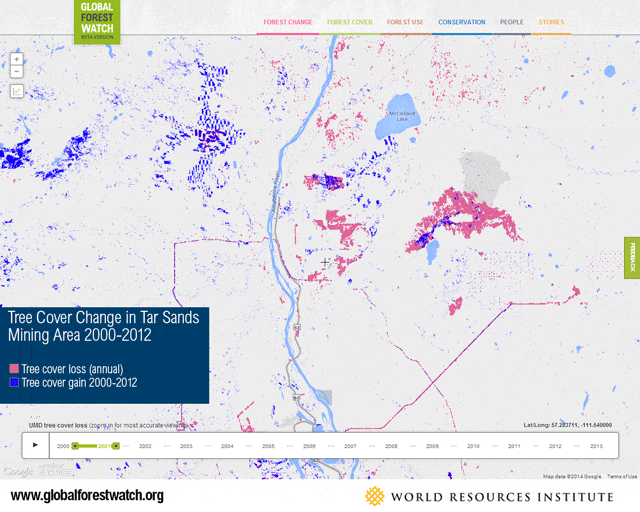 It is not just tropical forests that are under threat. Industrial developments associated with the Athabasca tar sands have cleared thousands of hectares of Canada's boreal forest since the year 2000. The use of tar sands as a source of fossil fuel—and the development of the associated Keystone XL pipeline—have been hotly debated, but relatively little attention has been paid to the local impacts on Canada's forests.
The animation above shows extensive tree cover loss near Fort McMurray as new pipelines are laid and the ground is cleared for open-pit mining. Smaller "checkerboard" patterns of tree cover loss and gain show industrial forestry on the margins of larger mining operations.
Global Forest Watch Canada, an independent Canadian NGO, has published in-depth reports on the local environmental impacts of the Athabasca tar sands, and continues to monitor forests in the region.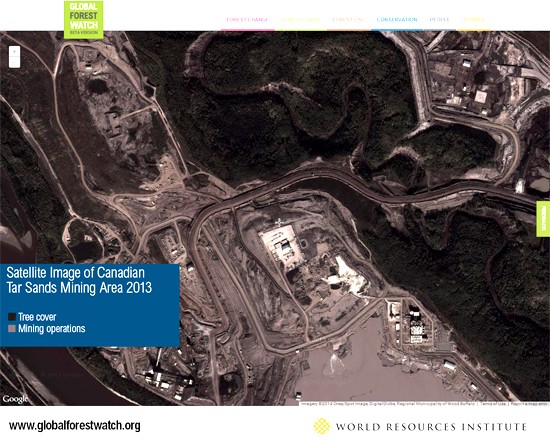 3. Malaysia: Rainforests Are Lost As Palm Oil Expands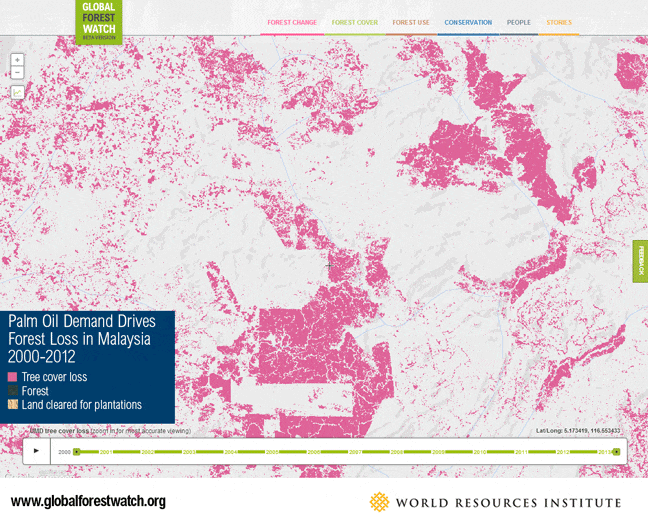 Indonesia is now the focal point for much of the world's concerns about deforestation. But neighboring Malaysia also shows plenty of reasons for alarm.
While the absolute area of forest lost in Indonesia is higher, Malaysia lost a staggering 4.7 million hectares of tree cover from 2000-2012—an annual loss of 1.6 percent, compared with Indonesia's 1.0 percent. This puts Malaysia among the top 10 countries for percent tree cover lost. Expansion of oil palm plantations is one of the major drivers (especially in Sarawak) as Malaysia feeds a hungry global market.
4. Ivory Coast: National Park Loses 93 Percent of its Forest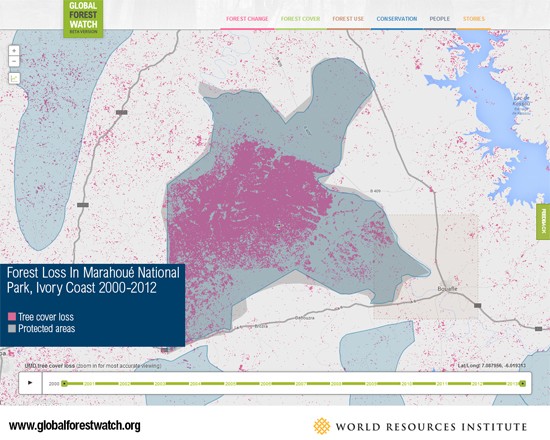 In Africa, the forests of the Congo Basin—including those in Cameroon, Gabon, Central African Republic, Equatorial Guinea, Republic of Congo, and Democratic Republic of Congo—tend to dominate the public's attention. But the past decade has seen a spike in tree cover loss across the West African nations of Ghana, the Ivory Coast, Liberia, and Sierra Leone, which have rich forests and biodiversity hotspots of their own.
Marahoué National Park in the Ivory Coast is a dramatic example. A recent study in Current Biology estimated that the park lost a staggering 93 percent of its forest cover between 2002 and 2008, possibly due to the country's civil conflict. The park had previously been a stronghold for the rare West African chimpanzee (Pan troglodytes verus). Now the population has been almost entirely eradicated.
5. United States: Atlanta Suburbs Replace Forests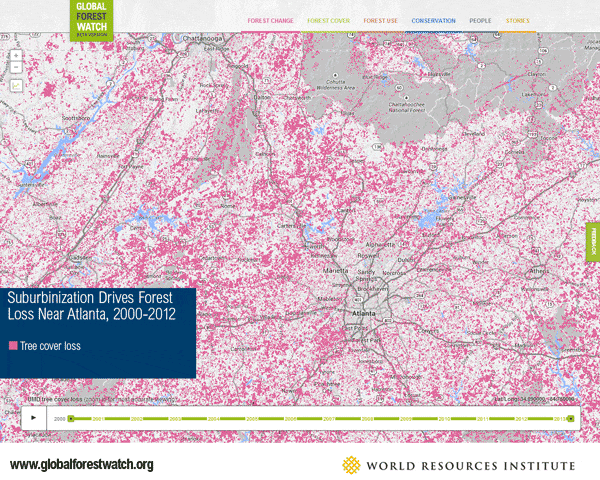 "Deforestation" is a term rarely applied within the United States, given the highly managed nature of many U.S. forests. But urban sprawl and a growing demand for more and bigger houses have led to significant forest loss. The animation above shows forests being converted into suburbs outside of Atlanta, including a batch of new housing developments and golf courses near Acworth, Georgia. WRI has used land cover data from the U.S. Geological survey to map the region's extensive forest loss caused by suburbanization (see visualization here).
Suburbanization is projected to clear much more of the United States' rich southern forests in the coming years. The U.S. Forest Service estimates that 12.4 million hectares (31 million acres) of southern forest will be lost to development between 1992 and 2040, an area roughly equal to the size of North Carolina. This will mean the loss of some of the most bio-diverse forests in the United States, which provide hundreds of millions of dollars' worth of timber, water purification, erosion control and recreational opportunities.
Data Makes a Difference
Why have these hotspots been relatively overlooked? Perhaps it is because we have lacked an easy way to visualize forest change at a global scale. This has now changed with the launch of Global Forest Watch and powerful new global data from the University of Maryland, Google, and other partners. Decision-makers should take heed that forests have now entered the era of big data, and there are tools at hand to address deforestation challenges that were previously hard to detect or quantify.
But we also need to act on the data. It is time for governments, businesses and NGOs to pay more attention to these overlooked hotspots, as well as other under-studied deforestation hotspots in Bolivia, Zambia, Angola, Cambodia, Argentina and Russia.
So when you observe this year's International Day of Forests, do something to give back to forests. Go online, and start exploring Global Forest Watch's data. You just might help uncover the next deforestation hotspot that the world needs to hear about.
Visit EcoWatch's BIODIVERSITY page for more related news on this topic.
Southwest Greenland had the most consistent ice loss from 2003 to 2012. Eqalugaarsuit, Ostgronland, Greenland on Aug. 1, 2018.
Rob Oo / CC BY 2.0
Finally, some good news about the otherwise terrible partial government shutdown. A federal judge ruled that the Trump administration cannot issue permits to conduct seismic testing during the government impasse.
The Justice Department sought to delay—or stay—a motion filed by a range of coastal cities, businesses and conservation organizations that are suing the Trump administration over offshore oil drilling, Reuters reported. The department argued that it did not have the resources it needed to work on the case due to the shutdown.
Climate change has been called the biggest challenge of our time. Last year, scientists with the United Nations said we basically have 12 years to limit global warming to 1.5ºC to avoid planetary catastrophe.
Amid a backdrop of rising global carbon emissions, there's a real case for pessimism. However, many scientists are hopeful of a way out.
Demonstrators participate in a protest march over agricultural policy on Jan. 19 in Berlin, Germany. Carsten Koall / Getty Images Europe
By Andrea Germanos
Organizers said 35,000 people marched through the streets of the German capital on Saturday to say they're "fed up" with industrial agriculture and call for a transformation to a system that instead supports the welfare of the environment, animals and rural farmers.

A Massachusetts road coated with snow and ice following the winter storm which prompted Trump to mock climate change. Scott Eisen / Getty Images
President Donald Trump has once again contradicted the findings of the U.S. government when it comes to the threat posed by climate change. Days after a Department of Defense report outlined how climate-related events like wildfires and flooding put U.S. military installations at risk, Trump took to Twitter to mock the idea that the world could be getting warmer, Time reported.
Trump's tweet came in response to a massive winter storm that blanketed the Midwest and Northeast this weekend.
The fire that erupted after a pipeline explosion in Mexico Friday. FRANCISCO VILLEDA / AFP / Getty Images
By Jason Bittel
Formidable predators stalk the forests between Panama and northern Argentina. They are sometimes heard but never seen. They are small but feisty and have even been documented trying to take down a tapir, which can top out at nearly 400 pounds. Chupacabras? No.
Mead is a fermented beverage traditionally made from honey, water and a yeast or bacterial culture.
U.S. Army member helps clear debris from Tyndall Air Force Base following Hurricane Michael.
U.S. Army
A tree found severed in half in an act of vandalism in Joshua Tree National Park. Gina Ferazzi / Los AngelesTimes / Getty Images
By Rhea Suh
One month on, the longest and most senseless U.S. government shutdown in history is taking a grave and growing toll on the environment and public health.

Food inspectors have been idled or are working without pay, increasing the risk we'll get sick from eating produce, meat and poultry that isn't properly checked. National parks and public wilderness lands are overrun by vandals, overtaken by off-road joyriders, and overflowing with trash. Federal testing of air and water quality, as well as monitoring of pollution levels from factories, incinerators and other sources, is on hold or sharply curtailed. Citizen input on critical environmental issues is being hindered. Vital research and data collection are being sidelined.