5 Deforestation Hotspots Flying Under the Radar
In appreciation for all the benefits forests provide for us, the United Nations has announced today, March 21, be recognized as the International Day of Forests. It is a day to celebrate, among other things, the progress we have made improving forest management.
But before getting carried away with the spirit of celebration, consider this: We are still losing forests and trees much faster than they can regrow. In fact, we are losing 50 soccer fields worth of trees every minute!
Many people are working to reverse tree cover loss in the world's largest remaining forests: the Amazon Basin, Congo Basin, tropical forests of Indonesia and the vast boreal forests of Russia and Canada. These are worthy goals, considering that just two countries—Brazil and Indonesia—still account for about half of all tropical forest loss.
But several hugely important deforestation hotspots are still flying under the radar. These forest areas don't get the headlines or resources of the major tropical regions, but are seeing alarming trends or have lost much of their tree cover already. Below, we use the latest data from Global Forest Watch, an online forest monitoring and alert system, to dive deeper into some under-reported forest hotspots.
1. Paraguay: The Gran Chaco Is Being Cleared for Soy and Beef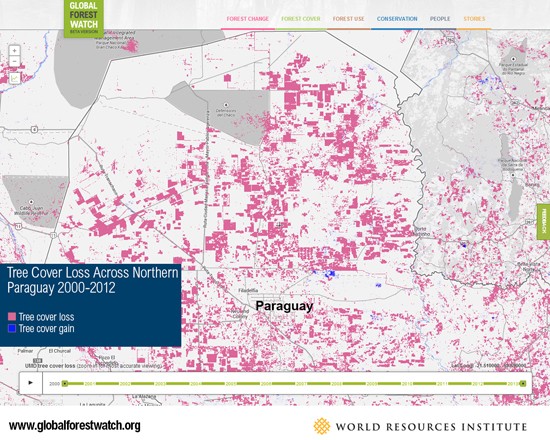 The Gran Cacho, a semi-arid region of dry forests spread across Paraguay, Bolivia, Argentina, and Brazil, is being rapidly deforested, as large rectangular plots of forest are burned or cleared for soy fields and cattle ranches. Guyra, a Paraguayan environmental group, has estimated that 10 percent of the Chaco forests have been cleared in the last five years alone. According to University of Maryland data, Paraguay has lost almost 4 million hectares of tree cover since 2000 and ranks among the top countries in the world for percentage of tree cover lost. If left unchecked, deforestation could wipe out habitat for jaguars, maned wolves, and rare peccaries, as well as threaten a way of life for the Chaco's embattled indigenous people.
2. Canada: Boreal Forests Are Cleared for Tar Sands Development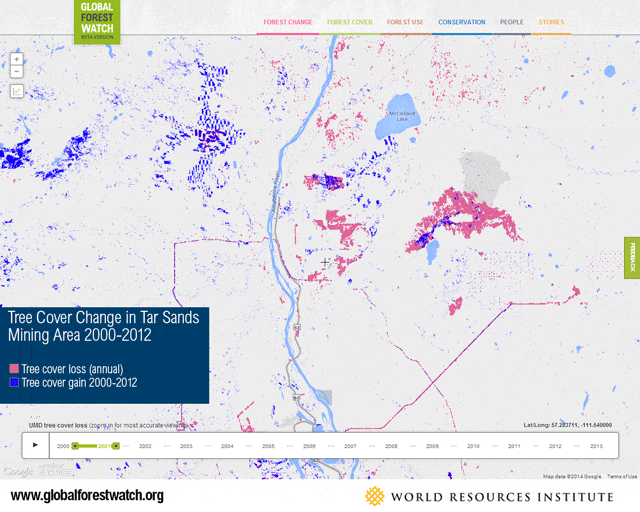 It is not just tropical forests that are under threat. Industrial developments associated with the Athabasca tar sands have cleared thousands of hectares of Canada's boreal forest since the year 2000. The use of tar sands as a source of fossil fuel—and the development of the associated Keystone XL pipeline—have been hotly debated, but relatively little attention has been paid to the local impacts on Canada's forests.
The animation above shows extensive tree cover loss near Fort McMurray as new pipelines are laid and the ground is cleared for open-pit mining. Smaller "checkerboard" patterns of tree cover loss and gain show industrial forestry on the margins of larger mining operations.
Global Forest Watch Canada, an independent Canadian NGO, has published in-depth reports on the local environmental impacts of the Athabasca tar sands, and continues to monitor forests in the region.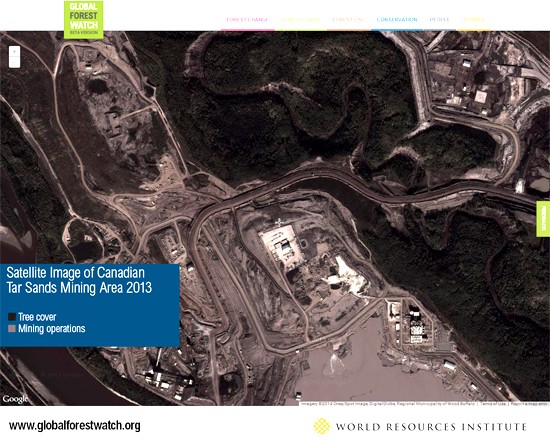 3. Malaysia: Rainforests Are Lost As Palm Oil Expands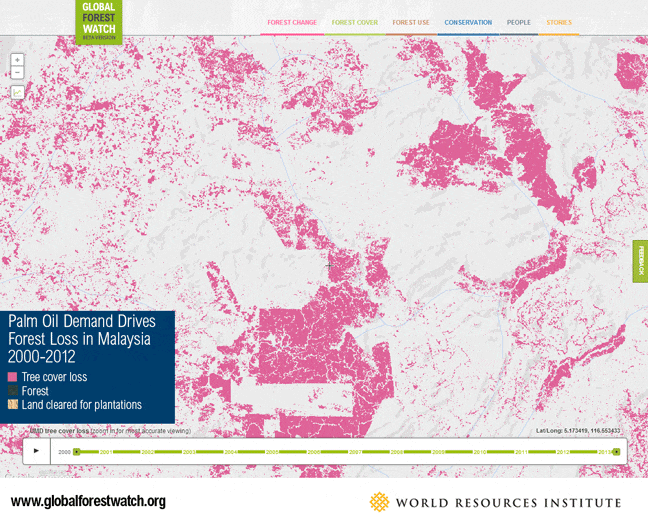 Indonesia is now the focal point for much of the world's concerns about deforestation. But neighboring Malaysia also shows plenty of reasons for alarm.
While the absolute area of forest lost in Indonesia is higher, Malaysia lost a staggering 4.7 million hectares of tree cover from 2000-2012—an annual loss of 1.6 percent, compared with Indonesia's 1.0 percent. This puts Malaysia among the top 10 countries for percent tree cover lost. Expansion of oil palm plantations is one of the major drivers (especially in Sarawak) as Malaysia feeds a hungry global market.
4. Ivory Coast: National Park Loses 93 Percent of its Forest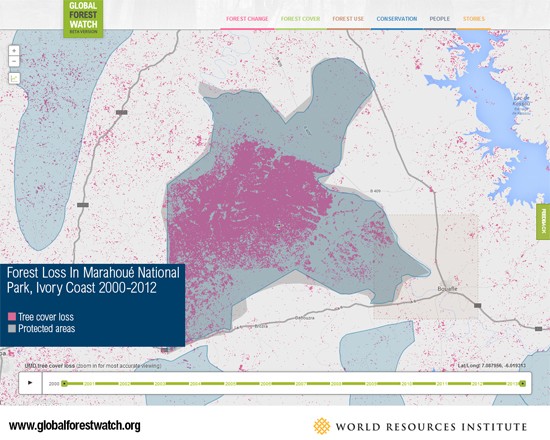 In Africa, the forests of the Congo Basin—including those in Cameroon, Gabon, Central African Republic, Equatorial Guinea, Republic of Congo, and Democratic Republic of Congo—tend to dominate the public's attention. But the past decade has seen a spike in tree cover loss across the West African nations of Ghana, the Ivory Coast, Liberia, and Sierra Leone, which have rich forests and biodiversity hotspots of their own.
Marahoué National Park in the Ivory Coast is a dramatic example. A recent study in Current Biology estimated that the park lost a staggering 93 percent of its forest cover between 2002 and 2008, possibly due to the country's civil conflict. The park had previously been a stronghold for the rare West African chimpanzee (Pan troglodytes verus). Now the population has been almost entirely eradicated.
5. United States: Atlanta Suburbs Replace Forests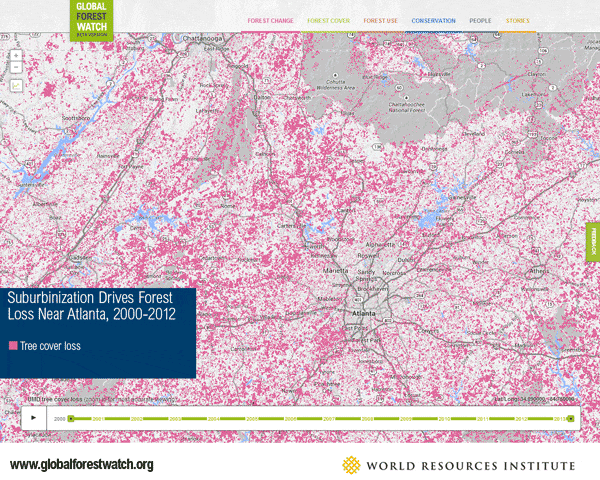 "Deforestation" is a term rarely applied within the United States, given the highly managed nature of many U.S. forests. But urban sprawl and a growing demand for more and bigger houses have led to significant forest loss. The animation above shows forests being converted into suburbs outside of Atlanta, including a batch of new housing developments and golf courses near Acworth, Georgia. WRI has used land cover data from the U.S. Geological survey to map the region's extensive forest loss caused by suburbanization (see visualization here).
Suburbanization is projected to clear much more of the United States' rich southern forests in the coming years. The U.S. Forest Service estimates that 12.4 million hectares (31 million acres) of southern forest will be lost to development between 1992 and 2040, an area roughly equal to the size of North Carolina. This will mean the loss of some of the most bio-diverse forests in the United States, which provide hundreds of millions of dollars' worth of timber, water purification, erosion control and recreational opportunities.
Data Makes a Difference
Why have these hotspots been relatively overlooked? Perhaps it is because we have lacked an easy way to visualize forest change at a global scale. This has now changed with the launch of Global Forest Watch and powerful new global data from the University of Maryland, Google, and other partners. Decision-makers should take heed that forests have now entered the era of big data, and there are tools at hand to address deforestation challenges that were previously hard to detect or quantify.
But we also need to act on the data. It is time for governments, businesses and NGOs to pay more attention to these overlooked hotspots, as well as other under-studied deforestation hotspots in Bolivia, Zambia, Angola, Cambodia, Argentina and Russia.
So when you observe this year's International Day of Forests, do something to give back to forests. Go online, and start exploring Global Forest Watch's data. You just might help uncover the next deforestation hotspot that the world needs to hear about.
Visit EcoWatch's BIODIVERSITY page for more related news on this topic.
Bill Maher is sick of billionaires' obsession with Mars, more like "Mars-a-Lago," he said.
In a new animation produced by ATTN:, the popular talk show host of Real Time, discusses the perils of our planet, including how "climate change is killing us."
Keep reading...
Show less
Dr. Benjamin D. Santer, research scientist
A group of prominent climate scientists have written a study explicitly refuting statements made by the U.S. Environmental Protection Agency Administrator Scott Pruitt on climate data. During his Senate confirmation hearing, Pruitt claimed in a written response that satellite data shows a "leveling off" of warming over the past two decades.
Keep reading...
Show less
By David Pomerantz
The Nevada Assembly passed a bill Wednesday that would dramatically increase the growth of renewable energy in the state, but Sheldon Adelson, the casino magnate and major donor to Donald Trump, is attempting to prevent the bill from becoming law.
Keep reading...
Show less
Matt Crossick
By Yosola Olorunshola
Whether it's through fashion or protest, Vivienne Westwood is not a woman afraid of making a statement.
On May 23, she rocked up to the residence of the Archbishop of Canterbury in London with a special guest—the Grim Reaper—to issue a strong statement on the Church of England's position on fracking.
Keep reading...
Show less
Military veterans from across Virginia released a letter Thursday opposing two proposed fracked-gas pipelines: Dominion Energy's Atlantic Coast Pipeline and EQT's Mountain Valley Pipeline. These pipelines would cross through pristine areas of Virginia, taking private property by use of eminent domain, removing mountain ridgetops and threatening valuable drinking water resources. The veterans view this as contrary to their service to protect and defend the freedom and security of American citizens.

Keep reading...
Show less
By Paul Brown
The food industry and big agricultural concerns are driving climate change and at the same time threatening to undermine efforts to feed the world's growing population, according to GRAIN, an organization that supports small farmers.
Particularly singled out for criticism are the large chemical fertilizer producers that have gained access to the United Nations talks on climate change. GRAIN accuses them of behaving like the fossil fuel companies did in the 1990s, pushing false information in the hope of delaying real action on climate change.
Keep reading...
Show less
May. 24, 2017 06:55PM EST
By Sydney Robinson
President Trump has no doubt been given a long list of extravagant, elaborate gifts in his lifetime, but the gift given to him today by Pope Francis may not make it on his most favorite list.
Keep reading...
Show less
May. 24, 2017 07:17PM EST
By John Rogers
Maybe it's because I first started working on clean energy while serving in the Peace Corps he founded, or maybe it's my years of working on these issues from his home state. But I can't help thinking about the 100th anniversary of John F. Kennedy's birth, and connecting his stirring rhetoric to the energy challenges of our times.
Here's what our 35th president might have said about the challenges of energy transition and the opportunities in clean energy:
"Change is the law of life. And those who look only to the past or present are certain to miss the future."
Keep reading...
Show less


Get EcoWatch in your inbox