This website uses cookies to ensure you get the best experience while browsing it. By clicking 'Got It' you're accepting these terms.
5 Countries Leading the Way Toward 100% Renewable Energy
Jan. 09, 2015 12:52PM EST
Business
2014 was an exciting year for renewable energy.
After a three-year slump in renewable energy finance, investment grew last year, with records level seen for the amount spent on wind farms, as well the construction of both new wind and solar capacity.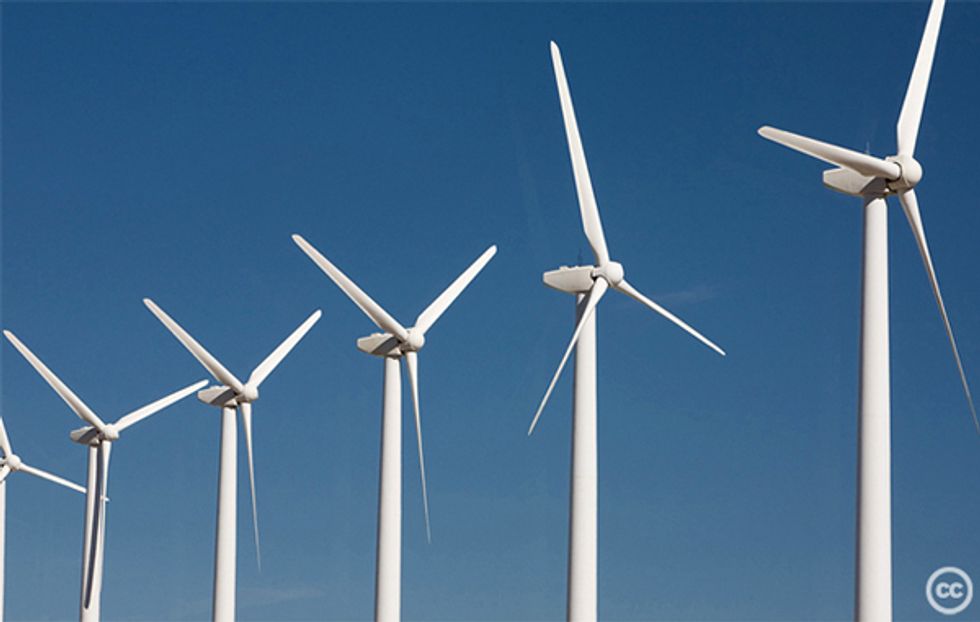 According to Bloomberg New Energy Finance's latest energy investment report, China led as the world's largest investor in renewables, with the U.S. coming in second place.
Worldwide, around 100 gigawatts (GW) of solar and wind power capacity were built in 2014—up from 74 GW in 2013—and nearly during every month the headlines were filled with record generation in cities and countries across the world.
As we kick off 2015—with hopes for an even bigger year for renewable energy—here's five records that were broken in 2014.
1. Denmark sets world record for wind
Denmark set a new world record for wind production in 2014, getting 39.1 percent of its overall electricity from the clean energy source.
The latest figures put the country well on track to meet its 2020 goal of getting 50 percent of its power from renewables.
Denmark has long been a pioneer in wind power, having installed its first turbines in the mid-1970s, and has even more ambitious aims in sight, including a 100 percent renewable country by 2050.
Last year, onshore wind was also declared the cheapest form of energy in the country.
2. UK wind power smashes annual records
In the UK, wind power also smashed records in 2014, as generation rose 15 percent from 24.5 terawatt-hours (TWh) hours to 28.1 TWh.
That's more than any other year, and the country now generates enough wind energy to supply the needs of more than 6.7 million UK households.
A combination of grid-connected wind farms and standalone turbines produced 9.3 percent of the UK's electricity demand in 2014, up from 7.8 percent in 2013 and the latest data follows a string of wind power records announced in the second half of last year.
3. Renewables provide biggest contribution to Germany's electricity
Renewable energy was the biggest contributor to Germany's electricity supply in 2014, with nearly 26 percent of the country's power generation coming from clean sources.
That's according to Berlin-based think-tank Agora Energiewende.
Electricity output from renewables has grown eightfold in Germany since 1990, and the latest data further highlights the dramatic shift towards clean energy taking place in Europe's largest economy.
4. Scotland sees "massive year" for renewables
With another record month experienced in December, 2014 was a "massive year" for renewables in Scotland.
Last month, wind turbines alone provided around 1,279 megawatt-hours (MWh) of electricity to the national gird, enough to supply the electrical needs of 164 percent of Scottish households, or 3.96 million homes.
The latest figures further highlight the record year seen for renewables in Scotland, with wind turbines providing an average 746, 510 MWh each month—enough to supply 98 percent of Scottish households electricity needs.
Over six months of the year, wind generated enough power to supply more than 100 percent of Scottish households, while in Aberdeen, Edinburgh, Glasgow and Inverness there was enough sunshine to provide 100 percent or more of the electricity needs for an average home in June and July.
With figures like these it is no wonder new research out this week said the country's power grid could be 100 percent renewable by 2030.
5. Ireland hits new record for wind energy
Windy conditions in Ireland meant the country saw not one but two wind energy records set already this year.
According to figures record by EirGrid on Wednesday (Jan. 7), wind energy had created 1,942 MW of energy, enough to power more than 1.26 million homes.
And while we are still only a week into 2015, this announcement marked the second time this year the country has seen this record broken. On the Jan. 1, wind energy output was at a previous high of 1,872 MW.
YOU MIGHT ALSO LIKE
Caribbean Island Says Goodbye Fossil Fuels, Hello 100% Renewable Electricity
3 Charts Prove the Solar Revolution Is Here to Stay
EcoWatch Daily Newsletter
A harbour seal on an ice floe in Glacier Bay, Alaska. A new study shows that the climate crisis has warmed waters, changing ecosystems and crippling sea ice growth. Janette Hill / robertharding / Getty Images Plus
Doctors report that only 1 in 4 children are getting the recommended 60 minutes of physical activity per day. Ronnie Kaufman / DigitalVision / Getty Images
By Dan Gray
Pediatricians are being urged to start writing "exercise prescriptions" for the children they see in their office.
A First Nations protester walks in front of a train blockade in Tyendinaga, near Belleville, Ontario, Canada on Feb. 21, 2020. LARS HAGBERG / AFP via Getty Images
An indigenous rail blockade that snarled train travel in Canada for more than two weeks came to an end Monday when police moved in to clear protesters acting in solidarity with another indigenous community in British Columbia (B.C.), which is fighting to keep a natural gas pipeline off its land.
A rainbow snake, a rare reptile spotted in a Florida county for the first time in more than 50 years, seen here on July 5, 2013.
Kevin Enge / FWC Fish and Wildlife Research Institute / Flickr
A Florida hiker recently stumbled across a slithering surprise — a rare snake that hadn't been spotted in the area for more than 50 years.
We need our government to do everything it can to stop PFAS contamination and exposure from wreaking havoc in communities across the country. LuAnn Hun /
Unsplash
By Genna Reed
The EPA announced last week that it is issuing a preliminary regulatory determination for public comment to set an enforceable drinking water standard to two of the most common and well-studied PFAS, PFOA and PFOS.
This decision is based on three criteria:
PFOA and PFOS have an adverse effect on public health
PFOA and PFOS occur in drinking water often enough and at levels of public health concern;
regulation of PFOA and PFOS is a meaningful opportunity for reducing the health risk to those served by public water systems.