This website uses cookies to ensure you get the best experience while browsing it. By clicking 'Got It' you're accepting these terms.
5 Cool Ways to Make Urban Biking Safer
Jan. 12, 2015 03:20PM EST
Business
Remember when you were a kid, and all you needed to go bicycling was a clunky old bike handed down from your brother and a basic helmet from the local chain store? And maybe you are old enough to remember when bicycling was for kids and Tour de France racers—and chances are pretty good you are neither.
Now of course, that has changed, with everyone from hipsters to yuppies to old folks using bicycles for transportation, exercise and tourism and even social activities, like the Critical Mass bike rides that have swept the country. (Needless to say, they started in cutting-edge California). All kinds of companies making all kinds of equipment and products have sprung up to take advantage of this burgeoning market. Here are some we found particularly intriguing.
1. The Zackees Turn Signal glove is a bicycling glove equipped with LED lights activated by a built-in switch located between the thumb and index finger. You stretch out your arm as you normally would, but the lights make your intention to turn even clearer. Obviously, this is a great product for those who ride at night and inclement weather, when seeing your outstretched arm might be difficult. The glove is battery-operated and the rechargeable batteries can be removed so the durable glove can be tossed in the washing machine. The company is also working on an innovation that would allow you to signal without taking your hands off your bike handle. The gloves retail for $85-$100.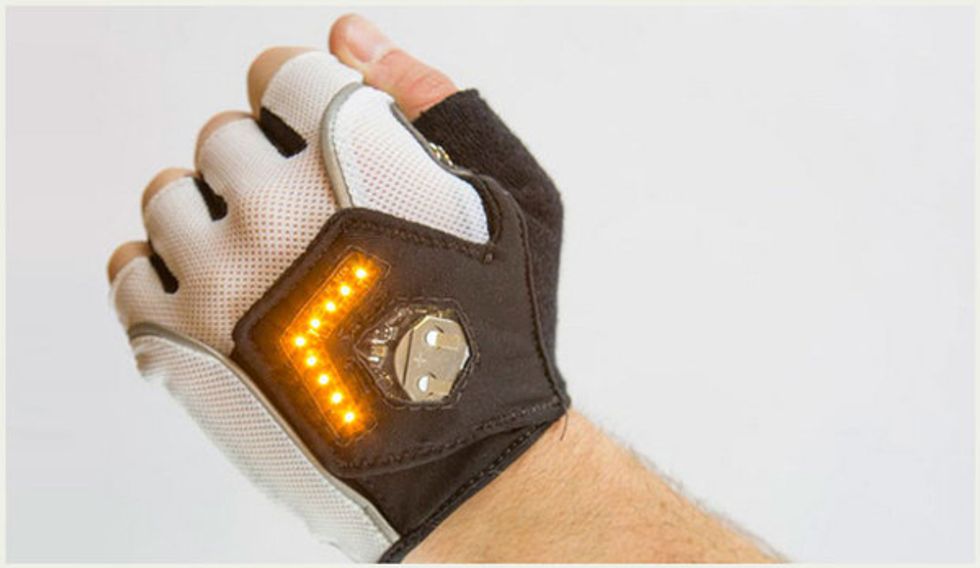 2. Helmets with lights have been around a while, and they're almost essential at night. Some companies are now offering attachments for your helmet based on the increasingly popular fiber optic technology, giving riders options to customize colors and light designs to fit their personal style. Ohio-based LightMyLid makes LED-equipped Lid Lights that come in pink, red, orange, yellow, green, blue and white, in both blinking and static versions. They come in strips to apply to any hard-shelled helmet to increase your nighttime visibility and run $25-$35 for two strips and a battery case.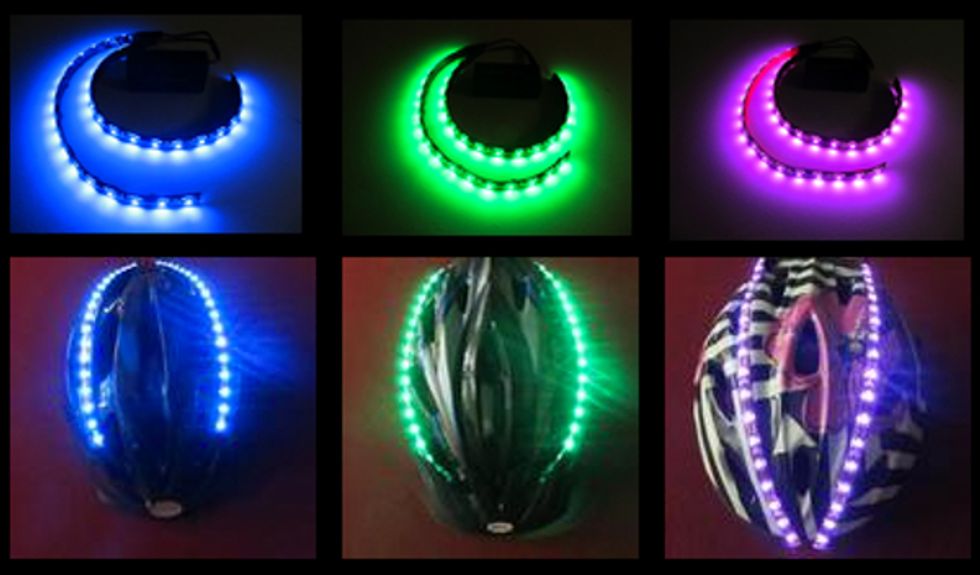 3. The Loud Bicycle Horn beats the pants off that tinkly little bicycle bell you had as a kid. It sounds just like a car horn and it's just as loud too—sure to get the attention of other vehicles on the road. It fits a variety of frame sizes and shapes and requires a special tool to be removed so it's hard to steal. It's water-resistant and runs on a rechargeable lithium-ion battery. Oddly, the company says "The Loud Bicycle horn is legal everywhere in the U.S. except for libraries." We hope you weren't going to ride your bike there! it sells for about $100.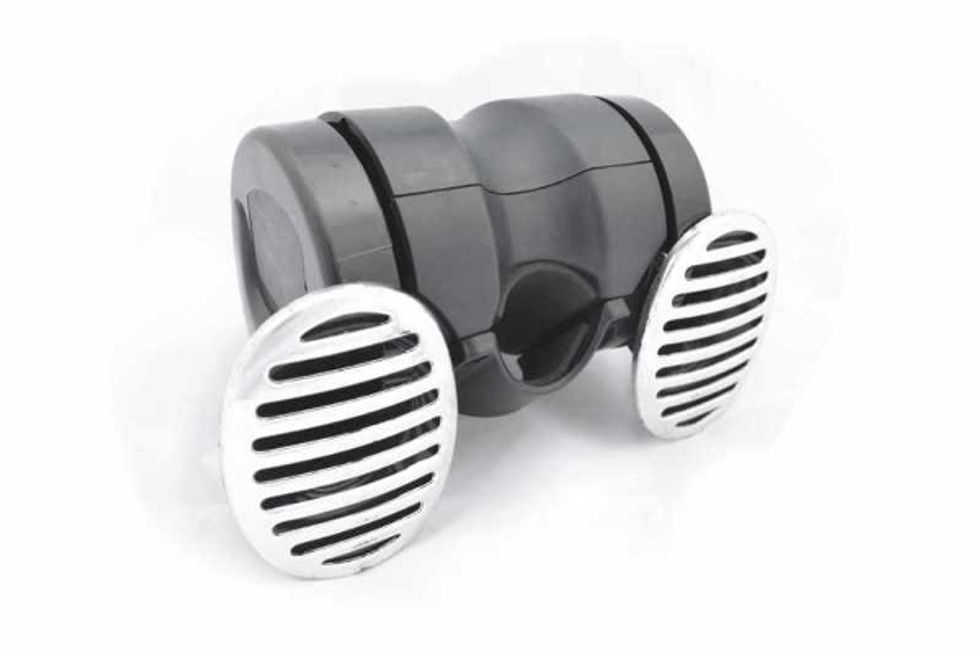 4. You've got front and back lights on your bicycle, but that's not much help if someone is coming from your side. A company called Fibre Flare makes side lights that attach to tube of your bike's frame to create side visibility as well. Coming in a variety of colors, it uses fiber optic technology to create a high-intensity light that can be seen almost 1,000 feet away. The flexible tubes come in three lengths and can also be attached to clothing, backpacks and outdoor/camping gear. They sell for $35-$50.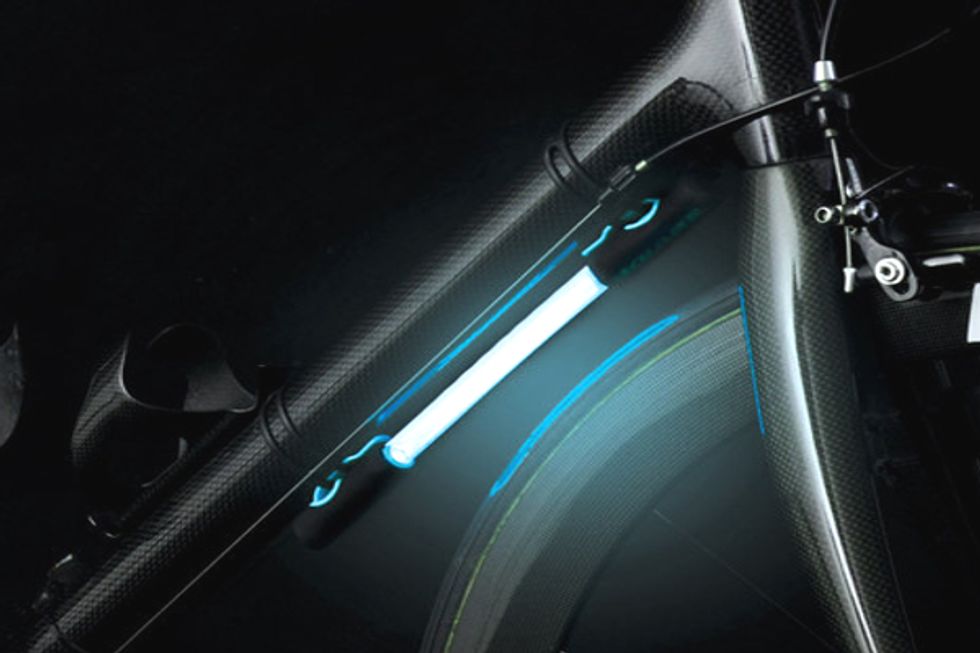 5. Theft is always a concern for bicyclists; even if a bike locked, parts and attachments (like horns) can be taken. An Israeli company called Cardboard Technology thinks it has a solution: a bike not valuable enough to steal. It isn't in full production yet but it's been rolling out prototypes to show to potential investors. The bike made of recycled cardboard (along with some recycled plastics and automobile tires) folded origami-style to make it strong and treated with chemicals to make it waterproof and fireproof. It can carry up to 300 pounds. The company has plans to expand into wheelchairs, strollers and shopping carts. Stay tuned!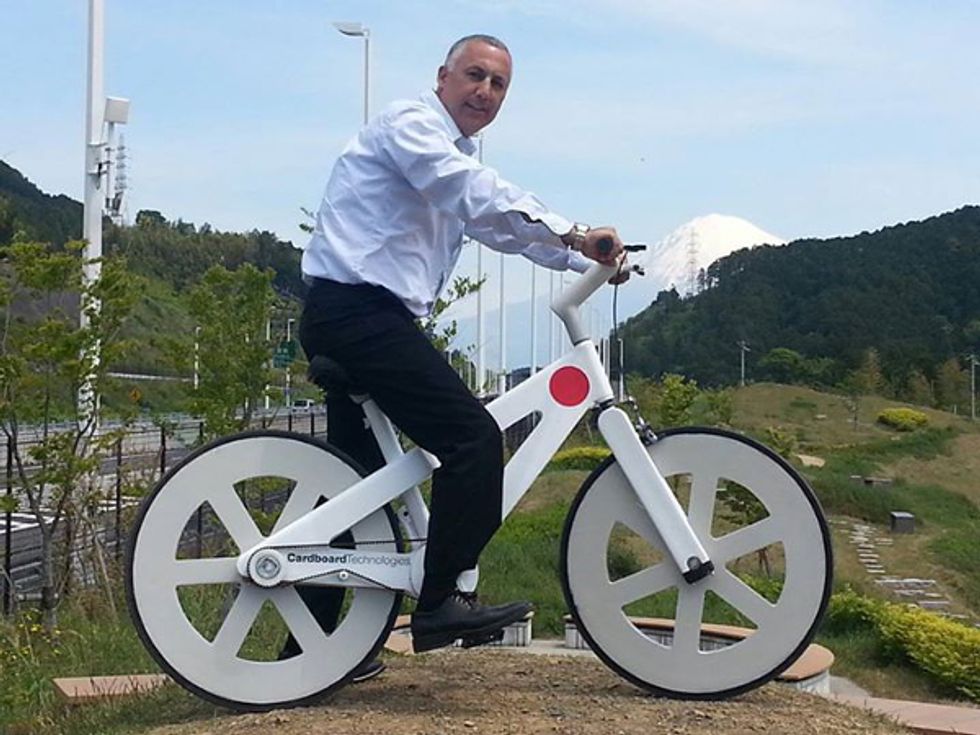 YOU MIGHT ALSO LIKE
What Are the Best Cities for Cyclists?
Top 10 Greenest Cities in the World
EcoWatch Daily Newsletter
Aerial shot top view Garbage trucks unload garbage to a recycle in the vicinity of the city of Bangkok, Thailand. bugto / Moment / Getty Images
German researchers have identified a strain of bacterium that not only breaks down toxic plastic, but also uses it as food to fuel the process, according to The Guardian.
The Environmental Protection Agency (EPA) issued a policy memo yesterday that is an expansive relaxation of legally mandated regulations on polluting industries, saying that industries may have trouble adhering to the regulations while they are short-staffed during the coronavirus global pandemic, according to the AP.
Hurricane Dorian was one of the 2019 Atlantic hurricane season's most devastating storms. NASA
2019 marked the fourth year in a row that the Atlantic hurricane season saw above-average activity, and it doesn't look like 2020 will provide any relief.
The deep, open ocean may seem like an inhospitable environment, but many species like human-sized Humboldt squids are well-adapted to the harsh conditions. 1,500 feet below the ocean's surface, these voracious predators could be having complex conversations by glowing and changing patterns on their skin that researchers are just beginning to decipher.
A worker distributes disinfection wipes at a farmers market at Richard Tucker Park in New York City on March 21, 2020. Lev Radin / Pacific Press / LightRocket via Getty Images
Not many restaurants will be able to survive coronavirus, and this is a personal, social and national tragedy.
I'm worried about farmers markets too.