This website uses cookies to ensure you get the best experience while browsing it. By clicking 'Got It' you're accepting these terms.


The best of EcoWatch, right in your inbox. Sign up for our email newsletter!
5 Complications From Sitting on Your Toilet
May. 12, 2014 08:37AM EST
Health + Wellness
Whether this is a foreign concept or one you're familiar with, squatting to eliminate is in your best interest and using the Squatty Potty is the most convenient, safest way to squat.
The only natural defecation posture for a human being is squatting.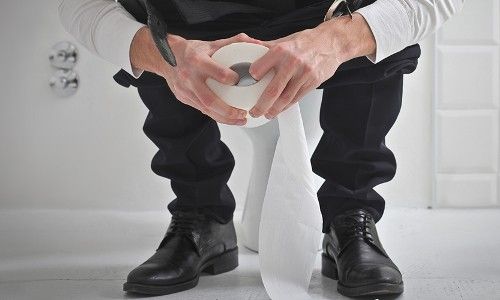 An ample amount of the western population with normal bowel movements have a difficult time emptying their bowels. Simple constipation is a result of habitual bowel elimination while sitting on modern toilets. The sitting angle chokes the rectum via the puborectalis muscle, which creates continence (or a kinked colon), but while we are squatting the puborectalis muscle is relaxed and the rectum is straightened making elimination easier and more effective.
5 Complications That Come With Sitting on Your Toilet
1. Constipation
Let's face it: most of us don't get the fiber and all the water we need. It's true. These two things, along with improper toilet posture resulting in an incomplete elimination, are a bad combination that create hard dry stools. These hard dry stools are no fun to push out. It's called constipation, and we've all experienced it. Unfortunately, it's the norm for too many of us. But that's just the beginning. Read more.
2. Hemorrhoids
Getting those hard stools out calls for lots of pushing (that could be avoided). That pressure causes hemorrhoids, which can be very painful. Hemorrhoids are inflamed anal varicose veins that have swollen because of our need to push excessively to get those hard stools to pass. But, as bad as hemorrhoids are, they aren't the worst of our potential problems. Read more.
3. Colon Disease
Eliminating completely and often helps maintain good colon health. Many studies point to fecal buildup in the colon as a cause of diseases, including colon cancer. When there is buildup in the colon, our bodies can't absorb all the nutrients from the food we eat, leaving us without the energy we could enjoy if our colons were healthy.
4. Urinary Difficulty/Infections
Urinary flow is usually stronger and easier when women squat to urinate. The bladder is emptied more completely when squatting rather than sitting or "hovering." Squatting can help reduce episodes of urinary tract infections in both frequency and intensity. Now, that is good news!
5. Pelvic Floor Issues
One of the main causes of this condition is straining on the toilet. The "sitting" position causes a great amount of pressure on the anorectal angle of the colon causing the lower part of the colon to drop and protrude into the wall of the vagina. Pelvic floor nerves can be protected by squatting for bowel elimination. Men can also suffer from pelvic floor disorders and can readily benefit from using the Squatty Potty as a part of their everyday routine. Read more here and here.
Better health, greater comfort and more energy!
All these problems, and more, can be helped with the use of the Squatty Potty. This innovative, health-giving toilet stool is easy to use and highly effective in positioning the colon for effortless bowel movements. The Squatty Potty is sturdy and convenient. It even slides out of the way under your toilet when not in use.
——–
YOU ALSO MIGHT LIKE
Yale Researchers Show Why Choosing a Paleo, Low-Carb or Fat-Free Diet is Not the Healthiest Way to Go
11 Universal Truths in Nutrition That Are Actually Agreed On
Squatty Potty Makes Me Feel Happy and Healthy
——–
EcoWatch Daily Newsletter
Climate change activists gather in front of the stage at the Extinction Rebellion group's environmental protest camp at Marble Arch in London on April 22, on the eighth day of the group's protest calling for political change to combat climate change. TOLGA AKMEN / AFP / Getty Images
Pexels
By Alina Petre, MS, RD (CA)
Veganism refers to a way of living that attempts to minimize animal exploitation and cruelty. For this reason, vegans aim to exclude all foods containing meat, poultry, fish, eggs, dairy and honey from their diet (1).
American farmers use chlorpyrifos, a pesticide tied to brain and nervous system issues, on crops such as apples, broccoli, corn and strawberries. Stephanie Chapman / Flickr / CC BY 2.0
By Jessica Corbett
In a ruling welcomed by public health advocates, a federal court on Friday ordered the Trump administration to stop stalling a potential ban on a pesticide linked to brain damage in children, giving regulators until mid-July to make a final decision.
fstop123 / iStock / Getty Images Plus
At EcoWatch, our team knows that changing personal habits and taking actions that contribute to a better planet is an ongoing journey. Earth Day, happening on April 22, is a great reminder for all of us to learn more about the environmental costs of our behaviors like food waste or fast fashion.
To offer readers some inspiration this Earth Day, our team rounded up their top picks for films to watch. So, sit back and take in one of these documentary films this Earth Day. Maybe it will spark a small change you can make in your own life.
NASA
By Shuchi Talati
Solar geoengineering describes a set of approaches that would reflect sunlight to cool the planet. The most prevalent of these approaches entails mimicking volcanic eruptions by releasing aerosols (tiny particles) into the upper atmosphere to reduce global temperatures — a method that comes with immense uncertainty and risk. We don't yet know how it will affect regional weather patterns, and in turn its geopolitical consequences. One way we can attempt to understand potential outcomes is through models.
Maria Gunnoe Flight, courtesy of southwings.org
By Julia Conley
Green groups on Saturday celebrated the latest federal ruling aimed at preventing President Donald Trump from rolling back environmental regulations that were put in place by his predecessor.
NASA scientists flew over the Kuskokwim river in southwest Alaska in 2017 to investigate how water levels in the Arctic landscape change as permafrost thaws. Peter Griffith, NASA
Youtube screenshot
A woman has been caught on camera dumping a bag of puppies near a dumpster in Coachella, California, CNN reported Sunday.