This website uses cookies to ensure you get the best experience while browsing it. By clicking 'Got It' you're accepting these terms.
5 Complications From Sitting on Your Toilet
May. 12, 2014 08:37AM EST
Health + Wellness
Whether this is a foreign concept or one you're familiar with, squatting to eliminate is in your best interest and using the Squatty Potty is the most convenient, safest way to squat.
The only natural defecation posture for a human being is squatting.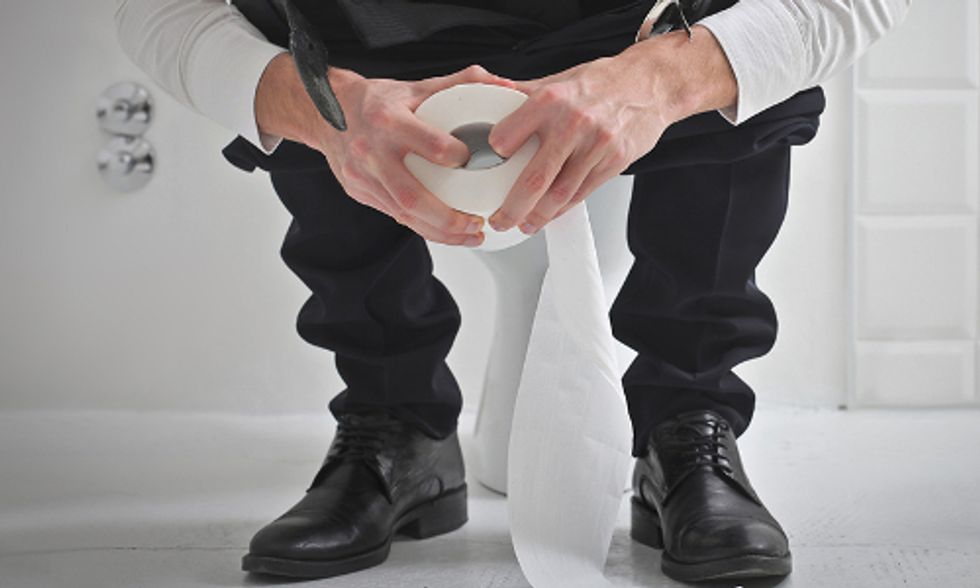 An ample amount of the western population with normal bowel movements have a difficult time emptying their bowels. Simple constipation is a result of habitual bowel elimination while sitting on modern toilets. The sitting angle chokes the rectum via the puborectalis muscle, which creates continence (or a kinked colon), but while we are squatting the puborectalis muscle is relaxed and the rectum is straightened making elimination easier and more effective.
5 Complications That Come With Sitting on Your Toilet
1. Constipation
Let's face it: most of us don't get the fiber and all the water we need. It's true. These two things, along with improper toilet posture resulting in an incomplete elimination, are a bad combination that create hard dry stools. These hard dry stools are no fun to push out. It's called constipation, and we've all experienced it. Unfortunately, it's the norm for too many of us. But that's just the beginning. Read more.
2. Hemorrhoids
Getting those hard stools out calls for lots of pushing (that could be avoided). That pressure causes hemorrhoids, which can be very painful. Hemorrhoids are inflamed anal varicose veins that have swollen because of our need to push excessively to get those hard stools to pass. But, as bad as hemorrhoids are, they aren't the worst of our potential problems. Read more.
3. Colon Disease
Eliminating completely and often helps maintain good colon health. Many studies point to fecal buildup in the colon as a cause of diseases, including colon cancer. When there is buildup in the colon, our bodies can't absorb all the nutrients from the food we eat, leaving us without the energy we could enjoy if our colons were healthy.
4. Urinary Difficulty/Infections
Urinary flow is usually stronger and easier when women squat to urinate. The bladder is emptied more completely when squatting rather than sitting or "hovering." Squatting can help reduce episodes of urinary tract infections in both frequency and intensity. Now, that is good news!
5. Pelvic Floor Issues
One of the main causes of this condition is straining on the toilet. The "sitting" position causes a great amount of pressure on the anorectal angle of the colon causing the lower part of the colon to drop and protrude into the wall of the vagina. Pelvic floor nerves can be protected by squatting for bowel elimination. Men can also suffer from pelvic floor disorders and can readily benefit from using the Squatty Potty as a part of their everyday routine. Read more here and here.
Better health, greater comfort and more energy!
All these problems, and more, can be helped with the use of the Squatty Potty. This innovative, health-giving toilet stool is easy to use and highly effective in positioning the colon for effortless bowel movements. The Squatty Potty is sturdy and convenient. It even slides out of the way under your toilet when not in use.
——–
YOU ALSO MIGHT LIKE
Yale Researchers Show Why Choosing a Paleo, Low-Carb or Fat-Free Diet is Not the Healthiest Way to Go
11 Universal Truths in Nutrition That Are Actually Agreed On
Squatty Potty Makes Me Feel Happy and Healthy
——–
EcoWatch Daily Newsletter
America's national bird is threatened by hunters. Not that hunters are taking aim at the iconic bald eagle, but bald eagles are dying after eating lead bullets, as CNN reported.
Bill Bader, owner of Bader Farms, and his wife Denise pose in front of the Rush Hudson Limbaugh Sr. United States Courthouse in Cape Girardeau, Missouri on Jan. 27, 2020.
Johnathan Hettinger /
Midwest Center for Investigative Reporting
A jury in Missouri awarded a farmer $265 million in a lawsuit that claimed Bayer and BASF's weedkiller destroyed his peach orchard, as Reuters reported.
Earthjustice says Louisiana has violated the Clean Water Act and given Formosa Plastics Group the "greenlight to double toxic air pollution in St. James" (seen above).
Louisiana Bucket Brigade
A coalition of local and national groups on Friday launched a legal challenge to a Louisiana state agency's decision to approve air permits for a $9.4 billion petrochemical complex that Taiwan-based Formosa Plastics Group plans to build in the region nationally known as "Cancer Alley."
Bears Ears National Monument in Utah. Bob Wick / BLM / onEarth
Well, he told us he would do it. And now he's actually doing it — or at least trying to. Late last week, President Trump, via the U.S. Department of the Interior's Bureau of Land Management, announced that he was formalizing his plan to develop lands that once belonged within the Bears Ears and Grand Staircase-Escalante National Monuments in southern Utah. The former is a stunningly beautiful, ecologically fragile landscape that has played a crucial role in Native American culture in the Southwest for thousands of years; the latter, just as beautiful, is one of the richest and most important paleontological sites in North America.
Smoke pours from the exhaust pipes on a truck on Nov. 5, 2019 in Miami, Florida. According to a 2017 EPA study the largest source of greenhouse gas emissions in the U.S. is from the transportation sector. Joe Raedle / Getty Images