This website uses cookies to ensure you get the best experience while browsing it. By clicking 'Got It' you're accepting these terms.
5 Complications From Sitting on Your Toilet
May. 12, 2014 08:37AM EST
Health + Wellness
Whether this is a foreign concept or one you're familiar with, squatting to eliminate is in your best interest and using the Squatty Potty is the most convenient, safest way to squat.
The only natural defecation posture for a human being is squatting.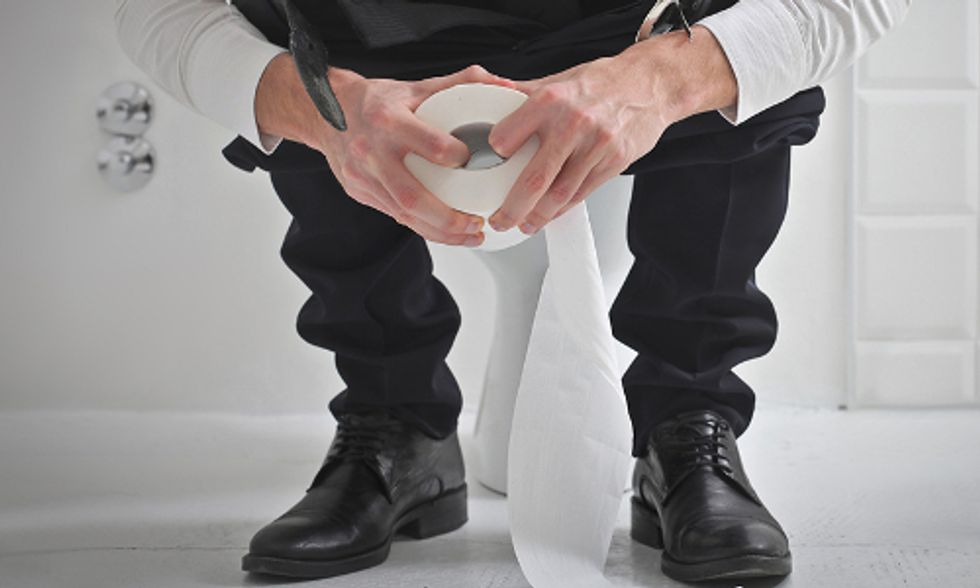 An ample amount of the western population with normal bowel movements have a difficult time emptying their bowels. Simple constipation is a result of habitual bowel elimination while sitting on modern toilets. The sitting angle chokes the rectum via the puborectalis muscle, which creates continence (or a kinked colon), but while we are squatting the puborectalis muscle is relaxed and the rectum is straightened making elimination easier and more effective.
5 Complications That Come With Sitting on Your Toilet
1. Constipation
Let's face it: most of us don't get the fiber and all the water we need. It's true. These two things, along with improper toilet posture resulting in an incomplete elimination, are a bad combination that create hard dry stools. These hard dry stools are no fun to push out. It's called constipation, and we've all experienced it. Unfortunately, it's the norm for too many of us. But that's just the beginning. Read more.
2. Hemorrhoids
Getting those hard stools out calls for lots of pushing (that could be avoided). That pressure causes hemorrhoids, which can be very painful. Hemorrhoids are inflamed anal varicose veins that have swollen because of our need to push excessively to get those hard stools to pass. But, as bad as hemorrhoids are, they aren't the worst of our potential problems. Read more.
3. Colon Disease
Eliminating completely and often helps maintain good colon health. Many studies point to fecal buildup in the colon as a cause of diseases, including colon cancer. When there is buildup in the colon, our bodies can't absorb all the nutrients from the food we eat, leaving us without the energy we could enjoy if our colons were healthy.
4. Urinary Difficulty/Infections
Urinary flow is usually stronger and easier when women squat to urinate. The bladder is emptied more completely when squatting rather than sitting or "hovering." Squatting can help reduce episodes of urinary tract infections in both frequency and intensity. Now, that is good news!
5. Pelvic Floor Issues
One of the main causes of this condition is straining on the toilet. The "sitting" position causes a great amount of pressure on the anorectal angle of the colon causing the lower part of the colon to drop and protrude into the wall of the vagina. Pelvic floor nerves can be protected by squatting for bowel elimination. Men can also suffer from pelvic floor disorders and can readily benefit from using the Squatty Potty as a part of their everyday routine. Read more here and here.
Better health, greater comfort and more energy!
All these problems, and more, can be helped with the use of the Squatty Potty. This innovative, health-giving toilet stool is easy to use and highly effective in positioning the colon for effortless bowel movements. The Squatty Potty is sturdy and convenient. It even slides out of the way under your toilet when not in use.
——–
YOU ALSO MIGHT LIKE
Yale Researchers Show Why Choosing a Paleo, Low-Carb or Fat-Free Diet is Not the Healthiest Way to Go
11 Universal Truths in Nutrition That Are Actually Agreed On
Squatty Potty Makes Me Feel Happy and Healthy
——–
EcoWatch Daily Newsletter
Investing in grid infrastructure would enable utilities to incorporate modern technology, making the grid more resilient and flexible. STRATMAN2 / FLICKR
By Elliott Negin
The Royal Swedish Academy of Sciences' recent decision to award the 2019 Nobel Prize in Chemistry to scientists who developed rechargeable lithium-ion batteries reminded the world just how transformative they have been. Without them, we wouldn't have smartphones or electric cars. But it's their potential to store electricity generated by the sun and the wind at their peak that promises to be even more revolutionary, reducing our dependence on fossil fuels and protecting the planet from the worst consequences of climate change.
Two Javan rhinos deep in the forests of Ujung Kulon National Park, the species' last habitat on Earth. Sugeng Hendratno / WWF
The global population of the critically endangered Javan rhinoceros has increased to 72 after four new calves were spotted in the past several months.
A tiger looks out from its cage at a new resort and zoo in the eastern Lao town of Tha Bak on Dec. 5, 2018. Karl Ammann believes the "zoo" is really a front for selling tigers. Terrence McCoy / The Washington Post / Getty Images
Are tigers extinct in Laos?
That's the conclusion of a detailed new study that found no evidence wild tigers still exist in the country.
A group of scientists is warning that livestock production must not expand after 2030 for the world to stave off ecological disaster.
The largest wetland in Africa is in the South Sudan. George Steinmetz / Corbis Documentary / Getty Images Plus
Methane emissions are a far more powerful greenhouse gas than carbon dioxide – about 28 times more powerful. And they have been rising steadily since 2007. Now, a new study has pinpointed the African tropics as a hot spot responsible for one-third of the global methane surge, as Newsweek reported.