This website uses cookies to ensure you get the best experience while browsing it. By clicking 'Got It' you're accepting these terms.
5 Complications From Sitting on Your Toilet
May. 12, 2014 08:37AM EST
Whether this is a foreign concept or one you're familiar with, squatting to eliminate is in your best interest and using the Squatty Potty is the most convenient, safest way to squat.
The only natural defecation posture for a human being is squatting.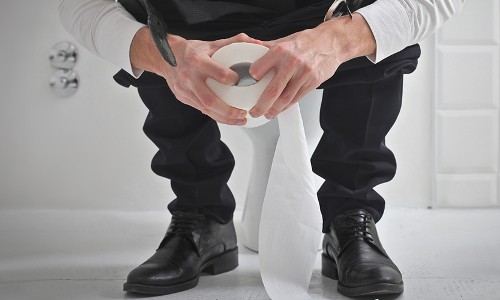 An ample amount of the western population with normal bowel movements have a difficult time emptying their bowels. Simple constipation is a result of habitual bowel elimination while sitting on modern toilets. The sitting angle chokes the rectum via the puborectalis muscle, which creates continence (or a kinked colon), but while we are squatting the puborectalis muscle is relaxed and the rectum is straightened making elimination easier and more effective.
5 Complications That Come With Sitting on Your Toilet
1. Constipation
Let's face it: most of us don't get the fiber and all the water we need. It's true. These two things, along with improper toilet posture resulting in an incomplete elimination, are a bad combination that create hard dry stools. These hard dry stools are no fun to push out. It's called constipation, and we've all experienced it. Unfortunately, it's the norm for too many of us. But that's just the beginning. Read more.
2. Hemorrhoids
Getting those hard stools out calls for lots of pushing (that could be avoided). That pressure causes hemorrhoids, which can be very painful. Hemorrhoids are inflamed anal varicose veins that have swollen because of our need to push excessively to get those hard stools to pass. But, as bad as hemorrhoids are, they aren't the worst of our potential problems. Read more.
3. Colon Disease
Eliminating completely and often helps maintain good colon health. Many studies point to fecal buildup in the colon as a cause of diseases, including colon cancer. When there is buildup in the colon, our bodies can't absorb all the nutrients from the food we eat, leaving us without the energy we could enjoy if our colons were healthy.
4. Urinary Difficulty/Infections
Urinary flow is usually stronger and easier when women squat to urinate. The bladder is emptied more completely when squatting rather than sitting or "hovering." Squatting can help reduce episodes of urinary tract infections in both frequency and intensity. Now, that is good news!
5. Pelvic Floor Issues
One of the main causes of this condition is straining on the toilet. The "sitting" position causes a great amount of pressure on the anorectal angle of the colon causing the lower part of the colon to drop and protrude into the wall of the vagina. Pelvic floor nerves can be protected by squatting for bowel elimination. Men can also suffer from pelvic floor disorders and can readily benefit from using the Squatty Potty as a part of their everyday routine. Read more here and here.
Better health, greater comfort and more energy!
All these problems, and more, can be helped with the use of the Squatty Potty. This innovative, health-giving toilet stool is easy to use and highly effective in positioning the colon for effortless bowel movements. The Squatty Potty is sturdy and convenient. It even slides out of the way under your toilet when not in use.
——–
YOU ALSO MIGHT LIKE
Yale Researchers Show Why Choosing a Paleo, Low-Carb or Fat-Free Diet is Not the Healthiest Way to Go
11 Universal Truths in Nutrition That Are Actually Agreed On
Squatty Potty Makes Me Feel Happy and Healthy
——–
The Russian military is taking measures to protect the residents of a remote Arctic settlement from a mass of polar bears, German press agency DPA reported.
The move comes after regional authorities declared a state of emergency over the weekend after sightings of more than 50 bears in the town of Belushya Guba since December.
This year's letter from Bill and Melinda Gates focused on nine things that surprised them. For the Microsoft-cofounder, one thing he was surprised to learn was the massive amount of new buildings the planet should expect in the coming decades due to urban population growth.
"The number of buildings in the world is going to double by 2060. It's like we're going to build a new New York City every month for the next 40 years," he said.
Over the past few years, it seems vegan cooking has gone from 'brown rice and tofu' to a true art form. These amazing cooks show off the creations on Instagram—and we can't get enough.
The USS Ashland, followed by the USS Green Bay, in the Philippine Sea on Jan. 21. U.S. Department of Defense
By Shana Udvardy
After a dearth of action on climate change and a record year of extreme events in 2017, the inclusion of climate change policies within the annual legislation Congress considers to outline its defense spending priorities (the National Defense Authorization Act) for fiscal year 2018 was welcome progress. House and Senate leaders pushed to include language that mandated that the Department of Defense (DoD) incorporate climate change in their facility planning (see more on what this section of the bill does here and here) as well as issue a report on the impacts of climate change on military installations. Unfortunately, what DoD produced fell far short of what was mandated.
The Paradise Fossil Plant in western Kentucky. CC BY 3.0
Trump is losing his rallying cry to save coal. The Tennessee Valley Authority (TVA) voted on Thursday to retire two coal-fired power plants in the next few years despite a plea from the president to keep one of the plants open.
Earlier this week, the president posted an oddly specific tweet that urged the government-owned utility to save the 49-year-old Paradise 3 plant in Kentucky. It so happens that the facility burns coal supplied by Murray Energy Corporation, whose CEO is Robert Murray, is a major Trump donor.