5 Climate Policy Priorities That Should Top President Obama's To-Do List
By Daniel J. Weiss, Jessica Goad and Shiva Polefka 
On the eve of President Barack Obama's second inauguration in Jan. 2013, the Center for American Progress recommended 10 energy and environmental priorities for President Obama's second term to build on his first-term clean energy successes. Now, one year later, with the annual State of the Union address coming up, we can assess the status of these recommendations and add five new actions that would further enhance our health and safety, grow our economy, and protect our air, water and climate.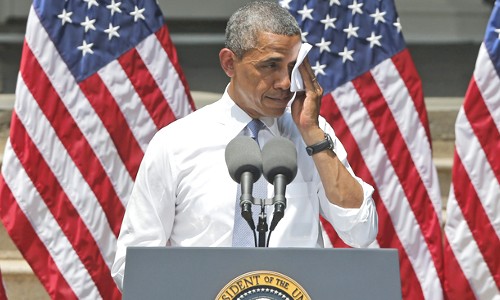 A quick review of the past year reveals that President Obama has made important strides toward accomplishing most of our second-term priorities. His historic Climate Action Plan, announced in June, should achieve many of these goals if it is fully implemented and enforced.
Despite this progress, we need more swift action to slow climate change and prevent further damage from fossil-fuel pollution. As The New York Times recently reported:
Nations have so dragged their feet in battling climate change that the situation has grown critical and the risk of severe economic disruption is rising, according to a draft United Nations report. Another 15 years of failure to limit carbon emissions could make the problem virtually impossible to solve with current technologies, experts found.
Because of this urgency, Center for American Progress recommends that the Obama Administration promptly take the following steps in addition to completing the aforementioned tasks.
1. Establish an ambitious 2025/2030 national climate pollution reduction goal
In 2009, President Obama committed the U.S. to a 2020 climate pollution reduction goal of 17 percent below 2005 greenhouse gas (GHG) emissions levels. The 2014 U.S. Climate Action Report determined that the Climate Action Plan has "the potential to bring emissions within the range of 17 percent below 2005 levels."
The aforementioned U.N. report makes it clear that additional dramatic pollution reductions levels will be essential after 2020 to stave off the worst impacts of climate change. The administration should adopt an ambitious 2025/2030 national climate pollution reduction target within the context of a new international climate agreement to be finalized in 2015. The agreement should include significant new GHG reduction contributions from all of the major economies.
2. Extend wind, solar, and other renewable energy tax incentives through 2020
Federal tax incentives for wind power expired in 2013 and will expire for solar electricity in 2016. This creates market uncertainty for investors and leads to boom-bust investment cycles. A study by the Nuclear Energy Institute found that renewable electricity sources received only 9 percent of total federal support between 1950 and 2010, compared to 60 percent for the oil and gas industry. President Obama should urge Congress to extend these tax incentives for renewable technologies until 2020.
3. Permanently protect the Arctic Ocean from high-risk oil production
Shell and ConocoPhillips want to tap the Arctic Ocean's subsea wealth by drilling for oil. However, this undeveloped area's absence of coastal infrastructure, severe lack of oil spill response capacity—called "minimal at best" by the U.S. Coast Guard—and harsh climate make responsible oil production impossible. Despite $4.5 billion in preparations, Shell's 2012 Arctic operations collapsed after a series of accidents and failures, showing that even world-class oil companies can be confounded by the unforgiving Arctic Ocean. The risk posed by offshore drilling there is simply incompatible with Northern Alaska's ecosystem-dependent communities. Arctic oil should remain in the ground.
4. Keep American oil at home
The U.S. now produces more oil—and uses less—leading to a nearly one-third decrease in oil imports. This change makes us less vulnerable to price spikes caused by sudden foreign oil supply disruptions. The oil industry, however, would squander this newfound energy security and price stabilization by lifting the 1975 ban on crude oil exports. This step would enrich oil companies by enabling them to sell their oil at the higher world price but would increase oil imports, reducing our energy security. Removal of the Alaskan oil export ban in 1996 raised West Coast gasoline prices. President Obama should publicly oppose demands to allow the export of domestically produced oil.
5. Establish a carbon pollution reduction plan to guide the management and conservation of America's public lands
Public lands and waters—including national parks and forests, rangeland and coastal areas—produce huge amounts of the fossil fuels responsible for climate change. But this fossil-fuel production is outpacing public lands' ability to naturally store carbon pollution. A recent Center for American Progress analysis determined that these places are the source of 4.5 times more carbon pollution than they currently absorb.
To reduce this contribution to carbon pollution, the administration should develop a carbon reduction plan for public lands that would both decrease the carbon pollution generated by fossil fuels taken from public lands and increase the lands' ability to naturally absorb it. The strategy could include establishing a clean resources standard for public lands, reducing methane and other emissions during fracking and other forms of resource extraction, and raising the minimum coal lease bid to account for some of the costs of carbon pollution. Moreover, protection and restoration of public lands would help them naturally absorb more carbon pollution.
If President Obama were to pursue these measures, we would achieve additional pollution reductions beyond those that will result from the complete implementation of the Climate Action Plan. These steps would also increase energy security, help maintain more stable gasoline prices and protect fragile places such as the Arctic Ocean from fossil-fuel pollution. Together, they would leave our health, climate, economy and environment far better off than when President Obama took office on Jan. 20, 2009.
Visit EcoWatch's CLIMATE CHANGE and ENERGY pages for more related news on this topic.

A coalition of conservation groups and others announced Thursday that a historic number of comments and petitions of support have been submitted to the U.S. Department of the Interior in support of Bears Ears National Monument. Despite the entirely inadequate 15-day comment period ending on May 26, more than 685,000 comments in support of Bears Ears National Monument have been collected.
Keep reading...
Show less
Rink Glacier in western Greenland, with a meltwater lake visible center. NASA/OIB
Scientists have had their eyes on Greenland as its iconic glaciers have begun disappearing due to a warming climate. But, what they didn't expect to see was a whole new type of melting.
Keep reading...
Show less
Mountain View Fire
By Lena Moffitt
An oil tanker in Mead, Colorado exploded, killing one and injuring three on Thursday. Authorities are continuing to investigate the cause of the explosion.
Keep reading...
Show less
Banner created by Alliance for Climate Education
Keep reading...
Show less
Twenty-two GOP senators sent a letter Thursday urging Donald Trump to pull out of the Paris agreement. They argued remaining in the deal could "upend" the administration's ability "to fulfill its goal of rescinding the Clean Power Plan."
Keep reading...
Show less
By Cheryl Johncox
The Federal Energy Regulatory Commission (FERC) rejected on Thursday Energy Transfer Partners' request to resume horizontal directional drilling at two sites for its Rover fracked gas pipeline. This rejection comes after numerous leaks into Ohio's wetlands, and Clean Air and Clean Water act violations. FERC has halted the process at only eight locations of the 32 where drilling is taking place under Ohio's wetlands and streams.
Keep reading...
Show less
By Nadia Prupis
A majority of people in eight countries say they are ready to change their lifestyles if it would prevent climate catastrophe, a survey on global threats released Wednesday found.
Keep reading...
Show less
May. 25, 2017 01:55PM EST
Bill Maher is sick of billionaires' obsession with Mars, more like "Mars-a-Lago," he said.
In a new animation produced by ATTN:, the popular talk show host of Real Time, discusses the perils of our planet, including how "climate change is killing us."
Keep reading...
Show less