This website uses cookies to ensure you get the best experience while browsing it. By clicking 'Got It' you're accepting these terms.
5 Cleansing Tips to a Healthier You in 2015
Dec. 26, 2014 06:36AM EST
Food
The new year is fast approaching and people are setting their new year's resolutions. Perhaps eating healthier is on your list? If so, check out these five cleansing tips to a healthier you in 2015.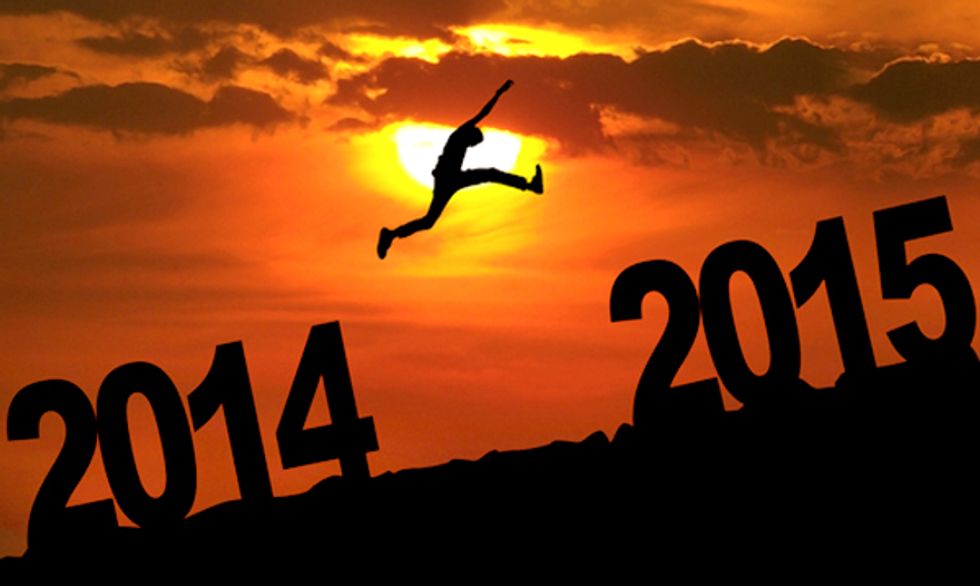 Photo credit: Shutterstock
1. Avoid added sugar. The first step to reducing added sugars in your diet is finding them. Unfortunately, you can't tell easily by looking at the nutrition facts panel of a food if it contains added sugars. The line for "sugars" includes both added and natural sugars. Naturally occurring sugars are found in milk (lactose) and fruit (fructose). Any product that contains milk (such as yogurt, milk or cream) or fruit (fresh, dried) contains some natural sugars.
Use these simple tips to reduce sugar in your diet:
Remove sugar (white and brown), syrup, honey and molasses from the table—out of sight, out of mind!

Cut back on the amount of sugar added to things you eat or drink regularly like cereal, pancakes, coffee or tea. Try cutting the usual amount of sugar you add by half and wean down from there, or consider using an artificial sweetener.

Buy sugar-free or low-calorie beverages.

Buy fresh fruits or fruits canned in water or natural juice. Avoid fruit canned in syrup, especially heavy syrup.

Instead of adding sugar to cereal or oatmeal, add fresh fruit (try bananas, cherries or strawberries) or dried fruit (raisins, cranberries or apricots).

When baking cookies, brownies or cakes, cut the sugar called for in your recipe by one-third to one-half. Often you won't notice the difference.

Instead of adding sugar in recipes, use extracts such as almond, vanilla, orange or lemon.

Enhance foods with spices instead of sugar; try ginger, allspice, cinnamon or nutmeg.

Substitute unsweetened applesauce for sugar in recipes (use equal amounts).
2. Stop eating processed foods. Processed foods are usually loaded with added sugar or High Fructose Corn Syrup. Most highly processed foods are have artificial chemicals, including flavorants, texturants, colorants and preservatives. Many people can literally become addicted to processed junk foods. Junk foods can hijack the biochemistry of the brain, leading to downright addiction and cause them to lose control over their consumption. Processed foods are also often high in refined or "simple" carbohydrates that lead to rapid spikes in blood sugar and insulin levels that cause negative health effects. And, if you're looking for something nutritious, processed food are extremely low in essential nutrients compared to whole, unprocessed foods.
3. Eat less meat. Eating less meat is not only healthy for you but it's good for the health of the planet. Livestock production is responsible for 18 percent of the Earth's greenhouse gas emissions, which fuel climate change. Thirty percent of the globe's ice-free land is devoted to livestock production, with 26 percent of all land on Earth devoted to animal grazing and 33 percent of arable land used for feed production. The resources going into animal feed could feed four billion people. Meat production is water-intensive as well. And industrial animal farming methods have speed up the degradation of the soil. In fact, it's the factory-scale production of meat—ramped up to fuel an increasing taste for meat in developing nations trying to keep up with industrialized countries—that is most to blame for consuming these resources. Consider going vegetarian or if that's to extreme, think about joining Meatless Monday, a global movement with a simple message: once a week, cut the meet.
4. Avoid junk food, which is disguised as health food. From processed breakfast cereals to vegetable oils to margarine to sports drinks, be careful not to eat unhealthy foods marketed as health foods. These foods are responsible for making people fatter and sicker than ever before. Salad dressings, for example, are loaded with unhealthy ingredients like sugar, vegetable oils and trans fats, along with a bunch of artificial chemicals. Keep in mind that truly healthy foods are those that don't need an ingredient list.
5. Stay Hydrated. You've probably heard the commonly recommended eight, 8-ounce glasses or half a gallon of water is what you should drink each day. Since researchers says that mild dehydration can have negative effects on both physical and mental performance, it's a good idea to stay hydrated, especially when you are exercising or in the heat.
YOU MIGHT ALSO LIKE
8 Ways to Tap Into the Superfood Powers of Ancient Grains
10 Benefits of Cinnamon: One of the Healthiest Spices on the Planet
Grow Food Year Round With Radically Sustainable Passive Solar Greenhouse
EcoWatch Daily Newsletter
A worker with nonprofit organization Martha's Table loads bags of fresh produce to distribute to people in need during the novel coronavirus outbreak on April 1, 2020 in Washington, DC. Chip Somodevilla / Getty Images
By Shawn Radcliffe
The CDC recommends that all people wear cloth face masks in public places where it's difficult to maintain a 6-foot distance from others. This will help slow the spread of the virus from people without symptoms or people who do not know they have contracted the virus. Cloth face masks should be worn while continuing to practice social distancing. Instructions for making masks at home can be found here. Note: It's critical to reserve surgical masks and N95 respirators for healthcare workers.
The CDC has emphasized that washing hands with soap and water is one of the most effective ways to prevent the spread of COVID-19. Guido Mieth / Moment / Getty Images
The Centers for Disease Control has emphasized that washing hands with soap and water is one of the most effective measures we can take in preventing the spread of COVID-19. However, millions of Americans in some of the most vulnerable communities face the prospect of having their water shut off during the lockdowns, according to The Guardian.
A California newt (Taricha torosa) from Napa County, California, USA. Connor Long /
CC BY-SA 3.0
Aerial photos of the Sierra Nevada — the long mountain range stretching down the spine of California — showed rust-colored swathes following the state's record-breaking five-year drought that ended in 2016. The 100 million dead trees were one of the most visible examples of the ecological toll the drought had wrought.
Now, a few years later, we're starting to learn about how smaller, less noticeable species were affected.
Disinfectants and cleaners claiming to sanitize against the novel coronavirus have started to flood the market.
Natthawat / Moment / Getty Images
Disinfectants and cleaners claiming to sanitize against the novel coronavirus have started to flood the market, raising concerns for the U.S. Environmental Protection Agency (EPA), which threatened legal recourse against retailers selling unregistered products, according to The New York Times.