This website uses cookies to ensure you get the best experience while browsing it. By clicking 'Got It' you're accepting these terms.
5 Cauliflower Flour Recipes You've Got to Try
May. 15, 2015 09:09AM EST
Look out, kale, cauliflower is all the rage these days. From high end chefs to foodie bloggers, people can't get enough of this nutritious vegetable. It's cropping up in a lot of dishes, especially in flour form, as a replacement for grains for those who want to eat gluten-free or paleo or just want to mix it up and eat this delicious vegetable. Check out these five delicious cauliflower recipes: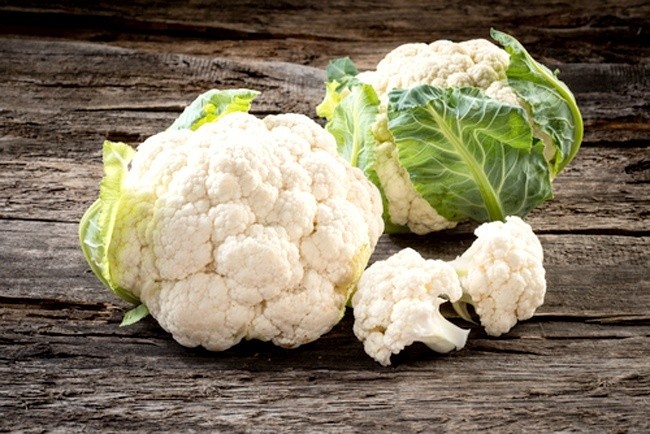 Photo credit: Shutterstock
This pizza crust is blowing up on Pinterest and many food blogs. Tasty Kitchen blogger HowSweetEats says that she was skeptical too, at first, as she "didn't love cauliflower at the time," but she now raves about the veggie and swears by this recipe.
Lauren at Empowered Sustenance walks you through how to make these scrumptious flour-free, dairy-free and gluten-free wraps.
I know what you're thinking: gross, right? Turns out it's delicious. Check it out at Chocolate-Covered Katie.
4. Red Lentil Cauliflower Burger
Sick of all those bland veggie burgers out there? Try this recipe from blogger Vegan Richa. This burger comes stacked with onion rings, spicy mayo, roasted peppers and avocado. Need I say more?
This recipe from Slim Palate is simple to follow and the pictures are mouth-watering. They make you want a taco right now. She loaded hers up with grass-fed sour cream, onions, guacamole and more. Sign me up.
YOU MIGHT ALSO LIKE
9 Ways to Skip the Pharmacy and Use Superfoods As Your Medicine
Climate activist Greta Thunberg addresses the European Commission on Feb. 21 in Brussels, Belgium. Sylvain Lefevre / Getty Images
By Julia Conley
Sixteen-year-old climate action leader Greta Thunberg stood alongside European Commission President Jean-Claude Juncker Thursday in Brussels as he indicated—after weeks of climate strikes around the world inspired by the Swedish teenager—that the European Union has heard the demands of young people and pledged more than $1 trillion over the next seven years to address the crisis of a rapidly heating planet.

In the financial period beginning in 2021, Juncker said, the EU will devote a quarter of its budget to solving the crisis.
A new study reveals the health risks posed by the making, use and disposal of plastics. Jeffrey Phelps / Getty Images
With eight million metric tons of plastic entering the world's oceans every year, there is growing concern about the proliferation of plastics in the environment. Despite this, surprisingly little is known about the full impact of plastic pollution on human health.
But a first-of-its-kind study released Tuesday sets out to change that. The study, Plastic & Health: The Hidden Costs of a Plastic Planet, is especially groundbreaking because it looks at the health impacts of every stage in the life cycle of plastics, from the extraction of the fossil fuels that make them to their permanence in the environment. While previous studies have focused on particular products, manufacturing processes or moments in the creation and use of plastics, this study shows that plastics pose serious health risks at every stage in their production, use and disposal.
IKEA is working on a specially-designed, air-purifying curtain called the GUNRID. IKEA
Air pollution within the home causes 3.8 million deaths a year, according to the World Health Organization. A recent University of Colorado in Boulder study reported by The Guardian found that cooking a full Thanksgiving meal could raise levels of particulate matter 2.5 in the house higher than the levels averaged in New Delhi, the world's sixth most polluted city.
But soon, you will be able to shop for a solution in the same place you buy your budget roasting pans. IKEA is working on a specially-designed, air-purifying curtain called the GUNRID.
The first member of the giant tortoise species Chelonoidis phantasticus to be seen in more than 100 years. RODRIGO BUENDIA / AFP / Getty Images
A rare species of giant tortoise, feared extinct for more than 100 years, was sighted on the Galápagos island of Fernandina Sunday, the Ecuadorian government announced.