5 Bold and Beautiful Solar Projects From Around the World
Jul. 24, 2015 11:57AM EST
Business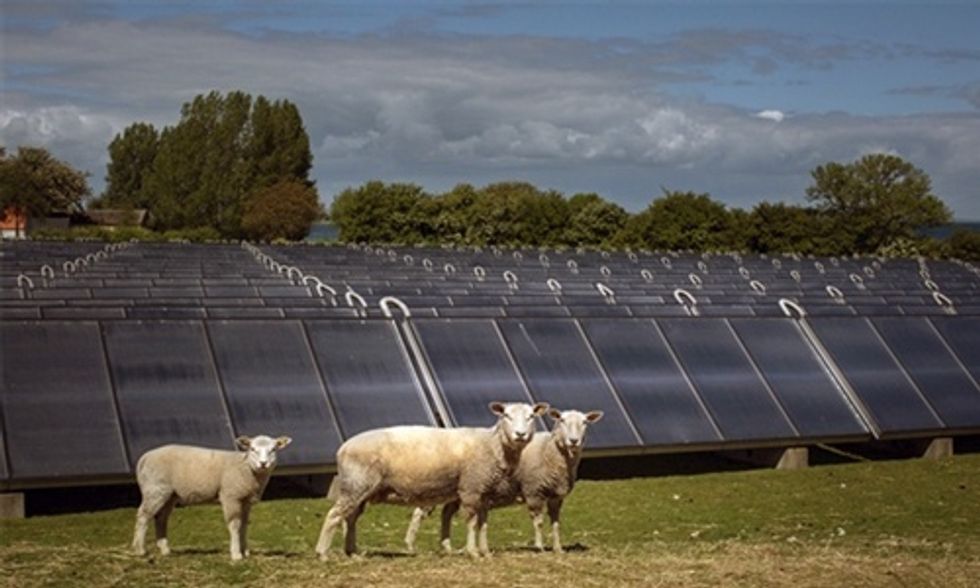 China is building its largest solar plant covering 6,301 acres in the Gobi desert and with capacity to provide electricity to 1 million households.
This is just another record breaker for China. But there's good reason.
In a recent Greenpeace East Asia investigation, we found that air pollution levels have improved in the first six months of 2015, though still remain below global and domestic standards. Once completed the new solar plant will cut standard coal use by 4.26 million tons every year, reducing emissions of carbon dioxide and sulfur dioxide by 896,000 tons and 8,080 tons, respectively, according to state-run Xinhua news agency.
It's part of a global trend. Check out these other bold and beautiful solar projects from around the world. Which one is your favorite?
1. PS20 Solar Tower Plant: Spain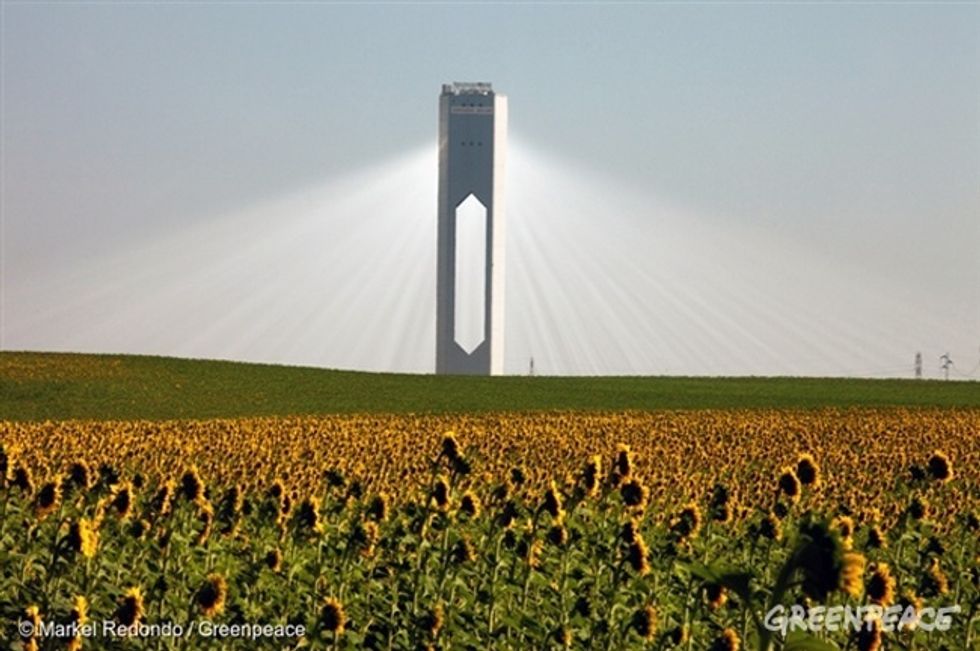 Looking more like a enlightened being bursting from a holy church, this tower which sits at Sanlucar la Mayor outside Seville, Spain can provide electricity for up to 6,000 homes.
2. Solar Systems on Hospital in Bihar: India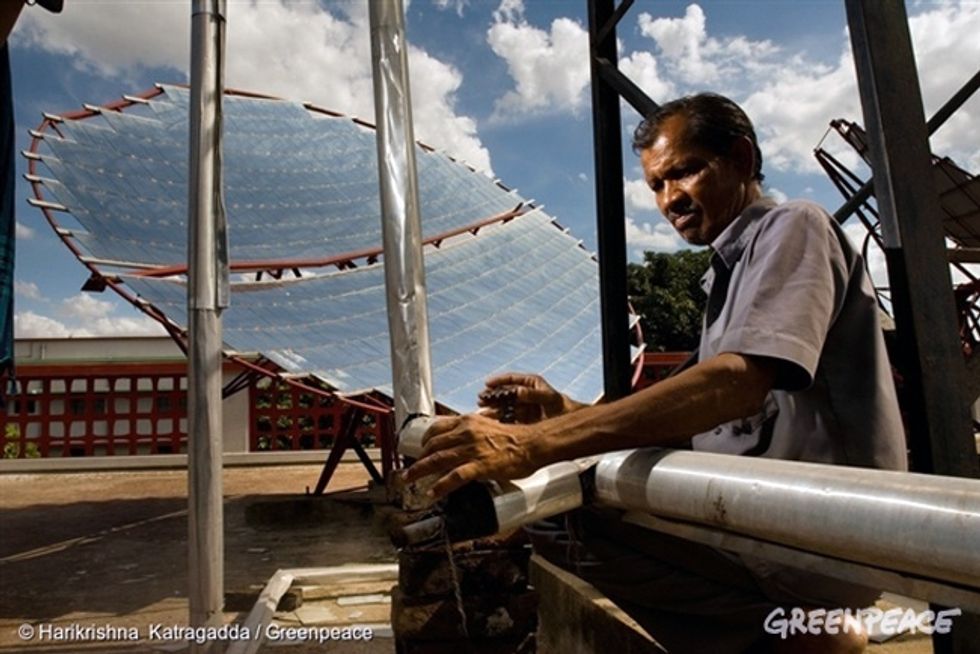 At Tripolia Hospital, Patna, India they have installed simple concentrated solar power (CSP) systems to create steam, which they use to sterilize all their medical equipment and laundry. The hospital also has solar photovoltaic systems to generate electricity for some buildings and outdoor lights and solar thermal systems to create hot water for bathing patients and preparing medicine. The various solar systems also cater for the 200 staff who live on campus, as well as up to 250 inpatients.
3. Solar Panels in the Aeroesbing Renewable Heat Station: Denmark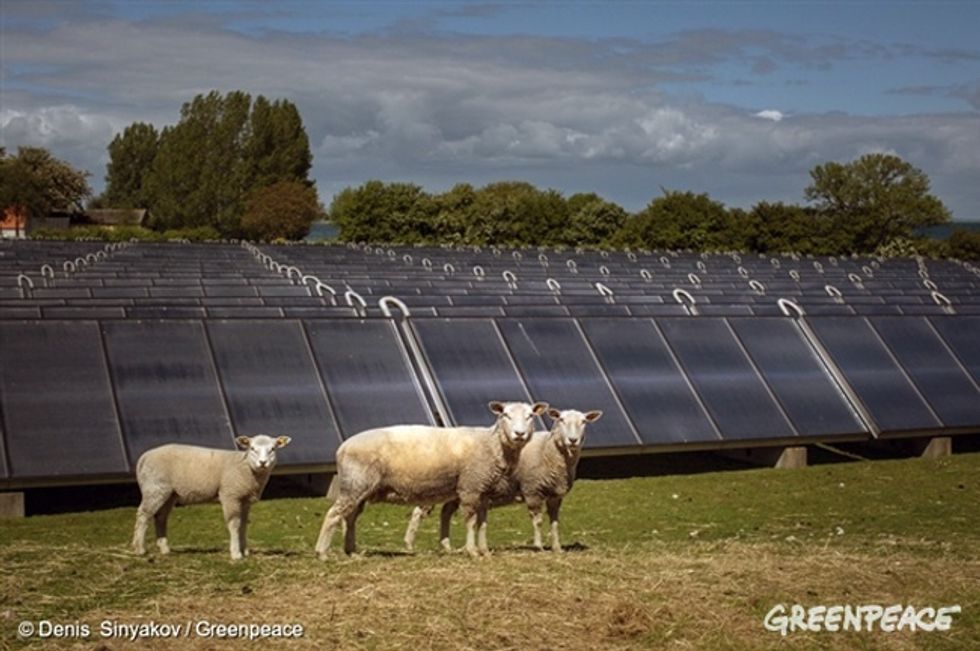 In Aeroe, a renewable energy island south of Denmark, straw is combined to solar panels to heat the cooperators. One third of the straw production of the island is thus used, heating 500 households. The area is also used as land for cattle grazing.
4. Solar Photovoltaic Power Plant in Tangtse: India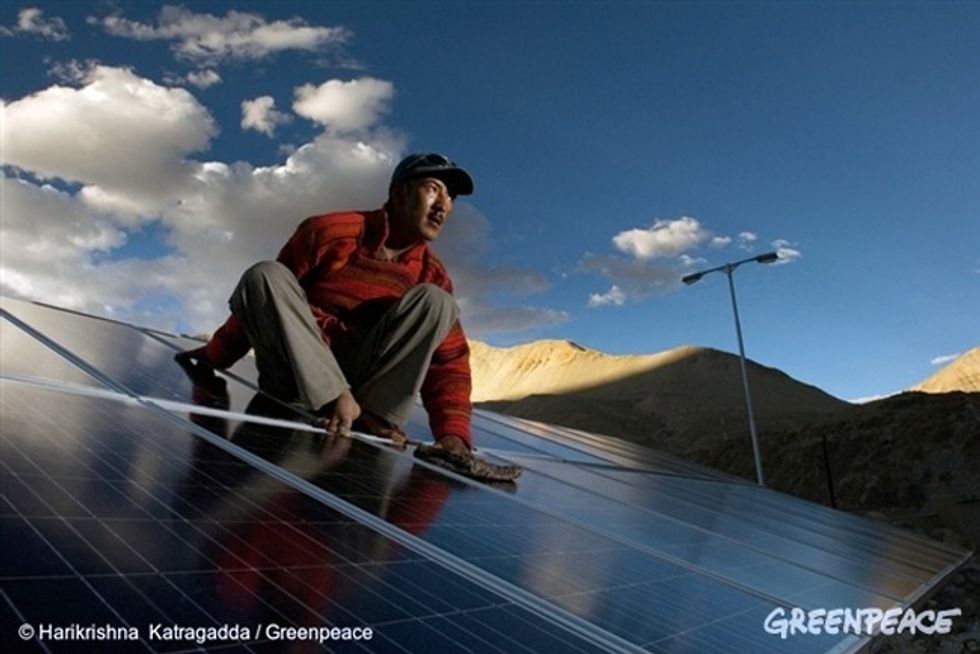 The 100 kWp stand-alone solar photovoltaic power plant at Tangtse, Durbuk block, Ladakh. Located 14,500 feet AMSL in the Himalaya, the plant supplies electricity to a clinic, a school and 347 houses in this remote location, for around five hours each day.
5. Solar-powered Reverse Osmosis Plant: India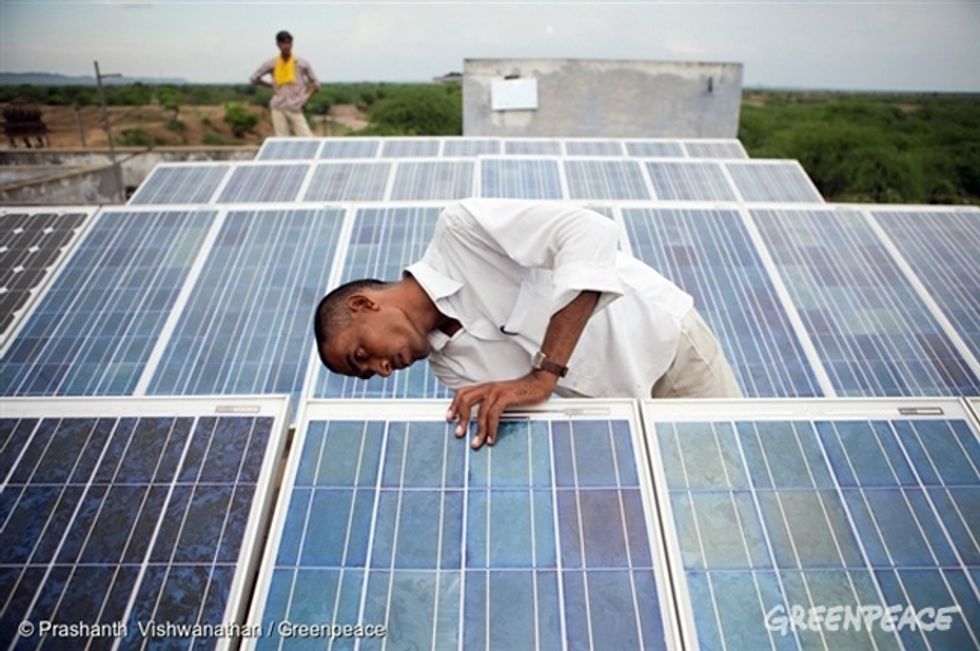 Parama Ram, 23, maintains the photovoltaic panels that power the desalination plant in Kotri Village, Rajasthan. The plant produces mor than 3000 liters of drinking water per day from the brackish groundwater reserves in the area. Parama lives above the plant and is one of its biggest advocates, personally persuading 100 of the 150 families that now collect the 'sweet' water to trust that the system was clean. Like many of the villagers, he would often have to drink the saline ground water before the plant was installed.
Do you like these projects? Take action and demand an Energy Revolution in your country.
YOU MIGHT ALSO LIKE
Does Elon Musk's Tesla Model S 'Signal the Beginning of the End for Oil?'
Facebook to Power New Data Center With 100% Wind Energy
Sunlight Striking Earth's Surface in Just One Hour Delivers Enough Energy to Power World Economy for Entire Year
EcoWatch Daily Newsletter
Related Articles from EcoWatch
Recent Stories from EcoWatch