This website uses cookies to ensure you get the best experience while browsing it. By clicking 'Got It' you're accepting these terms.
$43 Trillion: What Scientists Calculate a Warming Arctic Will Cost
Sep. 22, 2015 09:07AM EST
Climate
The melting permafrost in the Arctic could cost the world dearly. New research calculates that the economic damage that would flow from loss of permafrost and the increased emissions of greenhouse gases would add up to $43 trillion. 
This is very nearly the estimated combined gross domestic product last year of the U.S., China, Japan, Germany, UK, France and Brazil.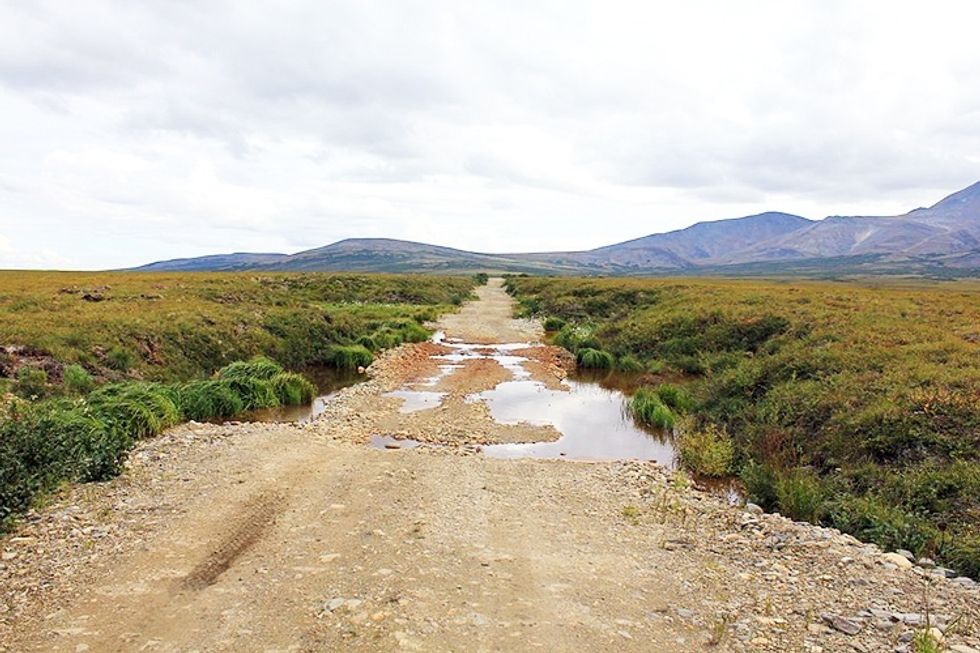 Melting permafrost has made this Alaskan road sink by 10 feet. Photo credit: Dr. John Cloud / NOAA
And, British and U.S. scientists say, this would be in addition to at least $300 trillion of economic damage linked to other consequences of climate change.
The attempt to put a cumulative economic value on natural changes in climate that have yet to happen is part of the bid to get governments to take climate change seriously. In the latest attempt to cost the impact of rising carbon dioxide levels in the atmosphere and the continuous rise in global average temperatures, all as a consequence of fossil fuel combustion and other human action, the economist Chris Hope of the University of Cambridge and the polar expert Kevin Schaefer of the University of Colorado have turned their sights on the Arctic.
The Arctic is the fastest-warming region of the planet. It was once much warmer and its now-frozen soils are home to huge quantities of vegetation that never had a chance to decompose.
Increased Risk
The two scientists report in Nature Climate Change that if emissions of greenhouse gases continue to rise as they are doing now, the thaw of the permafrost and the loss of the ice caps could release 1,700 billion metric tons of carbon now locked in as frozen organic matter.
What would follow would include a higher chance of catastrophic floods, wind storms, heat waves and drought, the accelerated melting of the Greenland (and West Antarctic) ice sheets, rising sea levels, the loss of agricultural land and rising energy demand as more and more people began to depend on air conditioning.
So the total cost of permafrost thaw would be $43 trillion, which is about half the annual global domestic product of the planet right now. The predicted total cost of climate change by 2200 could reach $369 trillion, an increase of 13 percent on all calculations so far.
Governments—and industry—have tended to resist steps such as a switch to renewable resources and greater care for the remaining forests, on the grounds that change on such a scale imposes economic costs. So estimates of the economic costs of climate change are part of an attempt to persuade nations that to do nothing would be far more expensive. 
Researchers have tried to derive the true social costs of, for instance, fossil fuels and the economic setbacks associated with specific climate events such as heat waves in single countries or even the possible costs in lives and income of multiple impacts across a continent. 
Expensive Inaction
Their conclusion: an extra $43 trillion bill for inaction. An aggressive strategy to limit thaw in the permafrost, on the other hand, could save the world $37 tn.
The two scientists used a computer model to simulate the impacts of what is now known as the business-as-usual-scenario, in which the world goes on burning more and more fossil fuels, until the concentrations in the atmosphere of carbon dioxide reach 700 parts per million.
Right now, the concentration has just tipped 400 ppm. For most of human history, it has hovered around 270 ppm.
"We want to use these models to help us make better decisions—linking scientific and economic models together is a way to help us do that," said Dr. Hope. "We need to estimate how much it will cost if we do nothing, how much it will cost if we do something and how much we need to spend to cut back greenhouse gases."
YOU MIGHT ALSO LIKE
Join National Day of Action Oct. 14 and Demand Leaders Tackle Climate Change
9 Celebrities #DemandClimateAction at Emmy's as Temperatures Reached 100ºF
Angry Birds Takes on Climate Change
EcoWatch Daily Newsletter
The staircase to a subway station in SOHO with a temporary closure, flood control installation sign. Jeffrey Greenberg / Universal Images Group / Getty Images
The Metropolitan Transit Authority in New York City tested out a new system designed to protect its subways stations from flooding when another super storm hits, creating a bizarre sight on Wednesday, as The Verge reported.
Flat-lay of friends eating vegan and vegetarian Thanksgiving or Friendsgiving dinner with pumpkin pie, roasted vegetables, fruit and rose wine. Foxys_forest_manufacture / Royalty-free / iStock / Getty Images
Thanksgiving can be a tricky holiday if you're trying to avoid animal products — after all, its unofficial name is Turkey Day. But, as more and more studies show the impact of meat and dairy consumption on the Earth, preparing a vegan Thanksgiving is one way to show gratitude for this planet and all its biodiversity.
Residents wear masks for protection as smoke billows from stacks in a neighborhood next to a coal fired power plant on Nov. 26, 2015 in Shanxi, China. Kevin Frayer / Getty Images
By Matt Berger
It's not just kids in the United States.
Children worldwide aren't getting enough physical activity.
That's the main conclusion of a new World Health Organization (WHO) study released Wednesday.
By Tim Ruben Weimer
Tanja Diederen lives near Maastricht in the Netherlands. She has been suffering from Hidradenitis suppurativa for 30 years. Its a chronic skin disease in which the hair roots are inflamed under pain — often around the armpits and on the chest.