400 Businesses, 120 Investors, 150 Cities Launch Paris Pledge for Climate Action
Dec. 16, 2015 11:12AM EST
Climate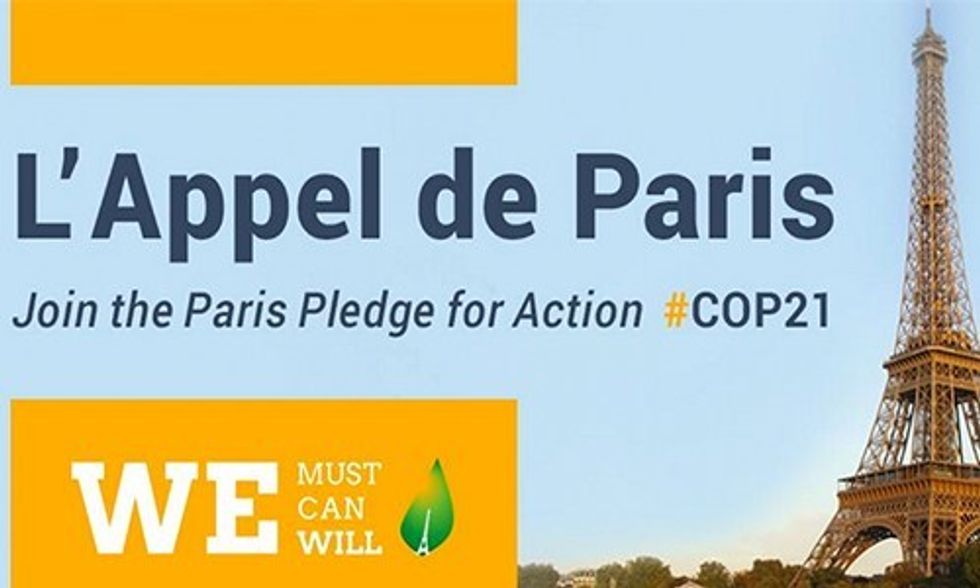 Last week at COP21 in Paris, governments of the world under the UN united in action on climate change by adopting the Paris agreement, the first universal, legally binding climate change deal. This agreement will spur a transformation of global growth and development and open the door to a low-carbon, stable, sustainable future, the French Presidency of COP21 said.
Today, approaching 700 major cities, regions, companies and investors—400 businesses, 120 investors and 150 cities—from around the globe promised to quickly and effectively help implement the Paris agreement and accelerate the transformative changes needed to meet the climate change challenge.
We must, we can and, together, we will solve climate change – join the Paris Pledge for Action #COP21 @COP21 https://t.co/EZ8YqhLVeq

— Nat Cap Partners (@Nat Cap Partners)1450256943.0
L'Appel de Paris or the Paris Pledge for Action, is a call to action in support of the Paris agreement which brings together a multitude of voices on an unprecedented scale within a single, collective statement:
"We welcome the adoption of a new, universal climate agreement at COP21 in Paris, which is a critical step on the path to solving climate change. We pledge our support to ensuring that the level of ambition set by the agreement is met or exceeded."
This landmark pledge is a clear signal that the message sent by the negotiations has been received loud and clear and that cities, regions, business, investors and other non-state actors are now ready and willing to stand shoulder to shoulder, alongside governments, to implement the terms of the agreement. This is our best opportunity to limit global temperature rise to well below 2 degrees Celsius—and pursue efforts to limit the increase to 1.5 degrees—and raise ambition even before the agreement takes effect in 2020.
L'Appel de Paris is an inclusive initiative by the French Presidency of COP21 that invites all businesses, regions, cities and investors to join and vow to act on the outcomes of the Paris UN Climate Change Agreement. It has already been signed by more than 400 businesses, 150 cities and regions and 120 investors controlling US$11 trillion in assets.
"Non-state actor leadership is key to the success of COP21 and to the effective transition to a low-emissions and climate-resilient future," French Foreign Minister Laurent Fabius, president of COP21, said. "The world needs you to step up and rise to the challenges of climate change and sustainable development. This is why I strongly encourage you to take bold actions and make ambitious commitments, both individually and collectively, register them on NAZCA and sign on to the Paris Pledge for Action, to make sure the commitments made in Paris by governments are achieved or even exceeded."
Initial signatories include businesses such as Acciona, Allianz, Mars, Kellogg's, Tata Group, Unilever; investors like Lloyd's and Aviva; megacities such as New York, Johannesburg, Quezon City, Hong Kong, Rio De Janeiro and Mexico City; and regions such as Cross River State (Nigeria), Scotland (UK), Chiapas (Mexico) and California (U.S.).
"COP21 was a landmark and not just for the Paris agreement by governments," Christiana Figueres, executive secretary of the UN Framework Convention on Climate Change, said. "The extraordinary momentum witnessed before and during the UN conference by cities, provinces, regions, companies and citizens was also a hallmark."
"The Paris Pledge for Action is about taking that momentum to the next level in support of nations as they work towards raising ambition up to 2020 and well beyond—it is about building ever more support by non-state actors who are aligning with government policy as never before."
Did you see the Paris Pledge for Action in today's @FT? Read the pledge here: https://t.co/xygSRiYuNI #COP21 https://t.co/lCkNTiXNLv

— UN Climate Action (@UN Climate Action)1450261876.0
The pledge uniquely incorporates under one roof a diverse range of entities that are already committed to quickly mitigate emissions and adapt to the impacts of climate change. These non-state actors include members of the Under 2 MOU, the White House Act on Climate Pledge, the Montreal Carbon Pledge, the Principles for Sustainable Insurance (PSI) Initiative, the We Mean Business "Road to Paris" initiatives, the Paris City Hall Declaration, ICLEI and many more. The pledge is open to more signatories and will spread around the world. All non-state actors are invited to join this call to action in support of the Paris agreement.
YOU MIGHT ALSO LIKE
San Diego Passes Strongest City-Wide 100% Clean Energy Law in America
Will Paris Agreement Save Us From Climate Chaos?
Carl Pope: Paris Agreement 'Greatest Single Victory Since Emergence of Modern Environmental Movement'
EcoWatch Daily Newsletter