This website uses cookies to ensure you get the best experience while browsing it. By clicking 'Got It' you're accepting these terms.
400 Arrested on Capitol Steps Protesting Big Money in Politics
Apr. 12, 2016 04:27PM EST
Politics
Vowing that this is "just the beginning," more than 400 people were arrested on Monday for holding a massive sit-in on the steps of the U.S. Capitol in Washington DC, protesting the influence of Big Money on the political system.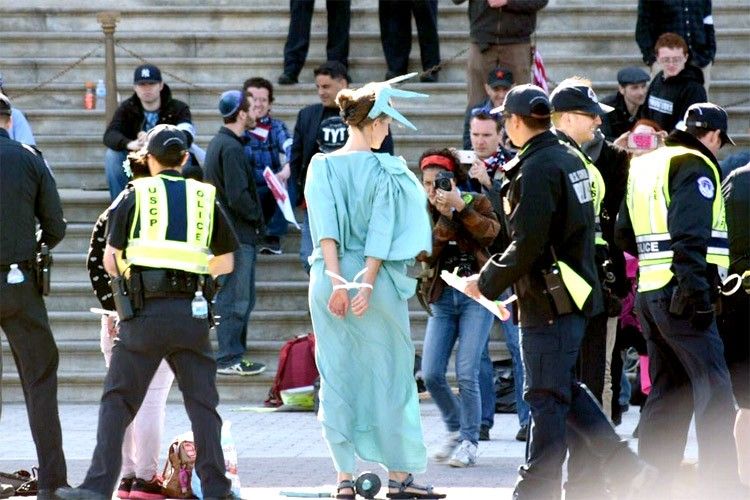 The civil disobedience campaign known as Democracy Spring is in the midst of an unprecedented mobilization featuring marches, sit-ins, teach-ins and rallies in the nation's capital, all aimed to pressure lawmakers to take a stand against the corrupt campaign finance system.
"Yesterday can be the beginning of the end of this corruption and inequality in our democracy," Kai Newkirk, campaign director for Democracy Spring, told Democracy Now! on Tuesday.
"We sent a message to Congress that we will not accept inaction to save our democracy. And we sent a message to everyone from for political office that you have to make a decision," added Newkirk, who was among those arrested.
"If you choose to defend the status quo of corruption, we believe there's going to be growing nonviolent resistance in the streets, at the Capitol, at your fundraisers, and in the polls, to say that we will not take it anymore. We demand an equal voice in our democracy and we are going to be back at the Capitol today, tomorrow, and the next day."
On Tuesday, organizers are holding a civil disobedience training session before they, once again, march from Union Station to the Capitol steps for another round of nonviolent sit-ins. The group will be joined by dozens of elder activists who say they want to leave future generations a working democracy.
The coalition, which includes members of more than 100 pro-democracy, civil rights, environmental and peace organizations, says that more than 3,700 people have pledged to risk arrest, which would make Democracy Spring "the largest American civil disobedience action in a generation."
Newkirk said that it took hours to process the nearly 500 arrests and that there will be even more people joining the sit-ins Tuesday. Activists were charged with "crowding, obstructing, and incommoding," according to a statement released by the U.S. Capitol Police.
Among those arrested on Monday were progressive leaders including Young Turks host Cenk Uygur, author and food justice activist Frances Moore Lappé, co-founder of CODEPINK Jodie Evans, and Umi Selah, human rights activist and founder of the Dream Defenders.
Meanwhile, others shared support for the demonstrators on Twitter:
The actions dovetail into a series of rallies, teach-ins and direct actions dubbed Democracy Awakening on April 16-18, during which more than 200 organizations representing hundreds of thousands of people will demand that Congress fill the vacant Supreme Court seat and pass legislation that restores voting rights and reforms the campaign finance system.
"This could be a moment that could turn the tide," Newkirk said.
The "vast majority of people in our country" agree that the political system is not representing us, he added. "It is corrupt and because of that we have a rigged economy. We want a government that is of, by, and for the people—not the one percent. And we stood up and sent a message that we are going to win that, one way or another."
YOU MIGHT ALSO LIKE
7 Great Examples of People and Communities Living a Post-Carbon World
Bernie Sanders Calls for Nationwide Ban on Fracking
The Most Powerful Oil and Gas Lobby You've Never Heard Of
EcoWatch Daily Newsletter
Brown bear fishing for salmon in creek at Pavlof Harbor in Tongass National Forest, Alaska. Wolfgang Kaehler / LightRocket / Getty Images
The Trump administration has moved one step closer to opening Earth's largest intact temperate rainforest to logging.
The Democratic primary candidates take the stage during Tuesday's debate. SAUL LOEB / AFP via Getty Images
On Tuesday night, the Democratic presidential candidates gathered for what The Guardian said was the largest primary debate in U.S. history, and they weren't asked a single question about the climate crisis.
A. Battenburg / Technical University of Munich
By Sarah Kennedy
Algae in a pond may look flimsy. But scientists are using algae to develop industrial-strength material that's as hard as steel but only a fraction of the weight.
Variety of fermented food korean traditional kimchi cabbage and radish salad. white and red sauerkraut in ceramic plates over grey spotted background. Natasha Breen / REDA&CO / Universal Images Group / Getty Image
Even if you've never taken probiotics, you've probably heard of them.
These supplements provide numerous benefits because they contain live microorganisms, such as bacteria or yeast, which support the healthy bacteria in your gut (1, 2, 3, 4).
Pexels
Singapore will become the first country in the world to place a ban on advertisements for carbonated drinks and juices with high sugar contents, its health ministry announced last week. The law is intended to curb sugar consumption since the country has some of the world's highest diabetes rates per capita, as Reuters reported.
A typical adult takes around 20,000 breaths per day. If you live in a megacity like Beijing, with many of those lungfuls you're likely to inhale a noxious mixture of chemicals and pollutants.
Fred Stone holds his brown swiss cow Lida Rose at his Arundel dairy farm on March 18 after a press conference where he spoke about PFAS chemical contamination in his fields. Gregory Rec / Portland Portland Press Herald via Getty Images
By Susan Cosier
First there was Fred Stone, the third-generation dairy farmer in Maine who discovered that the milk from his cows contained harmful chemicals. Then came Art Schaap, a second-generation dairy farmer in New Mexico, who had to dump 15,000 gallons of contaminated milk a day.
Protesters attend the 32nd annual Fur-Free Friday demonstration on Nov. 23, 2018 in Beverly Hills, California. Ella DeGea / Getty Images
California Governor Gavin Newsom signed into law a bill that that bans the sale and manufacture of fur products in the state. The fur ban, which he signed into law on Saturday, prohibits Californians from selling or making clothing, shoes or handbags with fur starting in 2023, according to the AP.