This website uses cookies to ensure you get the best experience while browsing it. By clicking 'Got It' you're accepting these terms.
400,000 Demand Climate Action Now at Largest Climate March in World History
Sep. 21, 2014 01:57PM EST
Climate

Today in New York City 400,000 people attended what is now known as the largest climate action in world history.
The march in New York City was by far the largest of the 2,808 People's Climate rallies that took place today in 166 countries from around the world. From the crowded streets of New Delhi to Melbourne to Johannesburg, hundreds of thousands of people took part in the weekend's global events.
"This is the most important day yet in the history of the climate movement—around the world and across New York people have said 'enough is enough—we demand serious action now,'" said Bill McKibben co-founder of 350.org.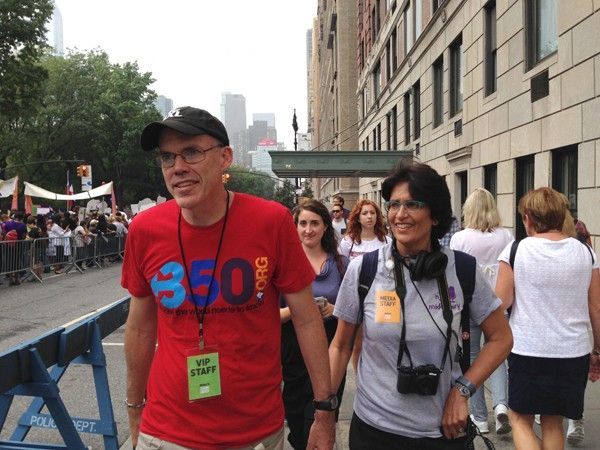 "In a few days, more than 100 heads of state and government leaders from around the world, including President Obama, will convene in New York City for a United Nations summit on climate change," said Sen. Bernie Sanders (D-VT). "They will discuss the planetary crisis of global warming and the dramatic steps we must take to reduce carbon emissions and leave a habitable planet for our kids and our grandchildren. Looking toward the summit, the People's Climate March on Sunday will be the largest climate action in history. Environmental organization, unions, faith groups, social justice groups, schools, businesses, government leaders and grassroots organizers will all send a message that world leaders need to hear at the United Nations on Tuesday and that the Congress needs to hear when it returns to Washington, D.C. in November. I am proud to participate in this urgent, historic event."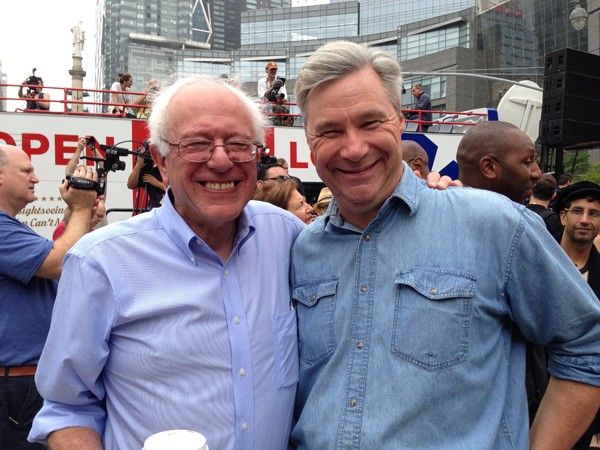 Sen. Sheldon Whitehouse (D-RI) shared his insights on this historic day. "The thousands of Americans converging on New York City today will help to send a clear message: it is time to wake up and act on climate change. It's time to tell the special interests that continue to deny the science and mislead the public to step aside, and make way for progress. I am proud to be lending my feet and my voice to this effort, and I thank all Americans who will be making the trip."
At sunrise in Manhattan, indigenous leaders hosted a ceremony to offer prayers for the land, water, air and the protection of frontline peoples across the globe. The march began at 11:30 a.m. at Columbus Circle. At 1 p.m., after a moment of silence to honor those impacted by climate change and the fossil fuel industry, the march "Sounded the Climate Alarm" with drums, trumpets, vuvuzelas and more than 20 marching bands. Churches across the city rang their bells and Jewish temples blew their shofars, as part of this global chorus calling for climate action.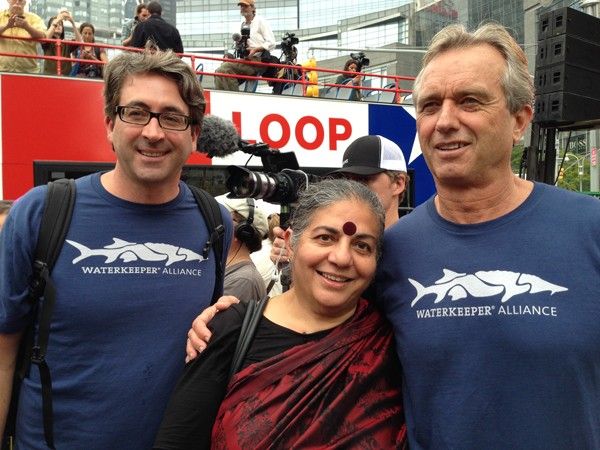 "I marched today on behalf of my two children and the clean and safe world I want them to inherit, and the 226 Waterkeeper organizations around the world who are on the front lines of climate change," said Marc Yaggi, executive director of the Waterkeeper Alliance. As we've seen, the climate crisis is really a water crisis. Waterkeepers urge the world leaders meeting here in New York this coming week to finally stop talking about climate change and take the action necessary to protect our collective future. The whole world is watching."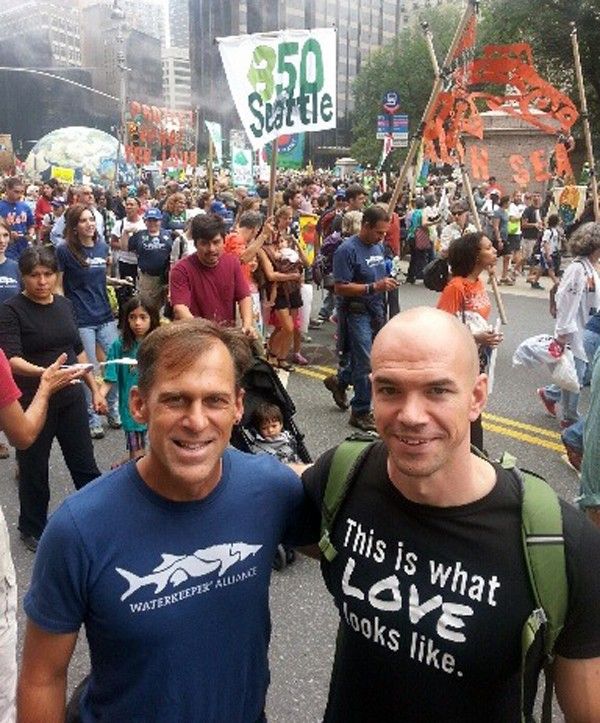 The front of the march ended around 2 p.m. at the Climate Block Party on 11th Avenue where marchers gathered to celebrate the huge turnout of people who say "Now is the time for climate action."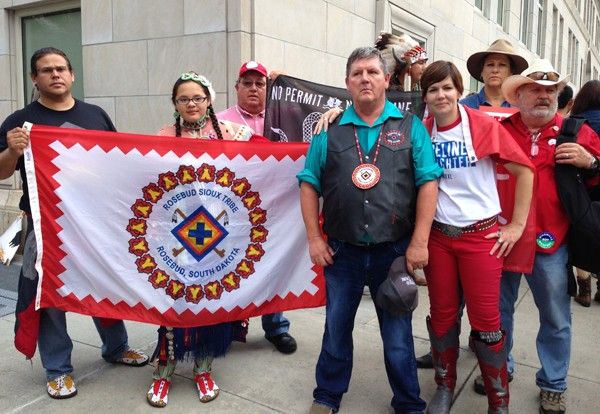 The march was organized by 1,572 organizations including indigenous, faith, labor, environmental justice, social justice, youth and environmental groups.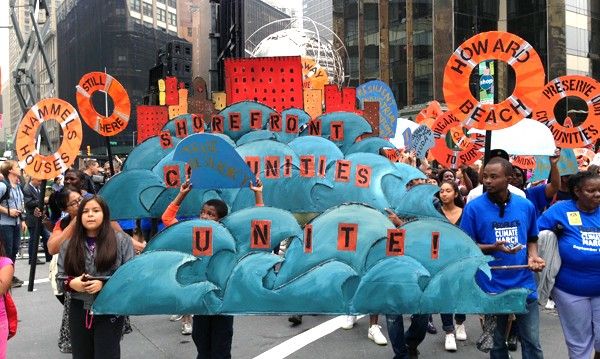 "With our future on the line and the whole world watching, we'll take a stand to bend the course of history," according to the People's Climate March website. "We'll take to the streets to demand the world we know is within our reach: a world with an economy that works for people and the planet; a world safe from the ravages of climate change; a world with good jobs, clean air and water, and healthy communities."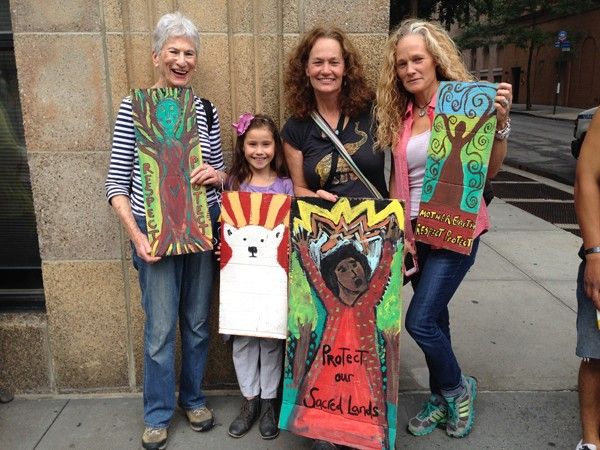 "The People's Climate March has given tens of thousands of passionate and dedicated allies an opportunity to let the world's leaders know that we support setting the highest possible goals to address climate pollution, and that the United States must fully embrace and lead a worldwide effort to accelerate the 21st Century's complete transformation to a prosperous clean energy economy," said Michael Brune, executive director of the Sierra Club.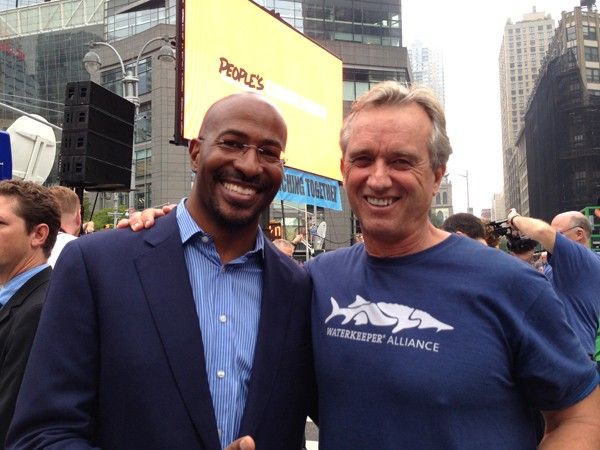 "We join the People's Climate March to let global climate leaders know that in order to address the threat of climate change, they cannot underestimate the climate impacts of methane leaks from fracking," said Wenonah Hauter, executive director of Food & Water Watch. "Fracked gas cannot be viewed as a 'bridge fuel' to a better climate future, as transitioning from one fossil fuel to another will not reverse the climate crisis. It is time to move beyond fossil fuels to a renewable and sustainable energy future."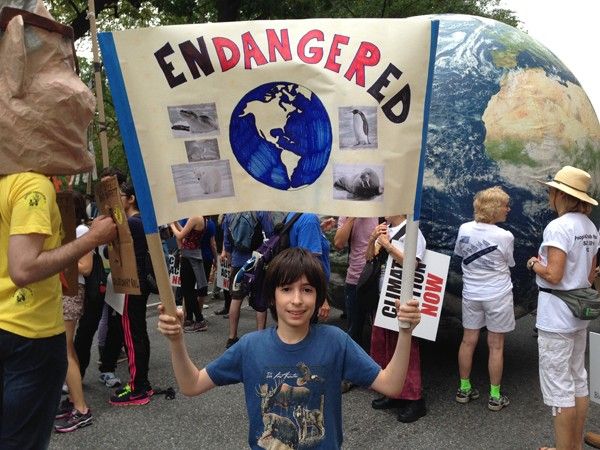 "When people lead, leaders listen. In fact, it's the only way to be sure they will." said Steve Kretzmann, executive director of Oil Change International. "The hundreds of thousands of people in the streets of New York today are only a fraction of the millions around the world who are blocking pipelines, stopping coal plants, and building a new clean energy future one solar panel at a time. An obvious next step would be for governments to stop wasting billions of taxpayer dollars to make the problem worse. 'Stop Funding Fossils' should be at the top of every climate leaders' to do list."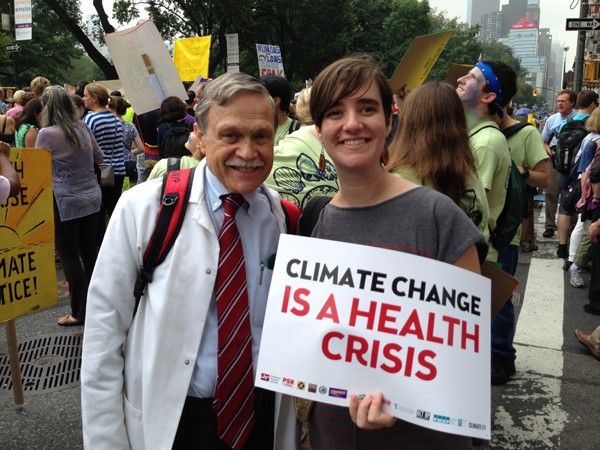 "Shell is set to drill for oil in the American Arctic waters next year. More oil to burn means more global warming, so what happens in the Arctic affects us all," Annie Leonard, executive director of Greenpeace USA. "Communities near and far, from the Rockaways, to Alaska, to Kiribati, are suffering the impacts of climate change ... Greenpeace is joining the People's Climate March to stand in solidarity with our friends, allies, and partners that are fighting for environmental justice, and say to the polluters that "enough is enough."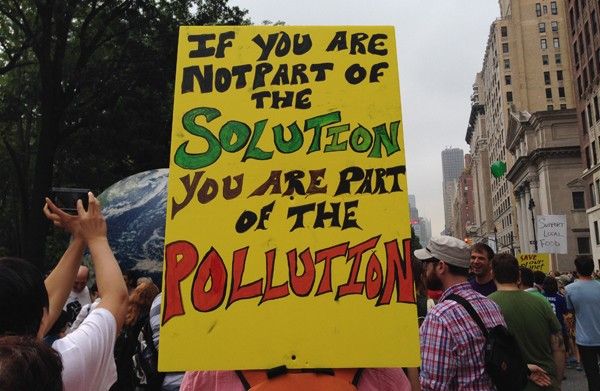 "The sea of humanity on the streets of New York today sends a powerful, impassioned message to the world: The time to act on climate is now," Frances Beinecke, president of the Natural Resources Defense Council. "These marchers are living proof that climate change is more than an environmental issue—it's about justice and job creation, our health and communities, and ultimately about our future. Our leaders must take urgent action to protect our children, defend our future, and change the world."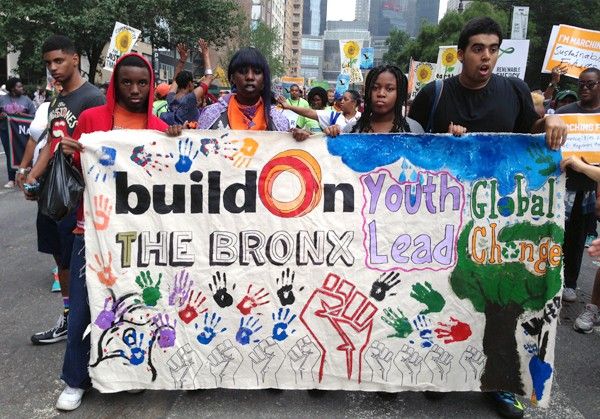 "Brothers and sisters, we're calling out to the world to join together for true change. Let's leave the oil beneath the ground," said Patricia Gualinga, international relations director for Kichwa indigenous community of Sarayaku, Ecuadorian Amazon. "The Sarayaku indigenous people believe that instead of bringing 'development', the oil industry is destructive for indigenous society, non-indigenous society, the planet, and nature. It disrupts our indigenous worldview and destroys our ecosystems. That's why we vociferously fight so that oil is not extracted from our territories."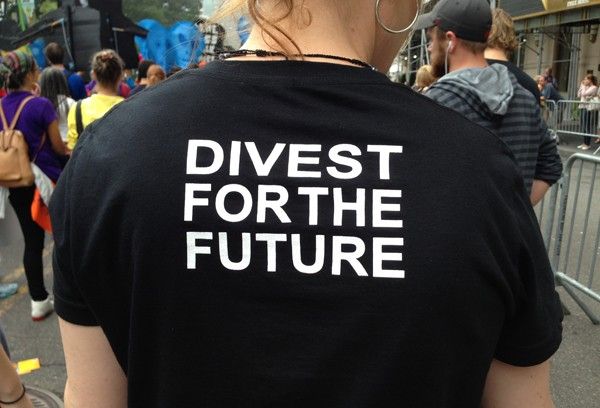 "Since humanity's survival depends on not burning two-thirds of our global oil reserves, it is imperative that we take action now by limiting fossil fuel extraction, especially in highly sensitive regions," said Atossa Soltani, executive director of Amazon Watch. "Some places should be entirely off-limits to oil drilling. The Amazon basin is one of those places. This diverse biosphere is a keystone area in combating climate change since it regulates our planet's health. If we protect the Amazon, we can prevent compound disastrous effects across the globe. The People's Climate March is our opportunity to send a clear and united global call of action to keep the oil in the ground, starting with the Amazon."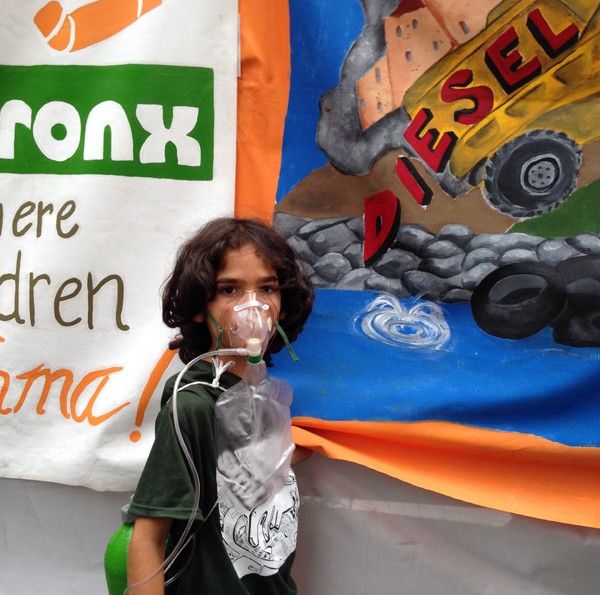 "Throughout history, young people have risked everything to force major social change. The climate crisis is no different. We will march en masse," said Maura Cowley, executive director of Energy Action Coalition. "We will use our financial power to make college university's divest from fossil fuels. And we will use our bodies, and risk arrest to stop business as usual for fossil fuel profiteers on Wall Street. The massive showing at the People's Climate March demonstrates we are ready to shut down the big polluters, and we will stop at nothing less."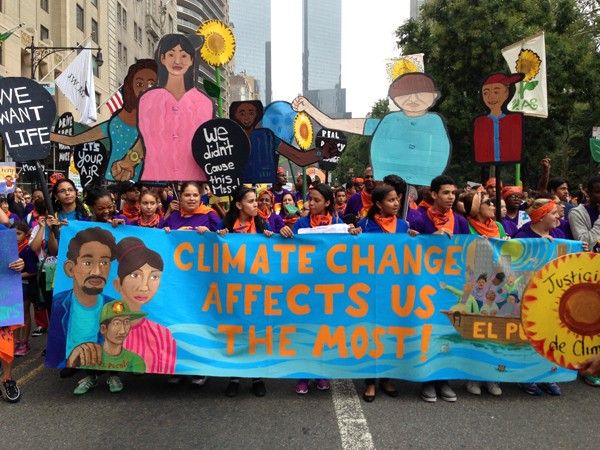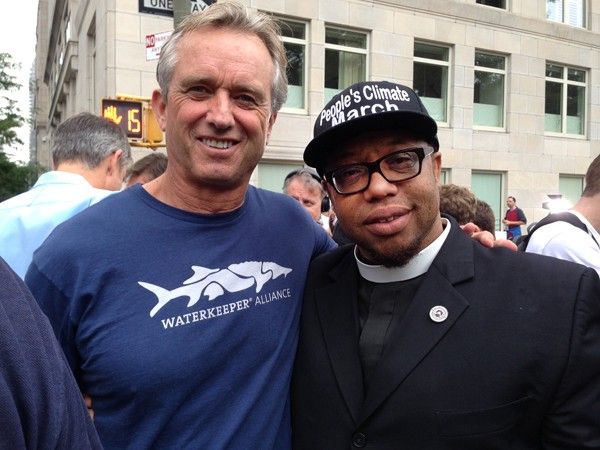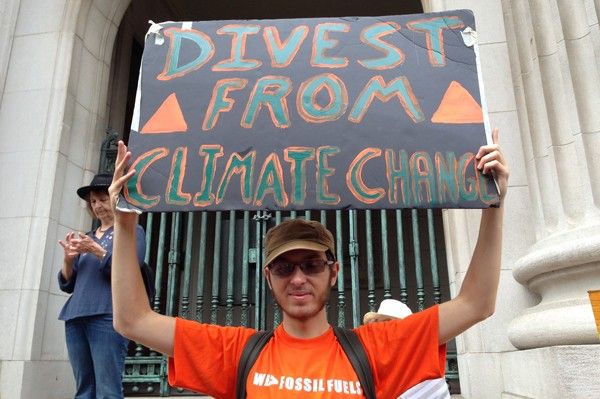 "Climate Action must be rooted in justice. The frontlines of the climate crisis are low-income people, communities of color and indigenous communities here in the U.S. and around the globe," said Cindy Wiesner, co-director of The Climate Justice Alliance. "We are the hardest hit by both climate disruption—the storms, floods and droughts—as well as by the extractive, polluting and wasteful industries causing global warming. We are also at the forefront of innovative community-led solutions that ensure a just transition off fossil fuels, and that support an economy good for both people and the planet. That is why Climate Justice Alliance members are here in the thousands, to march and say to global leaders: we have the solutions to ecological and economic crises."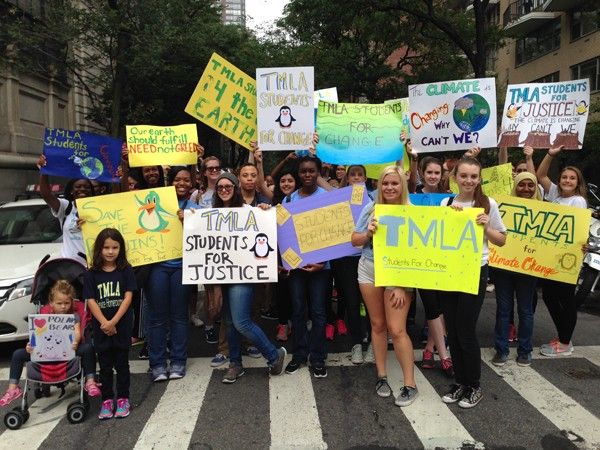 "With so much at stake and a historical opportunity, this is the time to gather family, friends and neighbors and let them know that what's at stake is our livability," said Elizabeth Yeampierre, executive director of Uprose. "Now is the time build momentum and roll in deep with our loved ones into the Peoples Climate March!"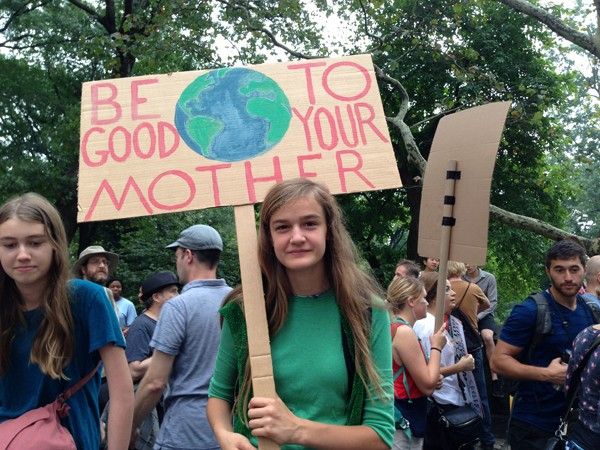 "I may be an old coal miner, but I know that global warming is real," said Stanley Sturgill, retired coal miner, and member of Kentuckians for the Commonwealth. "I also know that things can be changed. I know we don't have to destroy our world. That's why I'm joining the Climate March."
YOU ALSO MIGHT LIKE
'This Changes Everything' Including the Anti-Fracking Movement
McKibben to Obama: Fracking May Be Worse Than Burning Coal
People's Climate March = Tipping Point in Fight to Halt Climate Crisis
EcoWatch Daily Newsletter
Artist's conception of solar islands in the open ocean. PNAS
Millions of solar panels clustered together to form an island could convert carbon dioxide in seawater into methanol, which can fuel airplanes and trucks, according to new research from Norway and Switzerland and published in the Proceedings of the National Academy of Sciences journal, PNAS, as NBC News reported. The floating islands could drastically reduce greenhouse gas emissions and dependence on fossil fuels.
Marcos Alves / Moment Open / Getty Images
More than 40 percent of insects could go extinct globally in the next few decades. So why did the U.S. Environmental Protection Agency (EPA) last week OK the 'emergency' use of the bee-killing pesticide sulfoxaflor on 13.9 million acres?
EcoWatch teamed up with Center for Biological Diversity via EcoWatch Live on Facebook to find out why. Environmental Health Director and Senior Attorney Lori Ann Burd explained how there is a loophole in the The Federal Insecticide, Fungicide, and Rodenticide Act under section 18, "that allows for entities and states to request emergency exemptions to spraying pesticides where they otherwise wouldn't be allowed to spray."
Simple swaps that cut down on kitchen trash.
Sponsored
By Kayla Robbins
Along with the bathroom, the kitchen is one of the most daunting areas to try and make zero waste.
View of downtown Miami, Florida from Hobie Island on Feb. 2, 2019.
Michael Muraz / Flickr
The Democratic candidates for president descended upon Miami for a two-night debate on Wednesday and Thursday. Any candidate hoping to carry the state will have to make the climate crisis central to their campaign, as The New York Times reported.
By Sharon Kelly
On Monday, the Wall Street Journal featured a profile of Scott Sheffield, CEO of Pioneer Natural Resources, whose company is known among investors for its emphasis on drawing oil and gas from the Permian basin in Texas using horizontal drilling and hydraulic fracturing, or fracking.
Pexels
By Craig K. Chandler
The federal government has available to it, should it choose to use them, a wide range of potential climate change management tools, going well beyond the traditional pollution control regulatory options. And, in some cases (not all), without new legislative authorization.
Denis Poroy / Getty Images
By Dan Gray
Processed foods, in their many delicious forms, are an American favorite.
But new research shows that despite increasing evidence on just how unhealthy processed foods are, Americans have continued to eat the products at the same rate.
By Sarah Steffen
With a profound understanding of their environmental surroundings, indigenous communities around the world are often cited as being pivotal to tackling climate change.