4 Ways to Lower Cost of Going Solar
Nov. 11, 2013 05:06PM EST
Business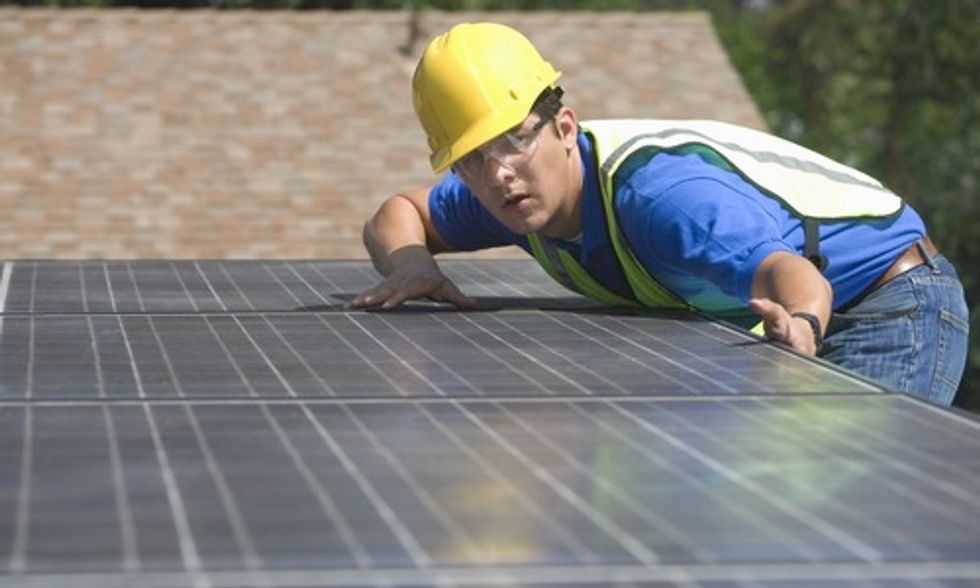 For each year the industry continues without universal standards, powering every U.S. home and business with solar energy becomes more difficult.
The Rocky Mountain Institute (RMI) and National Renewable Energy Laboratory (NREL) on Monday agreed the industry needed to "double down" on a unified effort to lower the cost of residential and small commercial installations. The two organizations issued the Roadmap to 2020 report less than two months ago, but said Monday that some of its short-term goals might not be attainable if changes don't take place. That became crystal clear after meeting with more than 70 solar developers, equipment manufacturers, researchers, installers and government staff at RMI and NREL's Soft Cost Impact Forum in Chicago, IL.
"As seen below, the summary roadmap charts scream in crimson red about the costs of installation labor," RMI principal Dan Seif and senior associate Jesse Morris wrote in an update about the roadmap. " It's highly uncertain that installation costs in the U.S. can reach low enough levels to realize [U.S. Department of Energy] SunShot targets by 2020, and the cost trajectory looks like it will hit some pretty rough waters in just three years."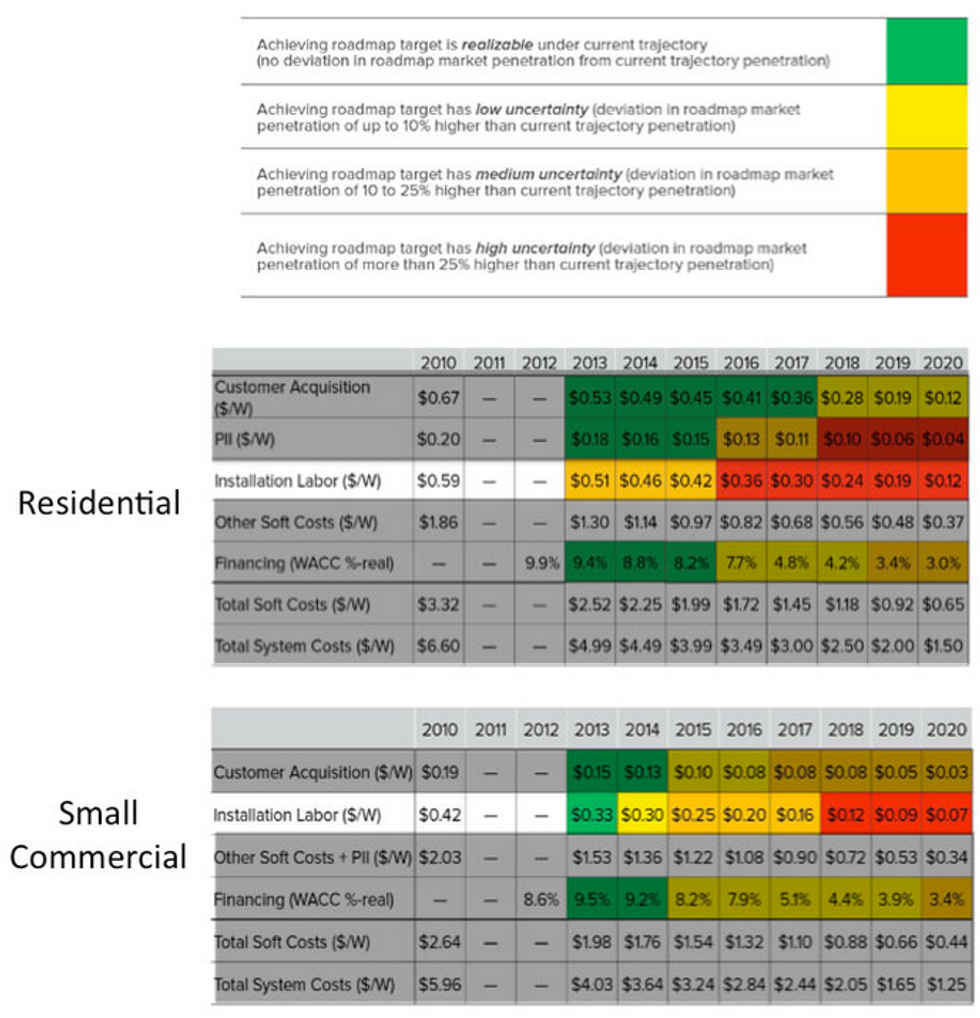 The two organizations took the information from those breakout sessions to develop four suggestions for lowering the cost of going solar:
Develop an agency to ensure photovoltaic standards
"If you need a new alternator for a 2005 Toyota Tacoma, there's a standard guidebook for the flat rate of that part anywhere for auto mechanics and their customers," Seif and Morris write, but that's not the case in the solar industry. The industry would benefit from establishing a body responsible for managing installation process, hardware and bidding standards. Construction estimator RS Means is an example of what's needed, according to Seif and Morris.
A defined presentation method for solar integrators—eliminating reworks and specialized training for each new integrator or integrator program—could lead to fewer administrative costs.
Establishing a common bidding system would make it easier to find quality installers and savings opportunities while also revealing corner cutters.
 Create the solar industry's version of Wikipedia
Seif and Morris describe this idea as "a business-to-business, crowd-sourced, user-certified information web portal focused on installer input for sharing best practices and product experiences, and for providing consolidated feedback to PV module and hardware manufacturers."
Shared practices on this site could help with feedback for specific areas and utilities, as well as regional permitting, inspection and interconnection challenges.
"The true cost savings of various equipment and systems and the ability to best leverage efficiencies from these products with smart work practices are not broadly understood past the salesperson's claims," according to the RMI. "This knowledge is held within the industry, slowing the pace of cost reductions."
Create a national solar database
Jurisdictional requirements that drive costs up would be clearly stated and determined by analyzing the installer, project address, electrical configuration, racking system and more.
"Smart installers would quickly try to determine what clusters of low-priced system or system elements can be implemented in their local markets," the RMI staff members wrote.
Define what solar-ready means through a standards campaign
"Perhaps we could learn a little from the LEED certification process (or maybe integrate with it) and make these designations certifiable, and possibly also tiered," RMI suggests. "As we've seen from LEED and other top green building standards, getting certified is a big deal to many builders and investors."
A strong "solar ready" standard would better inform home buyers what they're getting, also potentially helping the real estate market because a cheap, future solar installation would be a selling point for an environmentally conscious consumer.
A definition for "solar-ready" could inspire future regulators to create and pass new, smarter policies around it.
Visit EcoWatch's RENEWABLES page for more related news on this topic.

EcoWatch Daily Newsletter
Related Articles from EcoWatch
Recent Stories from EcoWatch