This website uses cookies to ensure you get the best experience while browsing it. By clicking 'Got It' you're accepting these terms.
4 Ways to Get Rid of Seasonal Allergies
Jun. 27, 2016 09:14AM EST
Food
"Dr. Hyman, I've been suffering from seasonal allergies for years," writes this week's house call. "Is there anything that I can do to make these go away or am I doomed forever?"
You are definitely not doomed; however, I do know how miserable seasonal allergies can be, especially in the spring and summer.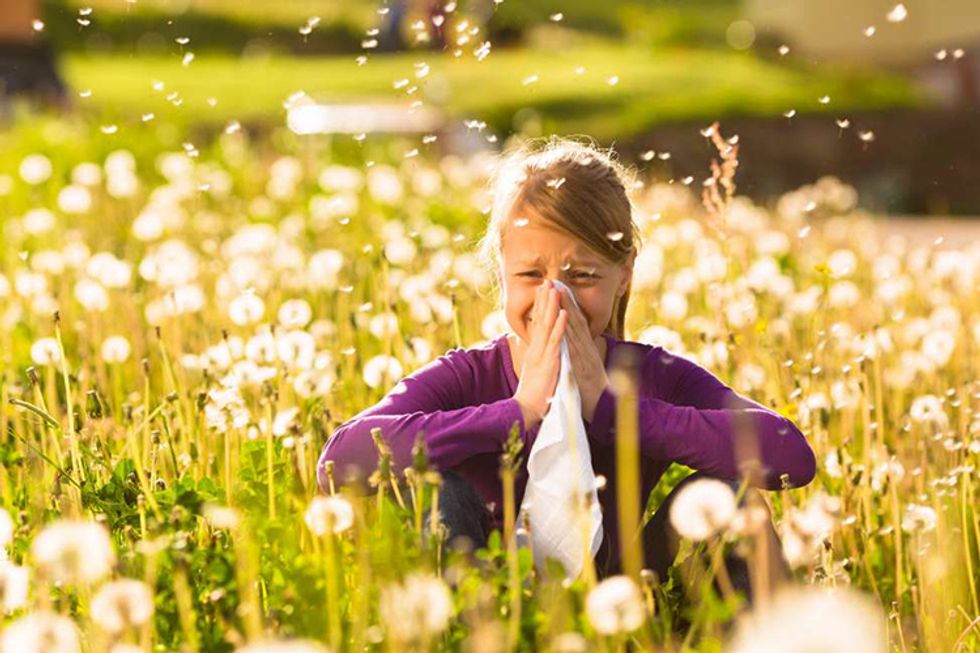 Conventional medicine treats seasonal allergies with injections and pills, which unfortunately creates side effects and fails to address the root problem. If you don't address the root cause, then the allergies will never go away.
I've seen countless patients arrive complaining about gut issues. Once we fixed their diets and healed their guts, their seasonal allergies also disappeared. When the immune system (60 percent of which is in the gut) is irritated, it reacts to everything—kind of like when you don't get enough sleep everything makes you more irritable.
One patient struggled with allergies, asthma and hives. She almost nearly died twice from anaphylaxis. She arrived in my office on 42 different pills, sprays and inhalers; yet, she still felt awful. These drugs were suppressing and inhibiting her immune function, causing her body to attack everything. None of her doctors had questioned why her immune system was so compromised in the first place. But due to my Functional Medicine approach, that's the first question I asked.
Turned out, she had leaky gut that was triggered by celiac disease, a gluten-related autoimmune disease. Until that point, nobody had actually tested her for this condition. When we eliminated gluten and other dietary allergens, we healed her leaky gut and calmed down her allergies. Thankfully, after six weeks she was able to stop the 42 medications she used daily.
For her and countless other patients, a key strategy involves getting your gut healthy. After all, an unhealthy, inflamed gut can't fight off potential allergens. To do that and eliminate seasonal allergies, I've found these four strategies incredibly helpful:
1. Replace bad with good. An elimination diet becomes the first step for a healthy gut. The simple foundation of Functional Medicine is taking out the bad and putting in the good. Eliminate common toxic triggers like wheat, corn, dairy, soy and alcohol. Eat a whole foods, high-fiber diet that is rich in anti-inflammatory plant chemicals called phytonutrients. Avoid anything that contains sugar or trans fats. Focus on eating healthy fats from extra virgin olive oil, nuts, avocados and omega-3 fats like those found in small fish (sardines, herring, sable, wild-caught salmon). I provide an easy-to-implement plan in my book Eat Fat, Get Thin.
2. Use powerful gut-healing nutrients—including probiotics, which provide good bacteria to improve digestion and reduce inflammation. Other gut-healing nutrients include glutamine, zinc, curcumin and fish oil. I always recommend a high-quality multivitamin. Quercetin (which has anti-inflammatory and anti-histamine properties) and nettles can also relieve symptoms from allergies. You can find these and other allergy-relieving supplements in my store.
3. Manage stress. A mind-body disconnect can mean being stressed out, wired and tired and can really damage your gut and worsen seasonal allergies. Practice relaxation techniques like yoga or meditation every day.
4. Get adequate sleep. Optimal sleep is crucial for gut health and overall health. Research shows inadequate sleep shortens your lifespan and increases inflammation, which can lead to chronic disease. Insufficient sleep can also increase your risk for diabetes through insulin resistance, paving the way for diabesity. Aim for at least eight hours of uninterrupted, deep sleep every night. To help meet that quota, check out my eight simple hacks for a better night's sleep.
Occasionally, I'll have a patient who has tried all these things and still suffers. In those cases, we need to dig a little deeper for other causes such as food additives, pesticides, chemicals and pollution in their environment. You should also check for mold in your home or work—check out this site to learn more.
Also, consider a very important blood test called C-reactive protein, which measures the degree of hidden inflammation in your body. Almost every modern disease is caused by or affected by hidden inflammation, including heart disease, cancer, obesity, dementia, arthritis, autoimmune disease, allergies and digestive disorders.
Chronic inflammation that contributes to seasonal allergies and much more can come from many sources, including:
Inflammatory fats like omega 6 fats found in processed vegetable oils and trans fat
Hidden or chronic infections, such as viruses, bacteria, yeasts or parasites, mold and other environmental allergens
Toxicity from an overload of environmental toxins
Ultimately, lifestyle choices and how we care for our bodies and souls is not part of our education, values or even our daily planning; yet, these basic skills form the root cause of our happiness and health.
While these principles are disarmingly simple, even the best and brightest people fail to make the connection between how we treat our bodies and how we feel. Most of us never learned how to care for and feed our bodies and souls. A few simple acts implemented into your daily life could change everything, including seasonal allergies.
YOU MIGHT ALSO LIKE
10 Ways to Stop Eating Late at Night
11 Foods That Would Disappear Without Pollinators
Sea Salt vs. Table Salt: Which Is Healthier?
EcoWatch Daily Newsletter
A Starbucks barista prepares a drink at a Starbucks Coffee Shop location in New York. Ramin Talaie / Corbis via Getty Images
By Cathy Cassata
Are you getting your fill of Starbucks' new Almondmilk Honey Flat White, Oatmilk Honey Latte, and Coconutmilk Latte, but wondering just how healthy they are?
By Sharon Kelly
Back in April last year, the Trump administration's Environmental Protection Agency decided it was "not necessary" to update the rules for toxic waste from oil and gas wells. Torrents of wastewater flow daily from the nation's 1.5 million active oil and gas wells and the agency's own research has warned it may pose risks to the country's drinking water supplies.
Swedish climate activist Greta Thunberg takes part in a "Friday for Future" youth demonstration in a street of Davos on Jan. 24, 2020 on the sideline of the World Economic Forum annual meeting. FABRICE COFFRINI / AFP via Getty Images
Treasury Secretary Steven Mnuchin pretended not to know who Greta Thunberg is, and then he told her to get a degree in economics before giving world leaders advice, as The Guardian reported.
The Visible Infrared Imaging Radiometer Suite on the Suomi NPP satellite acquired this image of forest fire smoke hovering over North America on Aug. 15, 2018. NASA Earth Observatory
New York City isn't known for having the cleanest air, but researchers traced recent air pollution spikes there to two surprising sources — fires hundreds of miles away in Canada and the southeastern U.S.
If temperatures continue to rise, the world is at risk from global
sea-level rise
, which will flood many coastal cities as seen above in Bangladesh. NurPhoto / Contributor / Getty Images
The mounting climate emergency may spur the next global financial crisis and the world's central banks are woefully ill equipped to handle the consequences, according to a new book-length report by the Bank for International Settlements (BIS), as S&P Global reported. Located in Basel, Switzerland, the BIS is an umbrella organization for the world's central banks.