This website uses cookies to ensure you get the best experience while browsing it. By clicking 'Got It' you're accepting these terms.
4 Ways to Determine if Your Nutritional Supplement Is Healthy for You
Oct. 19, 2015 01:59PM EST
Food
They may seem like "easy fixes," but multivitamins, dietary supplements and energy-boosting pills may not be the safe cures they promise to be. A new federal study, completed by the Centers for Disease Control and Prevention in association with the Food and Drug Administration and published in the New England Journal of Medicine, reports that supplements were the reasons behind approximately 23,000 emergency room visits each year.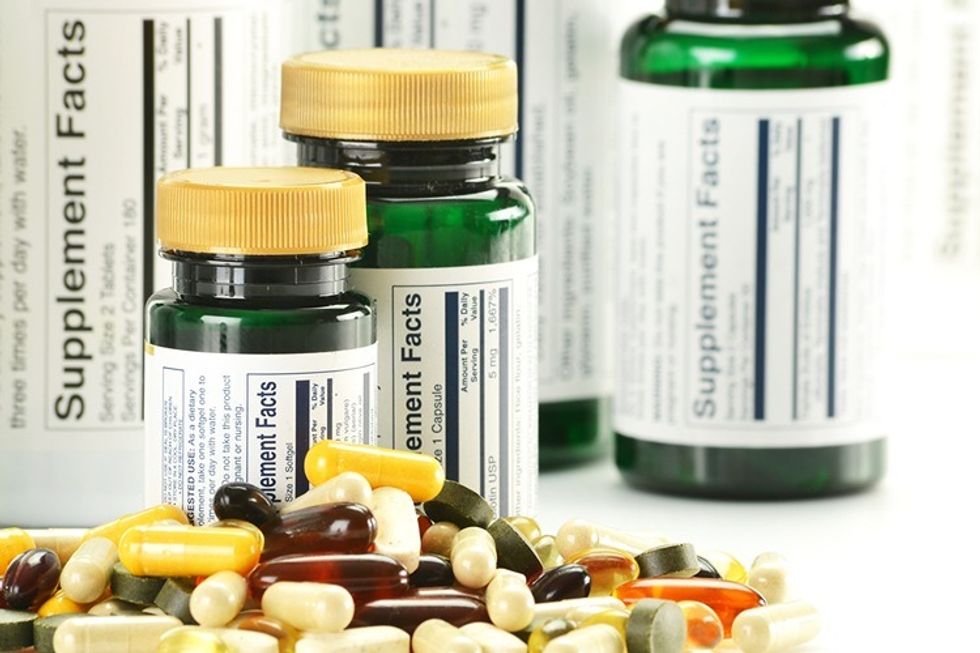 The complications with the supplements show that the popular pills can have seriously adverse effects. Photo credit: Shutterstock
From heart problems—which include irregular heartbeat and chest pain—to choking on pills or even accidental ingesting of pills by children, the complications with the supplements show that the popular pills can have seriously adverse effects.
Weight loss and energy pills—the most common supplements taken—were behind the majority of the visits. By studying the emergency visits throughout a 10-year period of time, researchers investigated the ones where dietary supplements were involved. Patients reported severe allergic reactions, nausea, vomiting and heart troubles, from having taken supplements. But as one doctor notes, the statistics may not even scratch the surface.
"This is just a sampling of emergency rooms around the country," says Mark Moyad, MD, MPh, author of The Supplement Handbook. "Patients who have side-effects from supplements don't always think of emergency rooms. They think of urgent care or their primary care doctors. If [this study] is not capturing all of the urgent cares and minute clinics and visits to the internists or primary care doctors, that number is much higher."
In fact, as the study notes, the 23,000 patients who visited the emergency room are just one-tenth of one percent of the number of people who use supplements. But as Moyad points out, it could be much higher.
"This has been a long time coming and I think the real number are a lot larger than this," Moyad adds.
So if you're considering adding a supplement to your diet, follow Moyad's top recommendations for supplement care:
1. Read the Ingredient List
"When you look at a lot of products on sale today, they have a list of ingredients," says Moyad. In reality, your supplement should not have a blend of ingredients. "If you go to a health foods store and buy melatonin, for example, you're buying melatonin," Moyad continues. "But when you go to a CVS or a Walgreens, a lot of the products say 'melatonin' on the front, but have a mixture of ingredients companies have put together to create a proprietary or unique blend. The problem with those blends is that they've never been tested on human beings."
2. Read the Studies
With your doctor—or individually—look up the actual study that proves a specific supplement should be used. "By doing a little bit of homework and looking up the paper, you can reward the research that went throuth the study," Moyad says. "The supplement industry is a $35 billion business and there are are many fly-by-night companies, so looking up the facts and specific ingredients used in a study, you can get the best products."
3. Get Verified
"Don't be shy to look on the supplement's website, call the company or look on the bottle for some kind of label," Moyad adds. "Look for items that have the NSF stamp. It's a third-party control system—used by the NFL—that audits supplement companies and it means that your product has gone through some scrutiny."
4. Set a Higher Standard
"This should up the threshold of what people should require of their supplements," Moyad says. "Instead of getting information, people are being clinical trials of one and they're signing up to be a clinical project." That means speaking to a doctor, confirming that a supplement will deliver on its promises and not buying pills simply thanks to their celebrity endorsements. "Take an extra effort," he adds. "Supplements can really change your life if they're done correctly."
YOU MIGHT ALSO LIKE
Dr. Mark Hyman: 7 Ways to Tackle Lyme Disease
50 Powerful Sources of Plant-Based Protein
Can Drinking Water Help You Lose Weight?
EcoWatch Daily Newsletter
Traffic moves across the Brooklyn Bridge on Aug. 2, 2018 in New York City. Drew Angerer / Getty Images
The Trump administration is expected to unveil its final replacement of Obama-era fuel-efficiency standards for cars and light trucks Tuesday in a move likely to pump nearly a billion more tons of carbon dioxide into the atmosphere over the lifetime of those less-efficient vehicles.
U.S. President Donald Trump listens as Anthony Fauci, Director of the National Institute of Allergy and Infectious Diseases speaks in the Rose Garden for the daily coronavirus briefing at the White House on March 29 in Washington, DC. Tasos Katopodis / Getty Images
By Jake Johnson
Just over a month after proclaiming that the number of coronavirus cases in the U.S. would soon "be down to close to zero," President Donald Trump said during a press briefing on the White House lawn Sunday that limiting U.S. deaths from the pandemic to between 100,000 and 200,000 people would mean his administration and the country as a whole did "a very good job."
Dicamba is having a devastating impact in Arkansas and neighboring states. A farmer in Mississippi County, Arkansas looks at rows of soybean plants affected by dicamba. The Washington Post / Getty Images
Documents unearthed in a lawsuit brought by a Missouri farmer who claimed that Monsanto and German chemical maker BASF's dicamba herbicide ruined his peach orchard revealed that the two companies knew their new agricultural seed and chemical system would likely damage many U.S. farms, according to documents seen by The Guardian.
Washington State Governor Jay Inslee and other leaders speak to the press on March 28, 2020 in Seattle. Karen Ducey / Getty Images