4 Ways the U.S. Can Rapidly Reduce Carbon Emissions and Grow the Economy
Jul. 09, 2015 09:09AM EST
Climate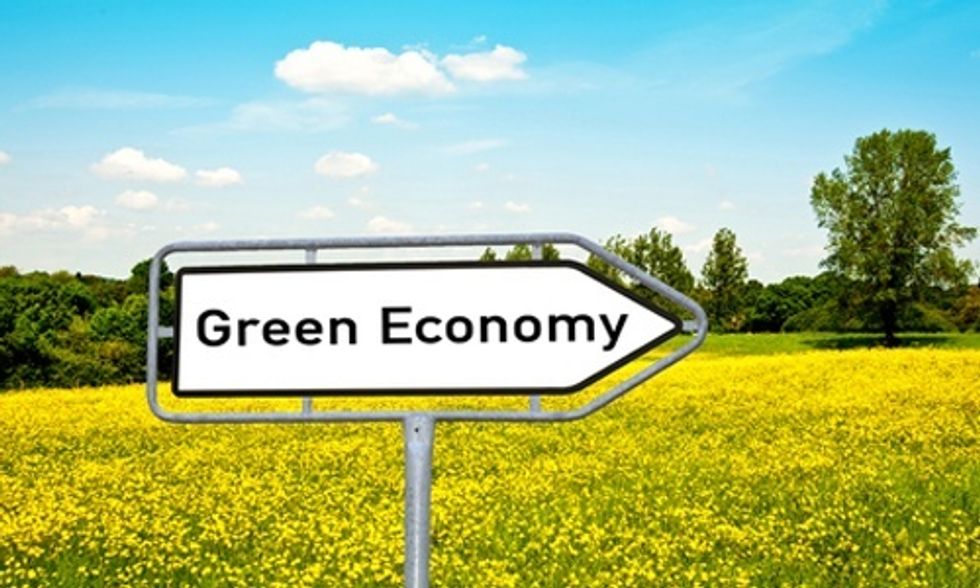 Today I testified before the U.S. Senate Committee on Environment and Public Works at a hearing called "Road to Paris: Examining the President's International Climate Agenda and Implications for Domestic Environmental Policy." The goal of the hearing was to examine the many ways in which the U.S. can achieve its commitment to reduce emissions 26 to 28 percent below 2005 levels by 2025. But there was also a bigger message that went beyond mere logistics: The country can not only achieve its 2025 climate goals—doing so will actually create economic and quality-of-life benefits.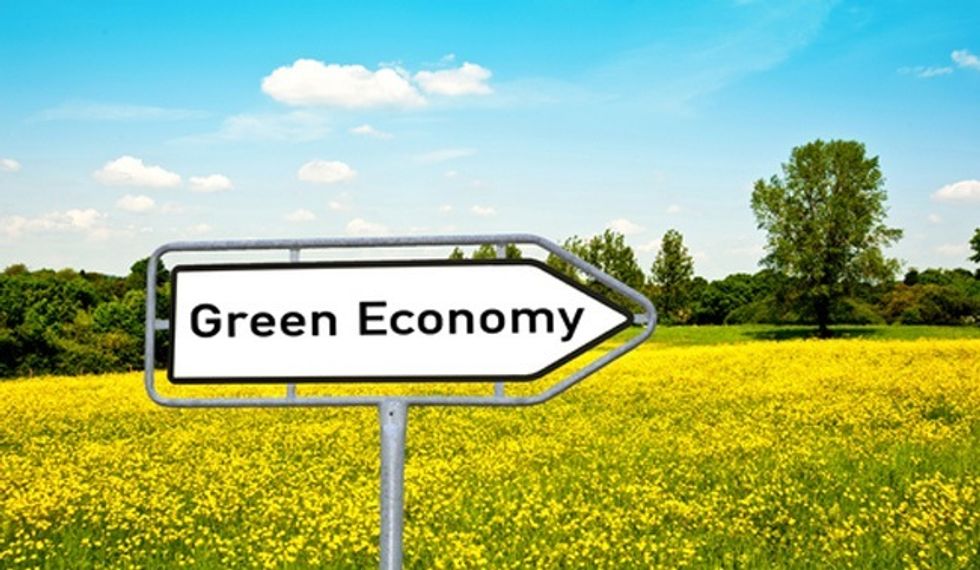 Photo credit: Shutterstock
Four reasons illustrate why it's in the U.S.'s own interests to meet its 2025 target and reduce emissions even more so in the long-term:
1. A growing body of evidence shows that economic growth can go hand-in-hand with efforts to reduce greenhouse gas emissions.
The U.S. has tackled many environmental problems over the past 50 years, and the historical record is clear: environmental protection is compatible with economic growth, and environmental policies have delivered huge benefits to Americans. Furthermore, recent experience at the state and national levels demonstrates that well-designed policies can reduce emissions while providing overall net public benefits, for example, through improved public health, as well as direct financial benefits to businesses and consumers.
Policies are often necessary to unlock these opportunities, however, because market barriers hamper investment in what are otherwise beneficial activities. We can achieve a low-carbon future by harnessing key drivers of economic growth—including more efficient use of energy and natural resources, smart infrastructure investments and technological innovation. Our efforts to address conventional air and water pollution have often relied on end-of-smokestack or end-of-pipe controls. However, in the case of carbon pollution, the solutions typically lie in improved efficiency in energy use, cleaner fuels, and new technologies and processes –solutions that often create net economic benefits. For example:
With strengthened fuel economy standards, drivers will save on average a net $3,400 to $5,000 over the life of light-duty vehicles made in 2025 compared with those made in 2016.

Federal appliance efficiency standards put into place over the past 25 years have resulted in $370 billion in cumulative utility bill savings for consumers.

States with energy efficiency target programs in place are saving customers generally $2 for every $1 invested.
2. The U.S. greenhouse gas emissions reduction target for 2025 is ambitious but achievable.
The Obama administration set a goal to reduce overall emissions 26-28 percent below 2005 levels by 2025. Recent WRI research finds that can meet this target using existing federal laws combined with state actions.
However, U.S. and global efforts to combat climate change cannot stop in 2025. Even deeper emissions reductions will be needed in the decades ahead to avoid the worst impacts of climate change. In the years ahead, Congress can play a constructive role to reduce emissions in a cost-effective manner, such as by establishing an economy-wide price on carbon. In the meantime, the administration is taking sensible steps to reinforce recent market and technology trends that move us toward a low-carbon future.
3. We can achieve the 2025 target while generating multiple co-benefits and maintaining economic growth.
The proposed Clean Power Plan will reduce power sector emissions and act as key policy for meeting the 2025 greenhouse gas emissions target. It will also reduce particulate pollution and ozone, leading to reductions in premature deaths, heart attacks, asthma attacks, hospital admissions, and missed school and work days. The U.S. Environmental Protection Agency (EPA) estimates that these air pollution co-benefits alone are worth $25-62 billion, far more than the estimated $7-9 billion in compliance costs. Adding in global climate benefits increases total benefits to $55-93 billion. And the economy will keep growing. The Energy Information Administration (EIA) projects the macroeconomic impacts of the proposed Clean Power Plan to be very small—approximately a 0.12 percent decrease in GDP in 2030, in the context of an economy projected to grow from $17 trillion currently to $24 trillion in 2030. EIA's projected net employment impacts are essentially zero.
4. U.S. leadership is essential to global climate efforts.
Scientists agree that limiting global temperature rise to 2 degrees Celsius (3.6 degrees Fahrenheit) is necessary to prevent some of the worst impacts of climate change. Failure to meet that goal will increase economic, social and environmental risks for the U.S. and all nations. Our communities are already experiencing the consequences of more frequent and severe climate-change related events. The costs to businesses, consumers and public health will continue to mount if the U.S. and other countries fail to reduce emissions.
The world experienced the hottest year on record in 2014. Fourteen of the 15 hottest years on record have occurred since 2000. In the U.S., some regions are experiencing a higher frequency of flooding, heavier precipitation events, and more frequent heat waves and wildfires. Our American citizens' lives and livelihoods are at risk. We can't simply ask: How much does it cost to avoid climate change? We must also ask: What does it cost our country if we don't avoid climate change? If nations fail to combat climate change, the U.S. will suffer billions of dollars of damages to agriculture, forestry and fisheries; significant coastal and inland flooding; and heat-driven increases in electricity bills, among other multiple impacts.
Our country has a choice: It can show international leadership and bring the same spirit of competition, ingenuity and innovation to the climate challenge that it has brought to solving other problems. Or, it can be left behind as other countries develop the solutions and capture the markets for the fuels, technologies and processes that reduce greenhouse emissions.
YOU MIGHT ALSO LIKE
Teens Continue Fight to Make State Take Action on Climate Change
Which Country Has the Most Climate Deniers?
Carl Pope: Paris Climate Talks Could Bring as Much Progress as Previous 20 COP's Combined
Protestors stage a demonstration against fracking in California on May 30, 2013 in San Francisco, California. Justin Sullivan / Getty Images
The bill, SB467, would have prohibited fracking and other controversial forms of oil extraction. It would also have banned oil and gas production within 2,500 feet of a home, school, hospital or other residential facility. The bill originally set the fracking ban for 2027, but amended it to 2035, The AP reported.
"Obviously I'm very disappointed," State Sen. Scott Wiener (D-San Francisco), one of the bill's two introducers, told the Los Angeles Times. "California really has not done what it needs to do in terms of addressing the oil problem. We have communities that are suffering right now, and the Legislature has repeatedly failed to act."
The bill was introduced after California Gov. Gavin Newsom said he would sign a fracking ban if it passed the legislature, though his administration has continued to issue permits in the meantime, Forbes reported. Newsom has also spoken in favor of a buffer zone between oil and gas extraction and places where people live and learn, according to the Los Angeles Times. The latter is a major environmental justice issue, as fossil fuel production is more likely to be located near Black and Latinx communities.
Urban lawmakers who want California to lead on the climate crisis supported the bill, while inland lawmakers in oil-rich areas concerned about jobs opposed it. The oil and gas industry and trade unions also opposed the bill.
This opposition meant the bill failed to get the five votes it needed to move beyond the Senate's Natural Resources and Water Committee. Only four senators approved it, while Democrat Sen. Susan Eggman of Stockton joined two Republicans to oppose it, and two other Democrats abstained.
Eggman argued that the bill would have forced California to rely on oil extracted in other states.
"We're still going to use it, but we're going to use it from places that produce it less safely," Eggman told The AP. She also said that she supported the transition away from fossil fuels, but thought the bill jumped the gun. "I don't think we're quite there yet, and this bill assumes that we are," she added.
Historically, California has been a major U.S. oil producer. Its output peaked in 1986 at 1.1 million barrels a day, just below Texas and Alaska, according to Forbes. However, production has declined since then making it the seventh-most oil-producing state.
Still, California's fossil fuel industry is at odds with state attempts to position itself as a climate leader.

"There is a large stain on California's climate record, and that is oil," Wiener said Tuesday, according to The AP.
Wiener and Democrat co-introducer Sen. Monique Limón from Santa Barbara vowed to keep fighting.
"While we saw this effort defeated today, this issue isn't going away," they wrote in a joint statement. "We'll continue to fight for aggressive climate action, against harmful drilling, and for the health of our communities."
From Your Site Articles
Related Articles Around the Web
EcoWatch Daily Newsletter
EXTREME-PHOTOGRAPHER / E+ / Getty Images
By Brett Wilkins
As world leaders prepare for this November's United Nations Climate Conference in Scotland, a new report from the Cambridge Sustainability Commission reveals that the world's wealthiest 5% were responsible for well over a third of all global emissions growth between 1990 and 2015.
The report, Changing Our Ways: Behavior Change and the Climate Crisis, found that nearly half the growth in absolute global emissions was caused by the world's richest 10%, with the most affluent 5% alone contributing 37%.
"In the year when the UK hosts COP26, and while the government continues to reward some of Britain's biggest polluters through tax credits, the commission report shows why this is precisely the wrong way to meet the UK's climate targets," the report's introduction states.
The authors of the report urge United Kingdom policymakers to focus on this so-called "polluter elite" in an effort to persuade wealthy people to adopt more sustainable behavior, while providing "affordable, available low-carbon alternatives to poorer households."
The report found that the "polluter elite" must make "dramatic" lifestyle changes in order to meet the UK's goal — based on the Paris climate agreement's preferential objective — of limiting global heating to 1.5°C, compared with pre-industrial levels.
In addition to highlighting previous recommendations — including reducing meat consumption, reducing food waste, and switching to electric vehicles and solar power — the report recommends that policymakers take the following steps:
Implement frequent flyer levies;
Enact bans on selling and promoting SUVs and other high polluting vehicles;
Reverse the UK's recent move to cut green grants for homes and electric cars; and
Build just transitions by supporting electric public transport and community energy schemes.
"We have got to cut over-consumption and the best place to start is over-consumption among the polluting elites who contribute by far more than their share of carbon emissions," Peter Newell, a Sussex University professor and lead author of the report, told the BBC.
"These are people who fly most, drive the biggest cars most, and live in the biggest homes which they can easily afford to heat, so they tend not to worry if they're well insulated or not," said Newell. "They're also the sort of people who could really afford good insulation and solar panels if they wanted to."
Newell said that wealthy people "simply must fly less and drive less. Even if they own an electric SUV, that's still a drain on the energy system and all the emissions created making the vehicle in the first place."
"Rich people who fly a lot may think they can offset their emissions by tree-planting schemes or projects to capture carbon from the air," Newell added. "But these schemes are highly contentious and they're not proven over time."
The report concludes that "we are all on a journey and the final destination is as yet unclear. There are many contradictory road maps about where we might want to get to and how, based on different theories of value and premised on diverse values."
"Promisingly, we have brought about positive change before, and there are at least some positive signs that there is an appetite to do what is necessary to live differently but well on the planet we call home," it states.
The new report follows a September 2020 Oxfam International study that revealed the wealthiest 1% of the world's population is responsible for emitting more than twice as much carbon dioxide as the poorest 50% of humanity combined.
Reposted with permission from Common Dreams.

From Your Site Articles
Related Articles Around the Web
The saguaro cactus extracts carbon from the atmosphere. Thomas Roche / Getty Images
By Paul Brown
It may come as a surprise to realize that a plant struggling for survival in a harsh environment is also doing its bit to save the planet from the threats of the rapidly changing climate. But that's what Mexico's cactuses are managing to do.
Research published in the journal The Science of Nature shows that desert soils supporting a high density of cactus contain large quantities of stored bio-minerals (minerals produced by living organisms), formed by the action of the plants in extracting carbon dioxide from the atmosphere.
Not only that. Cactuses can also be harvested, processed and turned into a form of leather used to make fashion accessories like purses and wallets.
These two attributes have been turned into a successful business by a Mexican/American company, CACTO. It claims to be the first "carbon negative fashion company in the Americas" − in other words, its activities remove more carbon from the atmosphere than it creates in making and marketing its products.
No Animals Involved
This is a bold claim in an industry struggling with its poor environmental record. According to McKinsey and Co. the worldwide fashion industry emits about the same amount of greenhouse gases as France, Germany and the United Kingdom combined. But CACTO gives Mexico's cactuses special treatment.
CACTO's products are vegan and so allow a growing class of consumers to buy leather objects that are made without any animal products.
The research into the ability of cactus to extract carbon from the atmosphere and store it was carried out on one cactus species, the saguaro (Carnegiea gigantea), which can grow to 40 feet.
It is native to the Sonoran desert in Arizona and the Mexican state of Sonora, and shares with all other cactus varieties the same abilities for dealing with carbon. This has proved a bonus for CACTO because cactuses are the most numerous plants in Mexico.
CACTO's plantations are organic, fed by rainwater, free of herbicides and pesticides, and renewable, and after the ears, or leaves; of the cactus are harvested, the plant grows a replacement in six to eight months. This regeneration allows repeat harvesting. The leaves are then sun-dried to avoid using any electricity. The company's products (available only in green or black) are on sale in more than 100 countries.
CACTO was founded by Jesus Chavez, a climate campaigner, and was designed to have sustainability as a guiding principle at the core of its operation. The entire production cycle is closely monitored by its staff, from the sourcing of materials to production, packaging, distribution and shipping.
Through a partnership with a Swiss non-profit organisation, On a Mission, CACTO says its staff have measured and offset 150% of its CO2 emissions through sustainable reforestation worldwide.
The measurement and offsetting process will take place every six months for the next 10 years. Through several emergent partnerships, the company says it aims to offset at least 1000% of the emissions it generates by the end of 2021.
Engaging Entrepreneurs
Jesus Chavez said: "If we want to succeed in reaching net zero carbon emissions well before 2050 and avoid the worst consequences of climate change, we must all work in concert in whatever capacity we are able to.
"Industries across the board need to benefit from existing technology and offsetting programs to become carbon-negative, and to invest in new research and innovation to reach that goal faster. The decisions we make this decade will determine the fate of humanity for centuries to come. It is up to us now."
He said customers around the world wanted alternatives to materials that increased pollution and to unethical manufacturing processes.
CACTO hopes to inspire a new generation of entrepreneurs to make clear what has been evident to specialists for decades, that decoupling emissions from economic growth is not only feasible, but is the smartest, fastest and most responsible way to grow. Mexico's cactuses bear a heavy responsibility on their ears − or leaves − or branches.
Reposted with permission from Climate News Network.
Lower Granite Dam is obstructing salmon along the Snake River in Washington. Greg Vaughn / VW PICS / Universal Images Group / Getty Images
Climate change, activities that contribute to it, and dams pose grave threats to America's rivers, according to American Rivers.
The annual report ranks the county's 10 rivers most endangered by human activity that also have a critical decision point coming in the next year that could change the river's fate.
Four dams are choking the Snake River — earning it the top spot in the report — obstructing salmon and posing an existential threat to Native American tribes in the region who depend on the fish for food, culture and their identities.
Advocates are calling on President Biden to remove the federal dams and revitalize the river and its ecosystem.
Toxic coal ash pollutes the Lower Missouri, which also is experiencing an increase in climate-driven flooding, putting it second on the list, while Iowa's Raccoon River, at number nine, faces threats from industrial agriculture.
Between them are rivers befouled by sewage, polluted or threatened by mining, and otherwise dammed or mismanaged.
"Rivers are among the most degraded ecosystems on the planet, and threats to rivers are threats to human health, safety and survival," American Rivers head Tom Kiernan said.
"If we want a future of clean water and healthy rivers everywhere, for everyone, we must prioritize environmental justice."
For a deeper dive:
The Guardian, USA Today, Mother Jones, Reuters, E&E
For more climate change and clean energy news, you can follow Climate Nexus on Twitter and Facebook, sign up for daily Hot News, and visit their news site, Nexus Media News.

Radiation-contaminated water tanks and damaged reactors at the Fukushima Daiichi nuclear power plant on Feb. 25, 2016 in Okuma, Japan. Christopher Furlong / Getty Images
Japan will release radioactive wastewater from the failed Fukushima nuclear plant into the Pacific Ocean, the government announced on Tuesday.
The water will be treated before release, and the International Atomic Energy Agency said the country's plans were in keeping with international practice, The New York Times reported. But the plan is opposed by the local fishing community, environmental groups and neighboring countries. Within hours of the announcement, protesters had gathered outside government offices in Tokyo and Fukushima, according to NPR.
"The Japanese government has once again failed the people of Fukushima," Greenpeace Japan Climate and Energy Campaigner Kazue Suzuki said in a statement. "The government has taken the wholly unjustified decision to deliberately contaminate the Pacific Ocean with radioactive wastes."
The dilemma of how to dispose of the water is one ten years in the making. In March 2011, an earthquake and tsunami in northeastern Japan killed more than 19,000 people and caused three of six reactors at the Fukushima Daiichi nuclear power plant to melt down, The New York Times explained. This resulted in the biggest nuclear disaster since Chernobyl, and the cleanup efforts persist more than a decade later.
To keep the damaged reactors from melting down, cool water is flushed through them and then filtered to remove all radioactive material except for tritium. Up until now, the wastewater has been stored on site, but the government says the facility will run out of storage room next year. Water builds up at 170 tons per day, and there are now around 1.25 million tons stored in more than 1,000 tanks.
The government now plans to begin releasing the water into the ocean in two years time, according to a decision approved by cabinet ministers Tuesday. The process is expected to take decades.
"On the premise of strict compliance with regulatory standards that have been established, we select oceanic release," the government said in a statement reported by NPR.
Opposition to the move partly involves a lack of trust around what is actually in the water, as NPR reported. Both the government and Tokyo Electric Power Co., which operates the plant, say that the water only contains tritium, which cannot be separated from hydrogen and is only dangerous to humans in large amounts.
"But it turned out that the water contains more radioactive materials. But they didn't disclose that information before," Friends of the Earth Japan campaigner Ayumi Fukakusa told NPR. "That kind of attitude is not honest to people. They are making distrust by themselves."
In February, for example, a rockfish shipment was stopped when a sample caught near Fukushima tested positive for unsafe levels of cesium.
This incident also illustrates why local fishing communities oppose the release. Fish catches are already only 17.5 percent of what they were before the disaster, and the community worries the release of the water will make it impossible for them to sell what they do catch. They also feel the government went against its promises by deciding to release the water.
"They told us that they wouldn't release the water into the sea without the support of fishermen," fishery cooperative leader Kanji Tachiya told national broadcaster NHK, as CBS News reported. "We can't back this move to break that promise and release the water into the sea unilaterally."
Japan's neighbors also questioned the move. China called it "extremely irresponsible," and South Korea asked for a meeting with the Japanese ambassador in Seoul in response.
The U.S. State Department, however, said that it trusted Japan's judgement.
"In this unique and challenging situation, Japan has weighed the options and effects, has been transparent about its decision, and appears to have adopted an approach in accordance with globally accepted nuclear safety standards," the department said in a statement reported by The New York Times.
But environmentalists argue that the government could have found a way to continue storing waste.
"Rather than using the best available technology to minimize radiation hazards by storing and processing the water over the long term, they have opted for the cheapest option, dumping the water into the Pacific Ocean," Greenpeace's Suzuki said.
From Your Site Articles
Related Articles Around the Web