4 Steps to Protect Your Kitchen Against E. Coli
The meat industry likes to say that factory farms are modern, efficient and produce cheap food. But in reality, factory farms increase the risk of pathogens like E. coli and salmonella that cause food-borne illness in people.
You might be surprised to find out, in this quiz from the Natural Resources Defense Council (NRDC), the high percentage of supermarket chicken that has E. coli.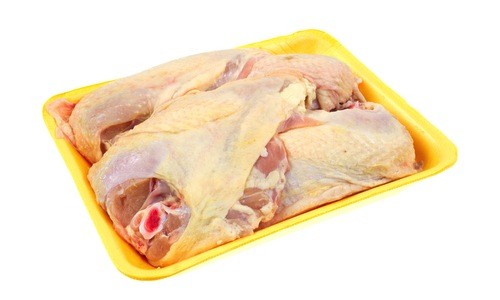 Shutterstock
The bacteria is commonly found in the lower intestine of warm-blooded organisms and, when people eat food contaminated with E. coli, they can develop diarrhea, urinary tract infections, respiratory illness and pneumonia and other illnesses.
You can guard against food-borne illnesses by making sure your food handling practices at home are effective. Here's a list from the U.S Food and Drug Administration of four steps to food safety in your kitchen:
1. Wash hands and surfaces often. Bacteria can spread throughout the kitchen and get onto hands, cutting boards, utensils, counter tops and food.
Wash your hands with warm water and soap for at least 20 seconds before and after handling food and after using the bathroom, changing diapers and handling pets.
Wash your cutting boards, dishes, utensils and counter tops with hot soapy water after preparing each food item and before you go on to the next food.
Consider using paper towels to clean up kitchen surfaces. If you use cloth towels wash them often in the hot cycle of your washing machine.
Rinse fresh fruits and vegetables under running tap water, including those with skins and rinds that are not eaten.
Rub firm-skin fruits and vegetables under running tap water or scrub with a clean vegetable brush while rinsing with running tap water.
Clean canned goods lids before opening. 
2. Separate raw meats from other foods. Cross-contamination can occur when bacteria are spread from one food to another. This is especially common when handling raw meat, poultry, seafood and eggs. The key is to keep these foods—and their juices—away from ready-to-eat foods. 
Separate raw meat, poultry, seafood and eggs from other foods in your grocery shopping cart, grocery bags and in your refrigerator.
Use one cutting board for fresh produce and a separate one for raw meat, poultry and seafood.
Never place cooked food on a plate that previously held raw meat, poultry, seafood or eggs.
Don't reuse marinades used on raw foods unless you bring them to a boil first. 
3. Cook to the right temperatures. Food is safely cooked when it reaches a high enough internal temperature to kill the harmful bacteria that cause illness.
Use a food thermometer to measure the internal temperature of cooked foods. Check the internal temperature in several places to make sure that the meat, poultry, seafood, eggs or dishes containing eggs are cooked to safe minimum internal temperatures as shown in the Safe Cooking Temperatures Chart. Color is not a reliable indicator of doneness.
Cook eggs until the yolk and white are firm. Only use recipes in which eggs are cooked or heated thoroughly.
When cooking in a microwave oven, cover food, stir and rotate for even cooking. Or rotate the dish by hand once or twice during cooking. Always allow standing time, which completes the cooking, before checking the internal temperature with a food thermometer. Food is done when it reaches the safe minimum internal temperature.
Bring sauces, soups and gravy to a boil when reheating. 
4. Refrigerate foods promptly. Cold temperatures slow the growth of harmful bacteria. Do not over-stuff the refrigerator. Cold air must circulate to help keep food safe. Keeping a constant refrigerator temperature of 40 degrees Fahrenheit  or below is one of the most effective ways to reduce the risk of foodborne illness. Use an appliance thermometer to be sure the temperature is consistently at 40 degrees or below and the freezer temperature is zero degrees or below.
Refrigerate or freeze meat, poultry, eggs, seafood and other perishables within two  hours of cooking or purchasing. Refrigerate within one hour if the temperature outside is above 90ºF.
Never thaw food at room temperature, such as on the counter top. Food must be kept at a safe temperature during thawing  : in the refrigerator, in cold water, and in the microwave. Food thawed in cold water or in the microwave should be cooked immediately.
Always marinate food in the refrigerator.
Divide large amounts of leftovers into shallow containers for quicker cooling in the refrigerator.
Use or discard refrigerated food on a regular basis. Follow the recommendations in the USDA's Refrigerator & Freezer Storage Chart.
Visit EcoWatch's FOOD page for more related news on this topic.

Disturbing footage of a snake in Goa, India vomiting an empty soft drink bottle highlights the world's mounting plastic pollution crisis.
Keep reading...
Show less
By Melissa Hellmann
When her eldest son was in elementary school in the Oakland Unified School District, Ruth Woodruff became alarmed by the meals he was being served at school. A lot of it was frozen, processed foods, packed with preservatives. At home, she was feeding her children locally sourced, organic foods.
Keep reading...
Show less
May. 28, 2017 01:33PM EST
Laurie Woolever
By James O'Hare
There are 20 million people in the world facing famine in South Sudan, Somalia, Nigeria and Yemen. In developed nations, too, people go hungry. Venezuela, for instance, is enduring food insecurity on a national level as a result of economic crisis and political corruption. In the U.S., the land of supposed excess, 12.7 percent of households were food insecure in 2015, meaning they didn't know where their next meal would come from.
Keep reading...
Show less
May. 28, 2017 01:22PM EST
Melwater, Greenland ice sheet. Diane Tuft
Artists are taking the climate crisis into frame and the results are emotional, beautiful and stirring.
So you've seen the best climate change cartoons and shared them with your friends. You've showed your family the infographics on climate change and health, infographics on how the grid works and infographics about clean, renewable energy. You've even forwarded these official National Oceanic and Atmospheric Administration graphs that explain the 10 clear indicators of climate change to your colleagues at the office.
Keep reading...
Show less
May. 27, 2017 01:11PM EST
As the Trump administration moves full speed ahead on boosting the oil and fossil fuel industry, opposition to increased pipeline construction is cropping up in different communities around the country.
Keep reading...
Show less
May. 27, 2017 01:02PM EST
Minke whale stranding near Havergate Island in Suffolk. MCGA.
By Simon Evans
Last Saturday, two dead whales washed up on the coast of Suffolk, in eastern England, and a third was spotted floating at sea.
What happened next illustrates how news can spread and evolve into misinformation, when reported by journalists rushing to publish before confirming basic facts or sourcing their own quotes.
Keep reading...
Show less
May. 27, 2017 01:22PM EST
By Monica Amarelo and Paul Pestano
Sun safety is a crucial part of any outdoor activity for kids, and sunscreen can help protect children's skin from harmful ultraviolet rays. Kids often get sunburned when they're outside unprotected for longer than expected. Parents need to plan ahead and keep sun protection handy in their cars or bags.
Keep reading...
Show less
May. 27, 2017 01:02PM EST
By Joe McCarthy
A lot of people take part in community clean-up efforts—spending a Saturday morning picking up litter in a park, mowing an overgrown field or painting a fence.
Keep reading...
Show less