This website uses cookies to ensure you get the best experience while browsing it. By clicking 'Got It' you're accepting these terms.
4 States Working to Ban Microbeads
Mar. 30, 2015 11:31AM EST
There are currently numerous state bills introduced around the country focused on curbing marine plastic pollution. One notably popular subject this session is that of microbeads, which are teeny tiny bits of plastic put in consumer products such as toothpastes and facial scrubs, which (likely unbeknownst to consumers!) wash down the drain, are frequently not captured by wastewater treatment facilities (because they're too small, do not biodegrade, and float), simply pass through wastewater treatment facilities, and eventually enter our waterways and pollute our oceans. These microplastics are found in all ocean gyres, bays, gulfs and seas around the world.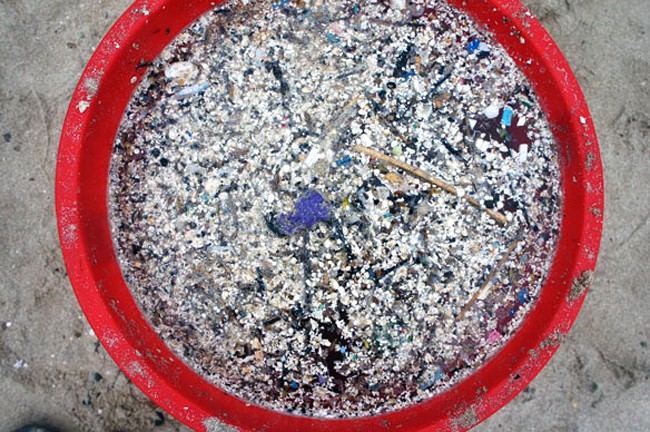 This is problematic for a multitude of reasons. First, plastic does not biodegrade into elements or compounds commonly found in nature like other organic materials, but instead, photodegrades into smaller pieces of plastic causing pollution that is virtually impossible to remediate. Second, microplastic debris absorbs toxic, environmentally persistent chemicals such as DDT, PCBs, PAHs, and flame retardants found in our waterways. In 2011, the National Oceanic Atmospheric Association found that plastic debris accumulates pollutants such as PCBs up to 100,000 to 1,000,000 times the levels found in seawater.
Thus, aside from the negative effects of plastic consumption by marine life such as intestinal clogging and starvation, fish can become contaminated by the plastic's absorbed toxins, which bioaccumulate up the food chain.  These toxins pose dangerous threats to humans and wildlife who consume them. Microplastics? Megaproblem.
Currently, there are at least 15 microbead bills pending at various stages across the country. Below is a sampling of some of these bills. While, as explained below, Surfrider Foundation has concerns associated with some of the bills, Surfrider is hopeful that states will carefully draft bills that will address the very serious threats that microplastic pollution poses to our coastal resources and water quality.
Connecticut
Connecticut currently has four microbeads bills in the works: House Bill (H.B.) 6081, H.B. 5206,H.B. 5403, and H.B. 5727. On March 10, 2015, Surfrider Foundation submitted testimony to the Joint Committee on the Environment supporting the bills, with amendments. Surfrider's concerns with the bills primarily focus on any exceptions or exemptions for "over the counter" drugs or "biodegradable" particles. First, there must not be any exemptions for over the counter products, as this creates a huge industry loophole, rendering any microbeads ban futile, since the number of over the counter drugs is incredibly broad, and contains numerous types of products such as fluoride and whitening toothpastes, acne scrubs, moisturizing cleansers, and wrinkle creams, which are the exact kinds of products which typically utilize microbeads. Secondly, any exemptions for biodegradable particles are concerning, because "biodegradable" can be a misleading term. Any microbead legislation should only include a biodegradable exception if the term is carefully defined in a way to ensure that only products which are truly able to break down into natural elements in the marine environment or in wastewater treatment are considered biodegradable.
Hawaii
Recently, on March 18, Surfrider Foundation submitted testimony in strong support of Hawaii's microbead bill, H.B. 621, with amendments, to the Energy and Environment Committee, and Commerce and Consumer Protection Committee. The bill gradually (i.e. between December 31, 2017 and December 31, 2019) phases in the prohibition on the manufacture and sale of personal care products that contain "synthetic plastic microbeads." "Synthetic plastic microbead" means any intentionally added non-biodegradable solid plastic particle measuring less than five millimeters in size and used to exfoliate or cleanse in a rinse-off product. Violations are punishable by civil penalties up to $1,000 for a first violation, and up to $2,500 for subsequent violations.
As noted above, this microbead definition, which excludes "non-biodegradable" particles is potentially problematic. Thus, the Surfrider Foundation proposed in its testimony that the legislators must either remove the vague, misleading term "non-biodegradable" in the definition of "synthetic plastic microbead" and replace it with "non-compostable," or define "biodegradable" as "capable of decomposing back into natural elements."
Oregon
Similarly, in Oregon, H.B. 3478 was first read March 2, 2015, and was referred to the Energy and Environment Committee March 9, 2015. The bill phases in the prohibition on the manufacture and sale of personal care products and over the counter drugs that contain synthetic plastic microbeads. Currently, the definition of "synthetic plastic microbead" means "a solid plastic particle that a manufacturer intentionally incorporates into a personal care product and that: (A) Measures less than five millimeters in diameter; (B) Is not biodegradable; (C) The manufacturer intends as a method for exfoliating skin or otherwise cleaning the human body; and (D) The manufacturer intends for the consumer to rinse off from the body after use.  Thus, the definition excludes particles which are "biodegradable." As noted above, this is potentially vague and problematic, and any microbead legislation should ensure that the ban applies to all microplastic particles, and that only products which are truly able to break down into natural elements are excepted. The Surfrider Foundation, on behalf of the Oregon Surfrider Foundation Chapter Network, and the individual Oregon chapters have expressed these concerns in personal letters to their state legislators, and Surfrider Foundation staff will be participating in a work group on this bill in the future.
Washington
Meanwhile, Washington's microbead bill, Senate Bill (S.B.) 5609 passed the Senate unanimously on March 11, 2015. In the House, the bill had its first reading and was referred to the House Committee on the Environment on March 13. The Committee recently held a public hearing on the bill on March 23, 2015.
Unfortunately, S.B. 5609 passed the Senate with a potential "biodegradable" loophole, similar to Hawaii and Oregon's microbeads bills. The definition of the banned "synthetic plastic microbead" excludes biodegradable particles (i.e., synthetic plastic microbead means "an intentionally added nonbiodegradable solid plastic particle measuring less than five millimeters in size and used to exfoliate or cleanse in a rinse-off product"), which, again, could be problematic without further clarifying what is biodegradable and what is nonbiodegradable.
The Surfrider Foundation will continue to monitor these, and other proposed microbeads bills, and bring awareness to these issues such that legislators will be encouraged to craft effective bills that serve their intended purposes.  Go here for more information on the dangers of marine plastic pollution, and on Surfrider Foundation's Rise Above Plastics campaign. Visit 5 Gyres I Want Plastic Off My Face information page to learn how you can get involved.
YOU MIGHT ALSO LIKE
10 Reasons to Be Hopeful This Spring
Will Rachel Carson Be the First Woman on the $20 Bill?
KarinaKnyspel / iStock / Getty Images
2018 saw a number of studies pointing to the outsized climate impact of meat consumption. Beef has long been singled out as particularly unsustainable: Cows both release the greenhouse gas methane into the atmosphere because of their digestive processes and require a lot of land area to raise. But for those unwilling to give up the taste and texture of a steak or burger, could lab-grown meat be a climate-friendly alternative? In a first-of-its-kind study, researchers from the Oxford Martin School set out to answer that question.
Three scissor-tailed flycatcher fledglings in a mesquite tree in Texas. Texas Eagle / CC BY-NC 2.0
By Gary Paul Nabhan
President Trump has declared a national emergency to fund a wall along our nation's southern border. The border wall issue has bitterly divided people across the U.S., becoming a vivid symbol of political deadlock.
PeopleImages / E+ / Getty Images
By Daniel Ross
Hurricane Florence, which battered the U.S. East Coast last September, left a trail of ruin and destruction estimated to cost between $17 billion and $22 billion. Some of the damage was all too visible—smashed homes and livelihoods. But other damage was less so, like the long-term environmental impacts in North Carolina from hog waste that spilled out over large open-air lagoons saturated in the rains.
Hog waste can contain potentially dangerous pathogens, pharmaceuticals and chemicals. According to the state's Department of Environmental Quality, as of early October nearly 100 such lagoons were damaged, breached or were very close to being so, the effluent from which can seep into waterways and drinking water supplies.
This picture taken on May 21, 2018 shows discarded climbing equipment and rubbish scattered around Camp 4 of Mount Everest. Decades of commercial mountaineering have turned Mount Everest into the world's highest rubbish dump as an increasing number of big-spending climbers pay little attention to the ugly footprint they leave behind. DOMA SHERPA / AFP / Getty Images
China has closed its Everest base camp to tourists because of a buildup of trash on the world's tallest mountain.