This website uses cookies to ensure you get the best experience while browsing it. By clicking 'Got It' you're accepting these terms.
4 States Working to Ban Microbeads
Mar. 30, 2015 12:31PM EST
There are currently numerous state bills introduced around the country focused on curbing marine plastic pollution. One notably popular subject this session is that of microbeads, which are teeny tiny bits of plastic put in consumer products such as toothpastes and facial scrubs, which (likely unbeknownst to consumers!) wash down the drain, are frequently not captured by wastewater treatment facilities (because they're too small, do not biodegrade, and float), simply pass through wastewater treatment facilities, and eventually enter our waterways and pollute our oceans. These microplastics are found in all ocean gyres, bays, gulfs and seas around the world.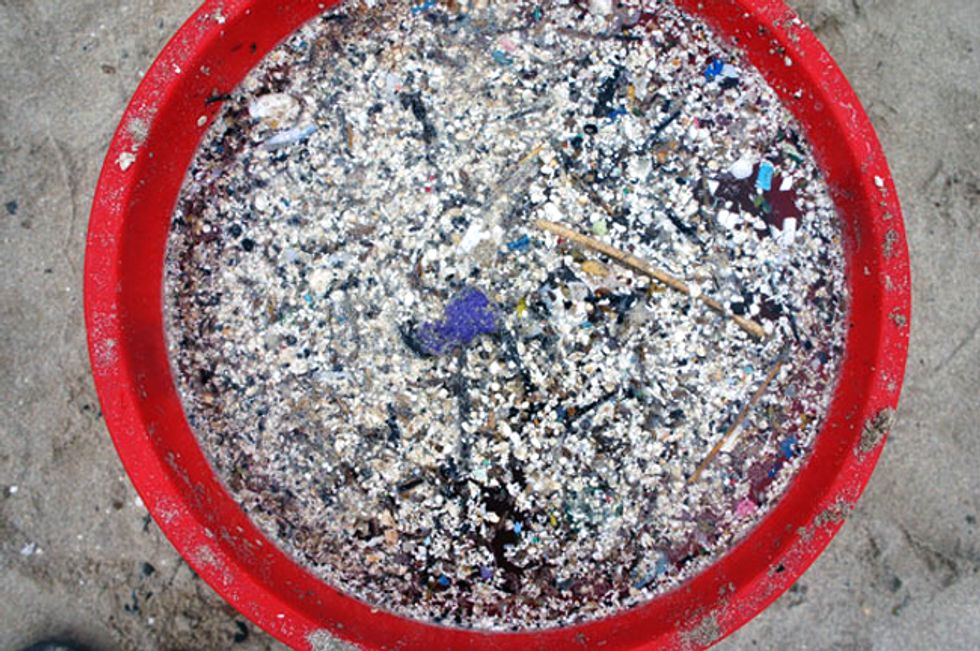 This is problematic for a multitude of reasons. First, plastic does not biodegrade into elements or compounds commonly found in nature like other organic materials, but instead, photodegrades into smaller pieces of plastic causing pollution that is virtually impossible to remediate. Second, microplastic debris absorbs toxic, environmentally persistent chemicals such as DDT, PCBs, PAHs, and flame retardants found in our waterways. In 2011, the National Oceanic Atmospheric Association found that plastic debris accumulates pollutants such as PCBs up to 100,000 to 1,000,000 times the levels found in seawater.
Thus, aside from the negative effects of plastic consumption by marine life such as intestinal clogging and starvation, fish can become contaminated by the plastic's absorbed toxins, which bioaccumulate up the food chain.  These toxins pose dangerous threats to humans and wildlife who consume them. Microplastics? Megaproblem.
Currently, there are at least 15 microbead bills pending at various stages across the country. Below is a sampling of some of these bills. While, as explained below, Surfrider Foundation has concerns associated with some of the bills, Surfrider is hopeful that states will carefully draft bills that will address the very serious threats that microplastic pollution poses to our coastal resources and water quality.
Connecticut
Connecticut currently has four microbeads bills in the works: House Bill (H.B.) 6081, H.B. 5206,H.B. 5403, and H.B. 5727. On March 10, 2015, Surfrider Foundation submitted testimony to the Joint Committee on the Environment supporting the bills, with amendments. Surfrider's concerns with the bills primarily focus on any exceptions or exemptions for "over the counter" drugs or "biodegradable" particles. First, there must not be any exemptions for over the counter products, as this creates a huge industry loophole, rendering any microbeads ban futile, since the number of over the counter drugs is incredibly broad, and contains numerous types of products such as fluoride and whitening toothpastes, acne scrubs, moisturizing cleansers, and wrinkle creams, which are the exact kinds of products which typically utilize microbeads. Secondly, any exemptions for biodegradable particles are concerning, because "biodegradable" can be a misleading term. Any microbead legislation should only include a biodegradable exception if the term is carefully defined in a way to ensure that only products which are truly able to break down into natural elements in the marine environment or in wastewater treatment are considered biodegradable.
Hawaii
Recently, on March 18, Surfrider Foundation submitted testimony in strong support of Hawaii's microbead bill, H.B. 621, with amendments, to the Energy and Environment Committee, and Commerce and Consumer Protection Committee. The bill gradually (i.e. between December 31, 2017 and December 31, 2019) phases in the prohibition on the manufacture and sale of personal care products that contain "synthetic plastic microbeads." "Synthetic plastic microbead" means any intentionally added non-biodegradable solid plastic particle measuring less than five millimeters in size and used to exfoliate or cleanse in a rinse-off product. Violations are punishable by civil penalties up to $1,000 for a first violation, and up to $2,500 for subsequent violations.
As noted above, this microbead definition, which excludes "non-biodegradable" particles is potentially problematic. Thus, the Surfrider Foundation proposed in its testimony that the legislators must either remove the vague, misleading term "non-biodegradable" in the definition of "synthetic plastic microbead" and replace it with "non-compostable," or define "biodegradable" as "capable of decomposing back into natural elements."
Oregon
Similarly, in Oregon, H.B. 3478 was first read March 2, 2015, and was referred to the Energy and Environment Committee March 9, 2015. The bill phases in the prohibition on the manufacture and sale of personal care products and over the counter drugs that contain synthetic plastic microbeads. Currently, the definition of "synthetic plastic microbead" means "a solid plastic particle that a manufacturer intentionally incorporates into a personal care product and that: (A) Measures less than five millimeters in diameter; (B) Is not biodegradable; (C) The manufacturer intends as a method for exfoliating skin or otherwise cleaning the human body; and (D) The manufacturer intends for the consumer to rinse off from the body after use.  Thus, the definition excludes particles which are "biodegradable." As noted above, this is potentially vague and problematic, and any microbead legislation should ensure that the ban applies to all microplastic particles, and that only products which are truly able to break down into natural elements are excepted. The Surfrider Foundation, on behalf of the Oregon Surfrider Foundation Chapter Network, and the individual Oregon chapters have expressed these concerns in personal letters to their state legislators, and Surfrider Foundation staff will be participating in a work group on this bill in the future.
Washington
Meanwhile, Washington's microbead bill, Senate Bill (S.B.) 5609 passed the Senate unanimously on March 11, 2015. In the House, the bill had its first reading and was referred to the House Committee on the Environment on March 13. The Committee recently held a public hearing on the bill on March 23, 2015.
Unfortunately, S.B. 5609 passed the Senate with a potential "biodegradable" loophole, similar to Hawaii and Oregon's microbeads bills. The definition of the banned "synthetic plastic microbead" excludes biodegradable particles (i.e., synthetic plastic microbead means "an intentionally added nonbiodegradable solid plastic particle measuring less than five millimeters in size and used to exfoliate or cleanse in a rinse-off product"), which, again, could be problematic without further clarifying what is biodegradable and what is nonbiodegradable.
The Surfrider Foundation will continue to monitor these, and other proposed microbeads bills, and bring awareness to these issues such that legislators will be encouraged to craft effective bills that serve their intended purposes.  Go here for more information on the dangers of marine plastic pollution, and on Surfrider Foundation's Rise Above Plastics campaign. Visit 5 Gyres I Want Plastic Off My Face information page to learn how you can get involved.
YOU MIGHT ALSO LIKE
10 Reasons to Be Hopeful This Spring
Will Rachel Carson Be the First Woman on the $20 Bill?
EcoWatch Daily Newsletter
Heavy industry on the lower Mississippi helps to create dead zones.
AJ Wallace on Unsplash.
Cutting out coal-burning and other sources of nitrogen oxides (NOx) from heavy industry, electricity production and traffic will reduce the size of the world's dead zones along coasts where all fish life is vanishing because of a lack of oxygen.
Despite the ongoing coronavirus pandemic, which has restricted the ability to gather in peaceful assembly, a Canadian company has moved forward with construction of the controversial Keystone XL pipeline, according to the AP.
A gas flare from the Shell Chemical LP petroleum refinery illuminates the sky on August 21, 2019 in Norco, Louisiana. Drew Angerer / Getty Images.
Methane levels in the atmosphere experienced a dramatic rise in 2019, preliminary data released Sunday shows.
A retired West Virginia miner suffering from black lung visits a doctor for tests. Andrew Lichtenstein / Corbis via Getty Images
In some states like West Virginia, coal mines have been classified as essential services and are staying open during the COVID-19 pandemic, even though the close quarters miners work in and the known risks to respiratory health put miners in harm's way during the spread of the coronavirus.
Solar panel installations and a wind turbine at the Phu Lac wind farm in southern Vietnam's Binh Thuan province on April 23, 2019. MANAN VATSYAYANA / AFP via Getty Images