This website uses cookies to ensure you get the best experience while browsing it. By clicking 'Got It' you're accepting these terms.
4 States Struggling to Manage Radioactive Fracking Waste
Jun. 26, 2016 11:54AM EST
Energy
By Jie Jenny Zou, Ohio Valley ReSource
The Marcellus Shale has transformed the Appalachian Basin into an energy juggernaut. Even amid a recent drilling slowdown, regional daily production averages enough natural gas to power more than 200,000 U.S. homes for a year.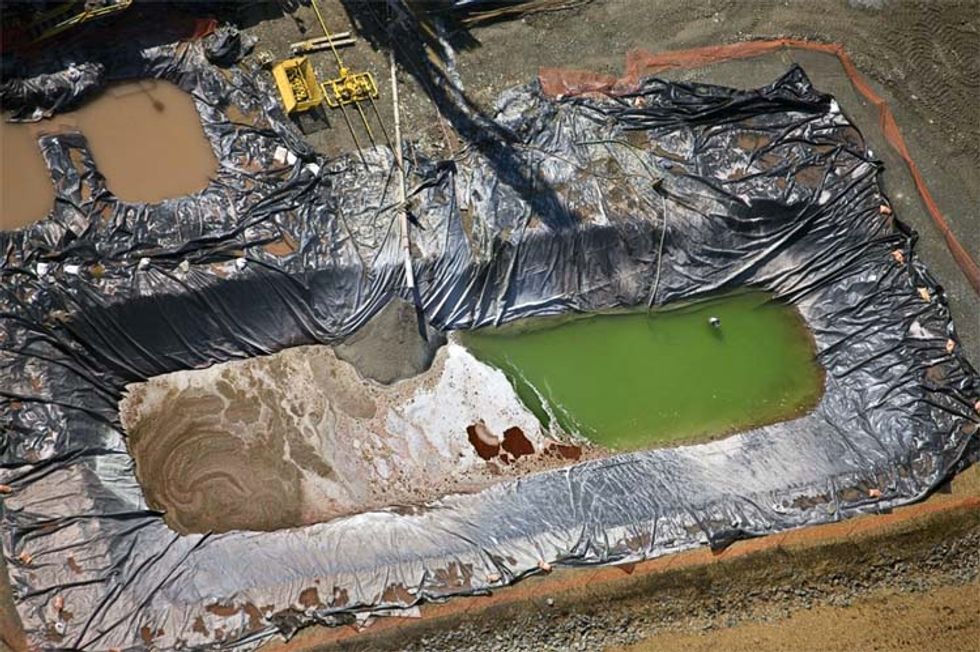 But the rise of hydraulic fracturing over the past decade has created another boom: tons of radioactive materials experts call an "orphan" waste stream. No federal agency fully regulates oil and gas drilling byproducts—which include brine, sludge, rock and soiled equipment—leaving tracking and handling to states that may be reluctant to alienate energy interests.
"Nobody can say how much of any type of waste is being produced, what it is and where it's ending up," said Nadia Steinzor of the environmental group Earthworks, who co-wrote a report on shale waste. [Earthworks has received funding from The Heinz Endowments, as has the Center for Public Integrity.]
The group is among several suing the U.S. Environmental Protection Agency to regulate drilling waste under a federal system that tracks hazardous materials from creation to final disposal or "cradle to grave." The EPA declined to comment on the lawsuit but is scheduled to file a response in court by early July.
Geologists have long known soil and rock contain naturally occurring radioactive materials that can become concentrated through activities like fracking, in which sand and chemicals are pumped thousands of feet underground to release oil and gas from tight rock. But concerns about fracking largely have focused on injection wells and seismic activity, with less attention paid to "hot" waste that arrives at landfills and sets off radiation alarms.
An analysis by the Center for Public Integrity shows that states are struggling to keep pace with this waste stream, relying largely on industry to self-report and self-regulate. States have also been slow to assess and curb risks from exposure to the waste, which can remain radioactive for millennia. Excessive radiation exposure can increase cancer risks; radon gas, for example, has been tied to lung cancer.
The four states in the Marcellus are taking different approaches to the problem; none has it under control. Pennsylvania has increasingly restricted disposal of drilling waste, while West Virginia allows some landfills to take unlimited amounts. Ohio has yet to formalize waste rules, despite starting the process in 2013. New York, which banned fracking, accepts drilling waste with little oversight.
Inconsistencies have raised concerns among regulators and activists that waste is being "shopped around" by companies seeking the path of least resistance or unsafely reused. In March, Kentucky's attorney general opened an investigation into two landfills he alleged illegally accepted radioactive drilling waste from West Virginia. A separate investigation is ongoing at the Kentucky Cabinet for Health and Family Services, where officials exchanged emails about whether landfill workers and schoolchildren might have been exposed to dangerous levels of radiation.
Bill Kennedy, a radiation expert at the consulting firm Dade Moeller, called radioactive drilling waste "virtually unregulated" and said consistent standards are needed to "protect workers, protect the general public, protect the environment."
Kennedy co-chairs a committee working with regulators and industry to develop guidelines and recommendations for states. "You can't rely on industry to go it alone and self-regulate," he said.
While radiation emitted from fracking waste may pale in comparison to that from nuclear power plant waste, Steinzor said regulators don't know the cumulative impacts of landfilling the loads over time. "There's been such a push to expand the industry and to drill as much as possible," she said. "No one has had the desire or political will to slow the industry down long enough to figure out what the risks truly are."
This piece was produced in partnership with the Center for Public Integrity, a nonpartisan, nonprofit investigative news organization.
YOU MIGHT ALSO LIKE
How Radioactive Fracking Waste Wound Up Near Homes and Schools
Methane Emissions From Onshore Oil and Gas Equivalent to 14 Coal Plants Powered for One Year
Help Put an End to Coal Mining on Public Lands
EcoWatch Daily Newsletter
Pro-environment demonstrators on the streets of Washington, DC during the Jan. 20, 2017 Trump inauguration.
Mobilus In Mobili
/ Flickr /
CC BY-SA 2.0
By Dr. Brian R. Shmaefsky
One year after the Flint Water Crisis I was invited to participate in a water rights session at a conference hosted by the US Human Rights Network in Austin, Texas in 2015. The reason I was at the conference was to promote efforts by the American Association for the Advancement of Science (AAAS) to encourage scientists to shine a light on how science intersects with human rights, in the U.S. as well as in the context of international development. My plan was to sit at an information booth and share my stories about water quality projects I spearheaded in communities in Bangladesh, Colombia, and the Philippines. I did not expect to be thrown into conversations that made me reexamine how scientists use their knowledge as a public good.
Mt. Rainier and Reflection Lake on Sept. 10, 2015. Crystal Geyser planned to open a bottling plant near Mt. Rainier, emails show.
louelke - on and off / Flickr
Bottled water manufacturers looking to capture cool, mountain water from Washington's Cascade Mountains may have to look elsewhere after the state senate passed a bill banning new water permits, as The Guardian reported.
Large storage tank of Ammonia at a fertilizer plant in Cubatão, Sao Paulo State, Brazil. Luis Veiga / The Image Bank / Getty Images
The shipping industry is coming to grips with its egregious carbon footprint, as it has an outsized contribution to greenhouse gas emissions and to the dumping of chemicals into open seas. Already, the global shipping industry contributes about 2 percent of global carbon emissions, about the same as Germany, as the BBC reported.
At high tide, people are forced off parts of the pathway surrounding DC's Tidal Basin. Andrew Bossi /
Wikimedia
The Jefferson Memorial in Washington, DC overlooks the Tidal Basin, a man-made body of water surrounded by cherry trees. Visitors can stroll along the water's edge, gazing up at the stately monument.
But at high tide, people are forced off parts of the path. Twice a day, the Tidal Basin floods and water spills onto the walkway.
Lioness displays teeth during light rainstorm in Kruger National Park, South Africa. johan63 / iStock / Getty Images
Ahead of government negotiations scheduled for next week on a global plan to address the biodiversity crisis, 23 former foreign ministers from various countries released a statement on Tuesday urging world leaders to act "boldly" to protect nature.