4 States Likely to See the Hottest Year Ever
Sep. 11, 2015 09:31AM EST
Climate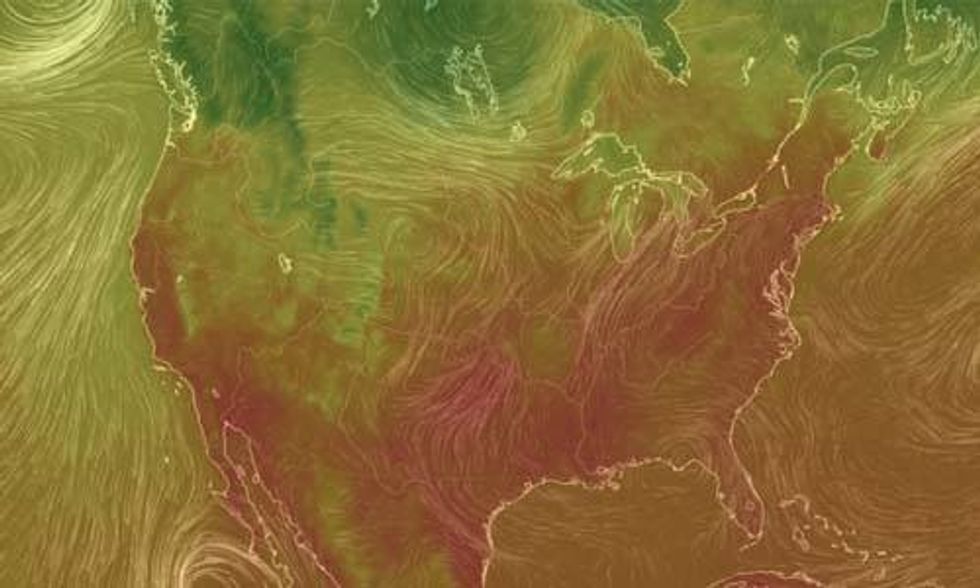 It's already shaping up to be the hottest year on record globally, and it's certainly been a scorcher for the U.S. as well. The latest data from the National Oceanic and Atmospheric Administration (NOAA) found that the contiguous U.S. had its 12th warmest summer on record and its ninth warmest year to date in the last 121 years.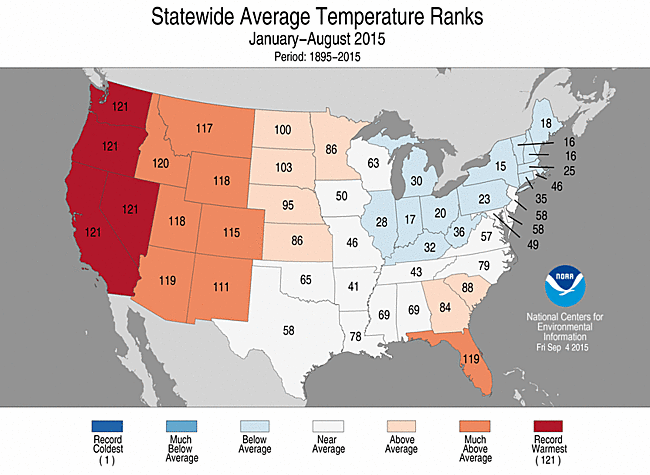 Washington and Oregon even had their warmest summers ever as the Pacific Northwest battled record heat and Washington dealt with its largest fire in state history. Those two states, along with California and Nevada, recorded their warmest January to August, and are poised to see their hottest years ever, according to NOAA.
"I think it's likely that 2015 will set the record for the warmest year on record for WA State," Karin Bumbaco, assistant state climatologist for Washington, told Climate Central. "Even if the rest of the year were simply average temperature-wise, 2015 would surpass the current record-holder of 1934 by 0.5°F," she said, and with one of the strongest El Niños on record, it is very likely that temperatures will remain above normal for the rest of the year.
Alaska had its second-warmest January to August on record. Montana, Idaho, Wyoming, Colorado, Utah, New Mexico, Arizona and Florida all had "much above average" temperatures for January to August. The record warmth, coupled with record dryness has created conditions for what might yet be the worst wildfire season on record—with no sign of relief anytime soon.
As for precipitation, overall the U.S. has had its 24th wettest year to date, but extremes exist. The Central U.S. along with parts of the Northeast and Midwest had one of their soggiest summers ever, whereas, as of Sept. 1, 30 percent of the U.S. was in drought—up three percent since July.
NOAA states:
The year-to-date precipitation total for the contiguous U.S. was 22.14 inches, 1.43 inches above average, and the 24th wettest on record. Above-average precipitation was observed across the central U.S., where eight states were much wetter than average. Oklahoma had its wettest January-August on record with a precipitation total 156 percent of average. Below-average precipitation was observed along both coasts. California, Connecticut and Oregon each had precipitation totals that were much below-average. California had its fifth driest year-to-date receiving less than half the average precipitation.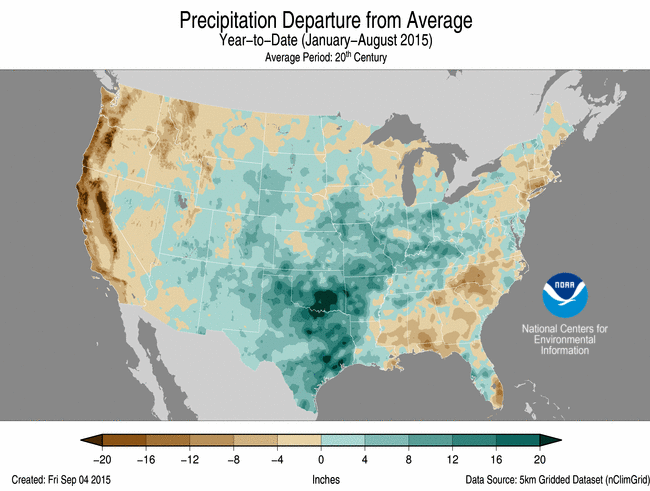 Extremes were common in the NOAA data. The agency uses the U.S. Climate Extremes Index (USCEI) to track extremes in temperature, precipitation, land-falling tropical cyclones and drought for the contiguous U.S.
"The USCEI for the year-to-date was 35 percent above average and the 17th highest value on record," reports NOAA. "On the national-scale, extremes in warm maximum and minimum temperatures, one-day precipitation totals and days with precipitation were much above average."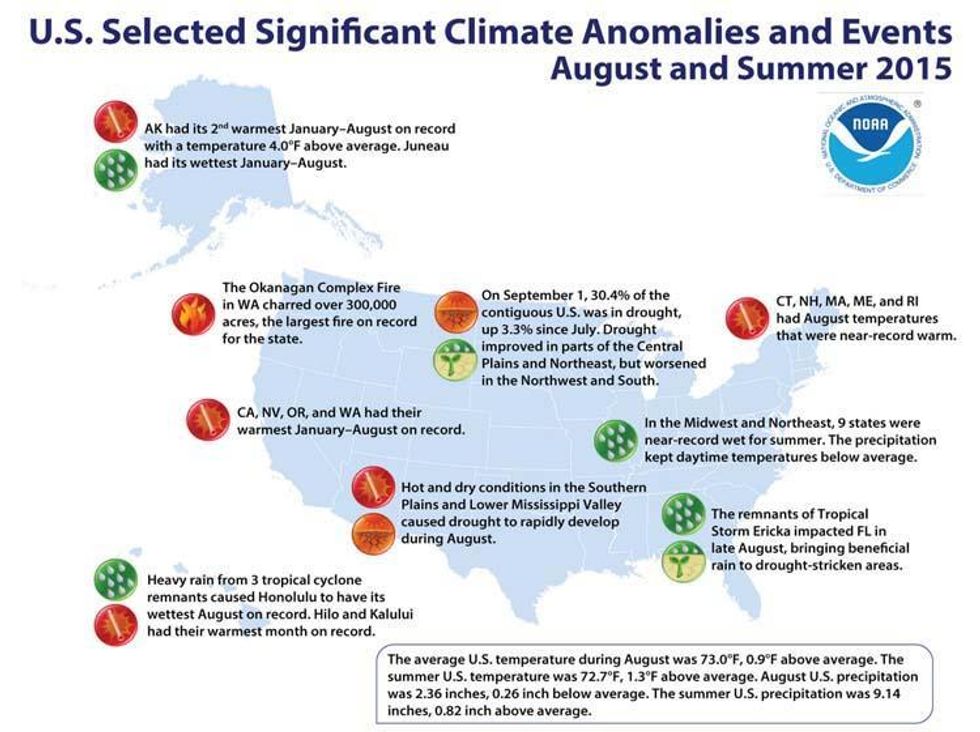 Scientists have found that, as the Earth warms, extreme weather has increased, bringing more and more droughts, floods, heat waves and heavy downpours. Just yesterday, Japan was rocked by massive flooding that forced the evacuation of more than 100,000 people. And extreme heat continues today in Southern California as near record-high demand on power grids triggered blackouts.
California's four-year drought the driest stretch on record, and heat totally off the charts (Via @EricHolthaus) pic.twitter.com/0HF76mCMK9 — UN Climate Action (@UNFCCC) September 10, 2015
Meanwhile on the other side of the country, New York City set a record on Tuesday for hottest temperature ever recorded on that day (97 degrees Fahrenheit), breaking the previous record of 93 degrees held since 1919. Some places around the U.S. are grappling with temperatures 15 to 20 degrees above normal this week.
Temperature hits 97 degrees in New York City's Central Park, breaking record set in 1919 http://t.co/itHqgv172I pic.twitter.com/4LIADvkVvC — NBC Nightly News (@NBCNightlyNews) September 8, 2015
YOU MIGHT ALSO LIKE
Record-Breaking Hurricane Season Hits the Pacific
Japan Hit by Massive Floods as 100,000+ Flee Homes After "Unprecedented' Rainfall
Sarah Palin Blasts Obama Claiming Glaciers Are Growing and Man Isn't to Blame for Climate Change
EcoWatch Daily Newsletter
Related Articles from EcoWatch
Recent Stories from EcoWatch