4 Signs We Are Winning the Climate Fight

It's been a powerful couple months in the world of climate activism. As many of us prepare for the Paris climate talks, we've seen major victories in the stopping of Shell Arctic drilling project and the rejection of the Keystone XL pipeline.
These victories were the result of sustained direct action campaigns that lifted the issues into mainstream consciousness. Now with Paris on the doorstep we plan to keep the momentum rolling with an international youth-led climate strike on Nov. 30, the first day of COP21. This is the next step in demonstrating the power of the climate resilience movement.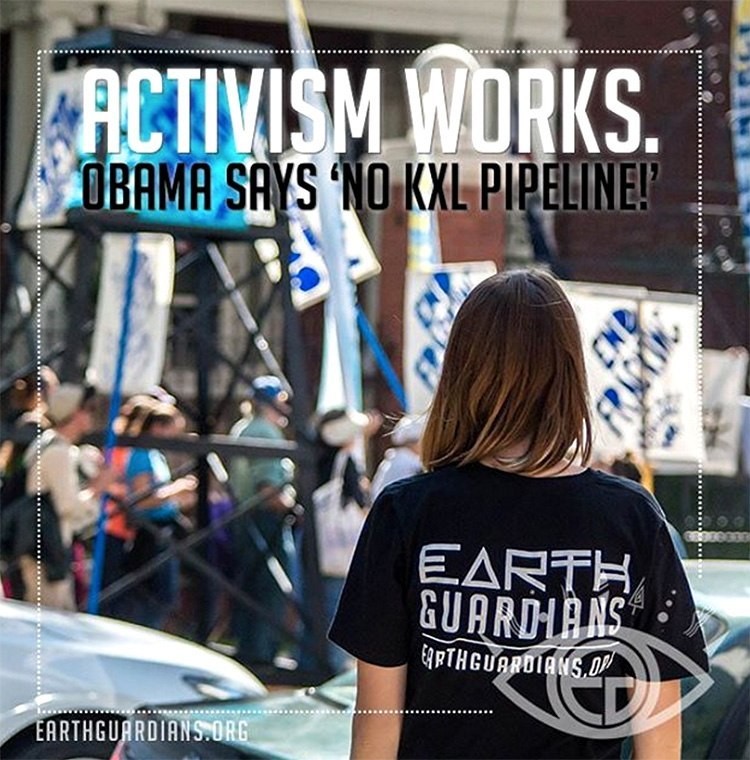 Years ago, the Keystone XL pipeline was a done deal. Then, we came together as a movement to #RYSE up. Congratulations to the hardworking organizations and young leaders on one of the most impressive grassroots campaigns ever organized. The work is far from over, but this is certainly a monumental victory! #NoKXL #PeoplePower. Photo credit: Earth Guardians
As we move forward it's also important to see how the Keystone XL victory can guide our organizing. Here are some takeaways from this people powered victory.
1. Front Line Communities Led the Way
No one understands the true impact of tar sands extraction like the First Nations people of Alberta. They have seen the native forests of their home destroyed and turned into industrial wastelands. Indigenous people from Canada have been fighting tar sands long before people knew what the Keystone XL pipeline was. This is their victory. Members of the Indigenous Environmental Network joined farmers along the pipeline route including the organization Bold Nebraska who are trying to save their aquifers from being polluted by pipeline spills. These were the people who led the fight and demonstrated the importance of supporting front line communities and elevating their voices.
2. Non-violent Direct Action Works
Thousands of citizens have been arrested over the seven years that people have been fighting the Keystone XL pipeline. In the Fall of 2011, more than 12,500 arrests took place at the White House in a two-week action led by Tar Sands Action and 350.org. This monumental act of civil disobedience helped bring the issue to national prominence. In March of 2014, I joined a group more than a thousand student activists at the White House for Keystone XL Dissent, a student-led action where nearly 400 young people were arrested. Following those actions, we saw tar sands blockades and hundreds of rallies across the country in solidarity with those affected by tar sands extraction. Without this amazing grassroots mobilization, the Keystone pipeline would almost certainly already be built.
3. What's next?
Now with the Keystone XL out of the way there are other campaigns that need our attention. The #keepitintheground campaign needs our support to ban the auctioning of public lands, including national parks, for drilling. We can continue to push the fossil fuel divestment movement toward a tipping point as more and more universities and institutions divest—and more students become active in the movement at their schools. We can also build grassroots community solutions to the climate crisis, by adopting renewable energy, energy efficiency and local, organic farming.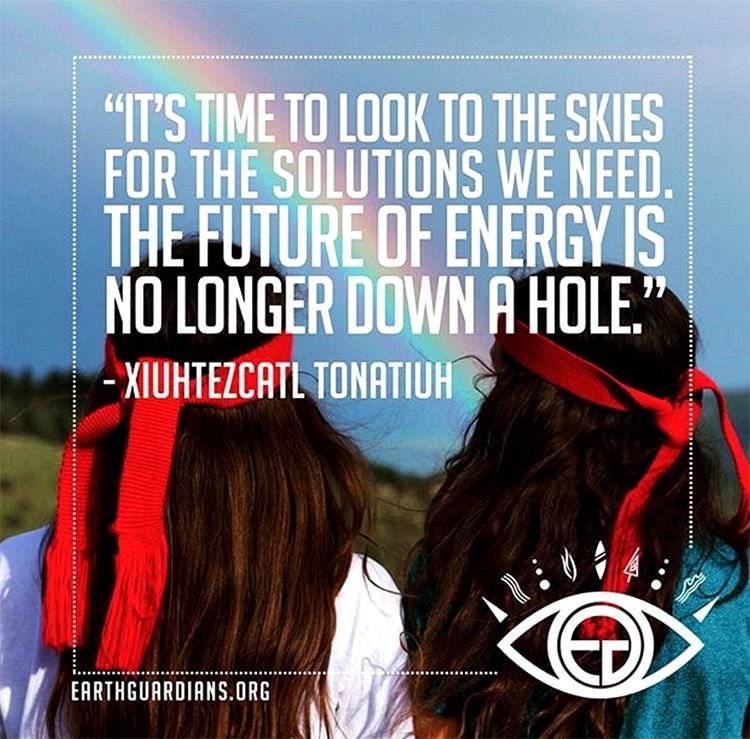 It's about time we look to the skies. Photo credit: Earth Guardians
4. Join us in International Climate Strike
Join us to lift up and support all of these campaigns. On the first day of the Climate talks in Paris, all across the world students will be walking out of classrooms to participate in building solutions to the climate crisis. Students from more than 40 countries have pledged to participate and urge their schools to work towards net-zero energy. Please join us! Sign up here. The solutions are all around us—in the sky, the sun, the wind. People are ready to bring forth these solutions into a new world. The rejection of the Keystone XL pipeline gives us hope. It represents a monumental opportunity to once again rise to make our voice heard and tell world leaders that we must reduce greenhouse gas emissions and transition to a clean energy economy. Not only is it possible, but it is necessary now more than ever. At the dawn of global environmental and climate collapse, this is our opportunity to change history. Will you stand with me?
YOU MIGHT ALSO LIKE
26 National Parks Fail EPA's New Ozone Standard
Awesome 5-Minute Video Urges Young People to Start a Farming Revolution
What is COP21? Find Out in This 2 Minute Video
By Itai Vardi
A recent intensification in protests against Williams Partners' planned Atlantic Sunrise pipeline in Pennsylvania prompted a state senator to propose legislation aimed at limiting demonstrations.
Last month, Pennsylvania Sen. Scott Martin (R-Norman) announced his intention to introduce legislation that would pass the costs of law enforcement responding to protests onto the demonstrators. Martin also helped introduce a different bill that would criminalize protests at natural gas facilities.
Keep reading...
Show less
Black Shogun / iStock
The Federal Energy Regulatory Commission (FERC) released its Final Environmental Impact Statement Friday for the Mountain Valley Pipeline, a controversial 303-mile pipeline that would carry two billion cubic feet of fracked gas per day from West Virginia through Virginia.
Keep reading...
Show less
Falcon PEV
The so-called "first and last mile" problem is one of the biggest hurdles with public transportation. How do you encourage more people to take Earth-friendlier commutes when their homes are miles away from the train or bus station?
One solution, as this Estonian electric scooter company proposes, is to simply take your commute with you—literally. Tallinn-based Stigo has developed a compact e-scooter that folds to the size of a rolling suitcase in about two seconds.
Keep reading...
Show less
Connect4Climate
[Editor's note: I'm still in shock after hearing the news that Lucia Grenna passed away in her sleep last week. When we first met in April of 2014 at a Copenhagen hotel, I was immediately taken by here powerful presence. We spent the next couple days participating in a Sustainia climate change event where Lucia presented her audacious plans to connect people to the climate issue. I had the chance to partner with Lucia on several other projects throughout the years and work with her incredible Connect4Climate team. I was always in awe of her ability to "make the impossible possible." Her spirit will live on forever. — Stefanie Spear]
It is with a heavy heart that Connect4Climate announces the passing of its founder and leading light, Lucia Grenna. Lucia passed peacefully in her sleep on June 15, well before her time. We remember her for her leadership and extraordinary ability to motivate people to take on some of the greatest challenges of our time, not least climate change.
Keep reading...
Show less
Jun. 23, 2017 07:29PM EST
Wikimedia Commons
By Stacy Malkan
Neil deGrasse Tyson has inspired millions of people to care about science and imagine themselves as participants in the scientific process. What a hopeful sign it is to see young girls wearing t-shirts emblazoned with the words, "Forget princess, I want to be an astrophysicist."
Keep reading...
Show less
Jun. 23, 2017 01:57PM EST
www.youtube.com
By Andy Rowell
Any day now we will truly witness climate change in action. Within days at worst, maybe weeks at best, scientists predict that a huge section of the Larsen C ice shelf in Antarctica will break off into the ocean, in what is called a major "carving" event.
Keep reading...
Show less
Jun. 23, 2017 02:27PM EST
www.youtube.com
President Trump visited Cedar Rapids, Iowa on June 21 to speak to a large crowd in the U.S. Cellular Center at a political rally organized by his campaign.
As Trevor Noah noted during The Daily Show episode last night (starts at 2:25), the real reason Trump has these rallies is to "get back in front of his loyal crowds and feed of their energy." Noah believes that "Trump supporters are so on board with their dude he can say anything and they'll come along for the ride."
Keep reading...
Show less
Jun. 23, 2017 07:50PM EST
The Kamuthi solar plant in the southern Indian state of Tamil Nadu.
The rapid growth in renewable energy continues to put a dent in the demand for coal.
Coal India, the world's biggest coal mining company and producer of 82 percent of the country's coal, announced the closure of 37 mines that are financially "unviable."
Keep reading...
Show less
Jun. 23, 2017 06:42PM EST
www.youtube.com
By Katie O'Reilly
Two years ago—long before coal became one of the most dominant and controversial symbols of the 2016 presidential election—Bloomberg Philanthropies approached production company RadicalMedia with the idea of creating a documentary exploring the U.S. coal mining industry. Last spring, they brought on Emmy-nominated director Michael Bonfiglio, tasked with forging a compelling story out of the multitudes of facts, statistics and narratives underlying the declining industry.
Keep reading...
Show less


Get EcoWatch in your inbox