This website uses cookies to ensure you get the best experience while browsing it. By clicking 'Got It' you're accepting these terms.
4 Reasons Why El Nino Won't Solve California's Epic Drought
Sep. 05, 2015 09:11AM EST
Climate
El Nino will solve the drought.
You're hearing this sentiment around California these days. After four years of bone-dry winters, warmer Pacific Ocean waters are expected to bring lots of precipitation to California this winter—a huge opportunity for replenishing California's depleted reservoirs and aquifers.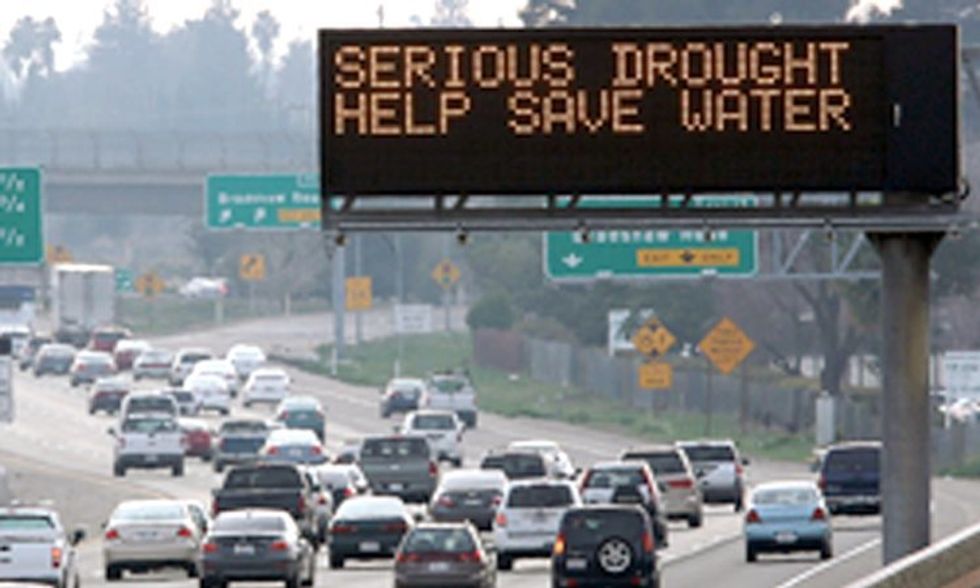 But it's wishful thinking to believe that El Nino—even a Godzilla El Nino as many talk about and skiers dream about—will make the state's dire water shortages go away.
For starters, warm arid conditions that California has been experiencing the past few years are widely believed to be the "new normal"—the result of the state's intrinsically dry climate and climate changing trends.
On the heels of the hottest month on record globally in July, new research released last month makes clear that global warming impacts in California are exacerbating drought conditions. It's basic logic: less snow pack means reduced water supplies and hotter temperatures mean more water is lost due to evaporation.
But there's another reason why El Nino and any subsequent heavy rain years won't fix California's water crisis: We don't maximize the water we already have. Whenever it rains in California, much of that water is funneled directly into the Pacific Ocean rather than being captured and used. The amount of water being lost is staggering—a one-inch rain event in Los Angeles County can generate more than 10 billion gallons of stormwater runoff, most of which ends up in the ocean. That's enough water to fill the Rose Bowl over 100 times!
Also, large volumes of treated water are dumped out to sea. For instance the Hyperion Treatment Plant in Los Angeles discharges more than 250 million gallons of wastewater each day into the Pacific Ocean. Instead, this water could be additionally treated and reused.
There have been some successful projects to reverse this trend, but far bigger investments are needed in stormwater capture, recycling and other types of green water infrastructure. While the state's recent $7.5 billion water bond will help finance some of these types of projects, it's not nearly enough.
Water lost from leaks in water distribution systems is another significant problem. A 2010 study done by the CA Public Utilities Commission estimated that 10 percent of urban water—870,000 acre-feet—is lost to leaks and that 40 percent of that water could be cost-effectively recovered through leak repairs, pressure management and targeted pipe replacement.
Fortunately, legislation approved just this week by lawmakers in Sacramento will help tackle this problem. SB 555—a bill backed by a half-dozen major California businesses, including The Gap, Dignity Heath and Symantec—established annual requirements for the filing of water loss audit reports by urban water suppliers. These validated audit reports will provide useful and actionable information for individual water suppliers and policymakers as they decide on water-saving investments in the future.
Ceres' new California water campaign—Connect the Drops—is elevating business voices on the urgency of better maximizing the water that we already have. We work with businesses, which like all Californians, are banking their futures on sustainable water supplies in California. Because, unfortunately, El Nino will not be the silver bullet fix for California.
Kirsten James is a senior manager at Ceres who directs the organization's policy program in California. For more information, visit ceres.org or follow on Twitter @CeresNews
YOU MIGHT ALSO LIKE
The Drought in California Is So Bad the Ground Is Literally Sinking
California Businesses Save Water in Style With #DroughtNotDrab
Ocean Plastic Will Be Found in 99 Percent of Seabirds by 2050
EcoWatch Daily Newsletter
A new study shows that half of all Arctic warming and corresponding sea-loss during the late 20th century was caused by ozone-depleting substances. Here, icebergs discharged from Greenland's Jakobshavn Glacier. Kevin Krajick / Earth Institute /
EurekAlert!
The world awakened to the hole in the ozone layer in 1985, which scientists attributed it to ozone depleting substances. Two years later, in Montreal, the world agreed to ban the halogen compounds causing the massive hole over Antarctica. Research now shows that those chemicals didn't just cut a hole in the ozone layer, they also warmed up the Arctic.
Diane Wilson holds up a bag full of nurdles she collected from one of Formosa's outfall areas on Jan. 15. Julie Dermansky / DeSmogBlog
On the afternoon of Jan. 15, activist Diane Wilson kicked off a San Antonio Estuary Waterkeeper meeting on the side of the road across from a Formosa plastics manufacturing plant in Point Comfort, Texas.
After Wilson and the waterkeeper successfully sued Formosa in 2017, the company agreed to no longer release even one of the tiny plastic pellets known as nurdles into the region's waterways. The group of volunteers had assembled that day to check whether the plant was still discharging these raw materials of plastics manufacturing.
Malaysian Environment Minister Yeo Bee Yin (front 2nd L) and officials inspect a container containing plastic waste shipment on Jan. 20, 2020 before sending back to the countries of origin. AFP via Getty Images
The Southeast Asian country Malaysia has sent 150 shipping containers packed with plastic waste back to 13 wealthy countries, putting the world on notice that it will not be the world's garbage dump, as CNN reported. The countries receiving their trash back include the United States, the United Kingdom, France and Canada.
Trump leaves after delivering a speech at the Congress Centre during the World Economic Forum annual meeting in Davos on Jan. 21, 2020. JIM WATSON / AFP via Getty Images