4 Reasons the Sochi Olympics Are an Environmental Disaster
You may see a lot of gold, silver and bronze at the Olympics, but one color you definitely won't see much of in Sochi is green. Years ago, Russia won its Olympic bid in large part by pledging to host the most environmentally friendly Games ever. Now, however, it's clear that Sochi did not fulfill these promises and, in fact, has perpetrated an ecological nightmare.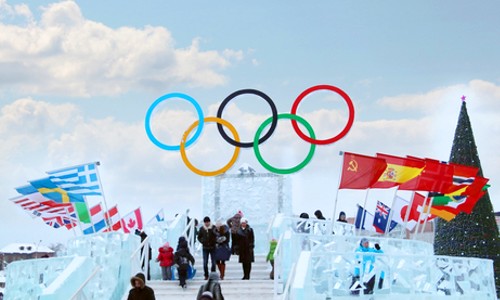 Photo courtesy of Shutterstock
Here are four reasons even casual environmentalists will resent Sochi's actions:
1. Illegally Dumping Waste
So much for Sochi's "zero waste" claims: the Associated Press has proven Russia's vow to use only renewable materials in their construction efforts and not dump waste false. Though the nation tried to hide this dumping, the press agency found literal tons of waste being dumped unsafely in a protected area.
Since the illicit spot was discovered, Russian officials blamed it on a hired company's "error."
Still, no effort has been made to remove the dangerous waste from where it sits.
2. Damaged Water Supply
While not following through on the pledge to not dump is bad, it wouldn't be half as awful if only they had dumped that industrial waste in actual wasteland. In a misguided attempt to hide their dumping, Russia wound up putting this hazardous material in a "water protected zone," thereby putting Sochi's drinking water at risk.
Whether that waste actually did any damage to the city's water supply is uncertain, but one thing is definite: the water has been tainted by something.
One journalist took photos of the yellow water that came out of her sink. Not only was she warned not to drink the water, locals advised that she not even touch the water because it "contains something very dangerous."
3. Destroying National Parks
In order to make room for the various Olympic facilities and accommodations, Sochi needed to clear space in natural areas that should have been off-limits. More than 8,000 acres of Sochi National Park were cleared after politicians reversed Russia's laws protecting national parks so that construction could occur.
As a result, rare wetlands were buried in rubble. The inhabiting species of birds, bears and reptiles have fled to unknown locations in search of a new home. Though Russia seems to be following through on its plan to plant three trees for every one it chops down for the Olympics, environmentalists are not pleased with how it is being implemented. By scattering these new trees in various places, Russia is not addressing the problem of deforestation or reestablishing habitats for the creatures that have been displaced.
4. Jailing Environmental Activists
Worse yet, Russia has made it clear that anyone who speaks out against all of these environmental assaults will feel its wrath. Though the effort to crack down on gay rights protesters has received most of the media attention, Putin's posse has also aggressively pursued environmental activists to prevent any demonstrations that could "interrupt" the Games.
Yevgeny Vitishko, one of Sochi's most prominent eco-activists in recent years, has been arrested on trumped up charges. Just before the Olympics, Vitishko was arrested for "swearing in public" and will be kept in jail on the charge for more than two weeks. It's clear that Russia is inventing a way to keep Vitishko behind bars to prevent him from discussing these issues during the actual Olympics. Vitishko is joined in prison by fellow green protestor Igor Kharchenko, who was also mysteriously arrested for nebulous reasons just before the Games.
Visit EcoWatch's WATER page for more related news on this topic.

www.youtube.com
By Katie O'Reilly
Two years ago—long before coal became one of the most dominant and controversial symbols of the 2016 presidential election—Bloomberg Philanthropies approached production company RadicalMedia with the idea of creating a documentary exploring the U.S. coal mining industry. Last spring, they brought on Emmy-nominated director Michael Bonfiglio, tasked with forging a compelling story out of the multitudes of facts, statistics and narratives underlying the declining industry.
Keep reading...
Show less
Mayors for 100% Clean Energy
Keep reading...
Show less
www.youtube.com
President Trump visited Cedar Rapids, Iowa on June 21 to speak to a large crowd in the U.S. Cellular Center at a political rally organized by his campaign.
As Trevor Noah noted during The Daily Show episode last night (starts at 2:25), the real reason Trump has these rallies is to "get back in front of his loyal crowds and feed of their energy." Noah believes that "Trump supporters are so on board with their dude he can say anything and they'll come along for the ride."
Keep reading...
Show less
www.youtube.com
By Andy Rowell
Any day now we will truly witness climate change in action. Within days at worst, maybe weeks at best, scientists predict that a huge section of the Larsen C ice shelf in Antarctica will break off into the ocean, in what is called a major "carving" event.
Keep reading...
Show less
www.youtube.com
Thanks to Newsy for their coverage on Thursday's news that the U.S. Fish and Wildlife Service removed grizzly bears in the Greater Yellowstone region from the Endangered Species List.
Watch above as Newsy explains that the decision comes despite serious concerns from the environmental and scientific community, and Tribal Nations about a declining, isolated grizzly bear population with diminishing food resources and record-high mortalities.
Keep reading...
Show less
www.facebook.com
By Francine Kershaw
Seismic airguns exploding in the ocean in search for oil and gas have devastating impacts on zooplankton, which are critical food sources for marine mammals, according to a new study in Nature. The blasting decimates one of the ocean's most vital groups of organisms over huge areas and may disrupt entire ecosystems.
And this devastating news comes on the heels of the National Marine Fisheries Service's proposal to authorize more than 90,000 miles of active seismic blasting. Based on the results of this study, the affected area would be approximately 135,000 square miles.
Keep reading...
Show less
By Jill Richardson
Is coconut oil:
good for you
bad for you
neither good nor bad
scientists don't know
The subject of this question is the source of a disagreement. Initially, the question was thought to be settled decades ago, when scientist Ancel Keys declared all saturated fats unhealthy. Coconut oil, which is solid at room temperature, is a saturated fat.
Keep reading...
Show less
The U.S. Fish and Wildlife Service removed grizzly bears in the Greater Yellowstone region on Thursday from the Endangered Species List. The decision comes despite serious concerns in the scientific community about a declining, isolated population with diminishing food resources and record-high mortalities, as well as strong opposition from an unprecedented number of Tribal Nations.
Keep reading...
Show less
ArborGen pine tree field test site in South Carolina. BJ McManama
By BJ McManama
ArborGen Corporation, a multinational conglomerate and leading supplier of seedlings for commercial forestry applications, has submitted an approval request to the U.S. Department of Agriculture, Animal and Plant Health Inspection Service to deregulate and widely distribute a eucalyptus tree genetically engineered (GE) to be freeze tolerant. This modification will allow this GE variety to be grown in the U.S. Southeast. The reason this non-native and highly invasive tree has been artificially created to grow outside of its tropical environment is to greatly expand production capacity for the highly controversial woody biomass industry.
Keep reading...
Show less


Get EcoWatch in your inbox