This website uses cookies to ensure you get the best experience while browsing it. By clicking 'Got It' you're accepting these terms.
4 Reasons Solar Microgrids Are the Future of Energy
Mar. 26, 2015 11:26AM EST
Business
Solar energy is often heralded as a clean alternative to coal and oil and gas, a way to save the planet and still ensure everyone's electrical needs are still met. The technology is still advancing and people are finding new ways to make use of it. One idea is for communities to create their own microgrids and here's why.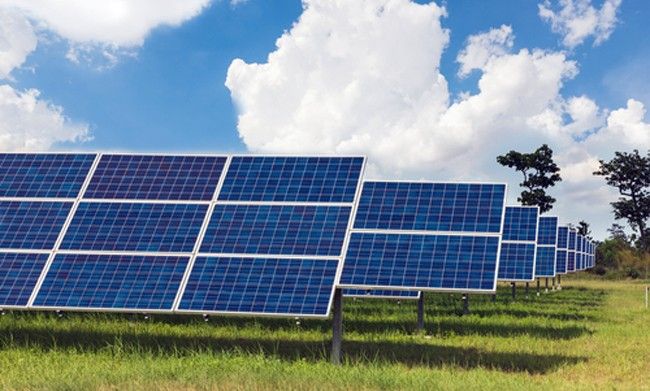 Microgrids are a great way for communities to generate their own solar electricity. Photo credit: Shutterstock
Bills are lower
America is a pretty sunny place, with every state getting a decent amount of sunlight, even Alaska. That's a lot of untapped potential, so it seems foolish for people to pay for power off the grid when they can get it for free from the sky.
Well, free might be a bit of a stretch, at least at first. There's still the installation and maintenance costs to consider, so it will take a little while to pay that off, but it's worth noting the quality of solar panels is increasing every year.
If a community were to come together they could make buying panels a more manageable initial investment. Not only are their combined resources larger, but they'll most likely be able to strike a better deal with a solar panel company when they've covered 30 roofs rather than one or two.
Once everything is set-up and running, electricity can be provided through solar panels to the community. While it won't be able to replace regular supplies in all and every case, it can help bring down energy bills significantly.
Money can be raised
As well as, or instead of using the power themselves, communities can sell energy back to the grid. This can help create a pool of money that can be shared in the community. Instead of heading out and rattling tins for community initiatives cash can be raised whenever the sun is out. Whether it's for repairs for a playground to support a local in need, a microgrid can be a great way to build up some money with little effort.
Protection from outages
The main grid isn't always reliable. It's susceptible to disasters, attacks, energy shortages and plain old errors. These events can affect thousands, even millions, in an instance and depending on what happened, it can take a long time to rectify.
Microgrids offer some protection from this. If, rather than using or selling all the energy collected, a community stores it, they have a back-up during blackouts. This means when there could be no lights for miles around, a community could still make dinner and watch TV without a big fuss. This puts them in a great position to help nearby people as well.
Cohesion and communication
An important part of a good community is the communication and cohesion between its members. This can be done with a friendly chat on the way out the door or specially organized events. Another way is to make the microgrid an active communal endeavor. Communities can keep everyone updated on progress, use it to teach children about science and space, and get people involved in the running of the grid.
All of this gets people talking to each other, plus if the grid is being used to raise money for something, it gives everyone a common goal and interest to work for too. It's a perfect and easy way to help people get along.
YOU MIGHT ALSO LIKE
Top 10 Cities Embracing Solar Energy—Did Your City Make the List?
Renewable Energy Growth Mitigates Climate Change While Boosting Economy, IEA Reports
EcoWatch Daily Newsletter
Tuna auctions are a tourist spectacle in Tokyo. Outside the city's most famous fish market, long queues of visitors hoping for a glimpse of the action begin to form at 5 a.m. The attraction is so popular that last October the Tsukiji fish market, in operation since 1935, moved out from the city center to the district of Toyosu to cope with the crowds.

gmnicholas / E+ / Getty Images
Kristan Porter grew up in a fishing family in the fishing community of Cutler, Maine, where he says all roads lead to one career path: fishing. (Porter's father was the family's lone exception. He suffered from terrible seasickness, and so became a carpenter.) The 49-year-old, who has been working on boats since he was a kid and fishing on his own since 1991, says that the recent warming of Maine's cool coastal waters has yielded unprecedented lobster landings.
Aerial view of lava flows from the eruption of volcano Kilauea on Hawaii, May 2018. Frizi / iStock / Getty Images
Hawaii's Kilauea volcano could be gearing up for an eruption after a pond of water was discovered inside its summit crater for the first time in recorded history, according to the AP.
The Eqip Sermia Glacier is seen behind a moraine left exposed by the glacier's retreat during unseasonably warm weather on Aug. 1 at Eqip Sermia, Greenland. Sean Gallup / Getty Images
hadynyah / E+ / Getty Images
By Johnny Wood
The Ganges is a lifeline for the people of India, spiritually and economically. On its journey from the Himalayas to the Bay of Bengal, it supports fishermen, farmers and an abundance of wildlife.
The river and its tributaries touch the lives of roughly 500 million people. But having flowed for millennia, today it is reaching its capacity for human and industrial waste, while simultaneously being drained for agriculture and municipal use.
Here are some of the challenges the river faces.
By Jake Johnson
As a growing number of states move to pass laws that would criminalize pipeline protests and hit demonstrators with years in prison, an audio recording obtained by The Intercept showed a representative of a powerful oil and gas lobbying group bragging about the industry's success in crafting anti-protest legislation behind closed doors.
Reposted with permission from our media associate Common Dreams.

DESIREE MARTIN / AFP / Getty Images
Wildfires raging on Gran Canaria, the second most populous of Spain's Canary Islands, have forced around 9,000 people to evacuate.