4 Pathways to Our Climate Future—Which Will We Choose?
Aug. 06, 2014 10:59AM EST
Climate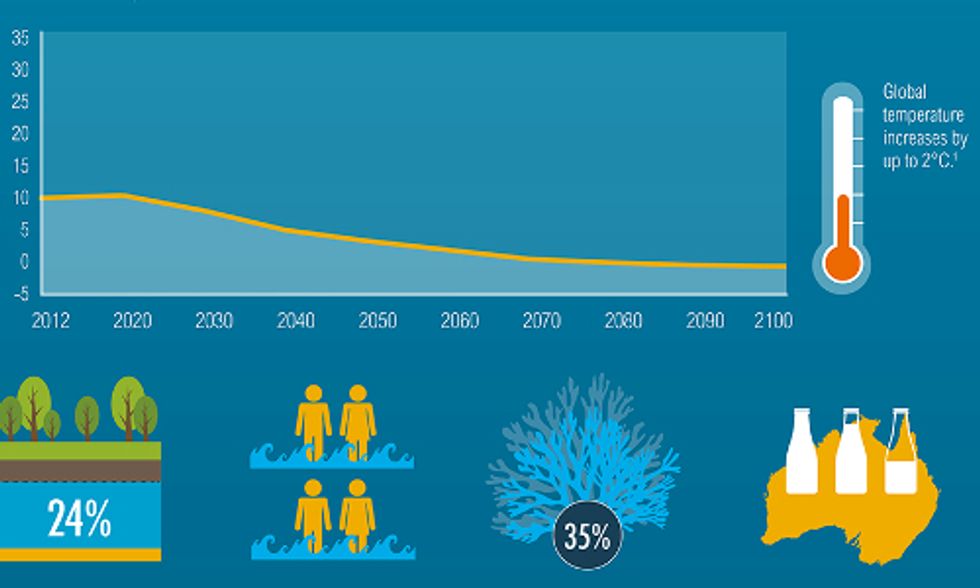 According to the Intergovernmental Panel on Climate Change (IPCC)'s Fifth Assessment Report, we are approaching dangerous territory because of climate change. All areas of the world have already experienced effects of global temperatures rising, from extreme weather events to record droughts.
For the first time in human history, concentrations of carbon dioxide, a global warming pollutant, have hit 400 parts per million in Earth's atmosphere. Without taking action to reduce greenhouse gas emissions, we can expect to experience a number of escalating consequences, from sea level rise to ecosystem degradation, according to experts.
Yet there is still time to reverse course and stave off such catastrophic outcomes. IPCC  finds it physically and technically feasible to stay within the world's "carbon budget" and offers useful tips for climate action.
What would the future look like if we took drastic action to cut emissions—or no action at all?
Using IPCC data, World Resources Institute created an infographic depicting the likely outcomes of four variable emissions pathways—known as Representation Concentration Pathways—from a low-carbon future to one that is fossil fuel-intensive.

We can choose our own ending to this story. Which way will it go?
You Might Also Like
Doing Nothing Isn't an Option: How to Avoid the Worst of Climate Change
NASA: Earth Could Warm 20 Percent More Than Earlier Estimates
Powerful Film Underscores Urgent Need to Address Climate Change
EcoWatch Daily Newsletter
Recent Stories from EcoWatch