This website uses cookies to ensure you get the best experience while browsing it. By clicking 'Got It' you're accepting these terms.
4 Non-Toxic Ways to Protect Your Skin During Cold Winter Months
Dec. 30, 2015 10:22AM EST
Health + Wellness
It may not feel like winter right now, but we know that won't last. It will get cold outside—and our skin will sure know it.
Dropping temperatures and outdoor fun mean dry skin, cracked lips and brittle hair for the whole family. Heated homes, schools and office buildings make matters worse.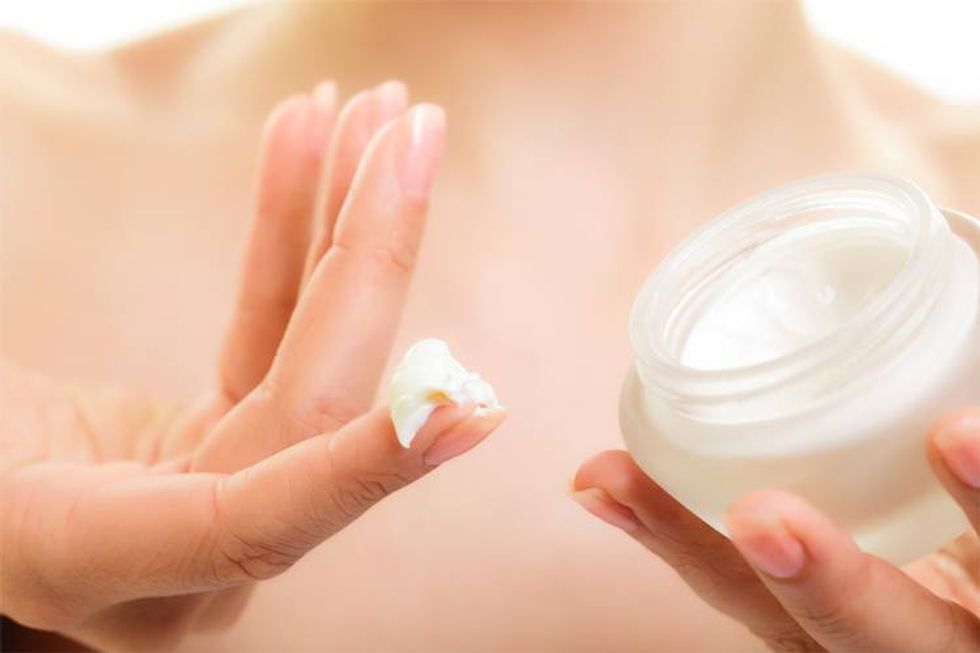 Photo credit: Shutterstock
We slather on moisturizing creams and lotions for relief, but most of these products are loaded with chemicals. Some of them are known to be harmful, and many are untested and essentially unregulated.
Before stocking up this winter, check out these tips to protect your skin from the cold while minimizing your exposure to potentially harmful chemicals.
1. Choose Healthy Products
Lotion
Lotion is a cold-weather essential for exposed areas like our faces and hands. When you choose a lotion, look for thick, creamy options—but skip ones with fragrance. The government doesn't require companies to disclose the ingredients that give a product fragrance, so there's no way to know what's in there, which could include hormone disruptors, allergens and asthma triggers.
Apply lotion while your skin is moist and skip bubble bath, which dries skin. For children and people with sensitive or particularly dry skin, the best bet is to use natural oils such as coconut or canola instead of lotion.
Hair Conditioner
When you're shopping for a conditioner, avoid those that list "propyl paraben" or "DMDM hydantoin" on the label. These preservatives pose safety concerns.
When you rinse, leave a little product in your hair to provide added conditioning throughout the day.
Lip Balm
We can't avoid ingesting a bit of lip products when we talk, eat or drink, so it's extra important to apply a healthy one. Try non-petroleum balms made from natural oils and avoid products that list retinyl palmitate or retinyl acetate on the label.
During the winter months, choose products that offer sun protection if you're out in the snow or near water, but avoid any that list oxybenzone on the label. Search more than 64,000 products in EWG's Skin Deep database to find the right lotion, hair conditioner or lip balm.
2. Wear Sunscreen
Even when it's cold outside, the sun still shines brightly. Although your risk of sunburn is lower in winter, the sun's skin-damaging ultraviolet rays reflect off snow and water, increasing your exposure.
Wear protective clothing and apply sunscreens that list zinc oxide or titanium dioxide as the active ingredients. Products with 3 percent avobenzone are the next best.
3. Do It Yourself
You can use common household oils to moisturize your skin, lips, hair and scalp. Popular natural ingredients include shea butter and coconut, argan, avocado, jojoba or almond oils. If you add essential oils for scent, use them sparingly. These botanical extracts can trigger allergic skin reactions in people with sensitive skin.
To condition your hair, try rinsing it with diluted apple cider vinegar and warm water after shampooing.
Be sure to test homemade products on a small patch of skin to check for allergic reactions. Since they're made from perishable ingredients, they have a shorter shelf life than store-bought products, so discard them within a few months or earlier if you notice changes to their consistency or scent.
4. Stay Hydrated
Keep your skin healthy and hydrated from the inside by drinking plenty of water and eating nutritious, moisture-rich foods such as fruits and vegetables.
With naturally hydrated skin, you'll need fewer products and you'll use them less often, an effective way to save money and limit exposure to the complex mixture of ingredients in commercial body care products.
YOU MIGHT ALSO LIKE
12 Most Poisonous Plants for Your Dog and Cat
Find Out if Your Eggs Are Truly Organic and Support Local Farms
Wife Dies of Cancer, Widowed Father Wages War on Chemical Industry
Deepak Chopra: Are You Getting Enough of the Right Kind of Sleep?
EcoWatch Daily Newsletter
Insects play a vital role in ecosystems and humans are particularly dependent on them for food.
Dmitry Grigoriev / Unsplash
By Ajit Niranjan
Seven 'no-regret' actions could rescue insects on the road to extinction, a new roadmap for conservation says, helping ecosystems even where a lack of research means scientists cannot prove benefits to individual species.
Visitors to the Hollywood & Highland mall in Hollywood wear face masks on Jan. 27 . Five people in the U.S. have tested positive for the deadly strain of Coronavirus, one each in Washington, Illinois and Arizona, and two in Southern California, according to the U.S. Centers for Disease Control and Prevention. ROBYN BECK / AFP / Getty Images
Workers evacuate the Lonja del Comercio (Commerce Market) in Havana, Cuba after an earthquake rattled the island Tuesday. ADALBERTO ROQUE / AFP via Getty Images
A 7.7 magnitude earthquake shook the Caribbean Tuesday, rattling people from Miami to Mexico.
New Jersey will be the first state in the U.S. to require builders to take the climate crisis into consideration before seeking permission for a project.
The Director of the Chinese Center for Disease Control and Prevention, Gao Fu speaks on Jan. 26 during a press briefing on studying the 2019-nCoV coronavirus and developing a vaccine to prevent it. Roman Balandin / TASS / Getty Images