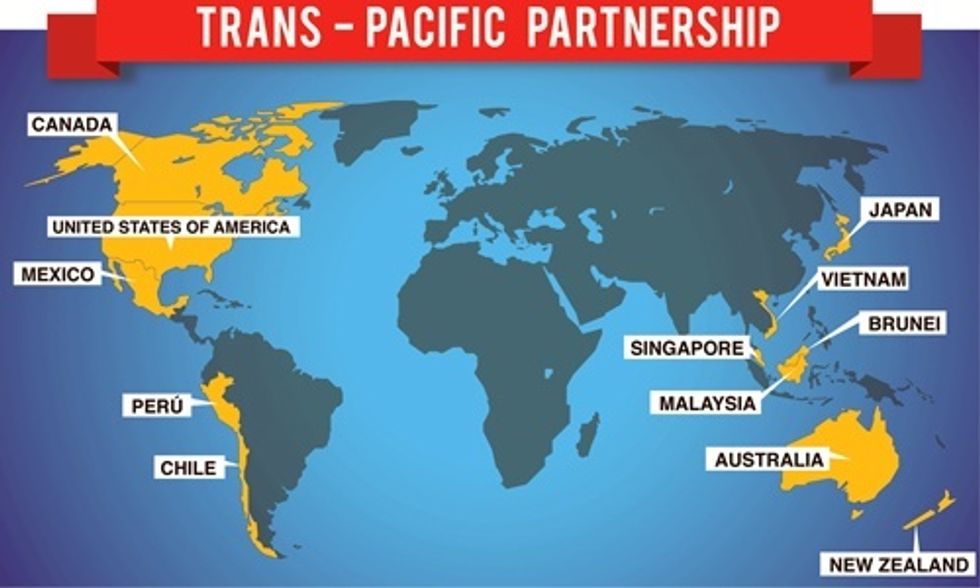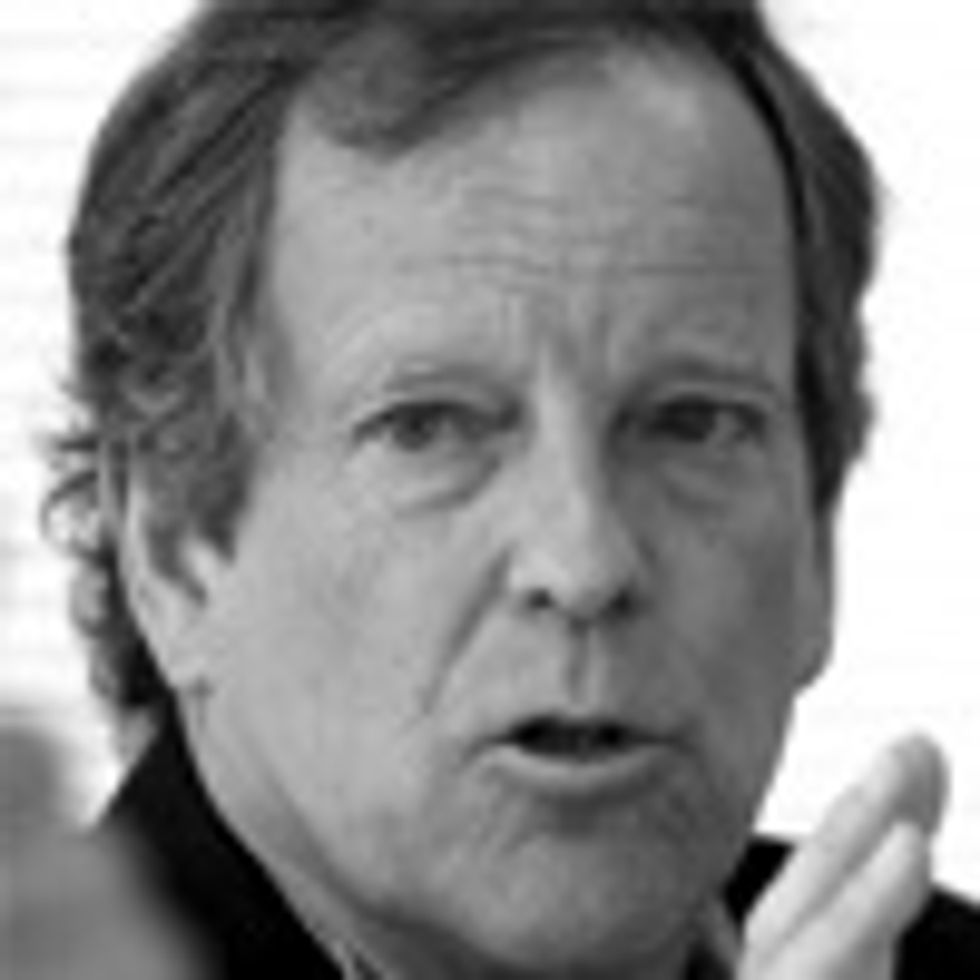 After first rejecting "fast-track authority" to prevent Congress from amending President Obama's pending Asian and European trade agreements, 13 Senate Democrats change their votes Thursday. The Senators who flipped had obtained other concessions, on issues like the Export-Import Bank and currency manipulation—but tellingly most of the concessions were promises to let something be voted on, not commitments to pass them.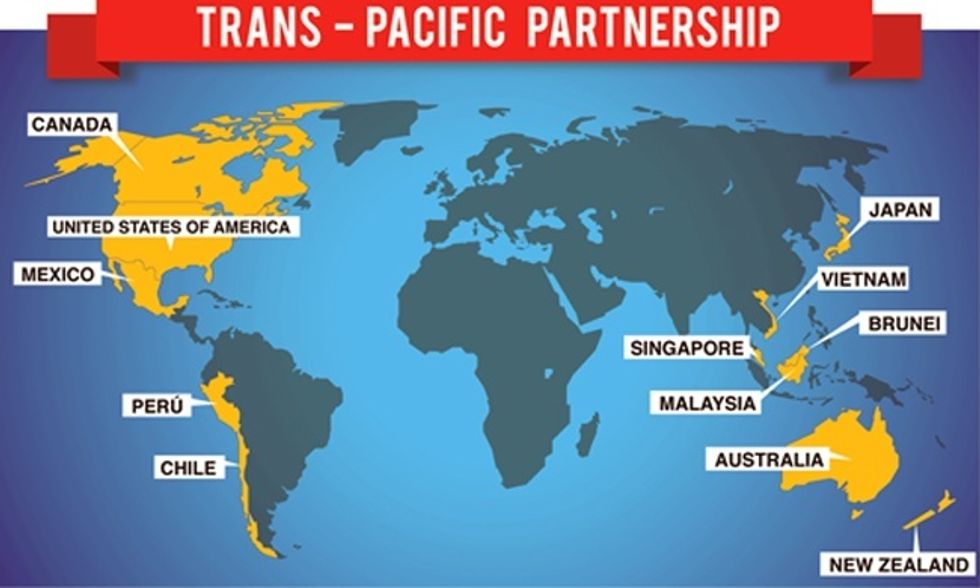 With these four new trump cards on the table, the odds against fast-track get better—and almost certainly the next Presidential election will put the candidates of both parties to the test—a fact which has led Hilary Clinton to distance herself from her husband's trade legacy, and Mike Huckabee to make opposition to trade deals one of his key planks.
The Senate vote passed the bill Friday night, but the process proved far more difficult than expected and prospects in the House were even more challenging.
The debate thus far represents a seismic change in the trade conversation. Now the argument is not about whether to incorporate labor and environmental standards. This year the debate is about the fundamentals—are the kinds of trade agreements we have been negotiating good for the country at their core?
Four new dynamics are shaping this debate.
1. Fast Track has become a transparent Executive Branch power grab—angering even pro-business conservative Republicans.
Fast track's original premise was that Congress would tell the Administration what its broad limits were—what features must or must not be included. If the agreement met those standards, Congress would vote it up or down. Congress would not second guess, say, a Japanese concession on rice in exchange for a U.S. concession on auto parts.
But as trade agreements tilted further and further away from the center of public opinion, Congress began setting side-bars that negotiators couldn't—or didn't want—to deliver. So the Bush Administration made the Congressional limits advisory only, not binding. Now fast track basically says anything the administration negotiates is exempt from Congressional amendment—even provisions Congress and the public would never have supported.
But this reality had to be concealed from the public. So trade negotiators stopped allowing public release of the terms of the agreements they were negotiating—fearing that if the public and Congress knew what was in a deal being worked out, opposition would increase. (Indeed, Ron Kirk, the first Obama Trade Rep, was blunt: if the text of the treaty was made public, it could never be approved).
Members of Congress had to be allowed to see the documents. But they were told that it was illegal for them to share what they learned with the public. When Sen. Barbara Boxer started to take notes the guard told her she could not—or if she did, she had to surrender them. "Not on your life," Boxer retorted, and kept her notes.
Republican Jeff Sessions went further. He laid out a five page memo directly (and apparently illegally) quoting from the draft text he had seen, slamming in particular the provisions of the pending agreement that allow the President and other countries to change its membership and terms without Congressional approval—in effect a permanent blank check to the White House.
2. Concerns about climate highlights the reality that how goods are produced does not just impact the countries where production takes place.
One of the core principals of the World Trade Organization and the North American Free Trade Agreement was that importing countries could not set worker, health or environmental standards for goods coming into their markets. This was always a misguided theory—pollution, for example, does not respect national boundaries. (Or even oceans—in some seasons a quarter of the sulfate pollution in the Western U.S. is emitted from factories in China making goods for export.)
But carbon pollution is a truly global problem. Climate changes impacting Africa today is a result of carbon emitted by the U.S. and Europe over the last century. As more and more nations move towards carbon pricing as a part of the solution—by 2016 50 percent of the world's fossil fuels will pay a carbon price—nations won't allow their competitors to undercut their prices by refusing to levy such prices. Requiring a level playing field in international trade is an idea whose time is coming—and perhaps may already have come.
3. Current trade doctrine shrinks the space for democracy. Public opinion has less and less influence over drug pricing, health and environmental standards, food safety, anti-trust and banking regulation. 
One good sign is that the myth that we are arguing about free trade is gone. Listen to the editorial Board of the New York Times, traditionally one of the staunchest advocates of trade agreements:
"The important thing to remember about the Pacific and European trade deals is that they are not primarily about lowering customs duties and quotas. While these deals would reduce those barriers to trade, they would have much of their impact by getting countries to adopt similar regulations in areas like labor standards, environmental protection, how governments treat foreign investors and patent and copyright law." Indeed, only five of the 29 chapters of the draft agreement cover what most of us think of as trade—tariffs, quotas, customs barriers.
The current international trade regime allows foreign companies exclusive and preferential access to secret trade courts, in which they can (and will)  argue that passage of tougher pollution standards unfairly reduces their expected profits, that regulations limiting the ability of publicly guaranteed banks to take risks is unduly conservative, or that requirements that drug companies permit the production of generic versions of their products after a reasonable tie are an expropriation of their intellectual property.
4. Finally, too much evidence is in from past trade agreements. They have not been not good for the average American, have slowed growth and significantly contributed to increasing inequality.
Since NAFTA and the free trade agreement with Korea, U.S. trade deficits with "free trade" partners have increased by 430 percent; However, over the same period, deficits with non-free trade countries declined by 11 percent! Korea alone, in the first three years of "free trade" saw a jump of 84 percent in our trade deficit, costing 85,000 jobs. These trade deficits are huge job and growth destroyers—cutting growth by about $10 billion every month, $120 billion each year.
The impact of trade agreements has been particularly deleterious for blue-collar, manufacturing employment. Senator Sessions, in his briefing, points out "Labor economist Clyde Prestowitz attributes 60 percent of the U.S.' 5.7 million manufacturing jobs lost over the last decade to import-driven trade imbalances." In the case of Korea, the Bush Administration promised that the agreement would open Korea's markets to U.S. car makers. Instead U.S. auto imports grew ten times as fast as exports to that country.
Again from the normally pro-trade New York Times: "There is also mounting evidence that the benefits of globalization have accrued disproportionately to upper-income households, while the costs have fallen heavily on the less affluent, contributing to the rise of economic inequality."
Why do we keep signing such deals? Does our governments really not know these facts? Well, Obama does, as he revealed when he chose to make his appeal for Fast Track at Nike, a company which has outsourced all of its manufacturing jobs to other countries, instead of New Balance, the one shoe maker still producing significantly in the U.S. In his speech at Nike, Obama boasted of how free trade helped Nike grow its market share—and hence hire more designers and marketers. This is yet another case of upscale knowledge workers benefiting while blue collar, middle class employment shrinks. But for the Administration and fast track advocates, that's the American future—our traditional blue-collar middle class just can't hope to compete with manufacturing workers making $1/hour in Vietnam, so they will have to take whatever service jobs the economy generates. German, of course, demonstrates that you can have a high wage, high skill manufacturing economy in a globalized world—but you have to make it a priority. Germany protects its middle class, not its banks and pharmaceutical companies, when it negotiates trade deals—the U.S. throws manufacturing under the bus.
Harold Meyerson summed it up in the Washington Post, pointing out that the best argument the Wall Street Journal could muster for the U.S.-Korea trade agreement was that it had been good for U.S. law firms and investors. No wonder, Meyerson muses, that the entire base of the Democratic Party is opposing Obama on fast track—why does Obama seem perplexed?
With these four new trump cards on the table, the odds against fast-track get better—and almost certainly the next Presidential election will put the candidates of both parties to the test—a fact which has led Hilary Clinton to distance herself from her husband's trade legacy, and Mike Huckabee to make opposition to trade deals one of his key planks.
Trade diplomacy's House of Cards looks ever shakier—even if it doesn't topple in the next few months.
YOU MIGHT ALSO LIKE
Trans-Pacific Partnership: A Fast Track to Disaster
This Company Is Leading the Charge to Expedite Renewable Energy
President Obama: Climate Change Is an 'Immediate Risk to Our National Security'
Recycling and general waste plastic wheelie bins awaiting collection for disposal in Newport, Rhode Island. Tim Graham / Getty Images
Reduce. Reuse. Recycle. According to The National Museum of American History, this popular slogan, with its iconic three arrows forming a triangle, embodied a national call to action to save the environment in the 1970s. In that same decade, the first Earth Day happened, the EPA was formed and Congress passed the Resource Conservation and Recovery Act, encouraging recycling and conservation of resources, Enviro Inc. reported.
According to Forbes, the Three R's sustainability catch-phrase, and the recycling cause it bolstered, remain synonymous with the U.S. environmental movement itself. There's only one problem: despite being touted as one of the most important personal actions that individuals can take to help the planet, "recycling" – as currently carried out in the U.S. – doesn't work and doesn't help.
Turns out, there is a vast divide between the misleading, popular notion of recycling as a "solution" to the American overconsumption problem and the darker reality of recycling as a failing business model.
Tiffany Duong is an avid ocean advocate. She holds degrees from UCLA and the University of Pennsylvania Carey Law School and is an Al Gore Climate Reality Leader and student member of The Explorer's Club.
She spent years as a renewable energy lawyer in L.A. before moving to the Amazon to conduct conservation fieldwork (and revamp her life). She eventually landed in the Florida Keys as a scientific scuba diver and field reporter and writes about the oceans, climate, and the environment from her slice of paradise. Follow her on Twitter/Instagram @lilicedt.
EcoWatch Daily Newsletter
The coal-fired Huaneng Power Plant in Huai 'an City, Jiangsu Province, China on Sept. 13, 2020. Costfoto / Barcroft Media via Getty Images
Overall energy demand is expected to rise 4.6 percent this year compared to 2020 and 0.5 percent compared to 2019, according to the IEA's Global Energy Review 2021. Demand for fossil fuels is expected to jump to such an extent that emissions will rise by nearly five percent in 2021. This will reverse 80 percent of the emissions decline reported in 2020, to end emissions just 1.2 percent below 2019 emissions levels. Because the lockdown saw the biggest drop in energy demand since World War II, the projected increase in carbon dioxide emissions will still be the second-highest on record, BBC News pointed out.
"This is a dire warning that the economic recovery from the COVID crisis is currently anything but sustainable for our climate," IEA Executive Director Fatih Birol said in a statement reported by AFP.
Birol said much of that increase was being driven by the resurgence of coal use. In fact, coal demand is expected to increase by 60 percent more than all forms of renewable energy, according to the report. Overall coal demand is expected to increase by 4.5 percent in 2021. More than 80 percent of that growth is in Asia, and more than 50 percent is in China. While coal use is expected to increase in the U.S. and Europe as well, it will remain far below pre-pandemic levels. Still, global coal use is expected to rise to nearly its 2014 peak, BBC News reported.
Natural gas demand is also expected to rise by 3.2 percent in 2021, to put it more than one percent above 2019 levels, according to the report.
There are, however, two bright spots in the report from a climate perspective. The first is that oil demand, while up 6.2 percent from 2020, is still expected to remain around 3 percent below 2019 levels. This is because oil use for ground transportation is not expected to recover until the end of 2021, and oil use for air travel is expected to remain at 20 percent below 2019 levels by December of 2021.
"A full return to pre-crisis oil demand levels would have pushed up CO2 emissions a further 1.5%, putting them well above 2019 levels," the report authors wrote.
The second bright spot is that renewable energy demand is set to rise in all sectors in 2021. In power, where its rise is the greatest, it is set to increase by more than eight percent. This is "the largest year-on-year growth on record in absolute terms," the report authors wrote.
Renewable energy will provide 30 percent of electricity overall, BBC News reported, which is the highest percentage since the industrial revolution. The problem is that the increase in renewables is running parallel to an increase in fossil fuels in some places. China, for example, is also expected to account for almost half of the rise in renewable electricity.
"As we have seen at the country-level in the past 15 years, the countries that succeed to cut their emissions are those where renewable energy replaces fossil energy," energy expert and University of East Anglia professor Corinne Le Quéré told BBC News. "What seems to be happening now is that we have a massive deployment of renewable energy, which is good for tackling climate change, but this is occurring alongside massive investments in coal and gas. Stimulus spending post-Covid-19 worldwide is still largely funding activities that lock us into high CO2 emissions for decades."
To address this issue, Birol called on the world leaders gathering for U.S. President Joe Biden's climate summit Thursday and Friday to pledge additional action before November's UN Climate Change Conference, according to AFP.
"Unless governments around the world move rapidly to start cutting emissions, we are likely to face an even worse situation in 2022," said Birol.
From Your Site Articles
Related Articles Around the Web
A grizzly bear killed an outdoor guide in a rare attack near Yellowstone Park. William Campbell / Corbis / Getty Images
Representative Alexandria Ocasio-Cortez (D-NY) re-introduces the Green New Deal in Washington, D.C. on April 20, 2021. Mandel Ngan / AFP / Getty Images
By Brett Wilkins
In the latest of a flurry of proposed Green New Deal legislation, Reps. Cori Bush and Alexandria Ocasio-Cortez on Monday introduced the Green New Deal for Cities Act of 2021, a $1 trillion plan to "tackle the environmental injustices that are making us and our children sick, costing us our homes, and destroying our planet."
Offshore oil and gas drillers have left more than 18,000 miles of pipelines at the bottom of the Gulf of Mexico. Drew Angerer / Getty Images
Offshore oil and gas drillers have discarded and abandoned more than 18,000 miles of pipelines on the floor of the Gulf of Mexico since the 1960s, a report from the Government Accountability Office says.
The industry has essentially recovered none of the pipelines laid in the Gulf in the last six decades; the abandoned infrastructure accounts for more than 97% of all of the decommissioned pipelines in the Gulf.
The pipelines pose a threat to the habitat around them, as maritime commerce and hurricanes and erosion can move sections of pipeline.
The Bureau of Safety and Environmental Enforcement does not conduct undersea inspections even though surface monitoring is "not always reliable for detecting ruptures," according to the GAO.
For a deeper dive:
For more climate change and clean energy news, you can follow Climate Nexus on Twitter and Facebook, sign up for daily Hot News, and visit their news site, Nexus Media News.