This website uses cookies to ensure you get the best experience while browsing it. By clicking 'Got It' you're accepting these terms.
Childhood eczema is described by the National Eczema Association (NEA) as a chronic itchy skin condition that usually occurs within a child's first five years of life, typically lasts into childhood and adolescence, and can sometimes last into adulthood.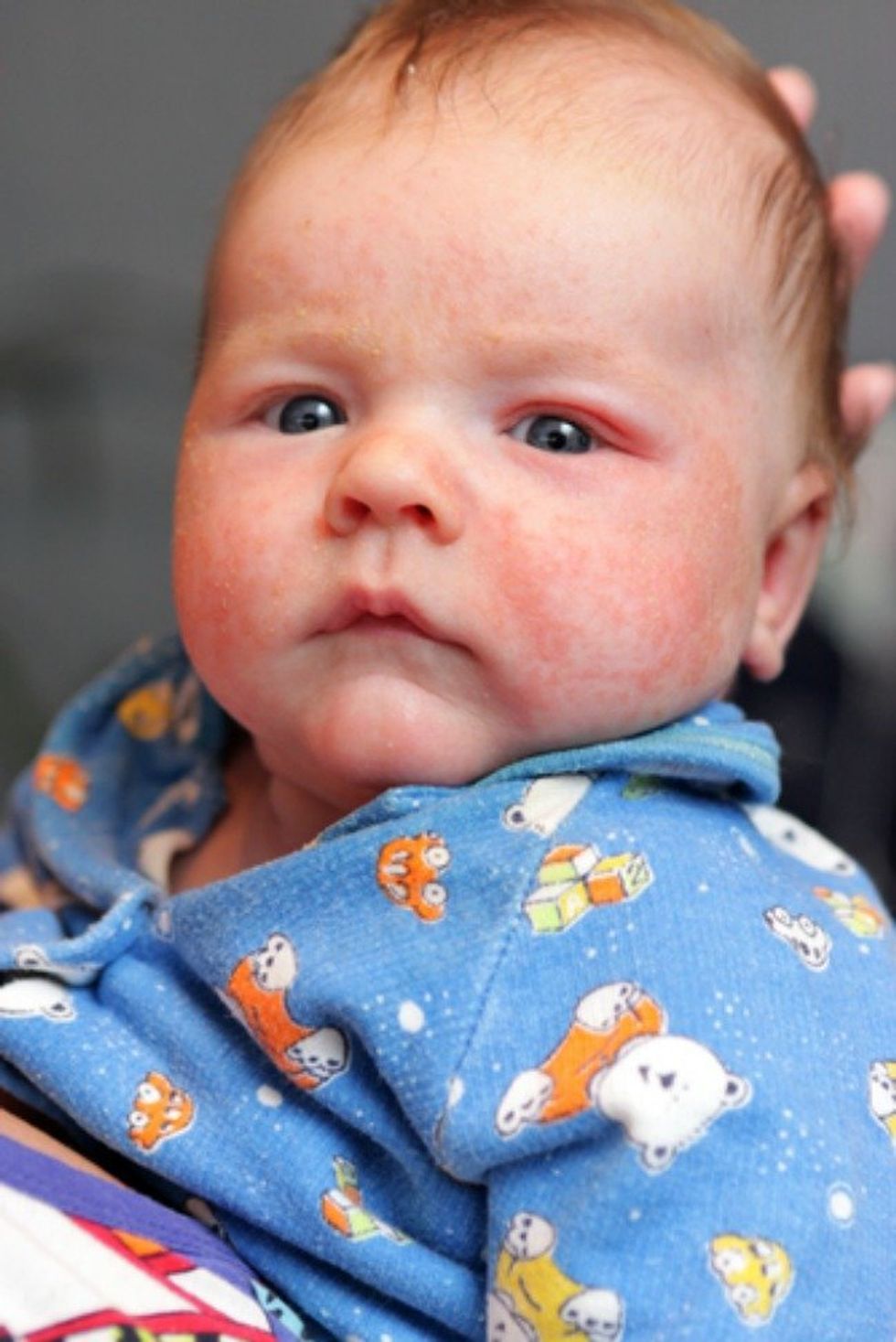 Photo credit: Shutterstock
Some children have very mild eczema and others have severe eczema, also known as atopic dermatitis. While some health experts may recommend giving children with eczema petroleum-based moisturizers or prescribe topical steroid cortisone cream, some parents are seeking out natural treatments, including plant-based moisturizers, which do not contain processed chemicals. The following all-natural steps can be taken to help control a child's eczema and avoid breakouts.
Bathe Daily
Giving your child a bath every day is recommended for infants and children with eczema, according to NEA. Baths should contain warm rather than hot water and last approximately 10 minutes. Experts at the NEA also say that parents should avoid washing children with loofahs and rough washcloths, use very little soap, and steer clear of bubble bath, epson salts and other bath additives because they can irritate the skin.
Moisturize
The NEA emphasizes the importance of moisturizing a child's skin, especially immediately after bathing, before the skin dries. Some natural, plant-based creams that will soothe and moisturize a child's skin include 100 percent shea butter, Burt's Bees Baby Bee Multipurpose Ointment and California Baby Eczema Cream. Dr. Weil, a leader in the field of integrative medicine, also recommends using aloe vera gel or calendula cream.
Avoid Skin Irritants
Knowing any food allergies your child may have and avoiding those foods is essential to preventing eczema since food allergies are a leading cause of skin inflammation in children.
"Children with this condition also have some underlying allergies that are manifested in the skin. When exposed to these allergens, the skin overreacts and breaks out in a rash. The already dry and slightly irritated skin is less able to handle this allergic rash, and less able to heal itself quickly," pediatrician and health expert Dr. Sears stated on his web site.
Dr. Sears also suggests taking the following actions to avoid skin irritation in children. Avoid wool and synthetic materials for clothing and bedding, wash new clothes before wearing them to remove the chemicals, avoid perfumed or scented lotions, bubble bath, suntan lotion with PABA and laundry detergents with dyes or scents. He also recommends maintaining a humidity of 25-40 percent in your home.
Eat Moisturizing Foods
Giving your child foods high in omega 3 fat will help keep your child's skin naturally moisturized, according to Dr. Sears. Some ways of incorporating omega 3 into a child's diet are to add flaxseeds or chia seeds in oatmeal, pancakes and sandwiches. Salmon, tuna and canola oil also contain high amounts of omega 3 fat. Vitamins C and E also act as natural skin moisturizers. Children can get those extra vitamins by taking a daily multivitamin. Finally, Dr. Sears recommends keeping your child hydrated by having him or her drink plenty of water.
YOU MAY ALSO LIKE
5 Omega-Rich Seeds You Should Include in Your Daily Diet
3 Gluten-Free Pasta Brands Kids Actually Like to Eat
EcoWatch Daily Newsletter
The CDC has emphasized that washing hands with soap and water is one of the most effective ways to prevent the spread of COVID-19. Guido Mieth / Moment / Getty Images
The Centers for Disease Control has emphasized that washing hands with soap and water is one of the most effective measures we can take in preventing the spread of COVID-19. However, millions of Americans in some of the most vulnerable communities face the prospect of having their water shut off during the lockdowns, according to The Guardian.
A California newt (Taricha torosa) from Napa County, California, USA. Connor Long /
CC BY-SA 3.0
Aerial photos of the Sierra Nevada — the long mountain range stretching down the spine of California — showed rust-colored swathes following the state's record-breaking five-year drought that ended in 2016. The 100 million dead trees were one of the most visible examples of the ecological toll the drought had wrought.
Now, a few years later, we're starting to learn about how smaller, less noticeable species were affected.
Disinfectants and cleaners claiming to sanitize against the novel coronavirus have started to flood the market.
Natthawat / Moment / Getty Images
Disinfectants and cleaners claiming to sanitize against the novel coronavirus have started to flood the market, raising concerns for the U.S. Environmental Protection Agency (EPA), which threatened legal recourse against retailers selling unregistered products, according to The New York Times.
A customer packs groceries in reusable bags at a NYC supermarket on March 1, 2020. Eduardo Munoz Alvarez/Getty Images
The global coronavirus pandemic has thrown our daily routine into disarray. Billions are housebound, social contact is off-limits and an invisible virus makes up look at the outside world with suspicion. No surprise, then, that sustainability and the climate movement aren't exactly a priority for many these days.
Ingredients are displayed for the Old School Pinto Beans from the Decolonize Your Diet cookbook by Luz Calvo and Catriona Rueda Esquibel. Melissa Renwick / Toronto Star via Getty Images
By Molly Matthews Multedo
Livestock farming contributes to global warming, so eating less meat can be better for the climate.